How powerful is fashion? Does it influence how others perceive us? How others see the world?
---
I've never been the type of girl to play dress up or experiment with prints and fabrics, but after working on 5th Avenue in my early twenties, I've grown increasingly fascinated by fashion. What we wear dictates how others may perceive us, and I believe that sometimes, how we're feeling inside manifests itself through what we put on. I'm all for comfort and there have been many times where I can settle for a pair of sweatpants and call it a day. But there's also those instances of dressing down because I just didn't feel good, emotionally. Forbes spoke to, Dr. Jennifer Baumgartner, who wrote the book You Are What You Wear: What Your Clothes Reveal About You and broke down the "psychology of dress":
Americans rely on clothing as an economic and social indicator because there aren't official marks of rank such as a caste system or aristocracy, says Dr. Baumgartner.

"When you don't have a specific system, people come up with their own," she explains. It's what "helps you figure out where you fit in. Especially now, with the economy, with people losing status, maintaining a sense of who we are becomes even more important. Our clothes help place us where we think we want to be."
Indeed, our choices in what we wear spark dialogue. It influences our behavior and either joins or disconnects us to others through the message our appearances send. Rick Owens' Cyclops collection set out to leave, not just another memorable show during the start of Paris Fashion Week, but a message to his audience–the ones around the world.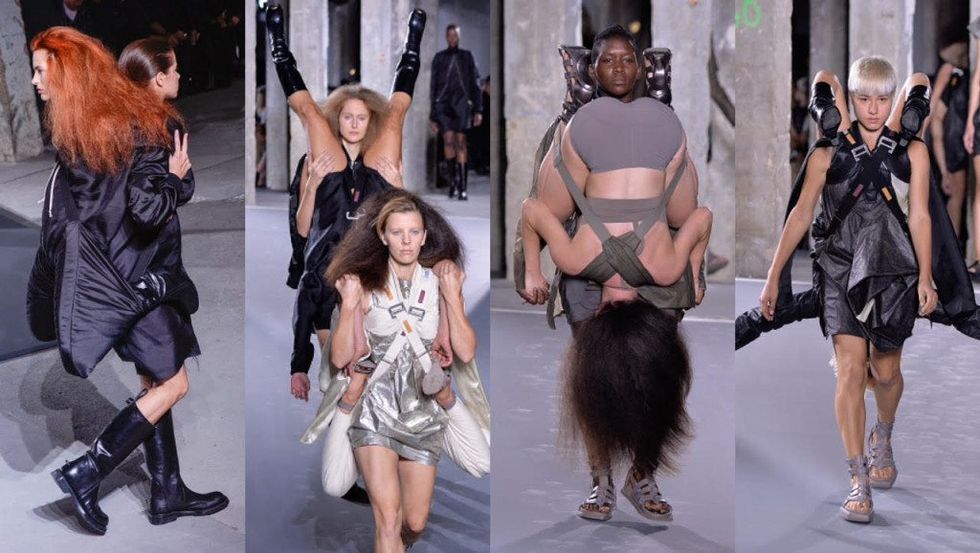 The avant-garde designer, who is also known as a cult designer or the "fashion king of kink", upped his Autumn/Winter 2015 'SPHINX' show when he sent his male models down the runway with their private parts peeking out. In his Spring/Summer '16 show (baring the same name as his military-inspired spring line for men), the American designer debuted the 'Cyclops' version for women with an new approach to walk the runway, featuring "human knapsacks."
The unique positioning of his models, who contorted their bodies in ways that brought more focus to the posture than the pieces, symbolized Owen's interpretation of sisterhood. In his quest to further address social issues in his collections, the designer had women on the backs and hanging on the forefront of other women, bound together by stylish straps. See for yourself: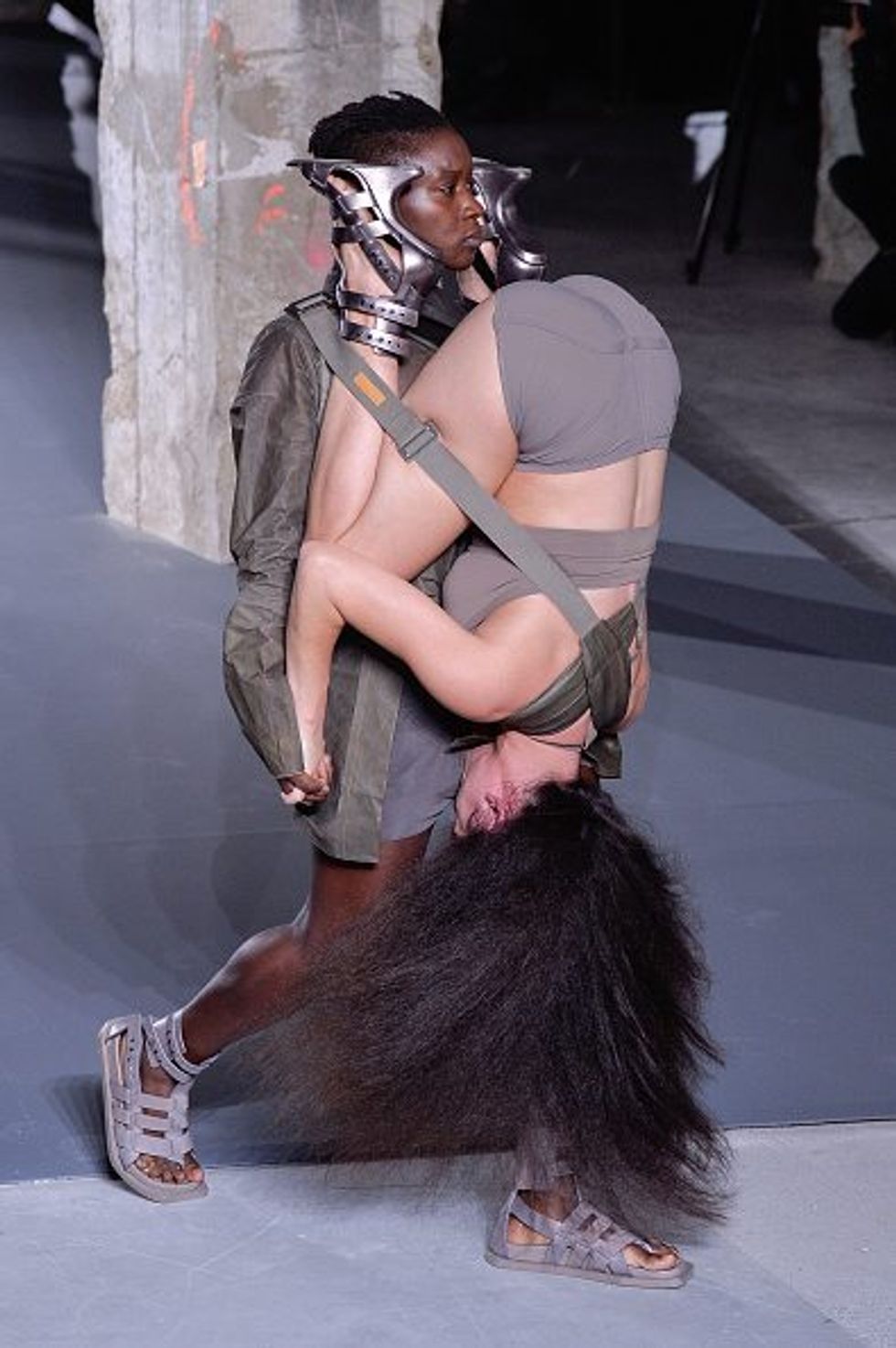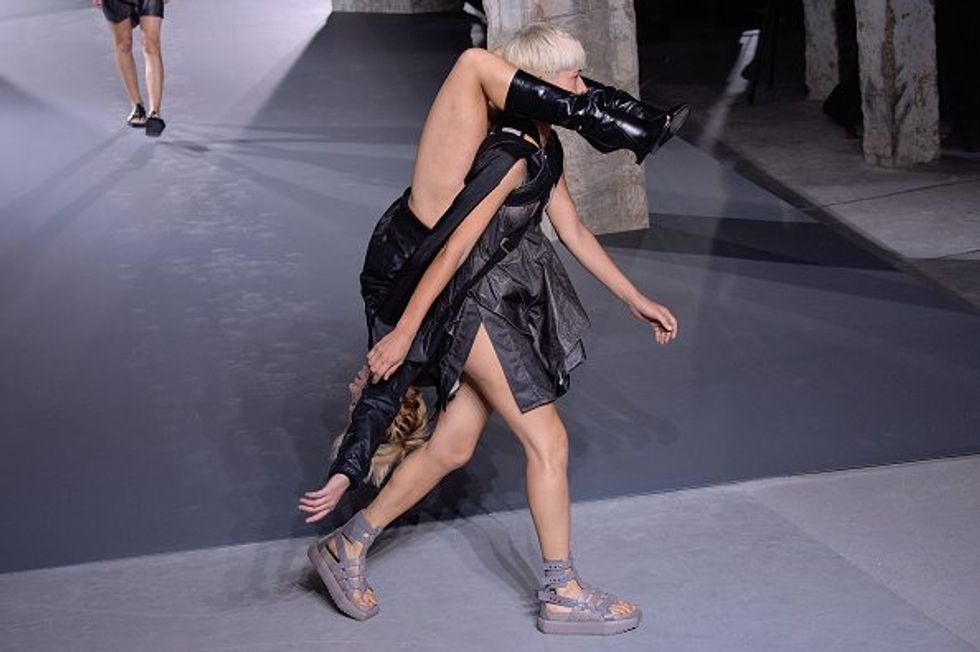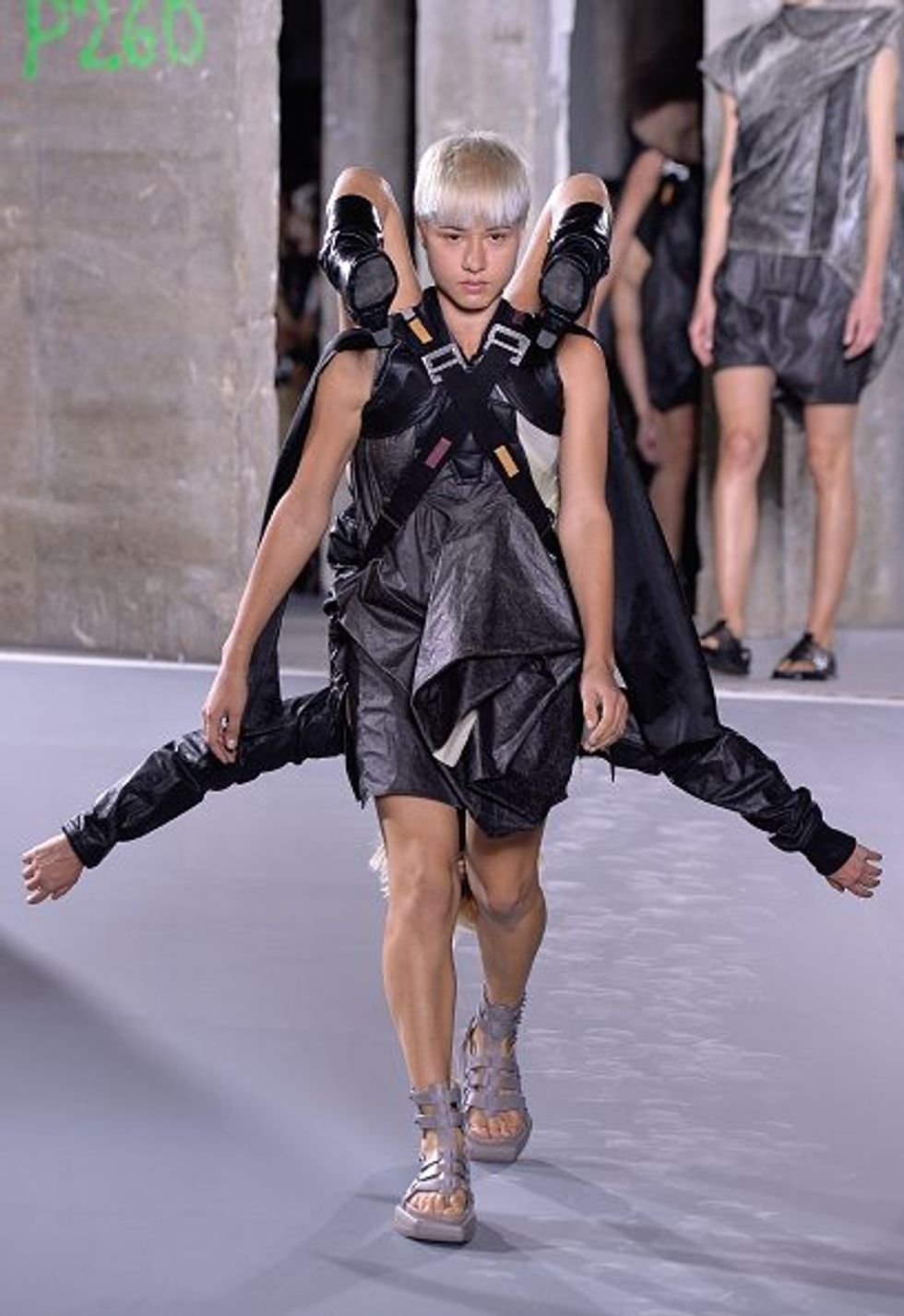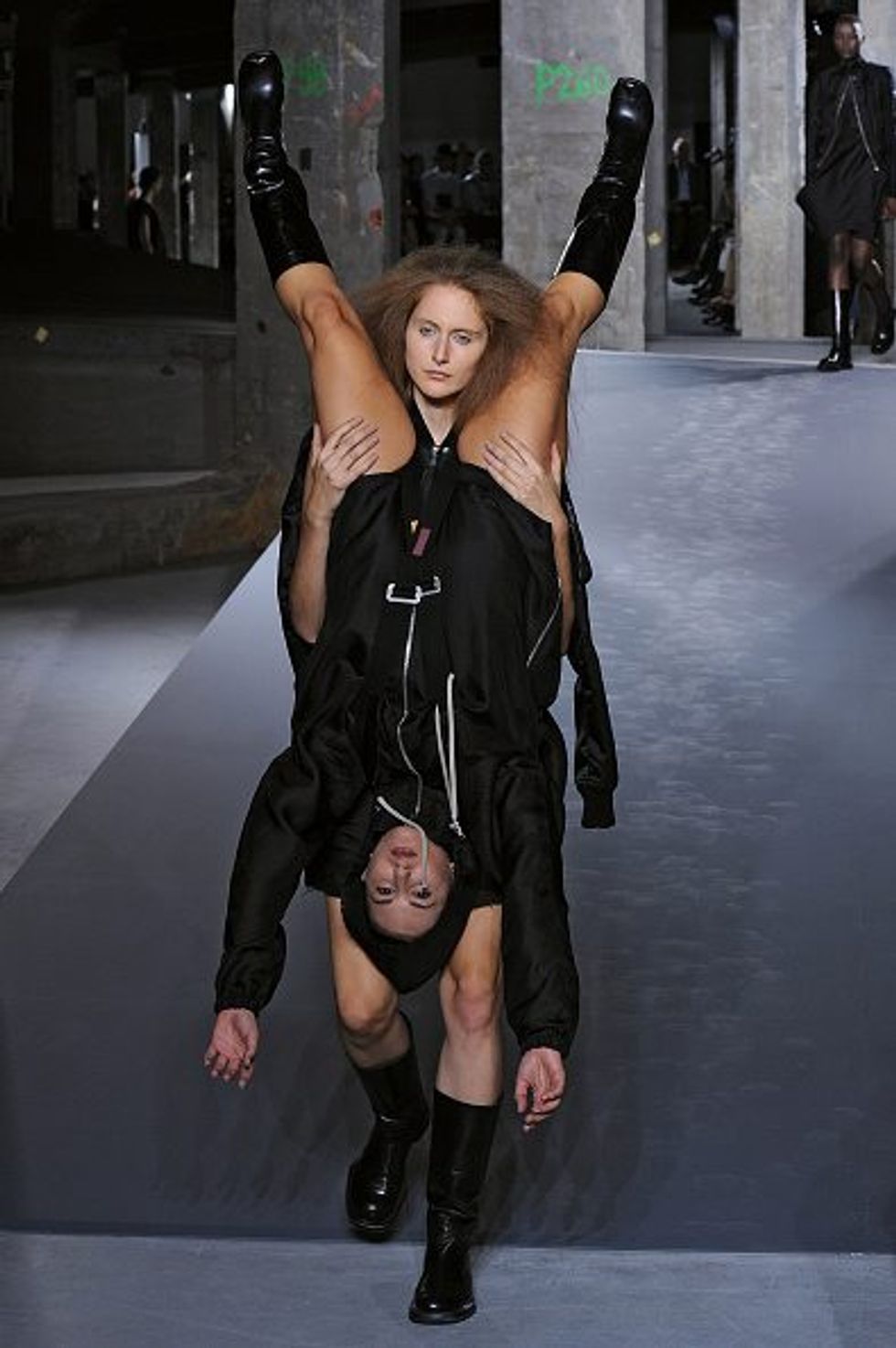 Rick Owens refers to the straps as "loving ribbons" and positively exploited the strength of women, as the models kept their high-fashion faces on ten throughout the duration of the presentation while carrying their peers–a symbolic display of:
"Women raising women, women becoming women, and women supporting other women."
As the models clung to one another and firmly held on to the arms and thighs as a means of support, audience members described the feel of the set as "baby Bjorn chic" and took notice to the depth of the show. Owens said he drew inspiration from iconic Australian artist and fashion designer, Leigh Bowery, and his infamous photo with Nicola Bateman that featured an identical pose.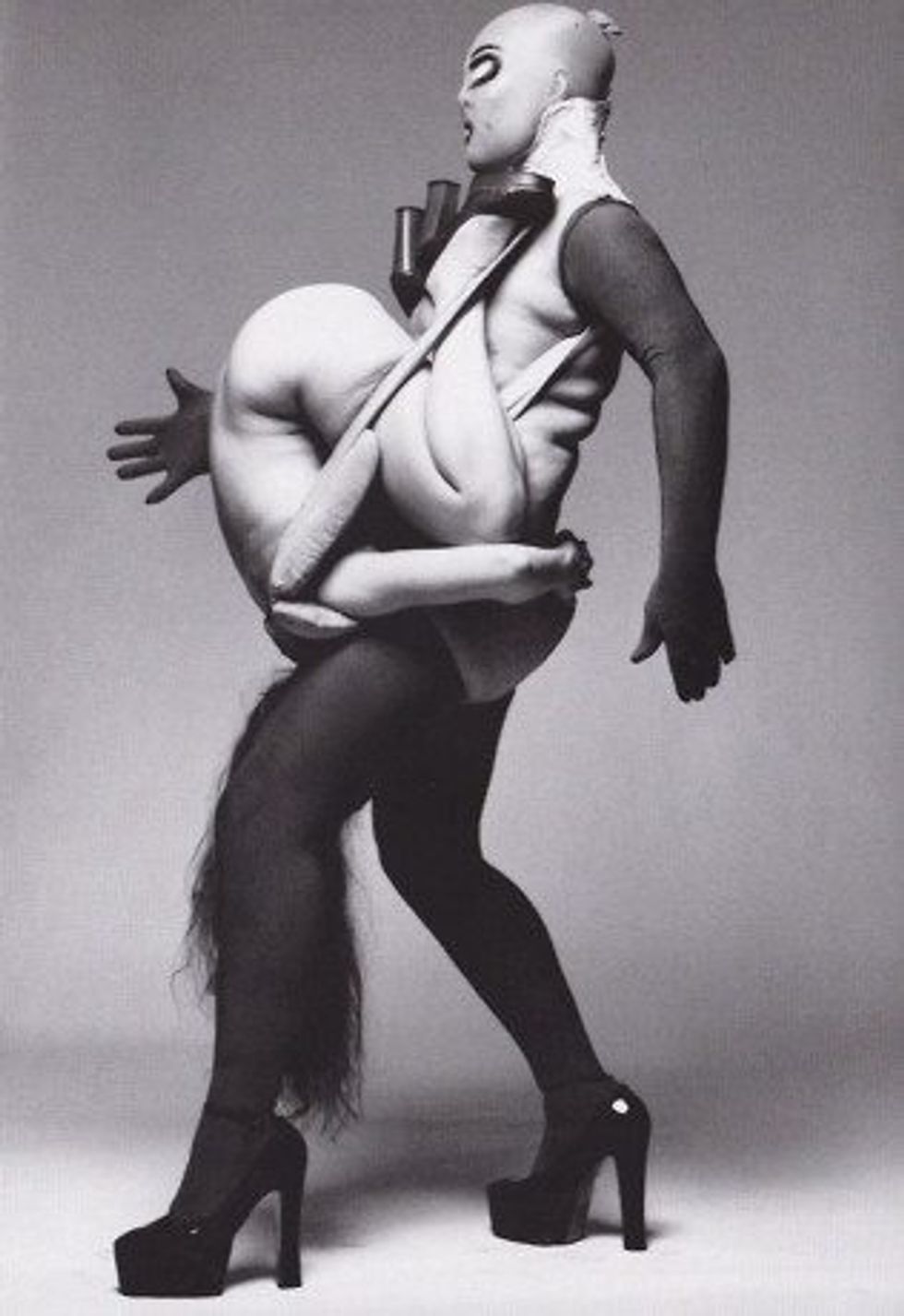 Of course, Owens was asked to decipher the significance of the positions and his response was coated in feminism. He acknowledges the Siamese-like poses represent the execution of nurturing, bondage, and even the "act of being burdened" as the obvious sights of women with their faces buried in uncompromising places of their fellow model, make for a larger meaning. Owens described the overall production as an "ode to nourishment, sisterhood/motherhood and regeneration." Writers from Vogue said of the show: "Owens said he'd been thinking—wondering, really—about the ways women nurture others, metaphorically taking on another human being's weight. That inquiry was communicated forcefully by the show's staging. The carrying women, with their human freight, also suggested the physical labors of pregnancy—an undercurrent amplified by the Owens silhouettes featuring distended volumes that were almost carbuncular."
Owens who admitted to the enigma in womanhood when designing pieces, also made reference to women he knows personally and how they attributed to his work.
"

All the women in my life are formidable. I have seen them all step up to handle adversity with grace."
And the featured models illustrated just that as they effortlessly carried one another as if they were pregnant with their peers, holding hands, and gliding across the basement of the Palais de Tokyo. Even the music played an integral part of Rick Owens' show as Eska, the singer behind Exodus' "The Land is Mine," performed the song live with the designer indicating the inclusion of the song exhibiting "eternal human condition of dealing with conflict."
As a woman first and a mother second, I appreciated Owens' take on what it is to be a woman, as I know the responsibility in what it is to carry weight and the magnitude of women upholding one another in a misogynistic world. As WWD described the show in its entirety as "a disquieting spectacle," I was pleased to see a male designer's account of the power in being a woman and his approach of why we matter in society.
So, can fashion affect perception? Absolutely.
While the reviews are mixed from fashion critics and aficionados alike who thought the runway show took away from the clothing itself, what we should all take away more than anything is Owens giving new meaning to designers who create pieces or brands for "strong women." He showed the actual strength that lies within us. Good for you, Rick.
What's your thoughts on Rick Owen's S/S 2016 Cyclops collection for women? Was his interpretation spot on? Weigh in below!