It never fails. At the beginning of every year, I say the same thing to one of my closest girlfriends—"I know some people are gonna leave us this year, but I'm never prepared for who." Y'all, we just got into the spring season and already I've been caught totally off guard.
---
James Ingram. Kristoff St. John. Kevin Barnett. And, as a diehard Beverly Hills, 90210 fan while I was growing up, Luke Perry. But there was something about hearing the news of—attributes are not listed in any particular order of importance here—hip-hop artist, philanthropist, entrepreneur, community builder, father, man of Ms. Lauren London and friend to, have mercy so many (just put #RIPNipsey or basically any variation of the hashtag in your Twitter search field for evidence of just how many people knew and loved him) Nipsey Hussle that particularly stung. No, stings.
Before I attempt to do this mini-tribute any sort of justice, let me just say that as someone who lost my father five years ago and my fiancé on the same day that he proposed 24 years ago this fall, there is nothing more annoying than having someone who didn't personally know someone you loved try and tell you—or anyone else—about them. No, I've never met Sir Ermias Asghedom (his birth name). I've also never been to one of his shows or purchased anything from his store (although believe you me, I'll be finding some sort of way to give a few coins in support, in his honor, over the next few weeks). Still, he did make an impact on me in some pretty random-yet-relevant ways. I didn't realize just how much until today.
As a Businessman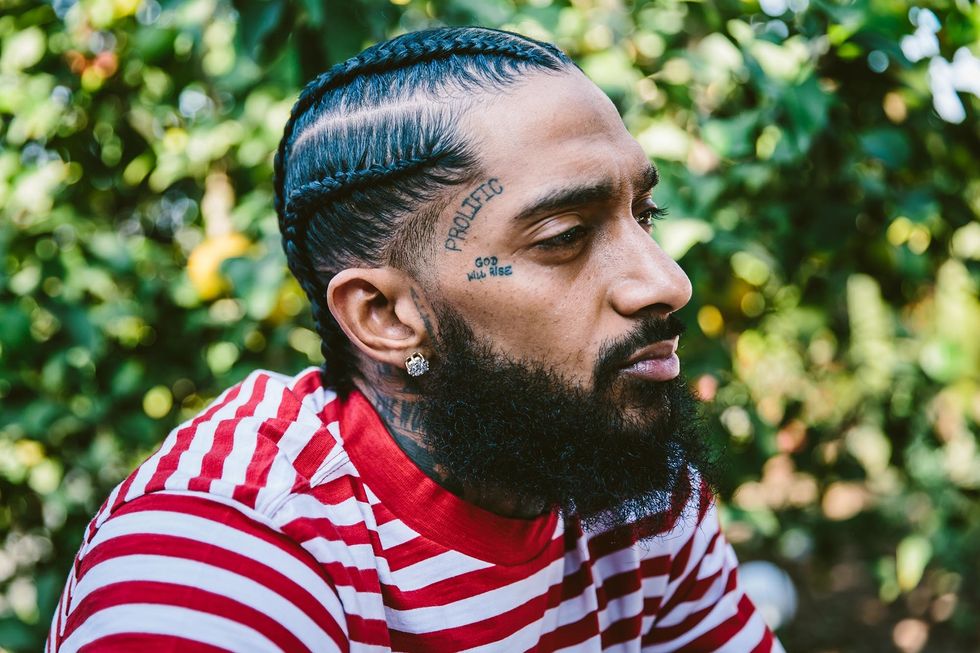 Andres Tardio
I'm pretty sure that most of us have heard the saying "Know your worth and then add tax." It's pretty much a mantra over here on this side. But Nipsey took it to a whole 'nother level when, once upon a time, he decided to charge $100 a pop for his mixtape; he reportedly made (count it) $100,000 in under 24 hours at his pop-up shop.
It shook (and probably shocked) so much of the business world that he was featured in Forbes back in 2013 (Forbes actually checked for him quite a bit afterwards. Also peep "Inside Nipsey Hussle's Blueprint to Become a Real Estate Mogul" that was published this past February). According to Nipsey, he attributed the idea to something he read in the book Contagious: Why Things Catch On (Jonah Berger). That stayed with me because it's a powerful reminder to make a lane rather than wait for someone to open up one for you. Oh, and if you don't know how to do that…READ SOMETHING.
As a Community Activist, Supporter and Selfless Giver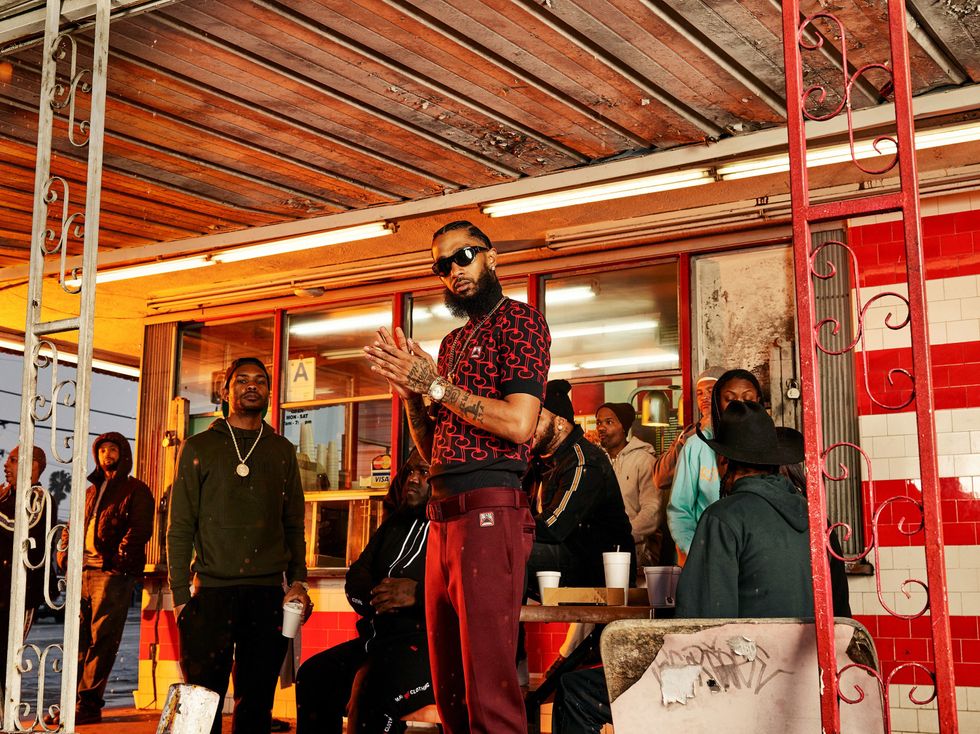 Awol Erizku
Matthew 6:1-2(NKJV) says, "Take heed that you do not do your charitable deeds before men, to be seen by them. Otherwise you have no reward from your Father in heaven. Therefore, when you do a charitable deed, do not sound a trumpet before you as the hypocrites do in the synagogues and in the streets, that they may have glory from men. Assuredly, I say to you, they have their reward."
As I read a beautiful piece on Nipsey's life in The Los Angeles Times this morning, something about him reminded me a lot of Prince. I say that because just like Prince did a lot of giving that many of us knew nothing about until he was gone, so did he (check out "Prince, the Secret Philanthropist: 'His Cause Was Humanity'").
Indeed, tears came to my eyes as I read, not just about how Nipsey was in the process of opening a STEM center in the Crenshaw District or how he was also redeveloping a strip mall, but also how it was nothing for him to buy a pair of shoes for teens, provide jobs for the homeless or cover the funeral fees for people who couldn't afford it. Y'all, real giving doesn't need attention or applause. It just needs a source. Nipsey was living evidence of this very fact.
As a Bold AF Voice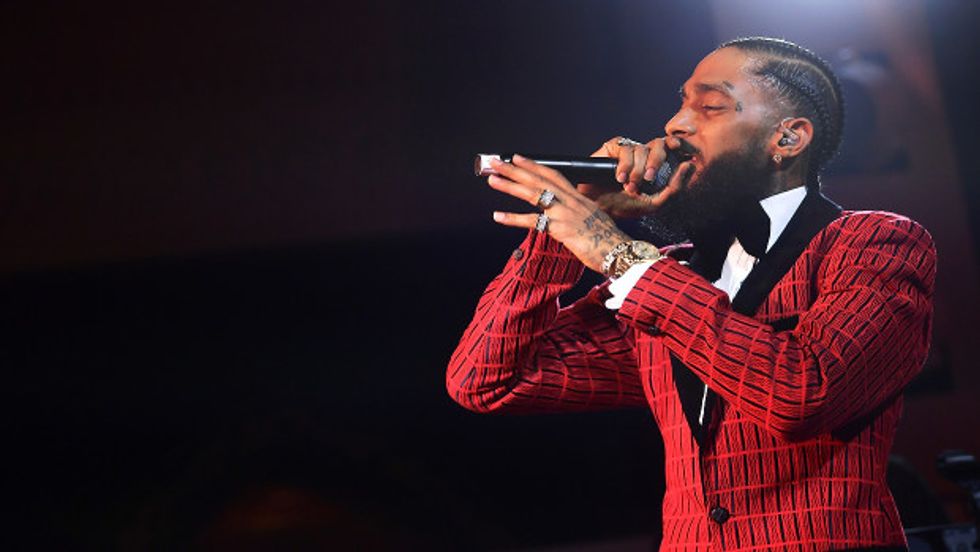 Matt Winkelmeyer/Getty Images
Ida B. Wells once said, "The way to right wrongs is to turn the light of truth upon them." Listen, it's no secret that Nipsey was going to produce a documentary on the late—and for many of us who aren't in the Matrix would dare say "great"—Dr. Sebi. In fact, last night, the good (holistic) doctor was trending on Twitter right along with the tragic news about Nipsey.
I'm not gonna get into all of the conspiracies; time will reveal what needs to be seen and known but in February of 2018, Nipsey went onto The Breakfast Club and (at the 26:53 mark) said some pretty…courageous things about the doctor and why he wanted to give his trial a (louder) voice. The things he said reminded me of something I read that actor Christian Bale once said: "I tend to think you're fearless when you recognize why you should be scared of things, but do them anyway."
To speak up against the government and pharmaceutical companies (Dr. Sebi) and then set out to shine a spotlight on him, Nipsey is fearless personified. Fear stifles. Nipsey appeared to have very little of that. It was even evident in the final tweet that he posted on yesterday—"Having strong enemies is a blessing." A blessing is a form of favor and mercy. I believe Nipsey has been granted both. In a myriad of ways. Some seen. Some unseen.
So what will happen to Nipsey's passion project now? Nick Cannon vowed on his IG that he would pick up the baton. It's touching. It's also a reminder that fearlessness is catching. That's just one more thing that moves me about Nipsey's life.
As a Lover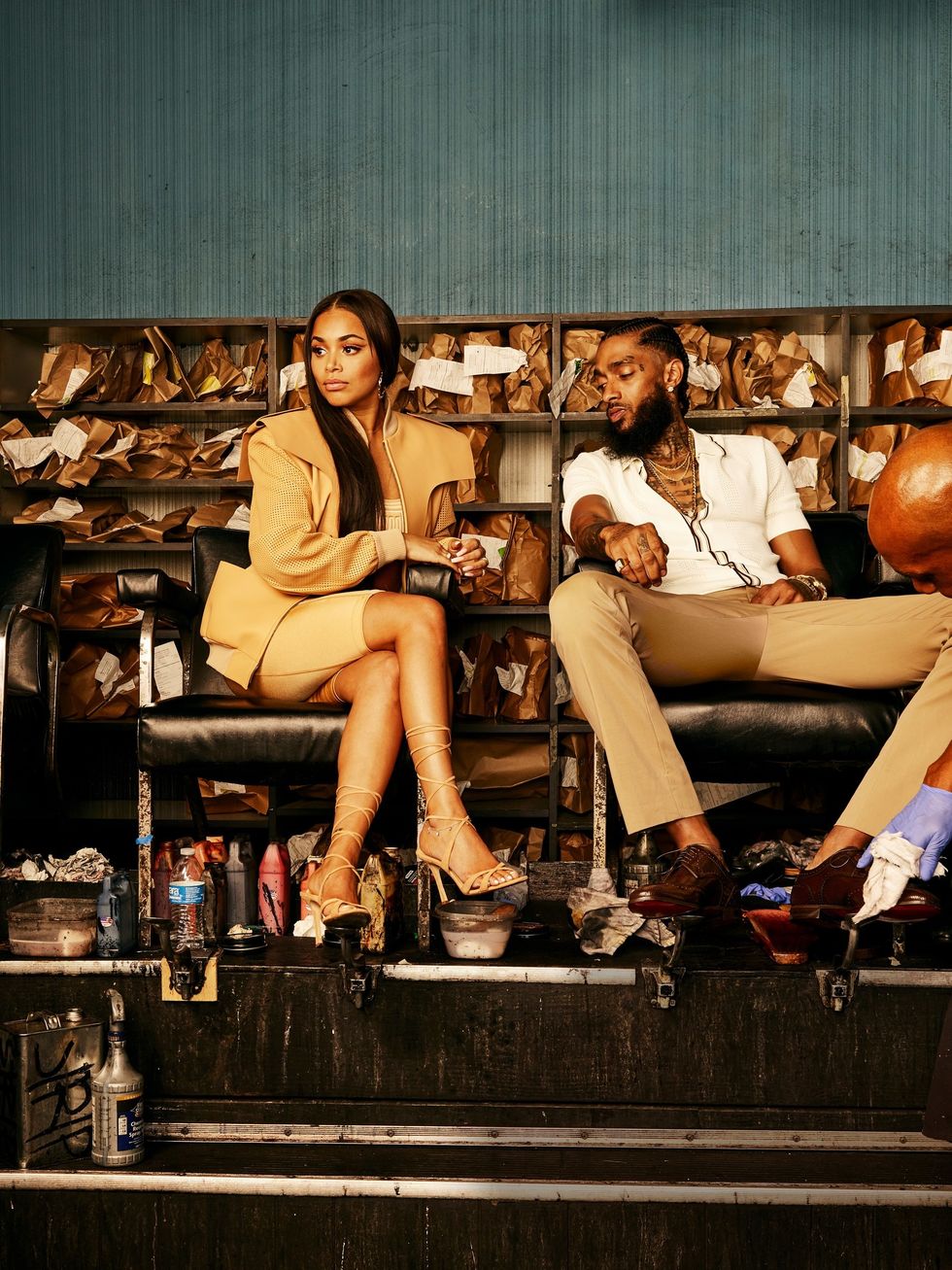 Awol Erizku
My fiancé died in a freak car accident. It was so freakish that it's a book all unto itself. One of the strangest things about it is he died at a Shell station on Bell Road in Nashville. What's the big deal? If we had married, my name would've been "Shellie Bell". My nickname growing up was "Shell Bell".
***Deep breath***Last week, I watched the absolutely-adorable-and-totally-infectious GQ video featuring Nipsey and actor, Nipsey's lover and mother of one of his children Kross (he also has a daughter from a previous relationship named Emani), Lauren London. She had to ask her man 30 questions about her (he got 24 of 'em right, by the way). I got chills when they discussed that they met "On Crenshaw and Slauson, at my store."
Whew. One of his "creative babies" is on Crenshaw and Slauson. He met the love of his life (and later created more life with her) on Crenshaw and Slauson. He lost his life on Crenshaw and Slauson. Trust me, unless you lose "the one", you have NO IDEA what it's like. What you may even try and conceptualize doesn't begin to crack the surface. I must say that it did bring some warmth to my heart that Lauren loved a man who was again, fearless, in expressing his love for her; so much so that there is cyberspace documentation that no one can question.

On the red carpet at this year's GRAMMYs, Nipsey captioned a pic with her on his IG that simply said, "Isis and Osiris". On Lauren's birthday back in December, he posted a shot that said, "Happy Birthday 2 A Real One". Last summer, in a pic that had Lauren looking as beautiful as ever (and usual), his caption said, "Been thru a lot...Never folded on me. Love and respect that for life." It's not a ton of words but, let's be real— it's more than a lot of men are willing to publicly declare. Big ups to a man who leaves no doubt as to who he wants, is into and is down for. Big ups also to the men who recognize how real the love between two people are. Black men know how to love Black women. Nipsey made this point very clear.

As a Man with a Short Life Yet a HUGE Legacy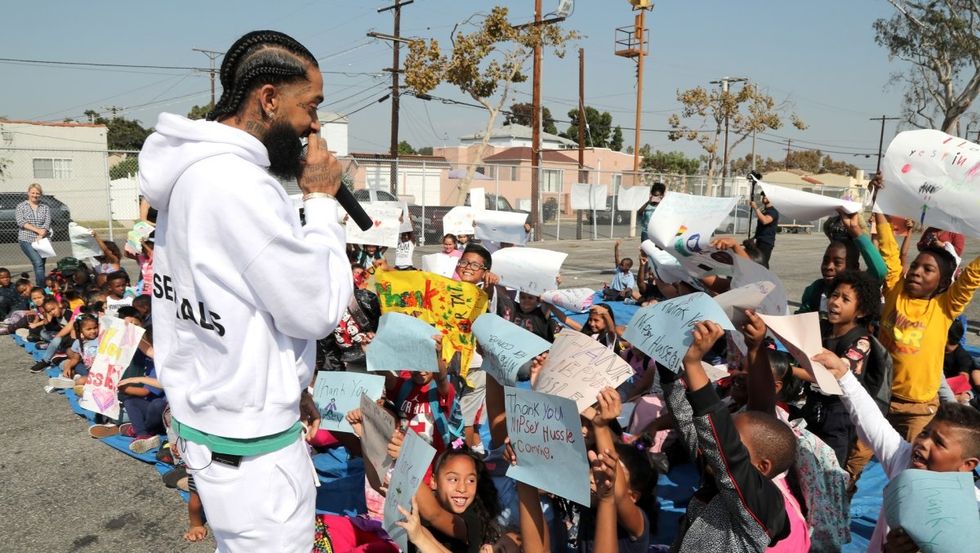 ktla.com/
33. Whenever I hear that someone has died at the age of 33, it jolts my spirit. Yehoshua the Christ died at 33. And, so did other people who made an impact in their own special way. Sam Cooke and Donny Hathaway are just two people who immediately come to mind. But when I thought about how one of my friends reacted when he heard the news, I knew that if there was one word to sum up what Nipsey positioned himself for, even in a little over three decades, it's legacy.
Me: "Dude, did you hear about Nipsey Hussle?!"
Him: "I can't believe it! I just bought a shirt at his store a couple of months ago."
My friend is a GRAMMY/Emmy/Dove award-winning producer by the name of SHANNON SANDERS. Because he's been in the industry for so long, we have interesting chats about the smoke-and-mirrors of the scene. But when I asked him what shook him so much about the loss of Nipsey, what he said about what he found to be the genuineness (not perfection but genuineness) of him is how I think I'll bring all of this to a close.
"My grandmother was a part of one of the first graduating classes at Crenshaw High School. Two neighborhoods I know like no other are South Nashville and the Crenshaw District. What I want to know at this point is, how many times do we have to see this narrative? It's so senseless and what I really hate about this instance is [Nipsey] represented the best among us in terms of community aspirations."
"To be killed outside of the doorstep of the empire that he built? It just hurts. But what I pray is that his loss will have a 'dandelion effect'—that what he did will inspire others when it comes to caring for people and building up their own communities. That if there is a silver lining to this tragedy, it's although he went to sleep, it has reminded many of us to wake up."
Hmph. I can't help but apply SHANNON's last line to the final scene in Spike Lee's School Daze. WAKE UP, indeed.
Rest in Peace and Power, Nipsey. We're holding you in our thoughts, hearts and prayers, Lauren. You come from good seed, Emani and Kross. We're up. We're woke. We promise.
Featured image by Andres Tardio.