As far as I'm concerned, Lady Gaga just won Super Bowl 50.
---
She may wear weird costumes and crazy hair, but she quickly reminded everyone watching the Super Bowl tonight that she isn't just one big gimmick --she has some mean vocals, and came ready to slay!
While rocking a red sequined suit, blue nails, and American flag themed shoes, she took to the stage before the battle of the best gridiron team and put in that work on in a flawless rendition of the National Anthem. We all got our lives during her performance, including celebrities.
W O W @ladygaga, that performance! The song ended 10 minutes ago and I still have goosebumps. What a legend 👸🏼

— Gigi Hadid (@Gigi Hadid)1454888331.0
@ladygaga performance was flawless!!! Beautiful! #SB50

— Cher Lloyd (@Cher Lloyd)1454888119.0
Dang @ladygaga just spiked the ball on the #NationalAnthem #SuperBowl. And she represented in #GoRed. This is going to be good! #fierce

— Star Jones (@Star Jones)1454888095.0
To say that Lady Gaga was excited about her National Anthem performance would be an understatement. In an interview with NFL Network, she revealed that singing the National Anthem at a major sporting event was a dream come true for her ever since she was a little girl. She also said:
"I have to live up to a song that stands the test of time...I think the best way to do that is kind of forget about yourself and just focus on what it means. ... I'm really singing it from the heart and I'm also singing it really very true to the way that it was written, because I think that's when it sounds its most majestic."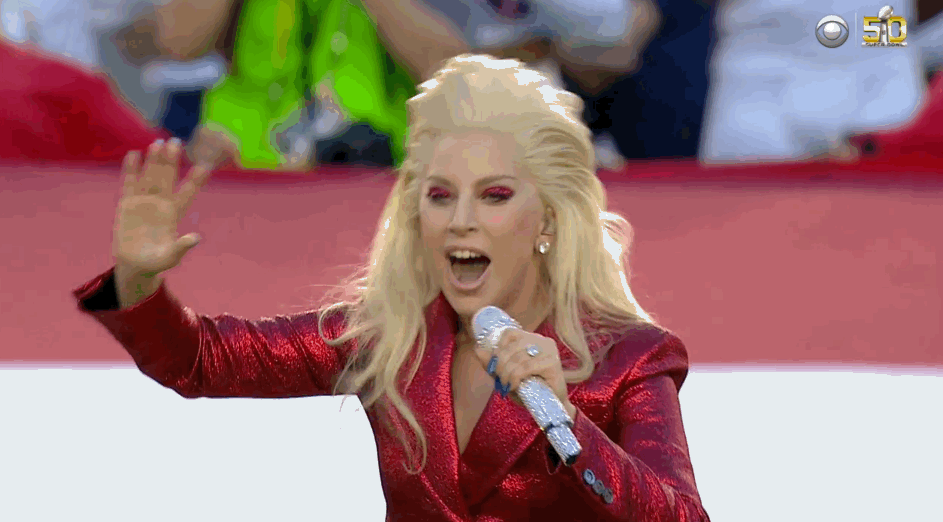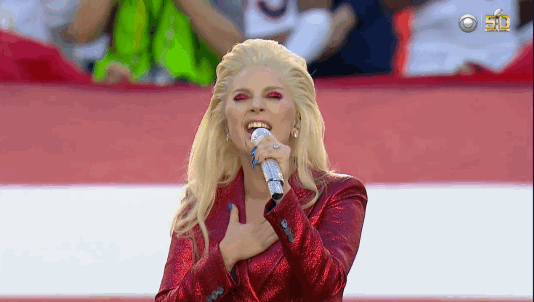 Saaaaaanngggg Gaga!
Watch the moment she snatched our wigs clean off our heads with her version of the National Anthem below.
Lady Gaga perform the national anthem at Super Bowl https://t.co/YEhObLWB45

— Lady Gaga Global (@Lady Gaga Global)1454890030.0
What did you think of Lady Gaga's performance?