As told to Jacinta Render
---
I made a much-anticipated appearance at the Cantu Beauty Dorm Party at Clark Atlanta University during the Beauty Beat NYC College Tour! The theme of the evening: Living your best life…In your best hair.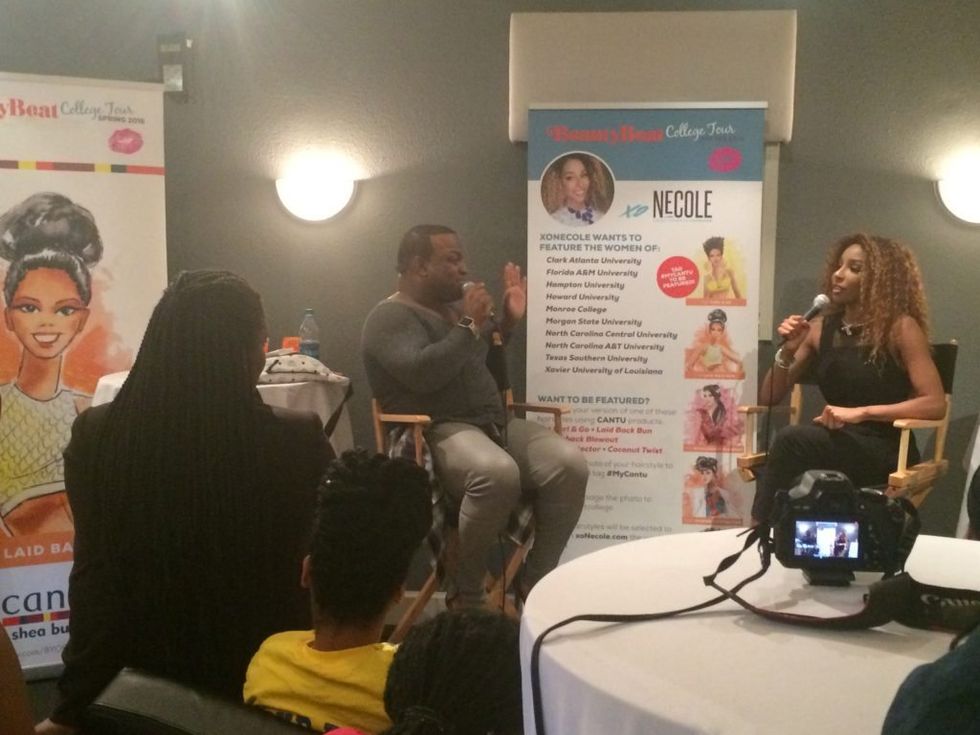 Interviewed by star hairstylist Derek J, the conversation ran from my heart-warming candid personal moments, the power of our curls, to my journey on becoming an inspiring mentor and boss chick. Students not only walked away with a handful of Cantu samples, but also, more drive and motivation in their hearts!
If you missed it, here are five pieces of advice I believe will lead you on the path to living out your dream…beautifully and on your own terms.
1. Own Your Look
People have always asked me, 'Why don't you change your hair?' For me curly has always been convenient, low-maintenance and I can just wash and go. I prefer to not have to sit in a hair salon every week. Although wearing my hair in curly styles started as more of a convenience; now it is part of who I am! I do change my look often—I dye my hair a lot because I can't make up my mind if I want it auburn, red, or honey blonde—but I always make sure it has texture so that I can avoid styles that require heat (curling irons, pressing irons, etc). I can just spritz my curls with a spray like Cantu Comeback Curl Next Day Curl Revitalizer to bring the curls back to life after a few days.
2. Moisturize, Moisturize and more Moisturize or Handle the Heat
I currently live in Scottsdale, Arizona where the air is hot and dry and in the summertime the temperature is in the 3 digits, so I always have to have some sort of leave-in moisturizing conditioner for my hair. When I first moved, I didn't know how important it was to keep my hair moisturized so I experienced a ton of breakage. To protect my hair from drying and breaking in the blazing heat I use Cantu's Leave-In Conditioner. You can't work against Mother Nature and if the air is humid then it's going to frizz up, so I recommend using Cantu's Anti-Frizz Smoothing Oil to eliminate the frizz as this usually keeps the elements of Mother Nature at Bay.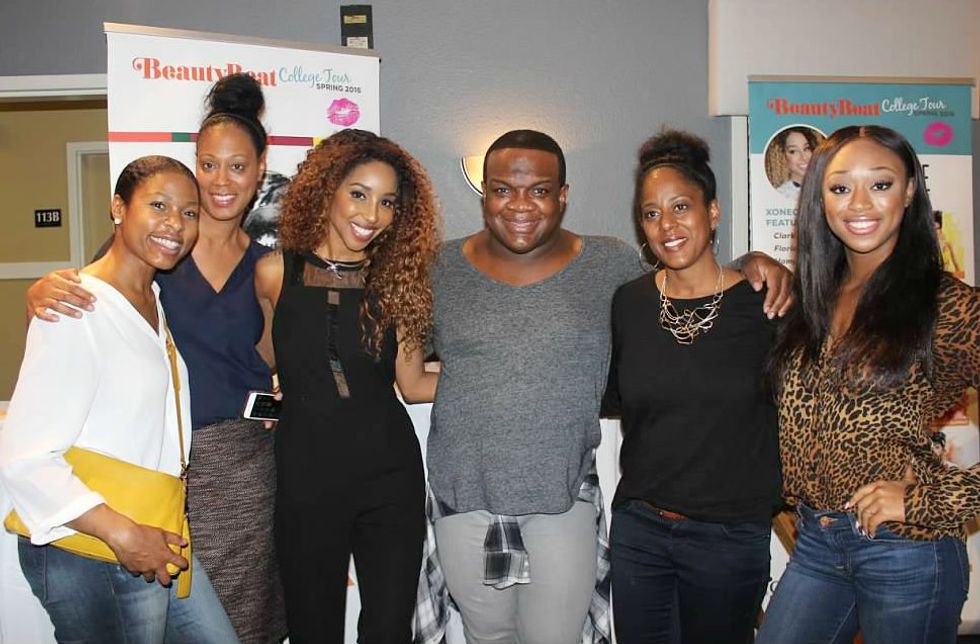 Necole, Derek J and The Beauty Beat NYC team
3. Keep Positive Vibes Around You
When I left my celebrity gossip blog, it really changed the energy around me. Everything shifted. Now there is nothing but positivity that comes to me every day. I am so blessed. When you go through life, you will have people who will come at you a certain way for no reason at all; however, when you begin to realize that what they have to say about you, really has nothing to do with you, but with them, life is so much easier. You don't take anything personally anymore. Being mindful of who you allow to trade energy with you every day is as important as the food you choose to eat. You want to exchange energy that's nourishing, not draining.
[easy-tweet tweet="Be mindful of who you allow to trade energy with you everyday"]
4. Write Your Own Story
In this day and age, it's really easy to get caught up in following trends…especially if it makes money. But to build a strong brand, you really have to be authentic to who you are and be consistent. I recently started transitional coaching women who are stuck and ready to press the reset button . When I coach clients I always tell them to think of their life as a book, now let's flip the book over and start at the end. I ask 'What do you want your happy ending to be?' Once they figure out how they want their life to go, then we start working backwards from there and taking the steps necessary to help them live the life of their dreams.
5. Be a Goal Creator
When I started NecoleBitchie.com, I created a six-month plan and wrote out where I was on social media and how many followers I had on each platform. I said to myself, 'In six months, I will have this many followers, this many page views, etc.' It really motivated me to wake up and work towards hitting those goals every single day. I didn't care if it was two new followers; I would get hyped! This plan will work for every aspect of life. Make goals and be clear with yourself so that you can bridge the gap between where you are and where you want to go.
_____________________________________________________
Cantu celebrates living your best life…with your best hair! Learn more about Cantu products and bringing out your unique beauty at cantubeauty.com. @cantubeauty #MyCantu
Jacinta Render, from Atlanta Georgia, is a recent graduate of Clark Atlanta University with a degree in Mass Media Arts. Follow her on Instagram at @jdaniellesshow