Before I interviewed Reagan Gomez, I pictured her having lunch with some Hollywood shufflers while checking her Twitter mentions at a swanky Hollywood restaurant. Maybe she was flipping her long, golden-brown locks over her shoulder, while laughing at an inside joke from said Hollywood shuffler, resting easy knowing that her children were being cared for by a nanny.
---
What I didn't picture was the Hollywood vet doing what any other mother of a toddler would do--making sure she was still on schedule. She sent me an email about an hour before our interview to confirm our chat. When I called her after the email, she was feeding her son. "Just wanted to make sure we were still on schedule?"
This was definitely not the picture of Reagan I had in mind.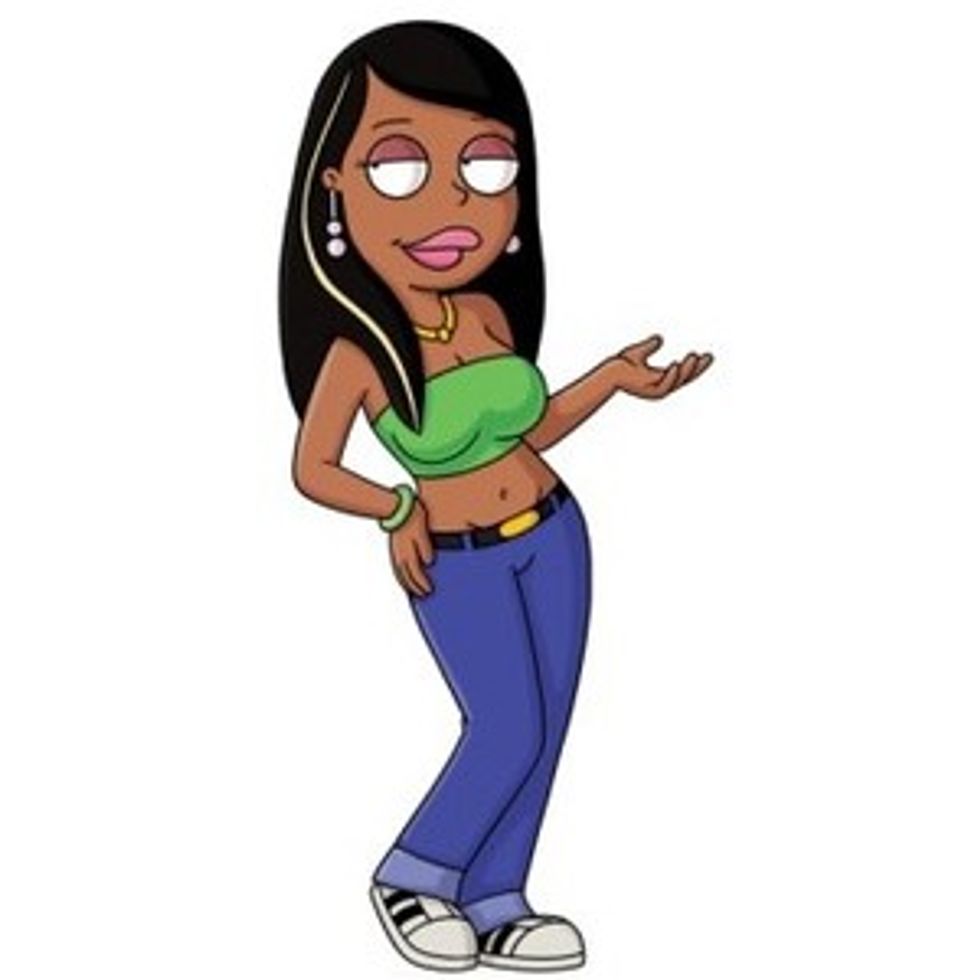 (Roberta from "The Cleveland Show".)
By the time we got off the phone, I felt like I talked to a good friend who I had not seen in 20 years instead of a bona fide actress who has been working in the business for more than 20 years.
It may sound cliche, but I felt her robust spirit over the phone. "It's so nice to talk with you," she graciously thanked me before the conversation began. She's from Detroit, by way of Philly, so I should have guessed that those two cities would make one memorable person.
Knowing this also helped to relax my nerves a little. I was actually speaking with someone who co-starred in a show that I had been watching on Netflix about a few hours before I called her - she played the voice of Roberta on The Cleveland Show.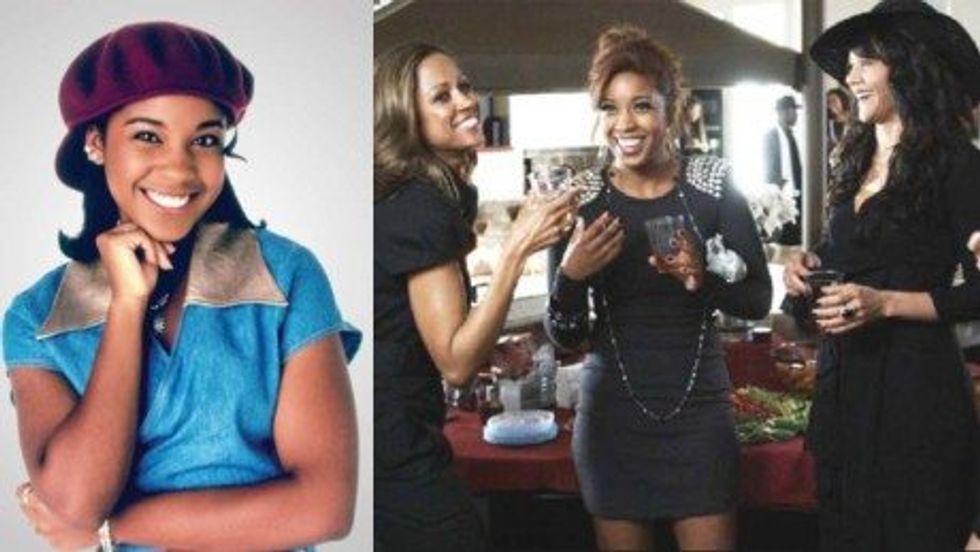 (From left: Reagan Gomez as Zaria, "The Parent 'Hood'; Reagan Gomez in "Dysfunctional Friends".)
You may remember her from her role as Zaria from the 90s Robert Townsend sitcom The Parent 'Hood. Or you may remember her from the MTV remake of Carmen, when she played Mehki Phifer's wife, and slapped his arm silly when he started overtly flirting with Beyoncé. She also played in the TVOne series Love That Girl, several movies (Beauty Shop, Dysfunctional Friends just to name a few), and if your child is a Cartoon Network watcher, you would know her voice from Steven Universe.
But what I discovered was that Hollywood is not her only hustle. The married mother of two had already produced three successful web series shows on YouTube.  The two seasons of her first web series Almost Home was met with much acclaim, as it dealt with fashion, music, and siblings trying to find their way in the world after their mother's death.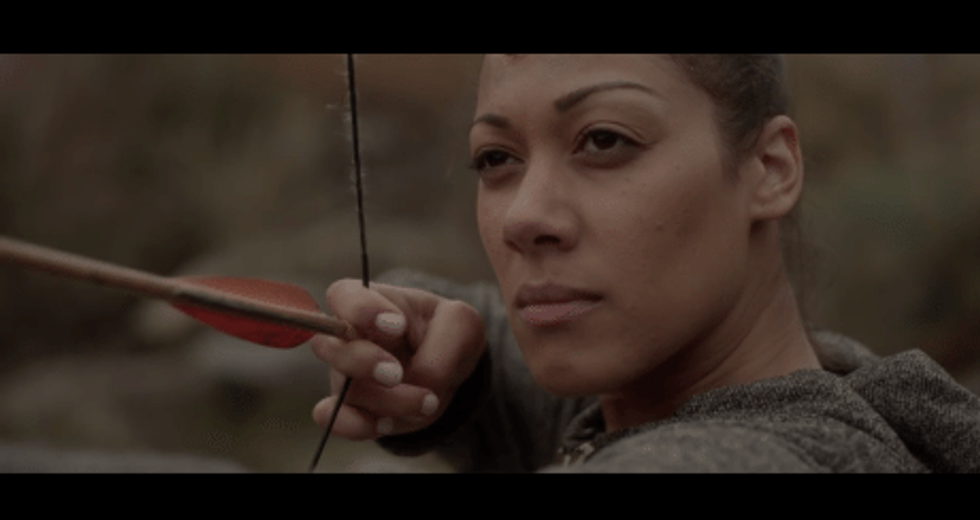 Cynthia Kaye McWilliams in Surviving
But her latest web series, Surviving, is a huge contrast from the last script. The show, which seems to be popular with her core audience, is a Sci-Fi series about a virus that is threatening to take all of humanity out of the game for the 1-2 count. It has the human survival elements of The Walking Dead, but the bow and arrow that the lead actress uses is sure to give you Katniss Everdeen vibes.
The show is quite impressive, and features a cast of notable Hollywood actors, including Jackie Long (Esquire from ATL), Cynthia Kaye McWilliams (Trina Shaw from Real Husbands of Hollywood), and Phil Morris (Delroy from Love That Girl).
Reagan said that the response to her latest project has been very positive. Her core audience has been anxiously waiting for her latest project, and she loves surprising her viewers with content they'd least expect.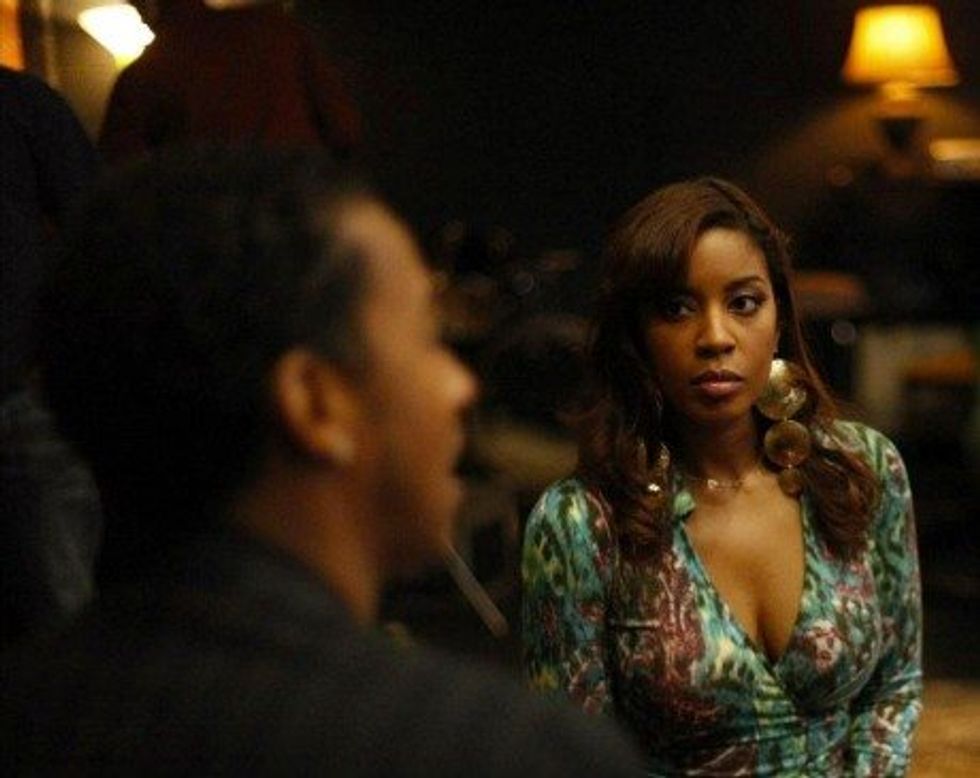 Reagan Gomez in Almost Home
"We had big following from our first web series that was basically about fashion, and music," she said. "I think doing a show like Surviving has taken us out of the box, so now you don't know what kind of shows we are going to do. We can do anything and everything."  
It was a very wise decision for her to go into the Sci-Fi genre of film, as it's virtually an untapped market for Black filmmakers. Hollywood is also lacking female directors too, so there's that.
With knowing this, my biggest question was whether or not she felt like she was competing with other Black content creators who are known for Romances or Comedies on YouTube. But Reagan disagreed with me, and schooled me on how she wasn't competing as much as she was helping to define equality.
"I don't think we're competing," Reagan said. "There's room for everyone...there's room for Black&Sexy, there' room for Issa Rae...[Tweet "Real equality is doing what we do best. The more quality content we create, the better.""]
Her drive to present audiences with quality content is admirable, but when she told me the work that she did with President Obama, I knew that our conversation had just gone from 0 to 10. I couldn't have been more correct.
In 2012, Reagan was a campaign surrogate--a person who acts on the behalf of a candidate running for political office--for POTUS' reelection campaign. As a surrogate, she appeared at public events that the candidate could not make it to in order to help the image of the candidate in certain demographic areas. In a video on YouTube, she was seen appealing to young people and women of color, and was the real deal!
I remember during Obama's reelection campaign, many political figures appeared to be impressed with the President's ability to organize young America, and to know that she was one of the people behind that machine was pretty awesome to know.
Without a doubt, she thought working for the President was dope. "They hired me because of my tweets," Reagan said.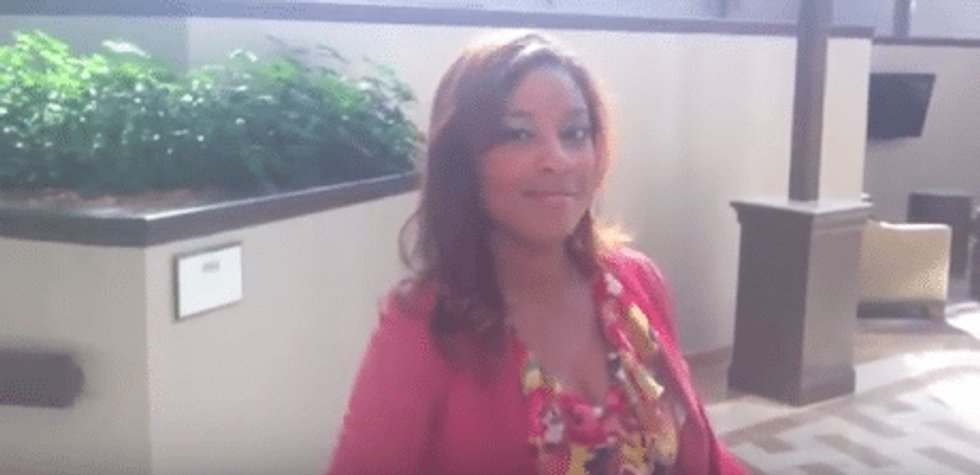 Reagan on the road as a campaign surrogate.
Reagan said that the experience was even more meaningful to her because of the racial tensions that had been occurring at the time. Obama getting reelected in 2012 almost felt like a win for everyone --like it became real for little Black boys that you can be a Black man in America, and sit in the highest seat more than once. But what she saw on Twitter was a stark contrast to the messages that were being conveyed to Black children, and Black America in general. She saw exactly what many Black Twitter users saw after the Trayvon Martin, Michael Brown, Tamir Rice, Sandra Bland, and other verdicts that involved racial injustice or police brutality. Like me, those tweets disturbed her.
"When Obama ran again, for me that's when I started to see racism...and Trayvon happened, and after that Mike Brown..and the abuse has gotten bigger every year."
By working with the President's reelection committee, she was able to help put a face behind the machine, and physically show Black children that they can actually be whatever they wanted when they grew up - even POTUS. "We went to Detroit, where I'm from," she said. "We went to Philly, where I've lived, and it was an honor."
So the magic question at this point was whether or not she planned to take her "Campaigning Like A Boss" position on the road for another Presidential candidate. I sat on the edge of my seat wondering if she would say something sensational like, "Definitely Hillary," or "I'm feeling the Bern." But instead she made it clear that she wasn't feeling any of the 2016 candidates.
"I'm sad that he's [Obama] leaving...I'm already exhausted by the candidates," she said. "No candidate has stood out to me to be honest with you. I consider myself to be a progressive liberal, and I don't really know who I'm going to vote for. I'm not excited about this election…as I was in 2012 and 2008."
It was an indescribable experience listening to another Black woman talk about her experience in helping with an election campaign, and then on to the things she feared for her children. I felt like she was pulling all of the same sentiments out of my ear, from one mother to another. She made me feel reassured when she reminded me how different things were when we grew up, and that watching videos with children getting killed by law enforcement was plain scary.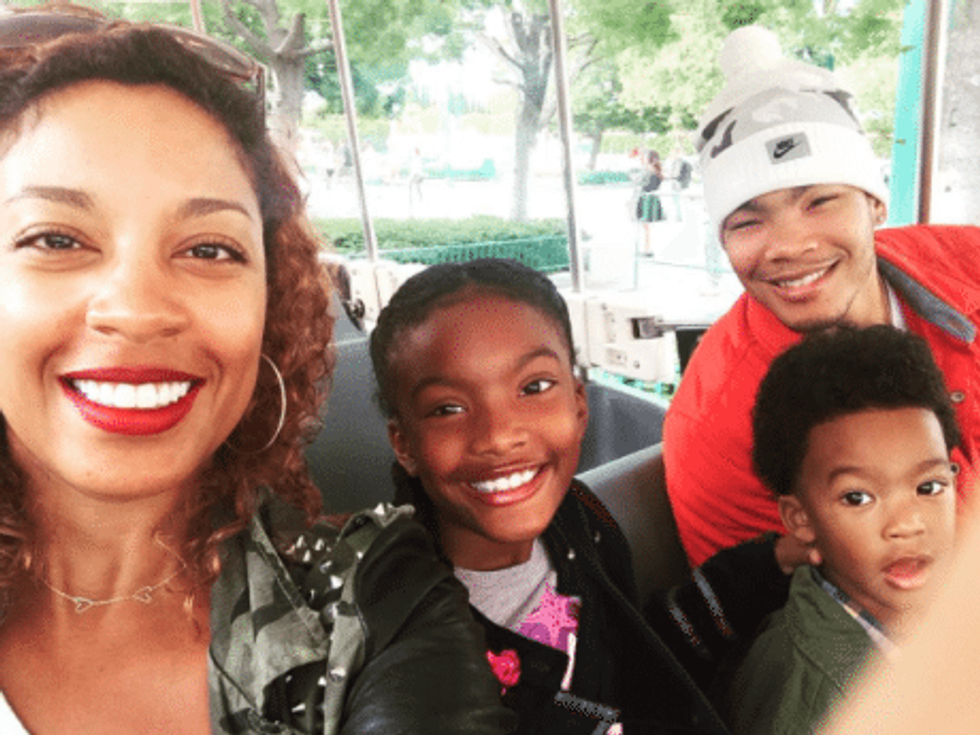 Reagan at Disney World with her husband and two children.
"I didn't even watch the video of Tamir Rice. I was like, 'I'm not clicking on it,'" she said. "He was a child! It's so hard you want to protect them, but you want them to be aware and educated and know what's going on and whats really happening around them."
Reagan says that she and her husband, DeWayne Turrentine Jr., both try to do what they can to keep their oldest child, who is in third grade, aware of her surroundings. The realization that her daughter already knows a lot more than what Reagan and DeWayne thinks, makes them both understand that they can't protect their daughter from the whole world.
"There's a lot I try to keep from her until she gets older, I don't want to bombard her," she revealed. "Not only is she black, she's a black girl. You have issues you deal with as a black girl, that you brother may not have to deal with. It's hard."
Like most parents, Reagan believes that one of the things that makes all children born in the digital age more aware of their surroundings is their access to the Internet. But keeping close tabs on your child's Internet content can be challenging if they are school-aged and use a textbook. Just several weeks ago, one Black mother discovered that her child's textbook altered history when the book labeled "slaves" as "workers". Knowing this presented a new set of challenges that many Black parents weren't ready for, including Reagan.
"These kids nowadays, they're exposed to so much. Both of my kids, they have iPads, they literally have the world hat their fingertips. I heard about the textbook and even that people are trying to remake history, not that we got a good education on slavery or Jim Crow. But at least they had slavery in the book. We can't let them sugarcoat history."
I tried to pause the conversation as long as I could at this point, because I really wanted to finish counting the jobs she had. Outside of acting, she is a professional Black Twitter user, she was once social
Reagen on set with the cast of Surviving.
media surrogate for the leader of the free world, a filmmaker, a voice over actress, a wife, and a mother who works hard to police her daughter's exposure to the world. I'm not sure how many hours in the day she's created to make room for these jobs, but I need to know her secret. I have less than half of the jobs that she has, and I find it difficult juggling crockpot meals and first grade handwriting with my own son. Motherhood is a whole different beast. But she reassured me that any one can have several careers and motherhood. It's all about balance.
Reagan attributes she DeWayne's ability to master their balancing acts partly to being fortunate enough to have flexible careers. Oh, and a little bit of luck is on their side too.
"I'm a soccer mom, [and] it's not easy," She laughed. "But we make sh*t happen when there is no way that we should be able to make sh*t happen...[Either way] the kids come first, and they don't give a damn what you're doing."
When she says she makes things happen, she's not mincing any of her words. She revealed that she was able to get her web series off the ground with the help of crowdfunding, which in turn helped her gain her audience, and allows her to keep them entertained.
"When it comes to independent film creators, we need the support of the people," she said. "If you love what you're seeing, you have to support. So go to reagangomez.com, and hit the donate button...and I'm hoping we get enough donations to fund season 2 [of Surviving]."
Reagan says that the more donors and supporters she gets for her web series, the more she feels excited about slaying digital media.
"It's inspiring, she said. "We're on the right path."
Watch new episodes of Reagan's web series, air every Tuesday on YouTube. Click here to catch up with the latest episodes.