In the wise words of Oprah Winfrey, Raven-Symoné has once again "set Twitter on Fire."
---
On Thursday, the former Disney Channel star expressed yet another troubling opinion referring to when she revealed she wouldn't hire someone with a "ghetto" name.  In a segment titled, "Are You Judged by Your Name?" Raven-Symoné revealed that while she wasn't racist, she was definitely discriminatory:
"Just to bring it back, can we take back 'racist' and say 'discriminatory,' because I think that's a better word. And I am very discriminatory against words like the ones that they were saying in the video. I'm not about to hire you if your name is Watermelondrea. It's just not going to happen. I'm not going to hire you."
I don't know if I was more disturbed by Raven-Symoné's honest opinion or how she casually laughed with co-host Michelle Collins who sarcastically responded, "Would you not hire me if my name was King'Kong'Quisha?" Because as if we aren't already being completely ignorant during a discussion about ethnic names, let's add insult to injury by including hurtful stereotypes instead of referring to more common names like Aaliyah or Aisha.
Raven-Symoné is no stranger in expressing unpopular opinions about issues in the African-American community.  She first caused a firestorm when she revealed she was a "colorless person" during an appearance on Oprah's Where Are They Now? series and insisted that she was over race labels:
"I'm an American. I'm not an African-American. I'm an American."
I also found it hard to take someone seriously who was on national TV rocking a Kool-Aide red mohawk (which I think is kinda dope by the way) implying that she wouldn't consider a job applicant if they had a "ghetto name". But the former Cosby kid is not alone in her opinions. The conversation was actually sparked by a study published Thursday in the Journal of Evolution and Behavior. The study revealed a variety of disturbing insights including that students with "black-sounding names" were more likely to be labeled as troublemakers by their teachers, job applicants with ethnic names were less likely to be called for interviews than their white counter parts and men with "black-sounding names" were more likely to be imagined as dangerous or violent.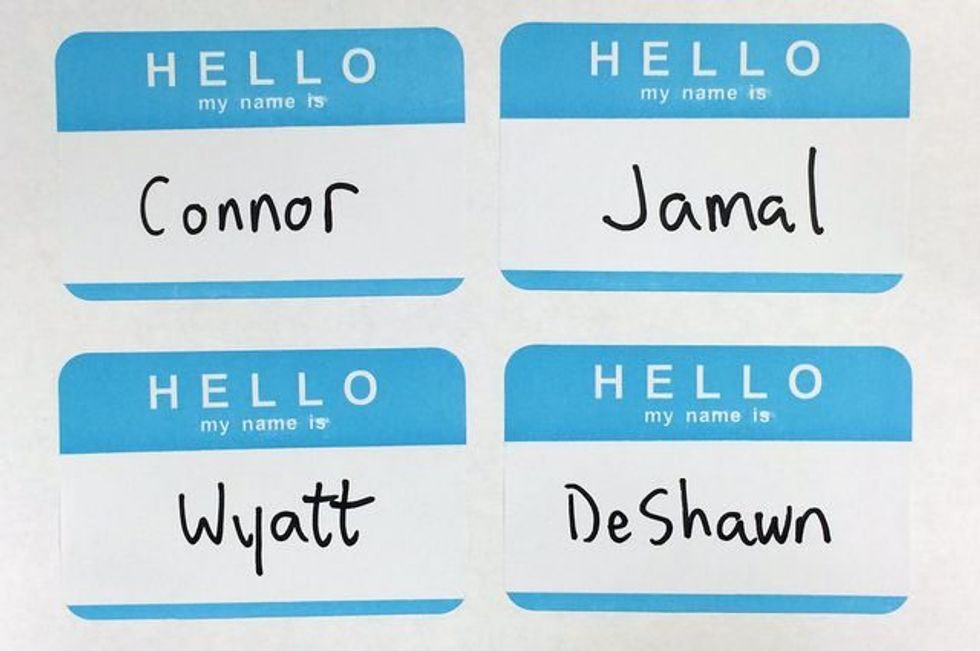 "I've never been so disgusted by my own data," said lead author Colin Holbrook, a research scientist in the anthropology department in the UCLA College. "The amount that our study participants assumed based only on a name was remarkable. A character with a black-sounding name was assumed to be physically larger, more prone to aggression, and lower in status than a character with a white-sounding name."
Excuse me while I imagine the white participants of this study envisioning Barack Obama as a large, violent, angry, black man based on his name alone or an employer tossing Condoleeza Rice's résumé into the trash because she's obviously a gum-popping, gold-hoop-wearing trap queen who spends her days waiting on her food stamps and beating her bad ass kids.
Is Raven-Symoné only saying what corporate America is legally unable to?
In 2008, I was one of those lucky grads who walked down the aisle after graduation and right into the recession. It was my first healthy dose of reality as I realized that even if you follow the blueprint for the American dream, it doesn't mean that you won't find yourself underemployed paying for a four-year-degree with a minimum wage salary. I sent out résumé after résumé trying to snag my dream entry-level job as a program coordinator at a non-profit.  I just knew the gap years I took gaining volunteer experience and the two internships I completed on top of a full roster of classes my senior year would land me my dream job, and it did, but only after I removed my first name from the top of my résumé and replaced it with initials instead.
During my job search as I Googled ways to make my résumé stand out from the millions of other recent grads eager to change the world one after-school program at a time, I came across an article that suggested the possibility my ethnic name was sending my résumé straight to the "Do Not Hire" pile, so I figured it wouldn't hurt to try replacing "Natoya" with "N.S.".  Any organization that couldn't get past my name to look over my qualifications was probably one I didn't want to work for anyway, but I was curious to see if the calls began pouring in. And honestly, I did receive a lot more responses than I did pre-name change. The position I ended up taking was with a national non-profit that prides itself on its diversity, although until this day I'm still not sure if the only reason they called is because they were able to get past the "N.S." to see I had volunteered with a branch of the organization for years.
I get that it's easy to make Raven-Symoné the scapegoat for this country's dated mindset on culture and stereotypes, but let's not forget that she is only in agreement with a number of others as revealed by the study.  I guess it just hurts a little more since we expected someone who starred in a whole episode of That's So Raven dedicated to discrimination and employment to feel differently. Especially someone whose name isn't exactly a spell check's dream either. I don't have an issue with names that end with a vowel and the occasional unnecessary accent mark, but I must admit that after choosing my daughter's name, I did a silent cheer in my head realizing that she may not have the same résumé renovation issues I did because you can't tell whether she's a girl, boy, white, black or in between (and even still people are quick to tell me they aren't fans of my choice, but that's a another story for a different day).  If you want to choose to name your child after your favorite gluten-free snack or your favorite car company, it doesn't reflect their intellect, character or whether they're qualified for the job or not. You would think in a Blue Ivy, North West and Apple Martin kind of world we would know that.
Check out Raven-Symoné's statements below: