Serena Williams is forever the GOAT!
After gracing the cover of Sports Illustrated magazine's "Sportsperson of the Year" issue back in 2015, taking home her 7th Wimbledon win and 22nd grand slam in 2016, Coming in at #51 on the Forbes 100 Highest Paid Athletes list in 2017 - the only woman to chart the list making her the highest paid female athlete in the world and giving birth in that same year; Serena is constantly reminding us that she is the definition of Black Girl Magic.
---
While you celebrate her wins, here's 8 things you probably didn't know about Queen Serena.

1. She Doesn't Know How to Lose--Even if She Tried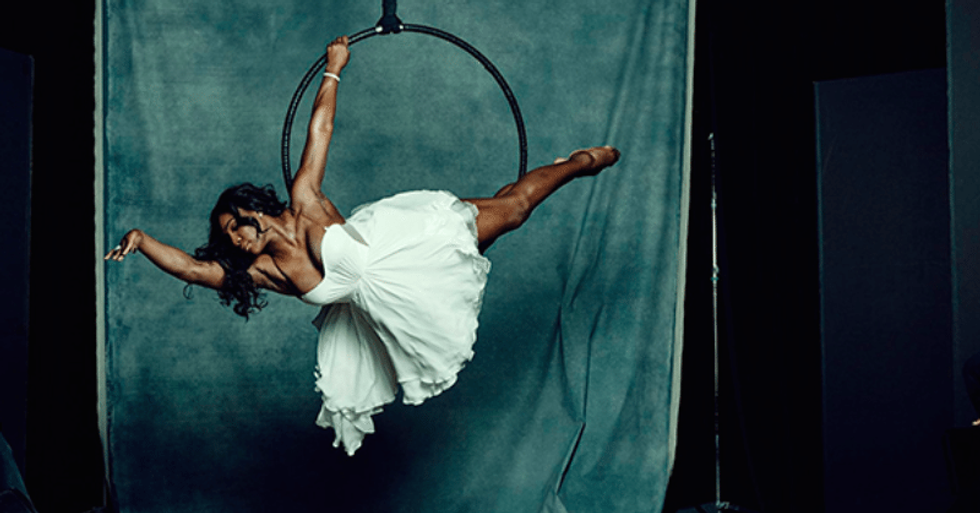 Serena Williams is a natural born champ, and like most successful athletes, she's had her (rare) share of losses. However there was one year, the athlete was sick, and at one point, felt like giving up. But her talent wasn't having it:
"Williams battled her body like never before. A cough and cold had her vomiting before and, for the first time, during a match: the Australian Open final, in January, which she won anyway. Bone bruises in both knees, the residue of 20 years of pounding, flared during the spring hardcourt swing and never subsided. Her focus frayed, her footwork suffering.... But she refused to buckle. Sown a set and a break in the semifinal, Williams roused herself—from pitiful to pitiless—and won 10 straight games to crush Timea Bacsinszky 6–0 in the third."I was crying so hard," Serena says. "I didn't want to win. I just wanted to go home. I said, 'I can't play anymore.'"

2. She Wants to Be Known as The Greatest Ever
She's a perfectionist, but who isn't?! Like anyone else, Serena wants to be the regarded and remembered as one of the best tennis players of all time.
"I do want to be known as the greatest ever," she says. To many she already is. But that's not the sole reason why we arrive, now, at this honor. It's also because Williams kept pushing herself to grow, to be better, and tennis was the least of it. The trying is what's impressive. The trying is why we are here.
3. She has learned to live (and laugh) off the court
Serena has always been fierce, but do you know she's also a little feisty? Throughout the years, the tennis pro has incurred massive fines the size of annual salaries for her temper, something she admits she is working on partly due to growing up and the other due to her religion. Serena was raised a Jehova Witness and says "forgiveness" is very big to her.
"She infamously threatened a line judge over a foot-fault call, incurring a record $82,500 fine in 2009. [But] this time? Williams wiped her face and, two points later, ripped a forehand winner. She celebrated with a slow fist pump and a sardonically soft "Come on." Then she fired another ace.I just kind of laugh [now]," Williams says. "A few years ago I wouldn't have been able to laugh. I haven't lost that part of me; I'm very passionate on the court, but I've learned to be fierce more on the inside. It was a Grand Slam final. I said, 'Serena, just laugh. You've been here before.' I learned from that experience."

4. She Sings Along to Drake During Photo Shoots
Serena may have managed to dodge questions about her ex romance with Drake, however, she couldn't help but get caught dancing again to his music.
"Then there was the shoot for this week's SI cover, a six-hour production involving a cooing crowd of handlers, makeup artists, designers, assistants, wardrobe advisers, two caterers, one aerialist for the hanging hoop thingy, a gold throne, a makeup trailer, a food tent and a supernova fashion photographer who said, "I love it!" A lot. They played Drake once or twice. Williams sang along."I hear I'm with someone new every week," Williams says, confirming none of it. "I'm really happy right now."

5. She had her first "race reality check" at 19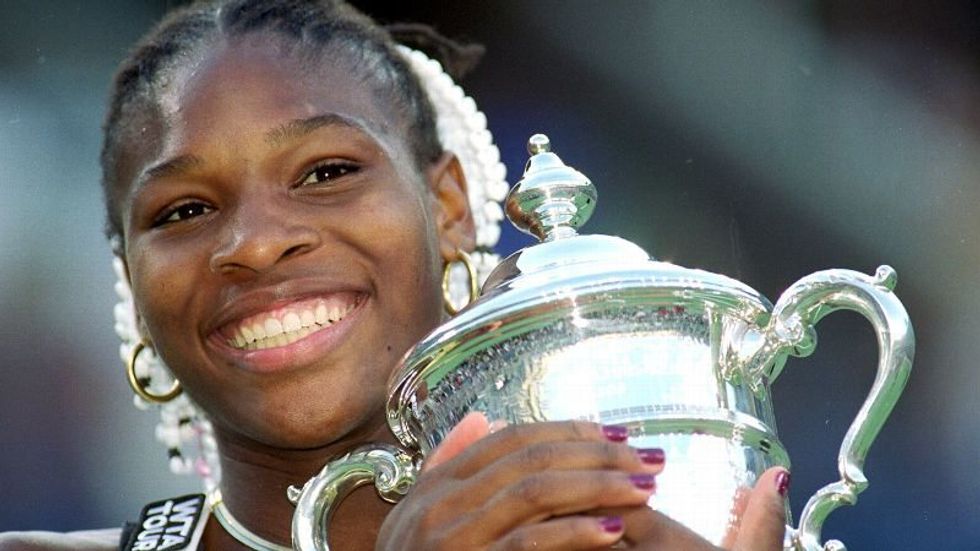 Like most minorities at some point in their lives, Serena has experienced her share of racism and injustice. Before it was the politics surrounding her questionable endorsement deals and overall pay, Serena first face heightened racial tension during a tournament in 2001:
"By the time Serena, then 19, walked on the court [in Indian Wells, CA], the crowd was in full lather—and she still hadn't been told why. Boos changed to cheers whenever she double-faulted or made an error, but they returned when she beat Clijsters and grew thunderous when she left the court to hug her sister and dad. She would write in her 2009 autobiography, On the Line, that she, too, "heard the word, n*gger, a couple times.""As a family we were all hurt," says [sister] Isha. "It stayed with us a long time. Our parents have always been very clear about who we are in terms of the country, but to have evidence of that? It was a disillusionment, the end of any innocence that we had about the world we lived in."

Serena would later have another "race" incident a couple years later:
"She [later] describes an incident with a young gas station cashier when she was in her early 20s: "He didn't want to touch my hand. He told me to put the money down. I found it fascinating that it's 2000-something and this guy had that attitude toward a black person. I wanted to do things, like, touch this or that, just to see what his reaction would be. I'm almost glad I had that experience, so I can understand more what people have to go through."
6. She Wants Use Her Platform as a Star to Bring More Awareness to Black Lives Matter
Serena has been very inspired by her own experiences as a teen and the experiences of other minorities to be more vocal on racial tension and inequality. She was particularly inspired by the death of Ferguson's Michael Brown, which later led her to not only return to India Wells 14 years after being boo'd out of the stadium, but to also raise over $200,000 for the EJI- the Equal Justice Initiative, an Alabama based legal organization that helps provide representation for those prisoners, mostly Black, who may have been wrongly convicted and can not afford strong, legal representation.
"I've been a little more vocal but I want to do more. I want to help everyone to see the so-called light. But there are a lot of other athletes, actors, politicians who are speaking out—of all colors, by the way. They're not sitting back. They're calling for justice straight away. It makes me look at myself and say, like, What am I doing? I have a platform. I can speak out, too. If one person hears me, maybe that person can speak out and help. I embrace that. I'm willing and happy to be part of this new movement."
7. She Likes to "Hang Out with Success"
And we're not talking for the sake of being stuck up, she actually wants to learn from these women. And we're not made at it!
"Martha Stewart, one of her companions, says: "[Serena] asked me lots of questions. She likes to hang out with success. She likes to hang out with people who are not going to pander. Yet she also can be very kittenish, can get real pouty and babyish and seem like a juvenile even though she's not. That's her charm. And it's not fake."Williams [also] tweeted that Sheryl Sandberg, COO of Facebook and network of 1.3 billion, was the celebrity with whom she most wanted to have dinner; Sandberg reached out. Soon after, there they all were at a Florida seafood restaurant. Sandberg, used to self-promoters, was struck by Williams's curiosity. She kept asking questions. She wanted to know all about technology. "She's incredibly smart," Sandberg says."

8. Serena is also a GENUINELY good friend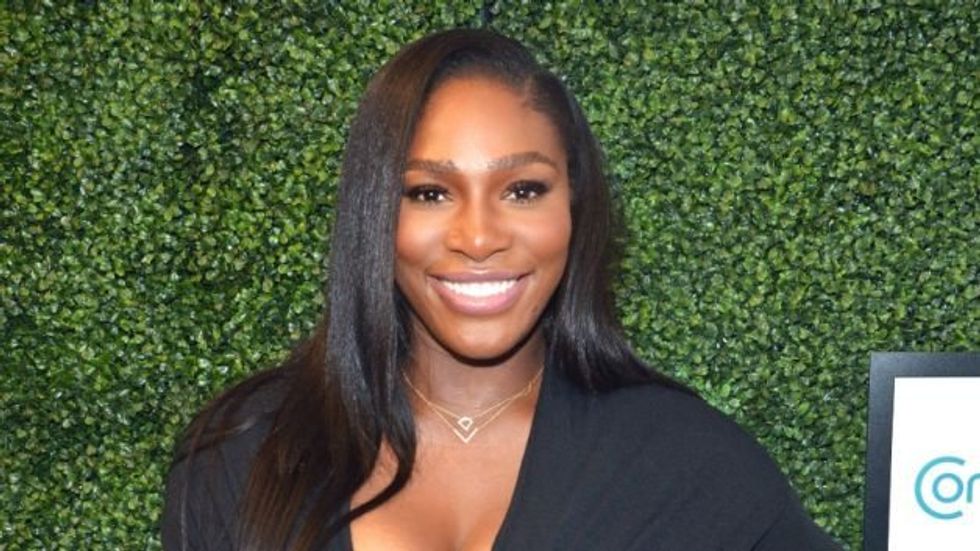 After only recently becoming friends with Sheryl, and having met her husband Dave Goldberg once, Serena was very empathetic to Sheryl's loss when Dave died of a freak accident, even opening up to Sheryl about her own sister (Yetunde Price) who was murdered 12 years ago during a shootout in Compton.
"Last May, Goldberg died at 47 of head trauma after falling on a treadmill while on a family vacation in Mexico. Sandberg, now 46, was shattered. Williams was playing the Madrid Open when she heard; she posted her condolences on Facebook, but that didn't seem enough. "I just kept getting these messages from Serena, every couple of days—for months," Sandberg says. "Texts, messages, voice mails. She would write, 'You have all my strength' or 'You are the strongest woman I know. You will get through this.'"And they just kept coming," Sandberg says of Serena's messages. "For Serena Williams to say, 'You have all my strength'? God, when you're like where I was after Dave died, that feels like a lot of strength. I would feel like she was carrying me."

What an amazing spirit!