This past Sunday, singer Lizzo took home the MTV Video Music Award for "Best Video for Good" for her #1 song "About Damn Time." Lizzo directed a portion of her acceptance speech to her haters. "And now, to the b-tches who got something to say about me in the press:" the 3x Grammy Award winner says. "You know what— I'm not gonna say nothing. They be like 'Lizzo why don't you clapback?' Because, bitch, I'm winning, hoe!"
---
Her comments come after a video went viral this past weekend of Def Comedy Jam has-been Aries Spears made disparaging remarks about the singer's body and a few weeks after Real Housewives of Beverly Hills star Kathy Hilton referred to Lizzo as "Precious," the titular character from Lee Daniels' 2009 film, which has become a derogatory name used to invoke shame around being a dark skinned fat Black woman.
Since becoming a viral sensation with her mega hit song "Truth Hurts," in 2019 (two years after its initial release), Lizzo has been subjected to unrelenting hatred with regards to her body. When speaking about it in an interview with David Letterman for his Netflix show My Next Guest Needs No Introduction, she said: "It bothered me for a long time that all people could talk about or think about was my size. I didn't like when people condemned me for it, and it also kind of rubbed me the wrong way when I was praised. Like, 'you're so brave!'"
Despite the awards and accolades she's accrued in her career, the conversations that surround Lizzo don't focus on her talent or her accomplishments or that she can sing, rap, twerk and play the flute all in the same performance. In just the last few weeks, her fourth studio album Special released in July went number one on the Billboard charts, a first in her career. She earned her second number one song with "About Damn Time." Her Amazon Prime reality competition show Watch Out for the Big Grrrls was nominated for six Emmys and is one of the most empowering celebrations of Black women's bodies onscreen. Her undeniable impact on pop music and the culture is what should define Lizzo as an artist.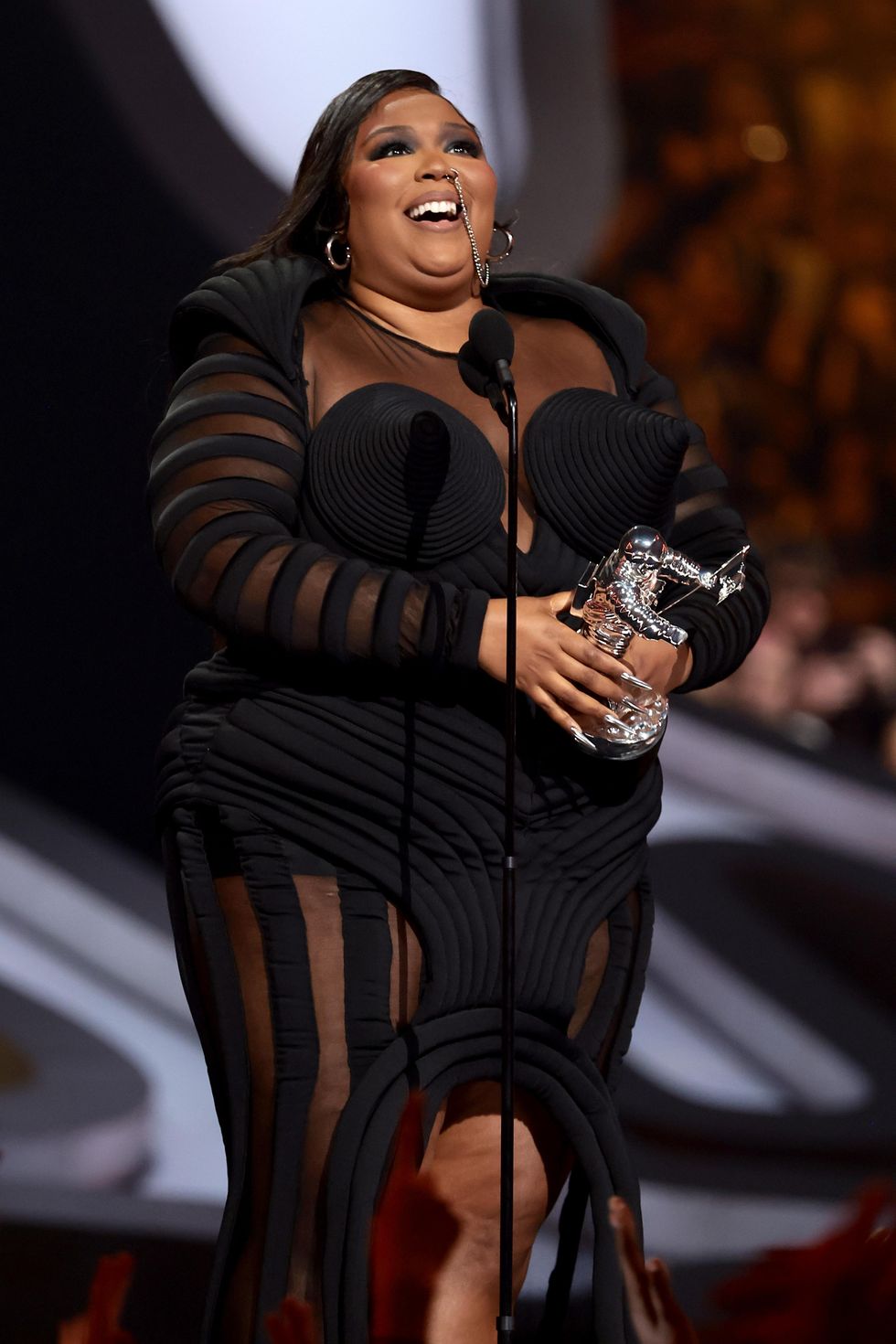 Lizzo winning at the MTV VMAs 2022
Photo by Dimitrios Kambouris/Getty Images for MTV/Paramount Global
Instead, Lizzo has become a buzzword, a shorthand that groups choose to utilize. She's either emblematic of a supposed woke culture run amok or she's an affirmation generator, a series of Pinterests quotables meant to be plastered on a coffee mug.
In both scenarios, Lizzo isn't allowed the full breadth of her humanity. There's no room for her to grow, for her to make mistakes, to cry, be angry, or to express any form of discomfort.
Many fans of hers have pointed to Lizzo's seemingly endless reserve of self love whenever anyone makes derogatory comments about her. There's no doubt in my mind that Lizzo is a confident woman. But someone's confidence isn't an invitation to subject them to endless abuse. Confidence isn't a test in how much one can endure. Her refusal to shrink herself metaphorically or literally is not an invitation for the world to test the tenacity of her self-love commitment.
Lizzo deserves to not be used as a punchline or a rhetorical device. She deserves to be celebrated for her talents and be given the same love and joy that she puts out through her art.
Let's make things inbox official! Sign up for the xoNecole newsletter for daily love, wellness, career, and exclusive content delivered straight to your inbox.
Featured image by Gotham/WireImage