---
In xoNecole's Dope Abodes, we tour the living spaces of millennial women, where they dwell, how they live, and the things they choose to adorn and share their spaces with.
The best things in life are simple and sometimes the most exciting part of waking up is knowing that you're at home. While jet setting the world and securing a bag may be a whole mood, you also need a peaceful landing strip to recollect and recharge. According to Atlanta native and professional wellness savage, Ashley Marietta, your home should be a place that heals you from the inside out.
The work-from-home creative and her boyfriend, Forte, who is a producer, share a two-bedroom apartment in the Lindbergh area of Atlanta that is abundant with foliage, crystals, and a whole lot of zen. While one room of the house acts as Forte's in-house studio, the rest is adorned with plant life and vintage finds found at thrift stores and estate sales.
The creative says that she inherited a love of plants from her mother, who Ashley hails as a "master gardener", and is now working to cultivate has a mini-conservatory of her own while she pursues an education in herbalism. She told xoNecole, "I'm just really in the wellness field. I'm an herbalism student. I love anything that has to do with herbs and nature, natural remedies."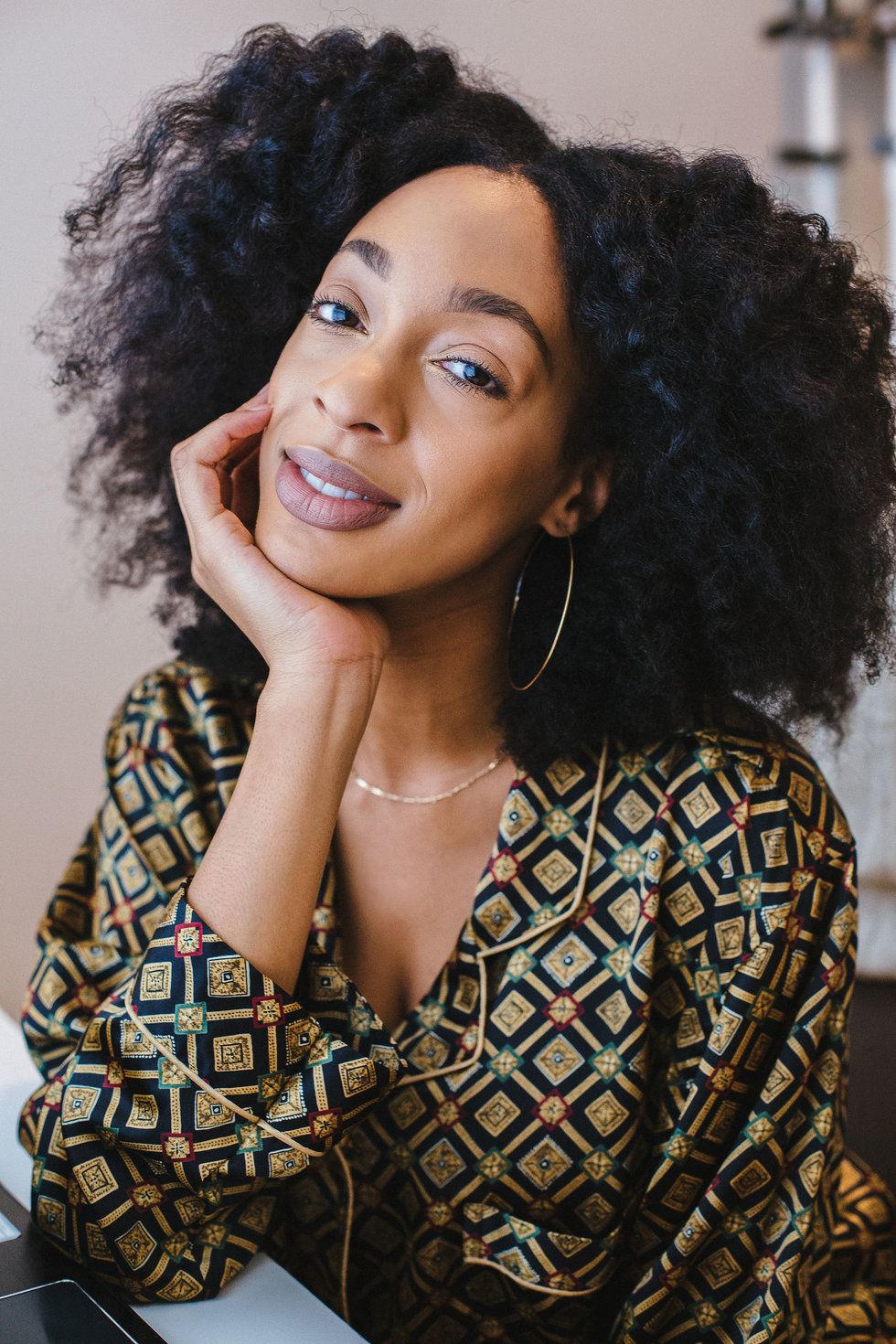 Photo by Sanniyah Sloan for xoNecole
To Ashley, her plants are not only a hub of medicinal properties, but they also hold a great deal of sentimental value. Aside from her aloe vera, majesty palm, and bamboo plants, Ashley says that there is one very special piece of greenery that will forever hold a place in her heart. She shared that when she was fired from the last 9 to 5 she ever had, she left with nothing but a shrub and a dream. She explained, "I love this plant because I got fired from this job and that's the last job I ever had. And when I left I had a piece that was [very small] and I took it with me. And I grew it from there, so that's my baby. We came up out the mud together, literally."

We got a glimpse into this herbal hottie's simple sanctuary on an exclusive tour, where Ashley gives us the details on what she looks for in a home and how to make minimalist magic on a budget:
Manifest & Chill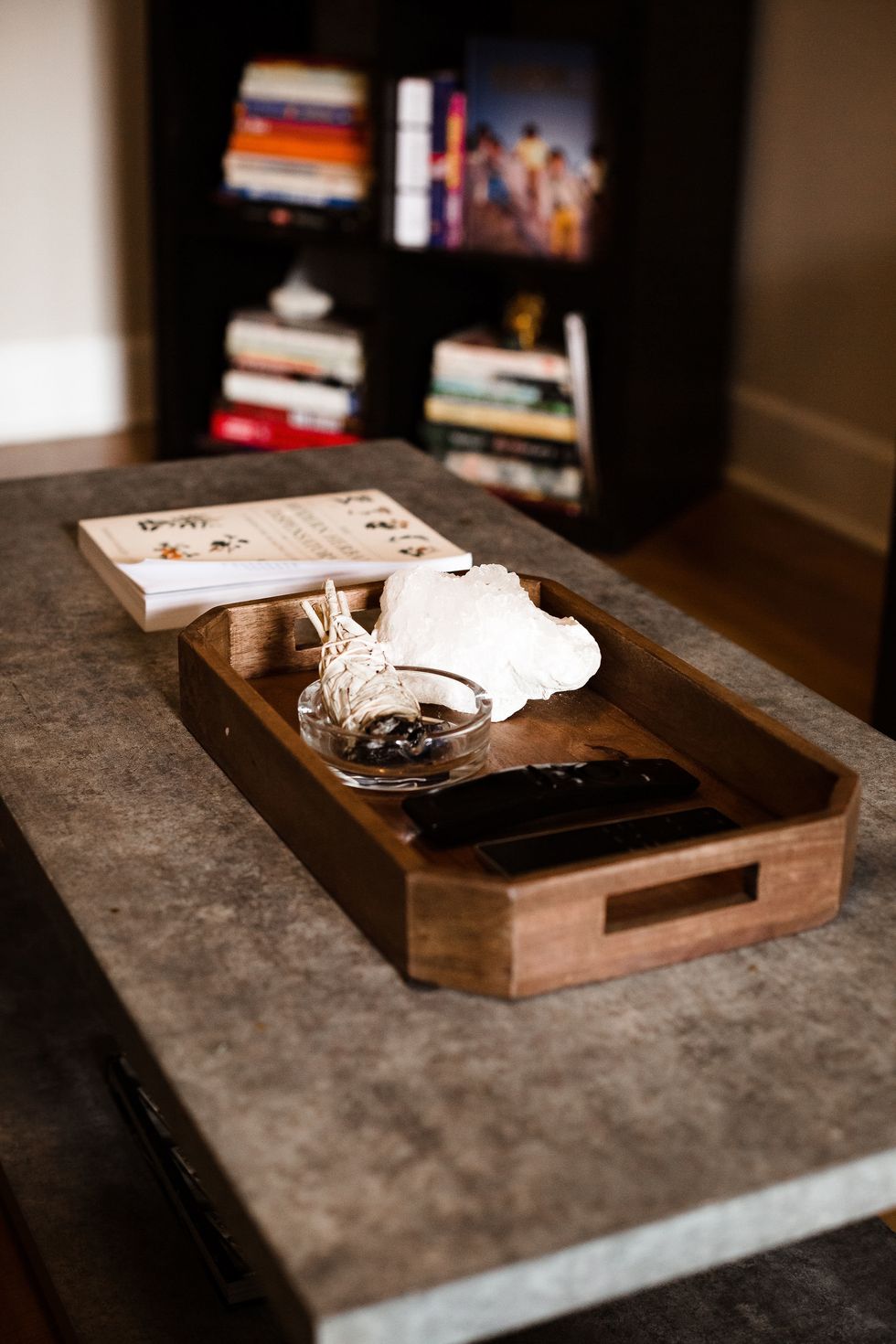 Photo by Sanniyah Sloan for xoNecole
"I'm not playing about my energy, I sage once a week," she told xoNecole sternly. "I don't even know if the whole crystal vibe is real, but mentally, it makes me feel better, so I keep my crystals on deck. I have crystals everywhere, in the bathroom, on the bookshelf. At the very least, they claim that they deflect cell phone waves, allegedly."
Frugal Finds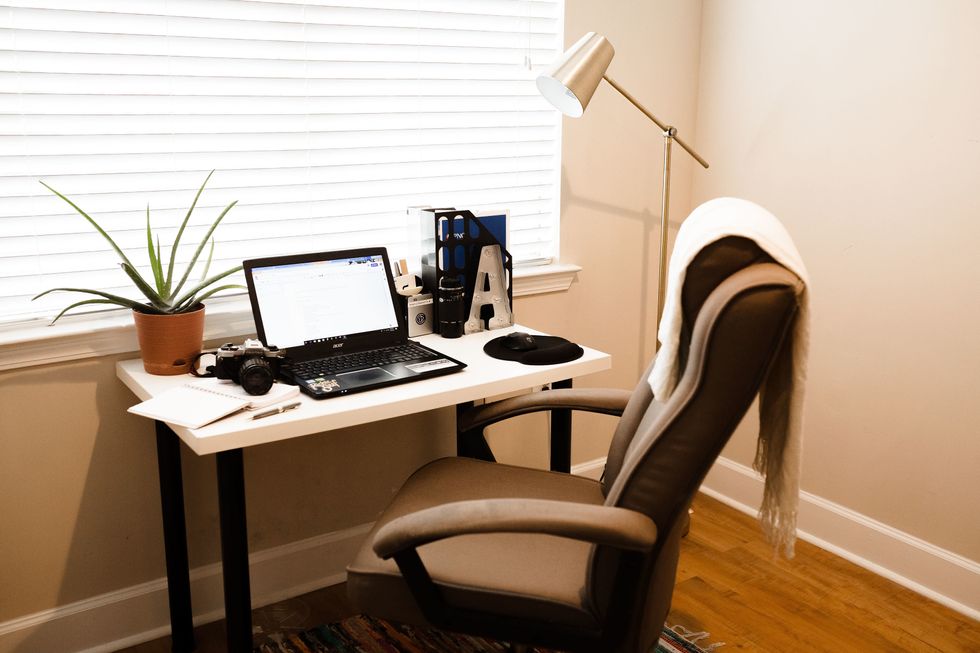 Photo by Sanniyah Sloan for xoNecole
"I try to treasure hunt because I'm just now starting to make stable money. So before this point, I had to really hunt for things that were nice but affordable. Even Ross for me was expensive. So I would say thrift stores and estate sales are really cool. Because it's stuff you can't find anywhere else or people are just basically trying to get rid of it."
Vanity Fit For A Queen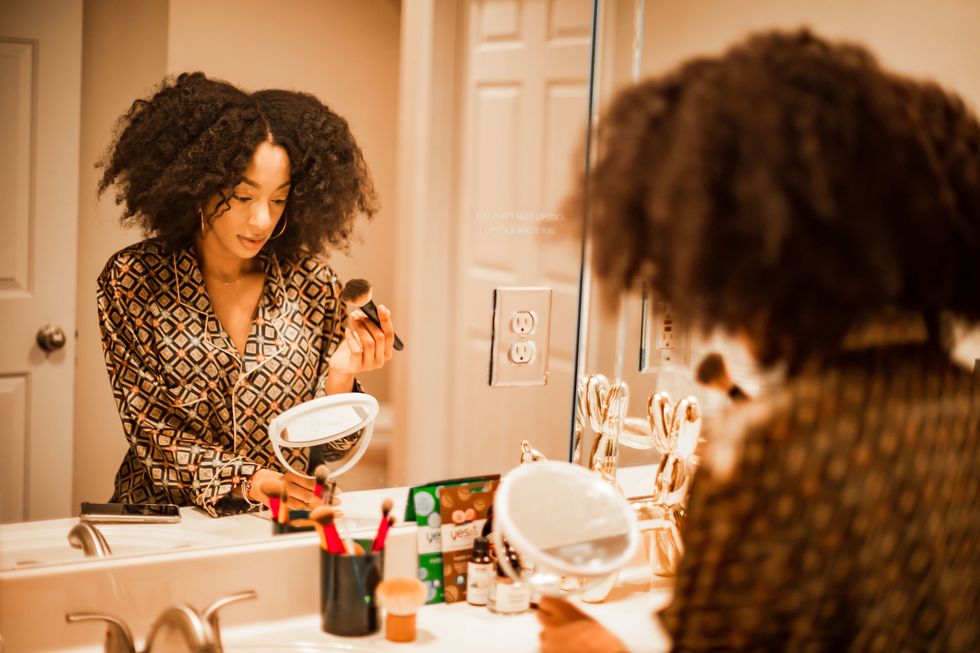 Photo by Sanniyah Sloan for xoNecole
"I'm not gonna lie, this is why we even ended up here. This is what sold us on [our home] because we were like, 'Eh, it's okay, whatever.' Then we saw the bathroom, we were like, 'Okay cool.' 'Cause he and I, we used to fight to get ready in the morning to get ready. So it definitely was a selling point," Ashley laughed. "I could stay in here forever. I really take pride in it. When I get ready to go, it's my time to kind of pause and meditate and just take a breather. And then I start getting ready and just zen out instead of rushing like I used to."
Comfy Corner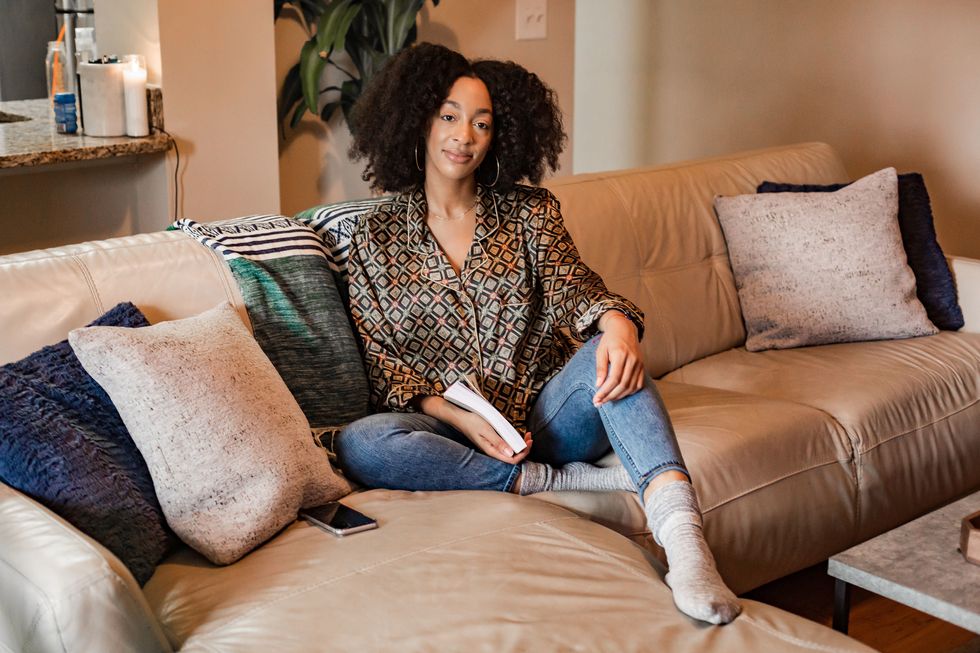 Photo by Sanniyah Sloan for xoNecole
"My boyfriend and I are both antisocial and we both like to just chill and relax. So even though we're like together in one space, it's not invasive because we're able to do our thing. We'll kind of congregate here which is is why I love this couch."
Vision Boards & Views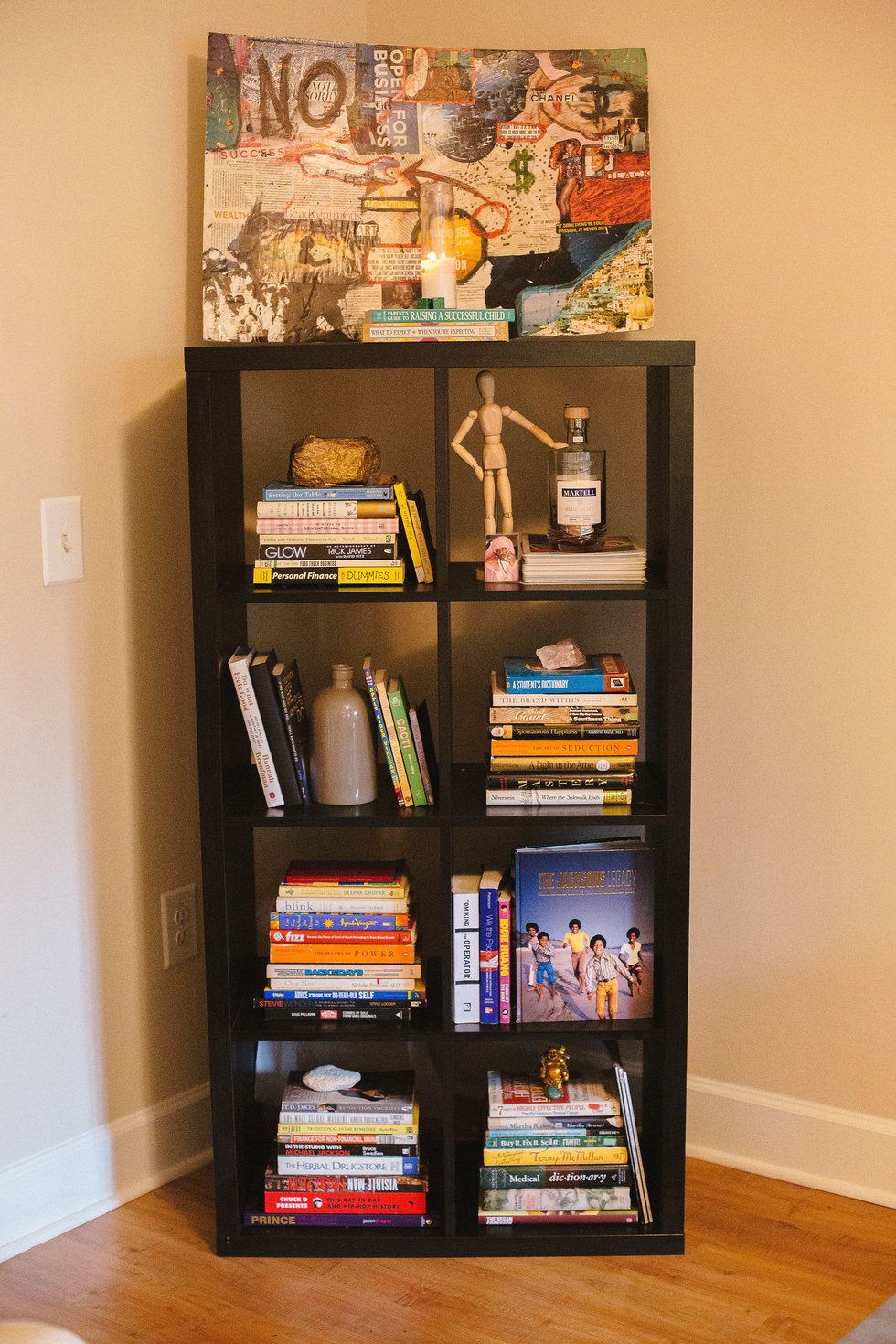 Photo by Sanniyah Sloan for xoNecole
In regards to her vision board and its very bold writing of the word "no", Ashley shares a sentiment a lot of us feel about the powerful boundary-setting word. "I just felt like I need to say 'no' more and not out of like negativity, but just out of respect for myself. This is like the year of me focusing on me. I think I was like really considerate of everyone else and helping other people build their brand. So I said, this the year I want to focus on my health, my wealth, be more of an entrepreneur. Just feeling like I don't have to be tethered to people, family and doing what I gotta do for myself and knowing that my wealth will overflow into them. I know that's like complicated but that's literally what I'm thinking when I did this."
Click through the gallery below to tour her dope abode, as well as some of the intimate details that make her apartment feel like home:
Keep up with Ashley by following her on Instagram @AshleyMarietta!
Featured image by Sanniyah Sloan for xoNecole