I thought all of my MTV Teen Mom courthouse wedding nightmares had come to life after finding out I was pregnant a few weeks after I booked the venue for my destination wedding. I stood in the bathroom with my co-worker that February wrapping up the workday before heading to the train when she mentioned, "My period is a few days late. I hope I'm not pregnant." Up until that point I hadn't realized my own Aunt Flo's flight had been delayed by about a week or so and that Chick-Fil-A from lunch wasn't sitting quite right on my stomach. The next afternoon I was staring back at two pink lines on a pregnancy test and dreading the call I had to make to my wedding coordinator in Las Vegas about moving my wedding up a few months.
---
My fiancé and I were low-key freaked out over our unplanned pregnancy, not necessarily because we were not prepared for parenthood, but more so because the changes were far from few and coming fast. I found it hard to shift my train of thought as I desperately clung to the fun, hip Vegas wedding I felt slowly starting to drip own the drain. We couldn't get our deposit back, but we were able to switch the date. My wedding coordinator kept her cool about moving the day closer to Labor Day since I was due around my original November date and wouldn't be able to fly across the country. Nonetheless, I would still be 7-months-pregnant and waddling through my wedding day. I didn't want to wait to wed after giving birth (besides that pesky little thing called a 'deposit' was in the way) and in hindsight, I'm actually glad I didn't. Life went from 0 to 100 real quick since the newest member of our family debuted. If I thought it was hard to plan a wedding while pregnant, I can only imagine trying to prepare invitations with a little person who nibbles on my copies of Nylon mag like it's printed in Nutella.
Planning a destination wedding while pregnant presented all types of challenges, but I was still able to "bring it" on my wedding day even with my baby bump. I'm here to reassure you that in the event you find yourself with a little something extra under your wedding dress, it doesn't mean you have to settle for getting hitched at a backyard BBQ or wait until your baby is old enough to help you choose centerpieces before you make it official. Being a pregnant bride isn't ideal for most women, but having your dream wedding while with-child isn't impossible.
Here are a few things to consider if there will be a baby on board for your big day: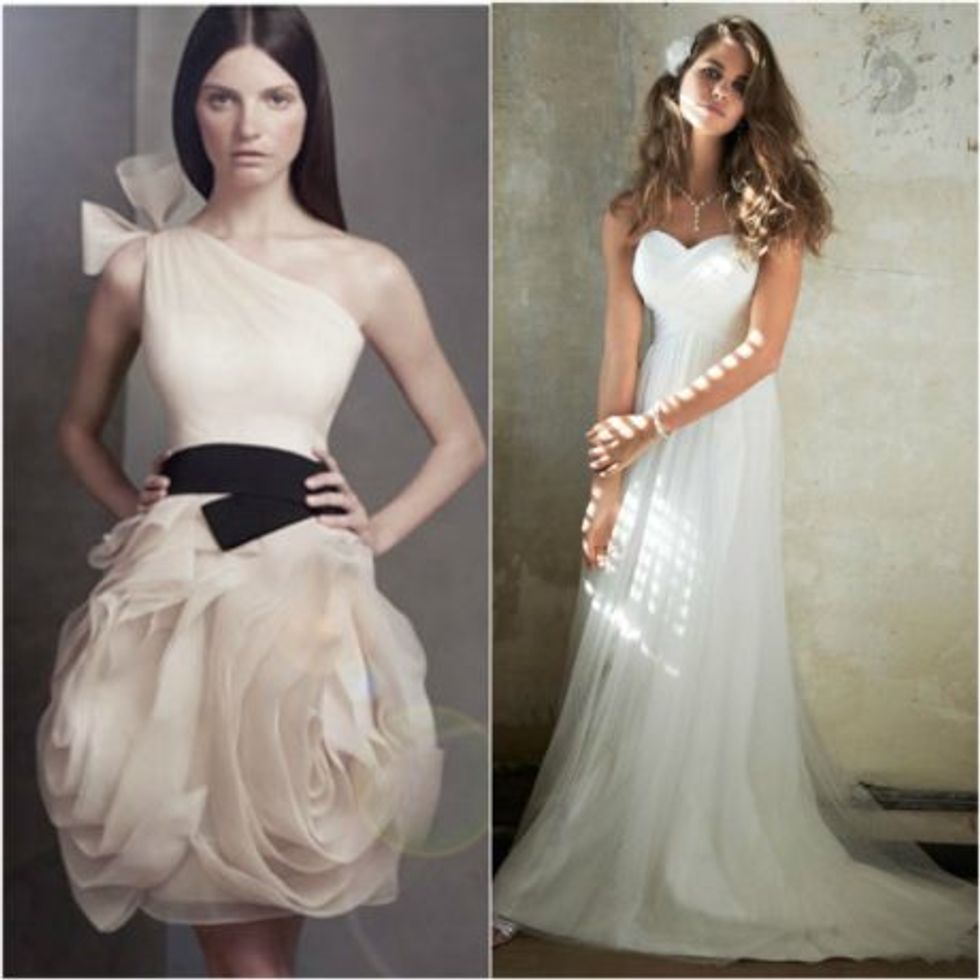 1. Don't trust your gut.
On the left was the Vera Wang dress I initially wanted for my hipster Vegas wedding. "You know that's a bridesmaid's dress?" the sales lady at David's Bridal said as soon as I pulled the image up on my phone long before I revealed I was approaching my second trimester. Two years later I agree with my sister that it looks like a fancy crumpled paper napkin, but at the time I had my heart set on it and even entertained the idea that I might miraculously not start showing until 2 weeks before my due date.
Once everyone convinced me "hipster skater wedding dress" wouldn't be happening for me, I subconsciously began to dismiss everything old, Southern sales lady suggested beginning with a full-length empire waist gown (pictured on the right) with subtle Swiss dots embedded in the lace (polka dots were my thing at the time). The last thing I wanted to look like was a Cinderella who got lost among the slot machines, so I rejected anything that looked fresh from a Disney fairy tale. After getting buried in layers of tulle and even trying on my original dream dress (which actually wasn't all that impressive even without a baby bump) I ended up saying yes to the "Swiss dot" dress. Even if you're a little more "Alicia Keys" along in your pregnancy, you can still rock the wedding runway without drowning in an ivory duvet cover. The key is to find the balance between embracing your belly and your personal style. Also, empire waists are your friend.
2. Travel insurance is a MUST.
I still wanted my Vegas wedding regardless of the fact that I was expecting (and don't forget my pesky little deposit problem). You might want to stick closer to home if you still have a choice, but if you insist on exchanging vows in a different area code, make sure you as well as your friends and family purchase travel insurance. Whether you're seven weeks pregnant or seven months, traveling and trimesters can bring their share of worries and changes and you want to make sure you can get to your doctor just in case anything seriously concerns you.
Once we got clearance from my doctor, we immediately informed every one of the change of the date as well as broke the news about the "extra guest" who easily made a liar out of my save-the-dates. Of course there was that ONE couple who had already booked their trip based off a proposed date, so hopefully they won their money back on the slots. Travel can be tricky while pregnant, but it's not impossible as long as you take the proper precautions. Luckily there were no emergencies for us besides my fiancé swearing my belly grew bigger with every frequent flyer mile.
3. Judge your mother.
I think the number one reason people rush weddings or postpone them when it comes to pregnancy is avoiding judgment of those who assume the only reason he's putting a ring on it is because he put his seed in it. You want to know something? It's a wedding. Pregnant or not, 40% of your guests are only coming for two things: the open bar and to judge like they're Simon Cowell sitting on a jury for the civil trial of Milli Vanilli.
In the beginning, I was bothered that people would think the only reason I got a ring is because my fiancé wanted to make an honest woman out of me, but after realizing anyone who could do simple math would realize that wasn't the case, it became clear to me that some guests would find any and everything else to judge: "Why a Vegas wedding?" "This is all the shampoo I get? This hotel is the worst." "This shrimp is too free. Why won't they let us pay for it?"
If the reason you're postponing your wedding is because of people's opinions, I hate to break it to you, but they're will be plenty of them thrown, whether you're the Virgin Mary or your kids make up your entire wedding party.
4. Figure out ways to have fun sober.
I had to abandon my "Think Like A Man" bachelorette party dreams of dancing on the bar after way too many shots of tequila. To add insult to injury, a number of our guests attended a rooftop Kendrick Lamar concert I could just make out from my honeymoon suite window. But by the time my wedding day came I had already made it through a summer sans alcohol and made my peace with the fact that "The Hangover" would not be happening for me and mine. Between running around for a wedding license, checking on the reception venue and dropping off cake toppers and unity candles, my husband and I were both exhausted and toting an extra person around on my bladder didn't help. No shade to those who go hard on their last night of freedom, but the last thing I needed was to be recovering from a hangover while reciting my vows.
I didn't opt for an open bar. Call me selfish but if hubby and I weren't drinking on our dime, no one was.  But partying (even in Vegas) doesn't have to make or break your wedding and your friends should still be able to happily celebrate your day without the brown liquor. Besides, staying sober allowed us and our guests to express authentic emotions, and not drunken ramblings induced by one too many glasses of Hennessey.
4. Don't feel forced to give your guests the 2-for-1 special.
With my wedding day and my due date being about two months apart, my fiancé and I were faced with the inevitable decision on whether to combine our baby shower and wedding shower. Now I'm not the type of person who thinks family and friends should literally make it rain money and gifts, but I didn't like the idea of cramming two very big events of my life into one big celebration, even if they were occurring around the same time due to our own actions. Knowing that many guests couldn't afford to travel for our wedding, we gave them the option of attending either the wedding shower or baby shower (many attended both). It was easier for other family members and friends that didn't live locally to travel to Vegas for the actual wedding.
What mattered the most is that everyone had an opportunity to send well-wishes and celebrate the great things that were happening in our lives. Whether you're a progressive wedding planner or a stickler for tradition, the best part about wedding planning is that you can do it YOUR way. The world won't stop spinning because of your special day, but that doesn't mean you have to kill yourself accommodating everyone else's convenience either.
5. Your wedding night shouldn't be any less special.
Although, every tradition in the wedding planning world will try to tell you being a pregnant bride will make your day less special, getting a head start on having a family didn't make me feel any less sexy or make the night with my new husband any less intimate. Sex had been off the table for a while due to a mild case of placenta previa. Instead, we made a night of playing the slots and watching the fountains at the Bellagio from our window while eating more wedding cake before ordering breakfast in bed the next morning and it was perfect. Weddings bring a lot of pressure for your day to go one perfect way, but what matters most is enjoying the beginning of your new commitment. While I'm sure amazing wedding night sex doesn't hurt, it won't necessarily make anything more official.
6. Understand life is about more than bridesmaids' dresses and wedding websites.
Your wedding day is a big day, but it shouldn't make or break your marriage or your life. Planning a wedding while pregnant helped put things in perspective for me that would have otherwise turned me into an obsessive mess. One day I found myself agonizing on what gifts to give our guests before it hit me: No one is going to freak out over whether they get a monogrammed picture frame or not. I didn't skimp on the details, but I had to keep my stress in check for the sake of my unborn child which meant no Bridezilla moments for me over my MUA bringing the wrong lashes. Another added bonus about having two of the biggest events of my life happen within months of one another? Wedding planning gave me a much needed distraction from the anxiety of giving birth and left me with almost no time to entertain episiotomy nightmares. By the time my new husband and I touched down back home, we were still on a wedding high that lasted long into labor and delivery.
Whether your biggest worry is your water breaking or fitting into your wedding dress (baby bump or not) what I learned most from planning a wedding while pregnant is that some of the best moments of your life won't be planned for. Don't get me wrong: I completely get why plenty of brides opt for post-poning their big day until after giving birth (This would've been a completely different piece if my daughter decided she wanted to see the Vegas strip up close and personal), but being a pregnant bride doesn't have to turn your wedding day into judgement day. What matters most is that you're surrounded and celebrated by the ones you love the most…and that you remember to bring flats. Pregnancy and platform pumps don't mix.