Don't sleep! It's plus-size fashion week!
---
Over the past few days, "New York Fashion Week" took the industry by storm as Spring 2016 fashions debuted on the runways of New York for many industry designers. From Givenchy to Vera Wang to Serena Williams' season two of her "Signature Statement for HSN" - it's safe to say that if you snagged a slot for NYFW, you've officially made it.
Which brings us to the bold and the beautiful world of NYFW-Plus!
Plus-Size New York Fashion Week (also referred to as "New York Fashion Week Plus") debuted only two years ago, and has since taken the fashion world by storm. Back in 2013, designer Eden Miller presented the Spring/Summer 2014 collection of her clothing line Cabiria. Although at the time the independent designer wasn't the subject of much talk, what did make big waves was that her line was the first to debut a show exclusively comprised of plus-sized pieces and women. However, to be honest, it was met with some criticism for its more "limited pieces," with some feeling as though the line was full of cliche cover ups and frumpy frocks for the the full-figured.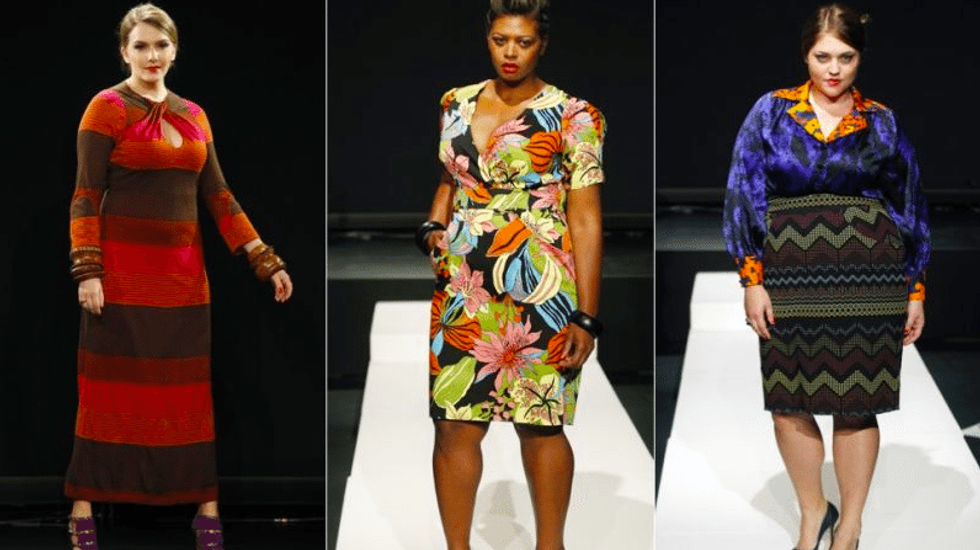 Models from the Eden Miller Fashion Show for NYFW S/S 2014
One writer for Fatshionista wrote:
"I acknowledge what a BFD ("Big freaking deal") it is that this was even shown at Fashion Week. Awesome. So awesome. So happy this happened. Definite step in the right direction. [But] I'm not going to freak out over yet another plus sized line of frumpy wrap dresses in garish prints. I don't need to head to Fashion Week to see that, just the clearance rack at Dress Barn or Lane Bryant."
It's very safe to say that cover ups are so last season, and things have come a long way since then!
This week, famed plus-sized model Ashely Graham, who has graced the covers of everything from Sports Illustrated to Lane Bryant ad campaigns, hosted her debut lingerie show for her "Modern Boudoir" collection. The size 16 stunner recruited a number of gorgeous gals and BBW's to grace the stage with her, including Sabina Karlsson, Denise Bidot and Marquita Pring (from last month's epic "Black Model's Movement" cover of Ebony).  The ladies were stunning in sexy pieces from the line, including Graham who closed out the show with her final walk in a lacey bra and panty set:
Model Marquita Pring at the Additon Elle Fashion Show

Model Sabina Karlsson at the Additon Elle Fashion Show

Model Denise Bidot at the Additon Elle Fashion Show

Model Alisha at the Additon Elle Fashion Show
Ashley, who is also an activist for healthy body images, spoke on encouraging more women to be proud of their pounds!
"It's not about conforming; it's a size I feel good at. I love my body, I love my super-hourglass shape and I love showing it off. Young girls don't have much to look at, curvy women are not on covers of magazines, they're not talked about on social media as much as other celebrities. Jennifer Lawrence (Hunger Games) is the media's poster girl for curves [and] she's tiny."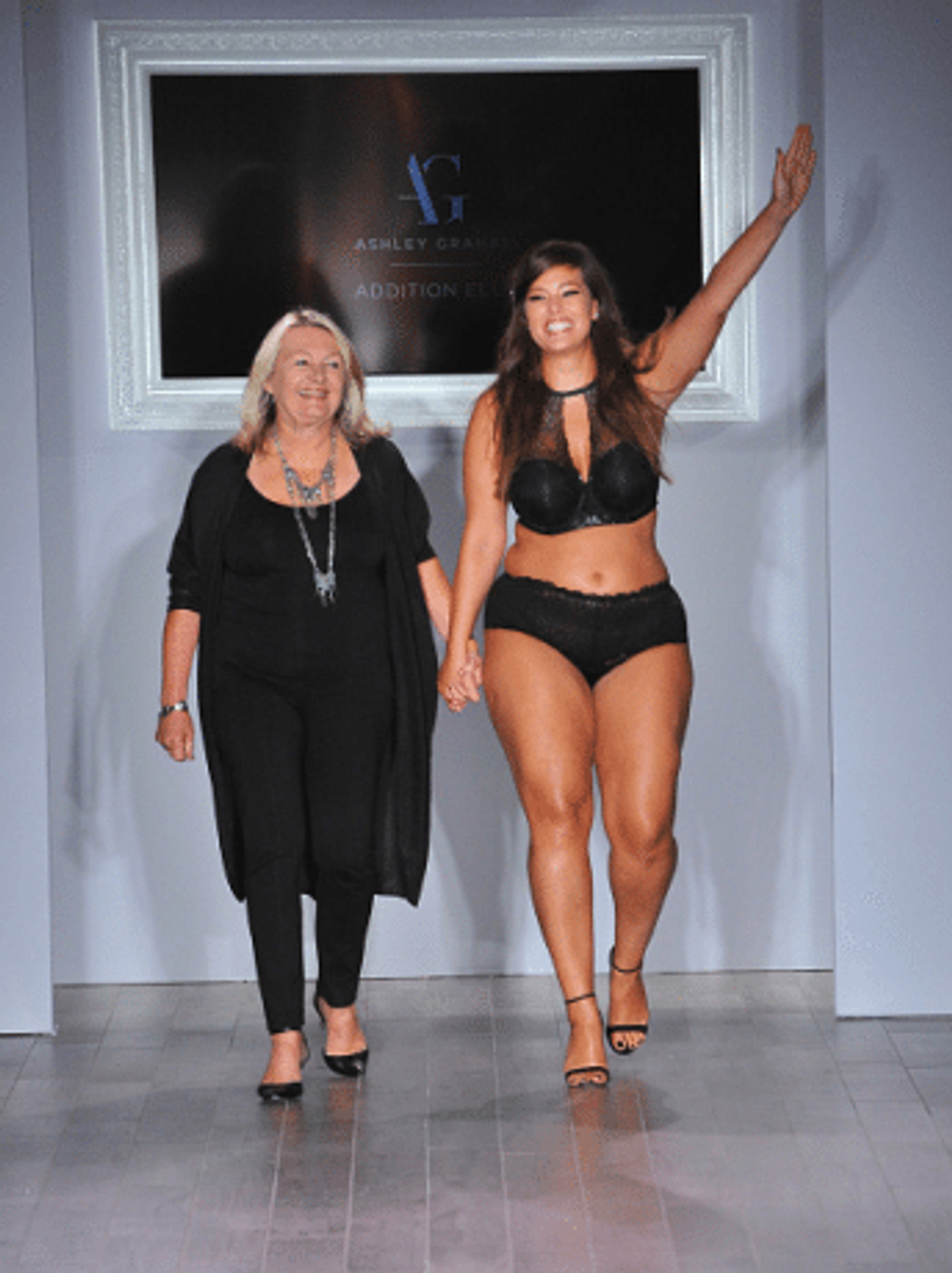 Ashley hopes to blur the lines and break the boundaries that currently lie between the plus sized and the petites. While campaigning for her #IAmSizeSexy campaign, the 28-year-old model and wife told PEOPLE mag:
"I believe what I'm doing, and what other plus-size models of my generation are doing, is continuing to open that door for the next plus-size model to come in and to not be labeled as a plus-size girl, for her not to be judged by the number that's inside of her pants, for her to be able to be on the cover of American Vogue and it not have the whole article be about, 'Are you fat and happy?'"
Preach! And on top of Ashley's fierce line, plus-size clothing retailer Lane Bryant, who did a successful spin on the Victoria Secret "Angel" campaign with their anti-"I'm No Angel" lingerie collection, just rolled out their "#PlusIsEqual" campaign, which the company says is aimed at "proud, strong, fashion forward, stylish, super-awesome" consumers.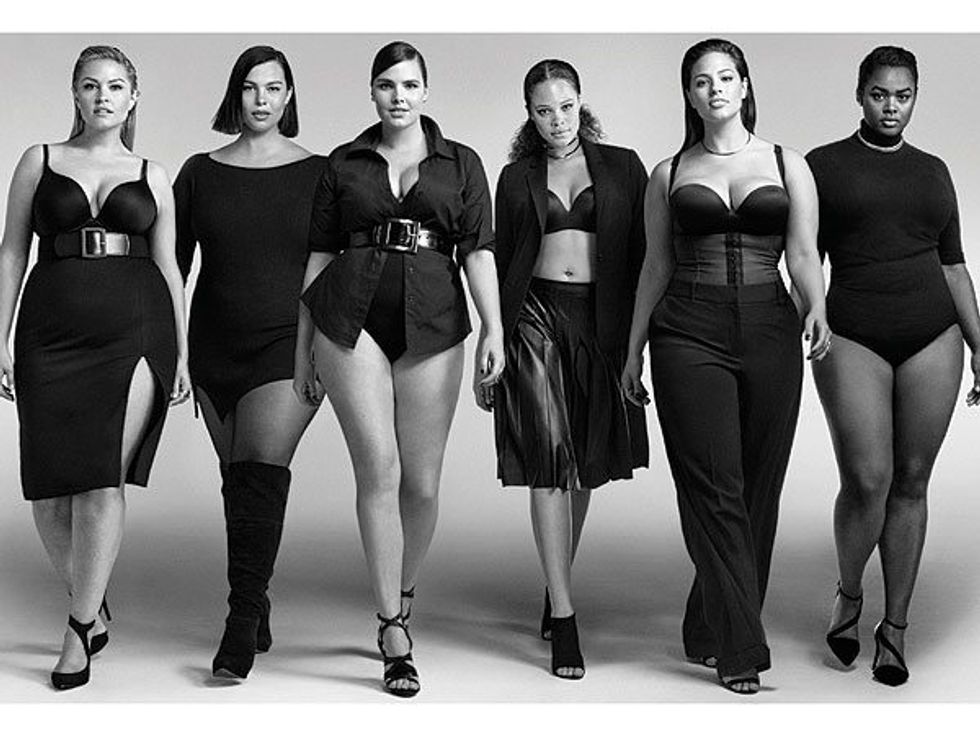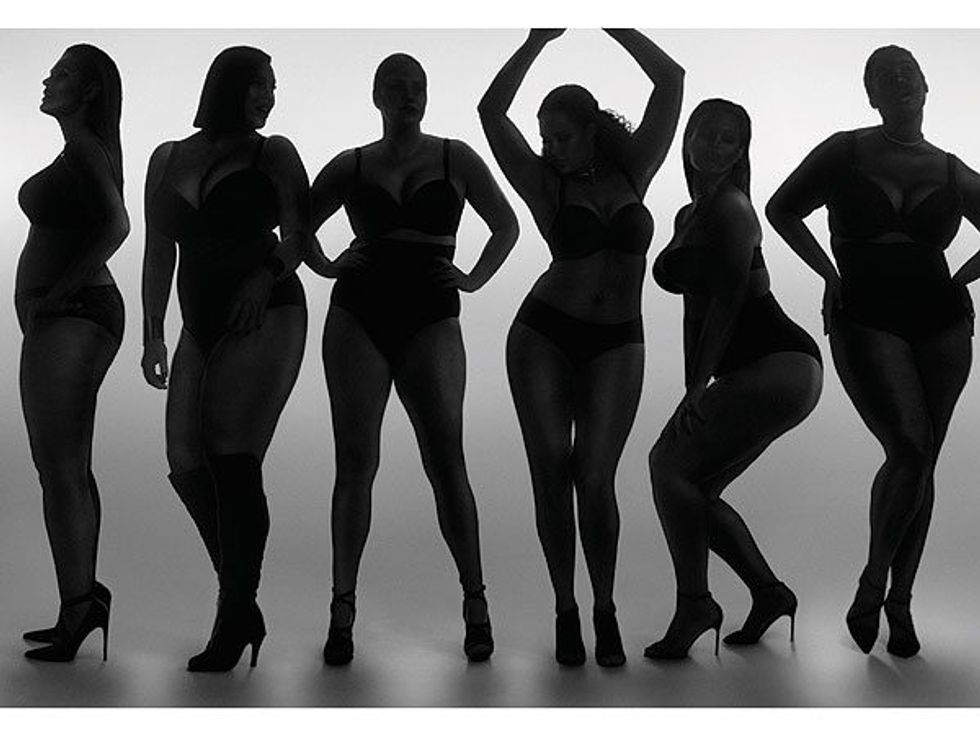 Choices for the full-figured femme have definitely come a long way in the past few years. Not only are there more stylish styles available in plus sizes these days, there are also some gorgeously fitting negligée, as seen in Ashley's line. From bedroom-ready silk teddy's to panties and bras that will leave your man in awe, Plus-Size New York fashion week is most certainly on fleek.
Take a sneak peek at come of the featured pieces from Ashley's collection in our gallery!