---
The night was November 15, 2013.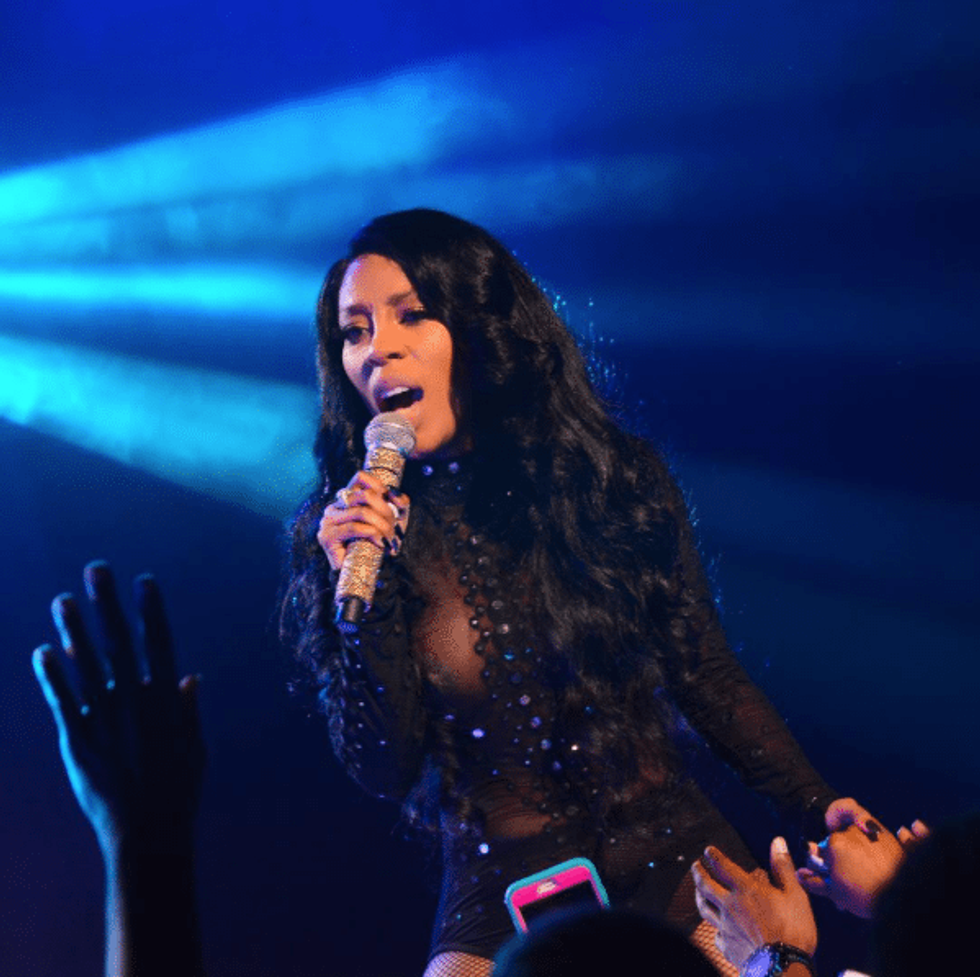 And I remember it vividly. It was a crisp, cool and breezy evening in the Windy City. Clouds danced below the stars, tickling the downtown skyscrapers. I waited patiently in line to enter The Shrine, the southside dance club, which was already thick, dominating the sidewalks of Wabash Avenue, stretching to the next block. K. Michelle brought the whole city out. Inquiring music lovers wanted to witness this breath of fresh air. An R&B and soul rebirth, reminiscent of a mix between a young, tender Mary J. Blige and a gritty Keyshia Cole. And so did I.
I purchased my ticket once the venue announced her performance a few weeks prior. I marked my calendar and blocked off that Friday night. Hello, anticipation! The night finally arrived and outside of my introverted cocoon I flew.
On the other side of the double doors, warmer temperatures welcomed Rebellious Soul tour ticket holders. Fluorescent orange and yellow lights doused the stage. Wall to wall bodies. A jamming live band and two background singers encompassed the stage. Screaming. Cheering. Dancing. The audience moved in unison. Drinks flowing, speakers booming. In struts Kimberly Michelle Pate.
From stage right, I witnessed the Memphis tour de force command the stage. Donning an ultra sexy two piece, a long jet black mane and knee high black boots, Chicago was being introduced to the rising star, the former protege of the city's own R. Kelly who once served as her mentor. That was four years ago.
Today, I get to take my ticket-holder past a step further by putting a person behind the image I had admired from afar so many years ago.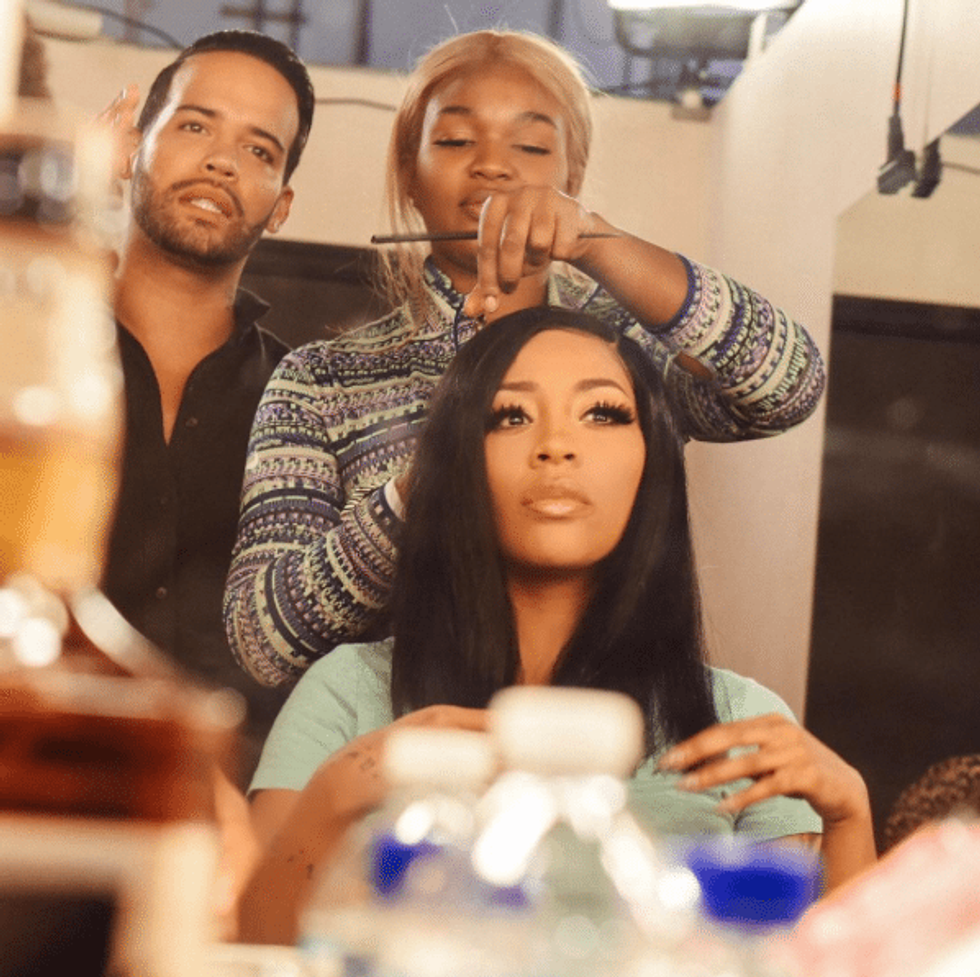 Who is this vocal giant? Stripped of the fame and fortune, who is K? "I'm really goofy and business-minded. I'm known to make the impossible possible," described K. during our phone conversation. "I'm a mother," she continued. "I'm like everybody's auntie or friend; people tell me things I don't want to know, but it's because I'm so open with them."
The breakout star from VH1's "Love & Hip Hop Atlanta," who has since branched off with her spin off series, "K. Michelle: My Life," now three seasons deep, is a hard working, professional multi-tasker. "But everyday won't be a great day," confessed the Delta Sigma Theta soror. The Southern belle, who just opened Puff and Petals, a new Atlanta restaurant, while also prepping for her fourth studio album is like a raging train, with no signs of slowing down. Especially considering the alternative: "It's other people who'd want to be busy like you, or you could be at home with nothing to do. I used to be that girl wishing I could do this and that."
Full throttle. Determined. To the beat of her own drum. "For me, there's no other option. It's what I asked for. So I can complain- but not too much, because everything that you have can be taken away from you. And I know that. I've had it taken away from me. I have to get up out the bed- even on a bad day and dust myself off. Sometimes I don't even put on makeup. Sometimes, I just want to run to Oklahoma on a farm and just not be bothered. But I look to the people who are proud of me and rooting for me, like my son and people who write me letters about suicide and violence and the things they go through."

The People's Champ
"I like to call myself the people's champ. I'm the one who's not supposed to be here. I'm the one they counted out."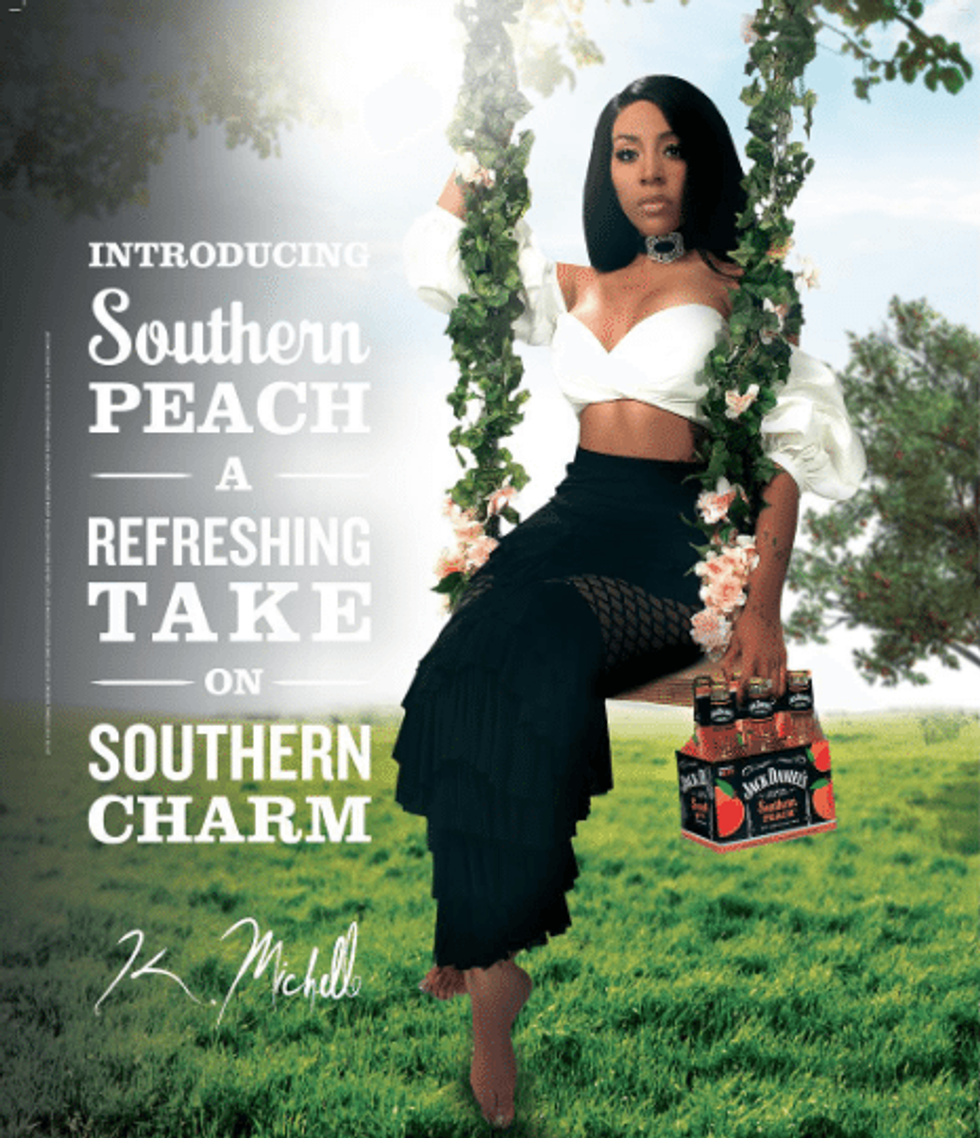 Women can relate to her. Her realness. Spiciness. Her va va vroom. Her, "B*tch what?" Misunderstood even. History-making even. As Jack Daniels' first African-American brand ambassador, glass ceilings are demolished. Her long standing relationship with the whiskey company birthed Jack Daniel's Country Cocktails Southern Peach, a fruity, tasty spin on the brown liquor, reflecting her southern roots. Talented and business-savvy? Yes, please.
K, who's had her fair share of high-profile bouts, tabloid headlines and he-say-she-says, took the bricks thrown at her to secure a stronger foundation. Naysayers are blocked and deleted before they get the chance to post. Admitting to getting in trouble [on social media], K admittedly "don't really care anymore. I realized the hate comes from those who don't like who they are. It has nothing to do with you." According to K, who's changed her social media presence with a digital team to handle her accounts, "there's a lot more important things to do then keep your face in the phone. You should actually look out at the world."
Despite the change, the "Ain't You" singer still makes it a priority to stay in touch with her fans, "I'll pop in at three in the morning to talk with my fans because I think that's important- that's when a lot of evil people are sleep by then. But I realized it's not really good for me."
And that's not the only thing K learned. Life is all about growth. Celebrating the small victories in route to the greater glory. Breezing through inner issues like Vogue. No matter how many times. Some are learned later in life and some are taught more than once. "I'd tell my younger self to shut up. I would take back some words that were said that hurt the people I love. When you get angry, you hurt people who love you the most. Because the universe works everything out on its own. Pick your battles wisely. You can't fight every battle or you'll become crazy or become angry," K advised. "Be careful of your surroundings and peoples motives."
Allow K To Re-Introduce Herself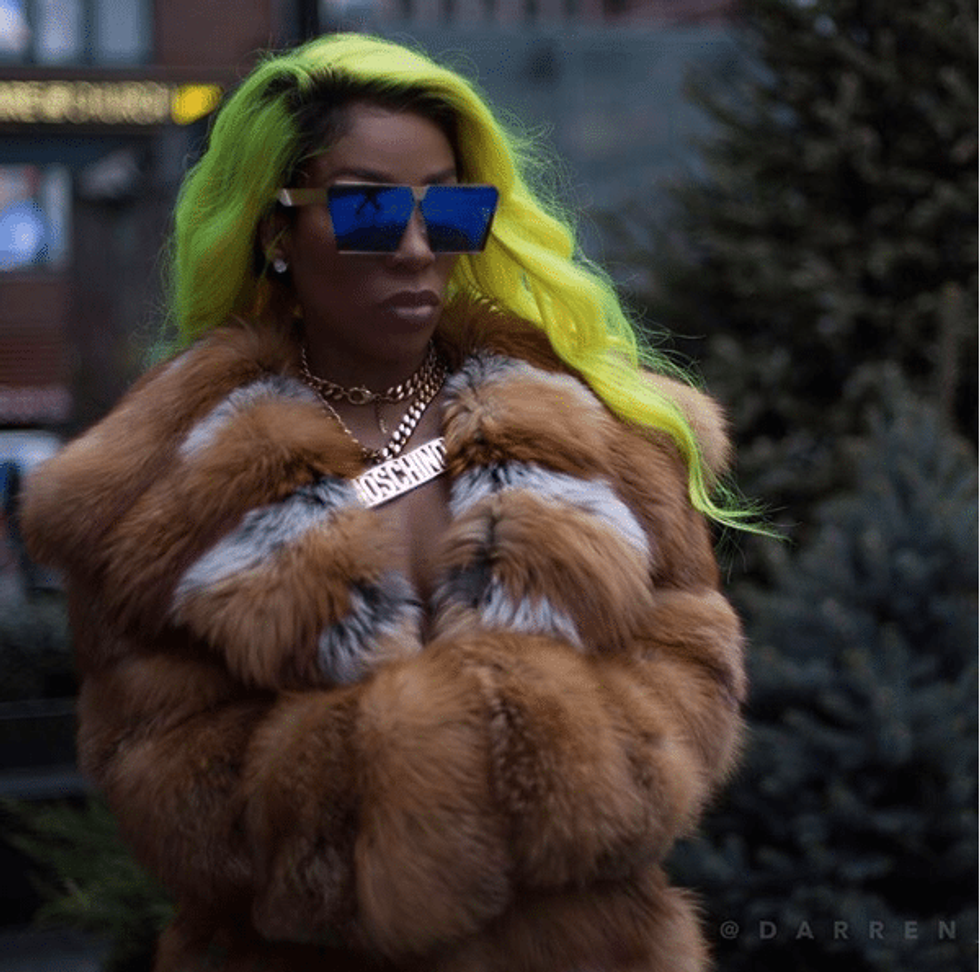 Four albums in. No boxes to fit in. Instead, K. Michelle is creating her own lane. On her own terms, completely "unapologetic when it comes to the genre of music. I grew up in country music. I got a scholarship for yodeling, that's how I paid for school. We're told the color our skin determines the type of music we sing and Atlantic Records has given me my own record label to sign artists because I want to change how we get treated."
After all, it's more than about numbers and her purpose lives deeper than shallow popularity.
"My fourth album is about evolution, growth and showing who I am. I'm not worried about your radio play. I'm not worried about your charts. I'm worried about leaving music that when I'm gone people will love me like I love Nina Simone. So for me, I'm creating a body of work."
Timeless. Feel good, empowering music that transcends color or gender. A meaningful work of art stroking ears and hearts alike. And a personal journey of rediscovering, getting back to the natural Kimberly. Figuratively and literally.
Not one to shy away from her body-altering surgeries, everything isn't meant to last: "Now I'm removing my butt. I just want the natural Kimberly again." Digging to the real reason why she even wanted to change her body was a newfound revelation, something she encourages any other woman considering surgery.
"I remember looking at the beautiful models [on Instagram] and thought how I didn't look like them at all and I thought they were naturally born like that! I picked on everything on my body; teeth, waist, breasts, bottom, but I still was looking at this hurt person."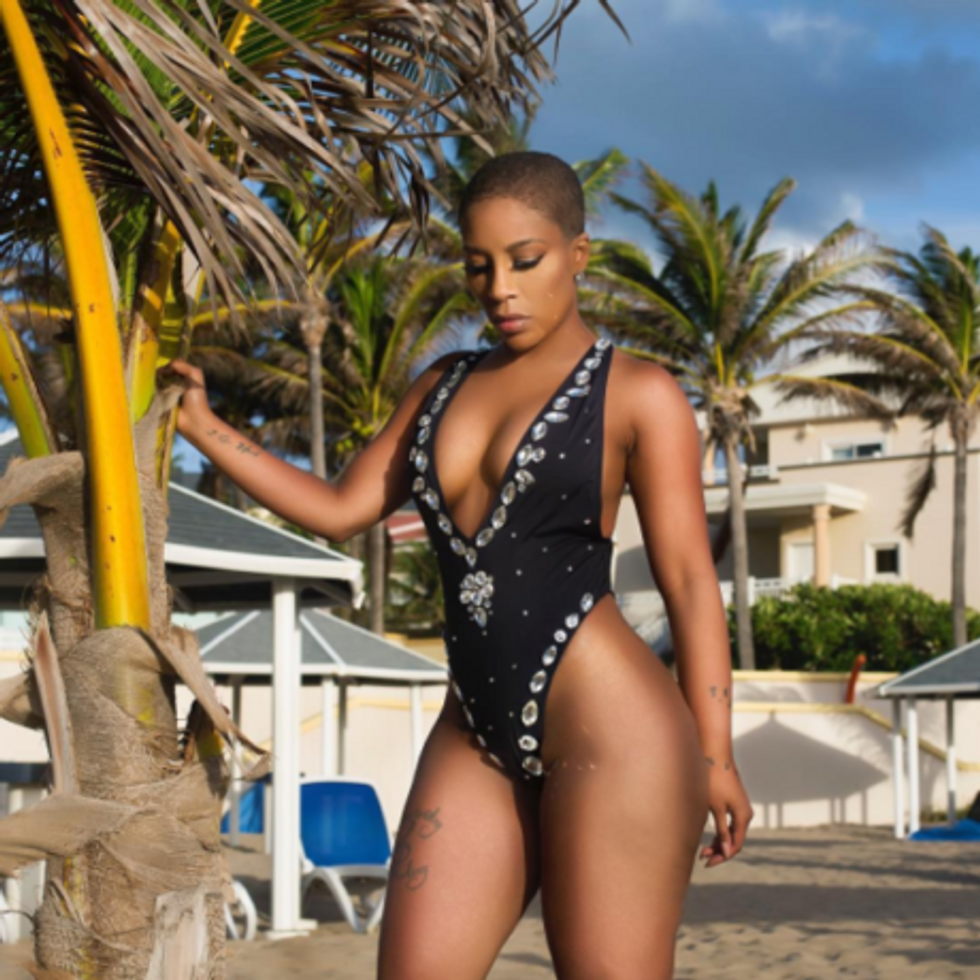 "When you're on Instagram, that's not real life. Get to the core of what's making them have low self-esteem," K advised. "What happened in your life that made you feel that way? For me, it was a lack of love for myself from men and it made me feel worthless and you got to get a grip on you. If you want a new butt, get that, but take it from me, don't get so depressed and feel as if you're not worthy because we're all here for a reason. But you have to determine why. Why do you want that? I know I did and it wasn't for the right reason."
And that's a part of K. Michelle's purpose. Helping others find theirs, one track at a time.
For now, K. Michelle is taking us on a journey of self-discovery, self-awareness and evolution by teasing her new hair cut, and new album on an Instagram page titled @thepeopleIusedtoknow which is also rumored to be her new album title.