When I heard that Tracee Ellis Ross' Pattern Beauty was dropping something new, I was elated. As someone who has been using her products since she launched, hearing about a hot tool was super exciting, especially since I've had such a great experience with hair treatments and styling products. Celebrity drops are a large part of the beauty industry, and at times they can feel like what many would call a cash grab.
---
However, for Ross, as she told me and a room full of fellow beauty editors in New York City on launch day, "I've never understood the concept of marketing where it's about shaming you into buying a thing so that you can then feel better about yourself," she says. "I really want to reframe the historical relationship of heat as submission to heat as a possibility."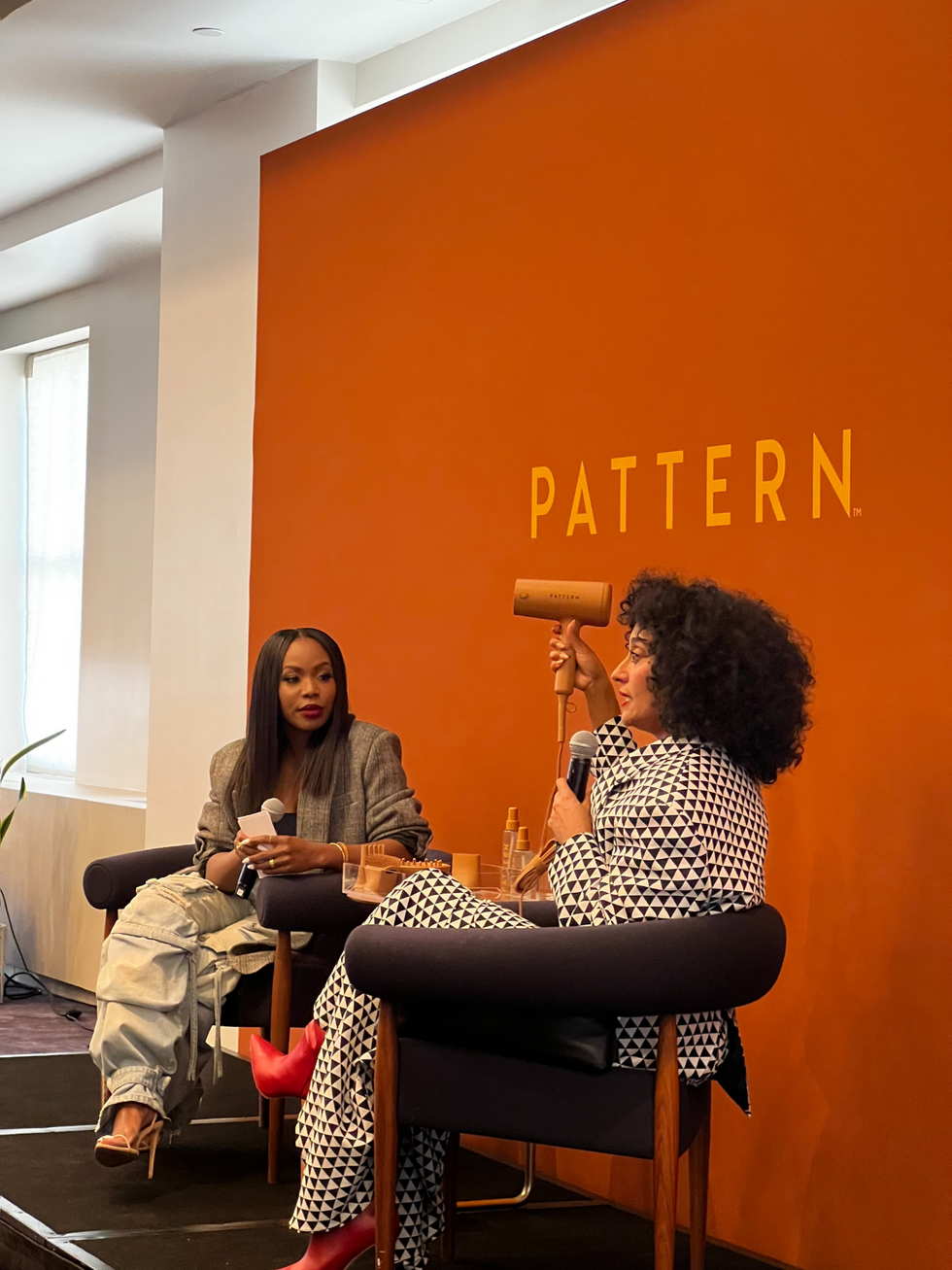 Courtesy of Bianca Lambert
I don't use much heat on my hair unless I'm blowing my hair out for box braids or gently diffusing my curls after sitting under a hair dryer to set them. But there's always a need for a blow dryer. However, I know that this is one of the tools many of us struggle to get right. So, I'm going to give this latest drop from Pattern a test run. Keep reading for the deets.
PATTERN Blow Dryer: My Honest Review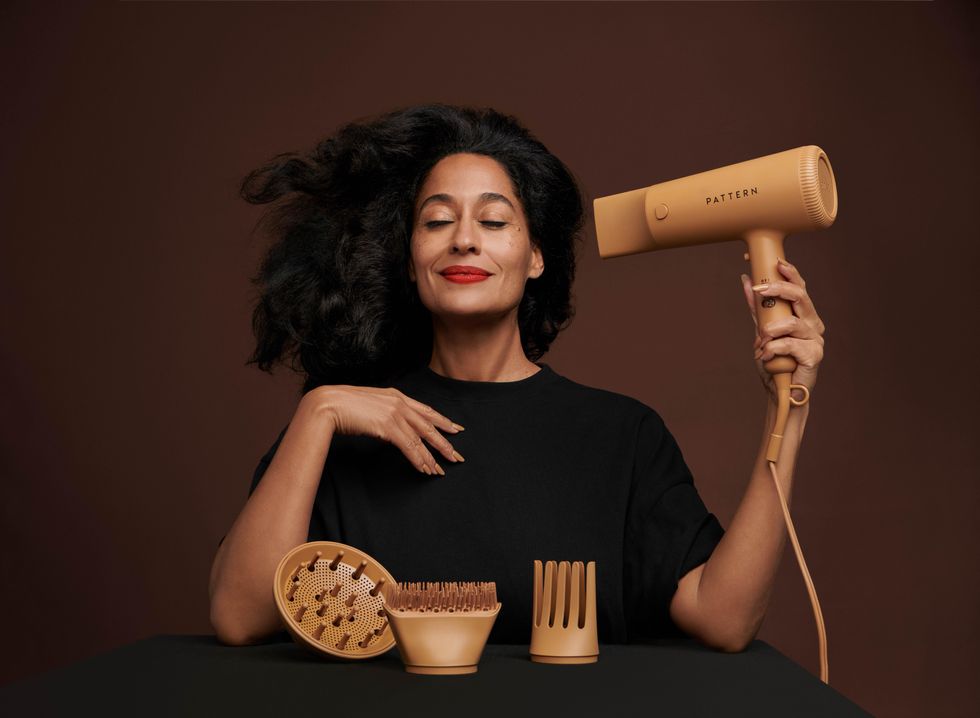 Courtesy of PATTERN
The Design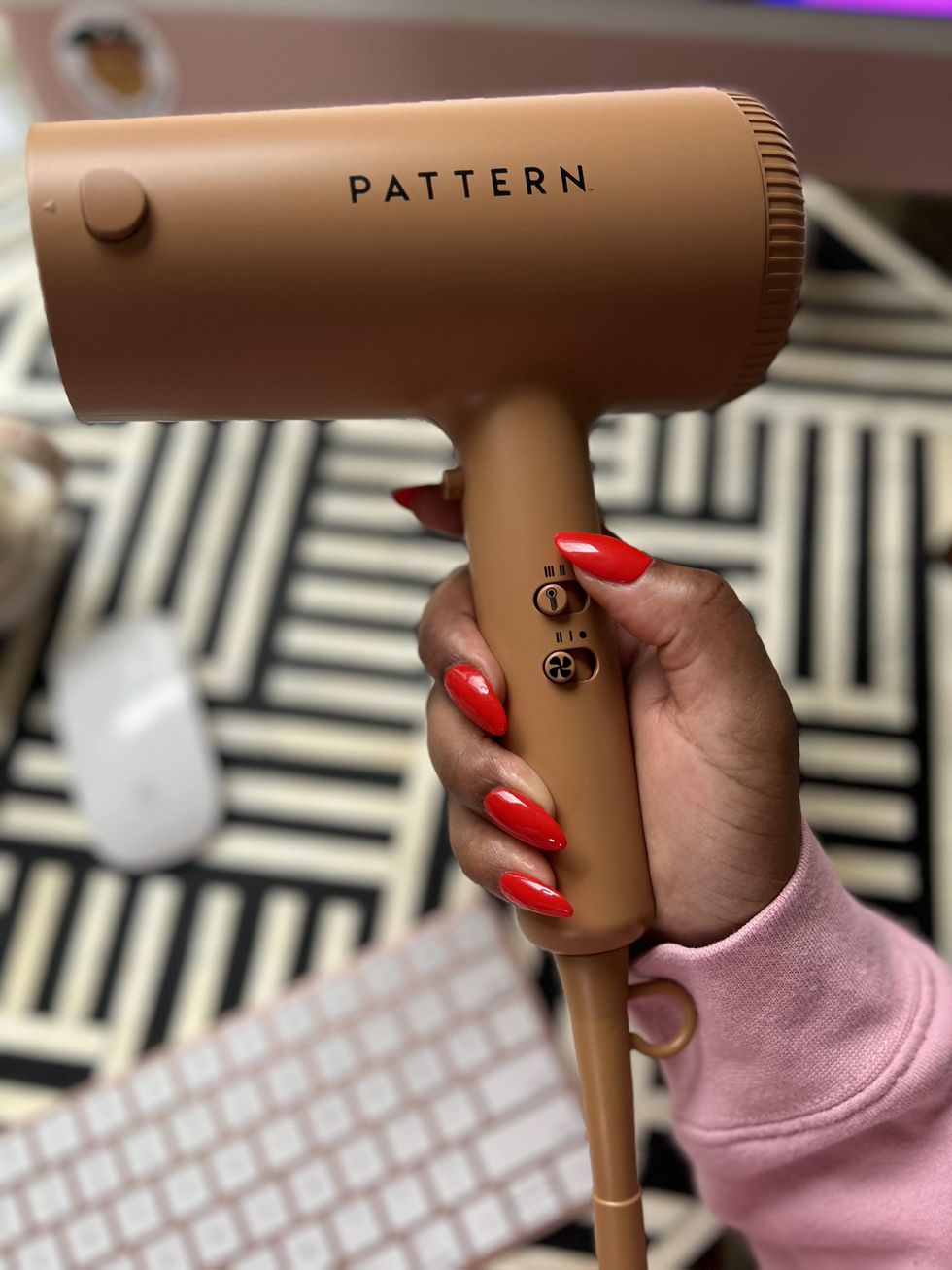 Courtesy of Bianca Lambert
When I opened the box holding the matte caramel brown blow dryer—which Ross said took two years to bring to life— I was immediately impressed. The sleek minimalistic hot tool comes with four attachments: a diffuser, wide tooth comb, brush, and concentrator, which is a nice element considering that many blow dryer attachments come separately. As she chatted with us, I quickly realized how much thought went into creating this petite but mighty dryer. When I say mighty, I mean it has a professional motor—which is mega important for minimizing drying time—three heat and two-speed settings, and a cool shot button. The coolest part: you can switch the settings without ever having to remove the dryer from your head.
Additionally, if you're tired of losing your attachments while you blow dry, the Pattern team devised a remedy: a dual-locking structure to keep them in place sans any movement. And get this, Ross really wanted the cord to match the rest of the dryer. However, she was told that may or may not be able to happen. Well, it happened! And, I have to say, it's a nice touch.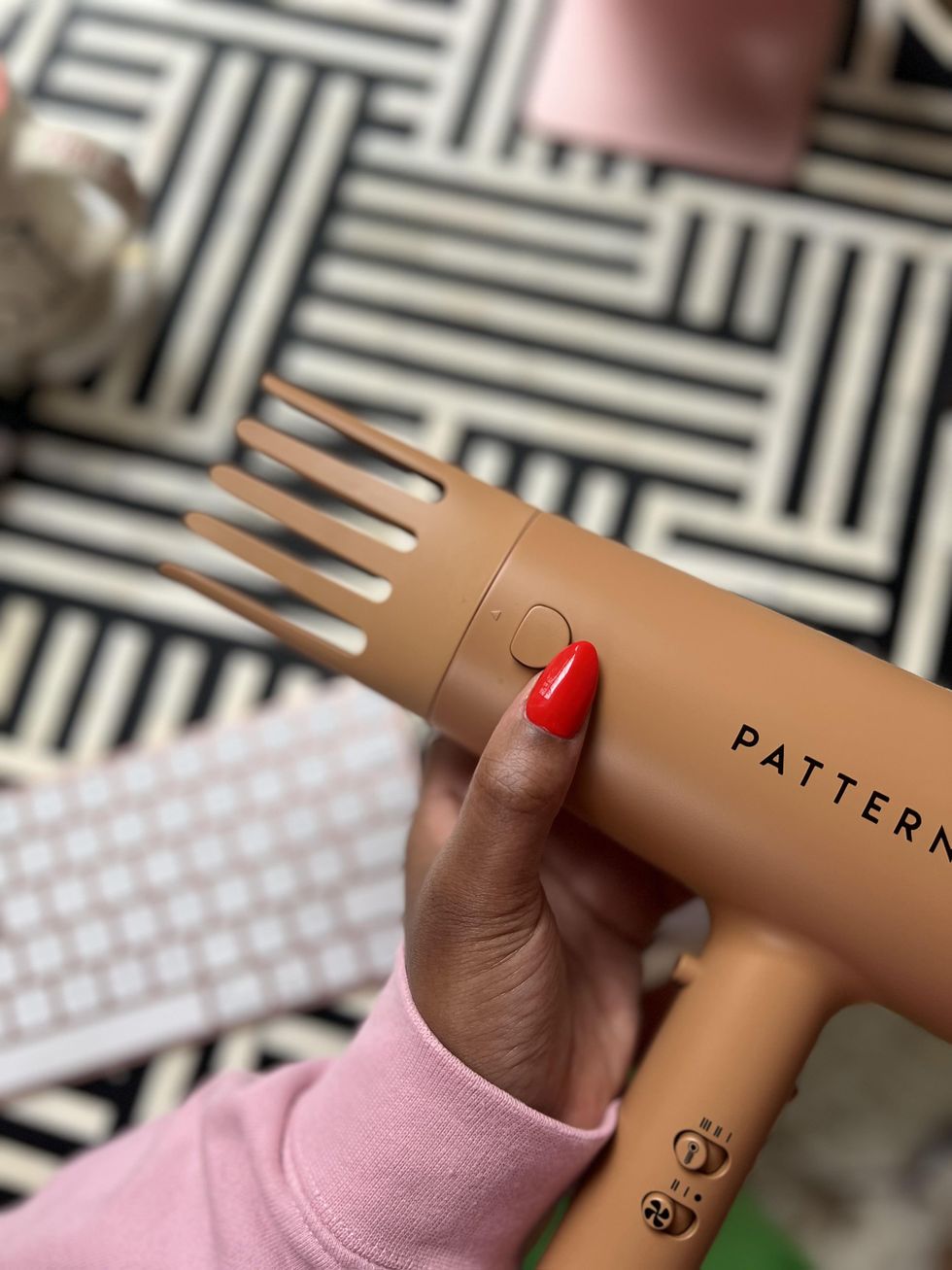 Courtesy of Bianca Lambert
When it comes to the design, I can't forget to mention two of the attachments that are clearly designed with curly and coily hair at the forefront. First, there's the wide-tooth comb attachment. I can't be the only one whose every broken plastic bristles on a comb attachment. So, I love the idea of this wide-tooth version designed to glide through the hair and distribute heat evenly.
And then there's the brush attachment. I haven't used the Pattern Shower Brush, but this attachment design mimics the beloved brush. This attachment is made for drying and stretching coils, tight textures, and shorter hair lengths.
The Experience
I'm currently rocking box braids to give myself a little break from manipulating my hair. However, even with braids, I keep up my weekly wash day routine. "What about the frizz," you may be asking yourself. Truthfully, my hair health means more to me than worrying about frizz. But I've managed to find a way to reset my hair after each wash with minimal frizz, which involves a blow dryer. I typically use a Dyson, which carries a hefty price tag. So I was super excited to try this on my small knotless braids.
After washing, conditioning, and adding a leave-in, I layer my hair with a mousse. I go between Pattern's Curl Mousse and The Doux Bee Girl CrazySexyCurl Honey Setting Foam, depending on my hair's frizz factor. In this case, I went with Pattern. After applying the mousse, I tie my hair down with a satin scarf and let it air dry, and then I go back in maybe an hour later to dry it.
Because I was headed out to dinner with a friend and had gone swimming before, I had to wash my hair. I timed my dry session, which started at 5:46. My hair from roots to ends was dry by 6:02, which was perfect given that I was already running late and my high-density hair can take forever to dry, even with braids.
Ross says to start with the lowest heat setting, which I did. What I found the most revealing was that this little dryer really did pack a punch. Because I was pressed for time, I went with the second heat setting and used the diffuser on my roots and then the concentrator on the length of my braids. I loved that my arm never felt heavy.
Final Thoughts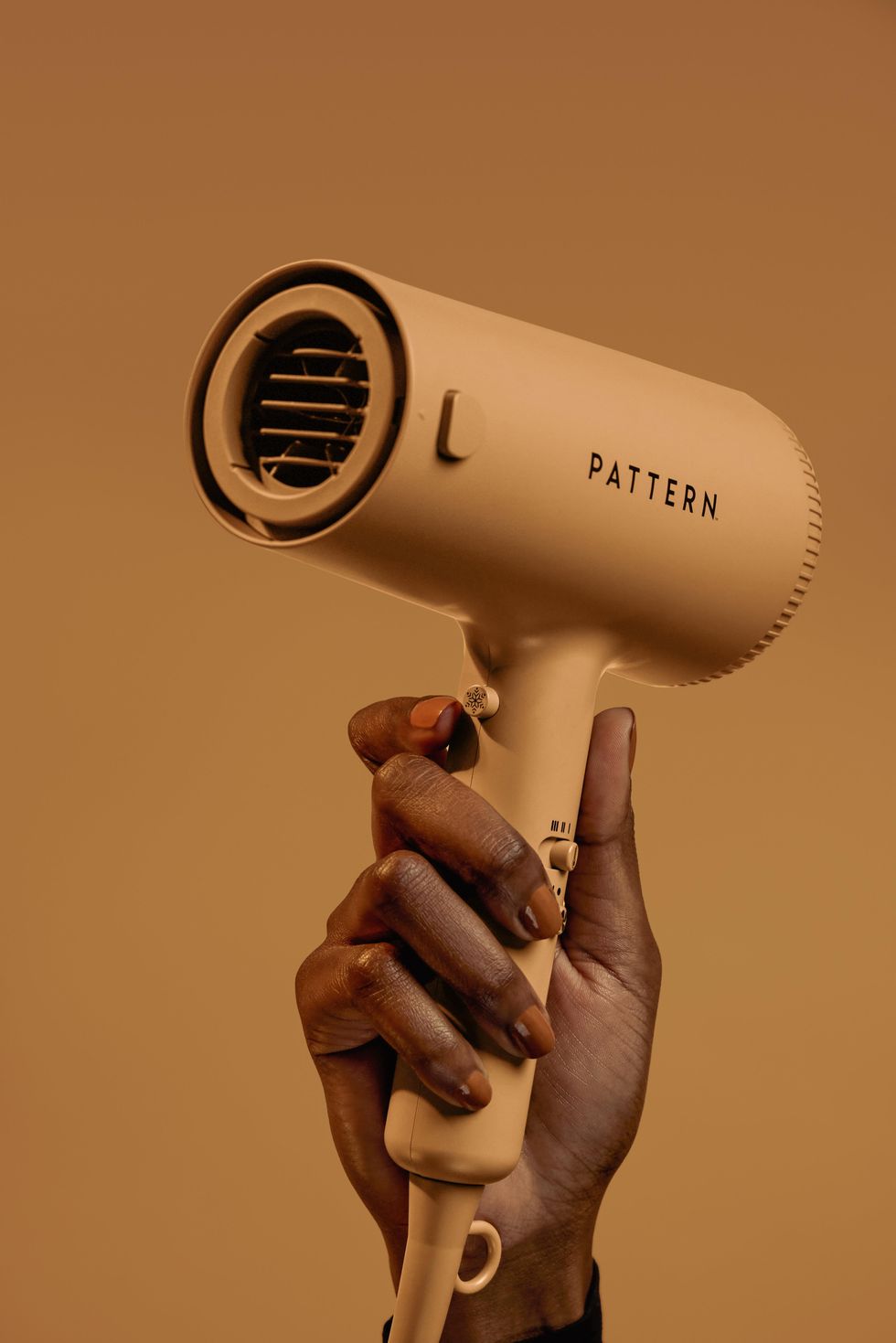 Courtesy of PATTERN
I love that this dryer comes with four attachments because, so often, once you purchase your blow dryer, now you have to budget for the attachments. Additionally, there's the design and not just aesthetics. It's the fact that the blow dryer not only has a professional-grade AC motor, but it's also lightweight, easy to use, and it can go right in a carry-on because of its size. And I can't forget the fact that you don't have to remove the dryer from your head when switching the setting, and I don't have to worry about my attachments hitting me in the head and falling off.
One final pro for me: the price. This dryer is nearly half the price of the best-known dryers on the market, and it's made for curly and coily textures.
Featured image courtesy of PATTERN