Frank Ocean once sang the lyrics,  "You must believe in something, you gotta believe in something."
---
What do you believe?
As a future media maven, I've always admired Oprah Winfrey for her hustle as a media powerhouse. From her extremely humble beginnings and challenges as a young girl in rural Mississippi to her massive influence on television, film, radio and print, Oprah's rise to the top has been nothing less than influential for many young women (and men) around the world. Oprah's work ethic has always has been my favorite quality about her. However, it has now been bumped down to second.
Why? Well, I discovered an extremely important lifestyle detail that we both have in common -- a belief in a higher power.
I am a young woman who is a firm believer in Jesus Christ. I attribute all of my success to the work of God and His instruction over my life. I try my best to base all decisions, minor and major, on His leading. Recently, I picked up a copy of the AARP Bulletin which profiled Oprah on the cover. The title read, "Finding Your Spirituality. Oprah Joins Americans Over 50 On a Search for Meaning." (Don't ask me why I have access to an AARP publication when I'm nowhere near senior citizen age… it just happened!) Seeing "Oprah" and "spirituality" in the same context flared my senses immediately. Over the last few weeks, Oprah had been tweeting various 30-second clips discussing what she believes spiritually. One of those things being prayer. After a little more digging, I realized that Oprah was promoting a new religion-based, seven-part series that will be airing on OWN this Sunday titled, Belief.
The series is described as "an effort to connect the dots of every heart's yearning for something greater than ourselves."  Something greater than ourselves being a higher source. The most intriguing part of it all is that it is not following Christianity only, but it will give Americans a glimpse into the lifestyles of those who have different religious and spiritual practices. The main focus is to discover a spiritual connection among a variety of people around the world.
"Although they might have a different word for the yearning of the heart and the yearning of the spirit that is looking for what I call "God", it is still the same thing. It's the heart's yearning to know the origin of its mystery," she said.
In the debut episode, shown during a screening in New York this week, a birth is used to highlight that "every single one of us enters through the same universal experience."  The segment also poses the question of why we are here, and if there is a diving order to the mystery of our lives, before we meet four different souls, of different cultures and religious beliefs who have won thing in common -- they are on a journey to reconnect, rediscover or strengthen their faith or beliefs within themselves or their families.  For example, the first segment deals with an African-American female college student who asks, 'What do you do when your faith is broken?' before taking us on a journey with her to rediscover her faith and self-worth after being a victim of a horrendous crime. We also see a young, single Indian woman, whose days consist of working, going home, and doing it all over again the next day (Sounds familiar?) Work consumes her life, and she knows deep down that she's unfulfilled.  So, she ends up leaving her good job in Chicago behind and takes a solo trip to her homeland with hopes to find herself, and restore her faith connection through a ritual cleansing in the River Ganges.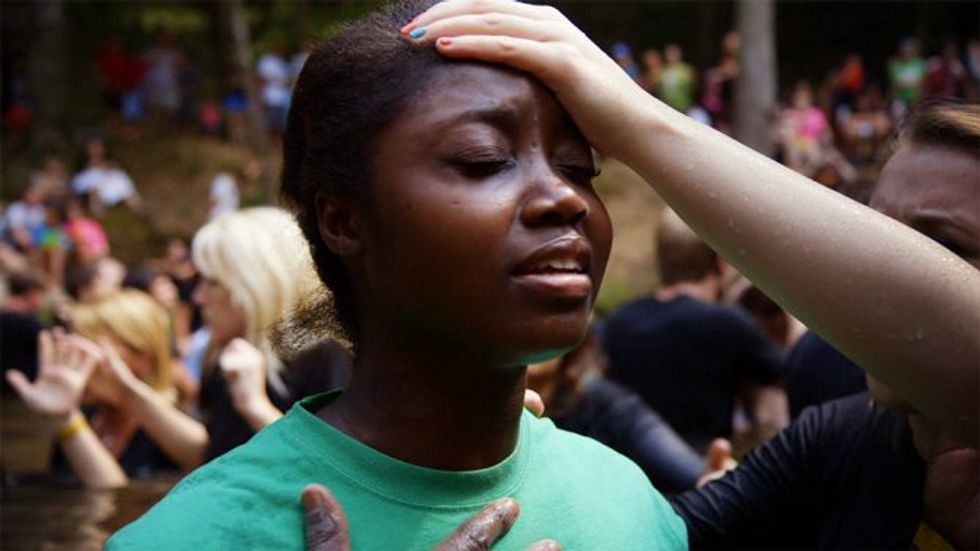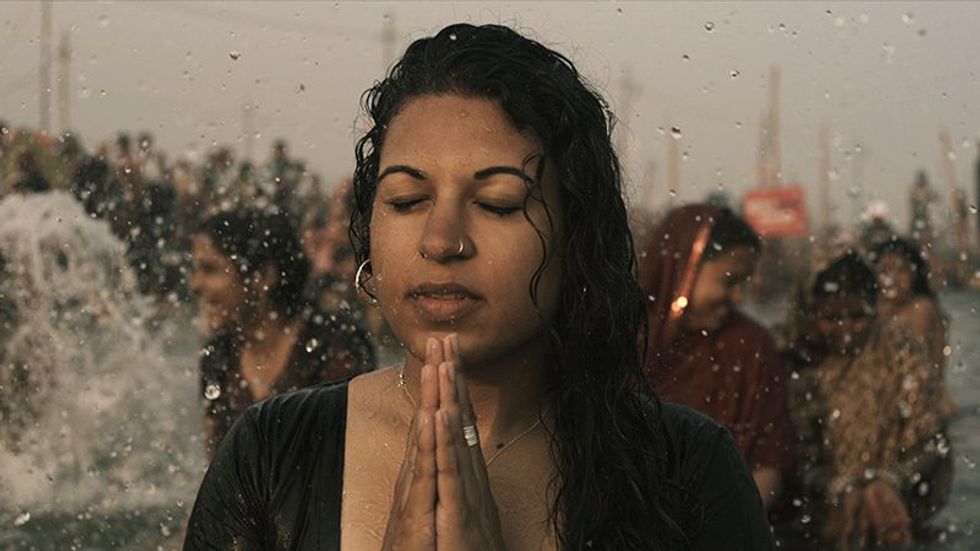 Reshma Thakkar, a young Indian-American Hindu woman from Chicago, travels to the banks of the Ganges River in India for the Kumbh Mela, joining millions at the world's largest spiritual gathering. Photo courtesy of Harpo, Inc.
Oprah's refers to Belief as her passion project.  The producers David Shadrack Smith and directors Michael Davie and Eric Strauss came to her with the idea when OWN was just a year old, and the network was struggling to reach it's target audience. When the guys pitched a series that would examine faith and belief in different cultures around the world, with cinematography inspiration from Discovery's Planet Earth, Oprah said to herself, 'This is it!'
She tweeted:
[We wanted to connect] people around the world. Saw Planet Earth. Wanted to create Planet Spirit...Our code name for #Belief
But, what really made my heart skip at least three beats, was the fact that Oprah has always attributed the success of her network to her very own unwavering faith and God's instruction. In 2011, after Oprah made the conscious decision to walk away from her beyond successful talk show to take on a new endeavor, OWN, running a network seemed to be more than she had bargained for.  For a long time it was difficult to keep the network above water due to its low viewership. "Every story about OWN was that it was struggling," Oprah told AARP. Sometimes when our backs are against the wall and the pressure is just about too much for us to bare, we get to the point where seeking refuge in who or what we believe is mandatory. Oprah said she had her "come to Jesus moment" when she found herself asking God what was it that He wanted her to do. As she sought God's counsel and listened to her spirit, she was able to make changes that led to consistently higher ratings for the network. That is powerful!
She says, in the voiceover of the promo for Belief:
[Tweet "My confidence comes from knowing that there is a force, a power, greater than myself."]

That I am a part of, and it is also a part of me.
When I think of Oprah's testimony as it relates to my own life, I see that if she had continued trying to do things within her own human reasoning and left her faith, and a belief in something that was bigger than herself out of it, her network just may have failed. For believers in Christ, such as myself, we know that God's ways and thoughts are higher than ours. We know that although we may seem to be the wisest of the wise to others, God is still extremely ahead of the game. When things get tough, it would actually be foolish as believers to not consult Him.
Oprah, one of the most successful Black women to ever step foot on the Earth, got down on her knees to pray to God for guidance. Even those who look to have it all and know it all still need guidance and a belief in something!
What makes this even more powerful is that she did not ask Him to do anything for her, but rather she made herself available to do whatever He wanted of her. Because of her obedience, she can enjoy the positive direction of her network.
It excites my spirit to see that one of the women whom I've always admired lives her spiritual life similar to mine. Her testimony gives me hope that if I seek God's direction in everything, that I will be successful according to His will for my life.
And her new series Belief is a reminder that, we are all connected through a higher power that is bigger than ourselves. Everyone was brought into this world for a purpose, and through hope, faith, and belief, we can live our best, fulfilling life. Only, if we believe.
Belief will air October 18 (tonight) through October 24 at 8pm on OWN.
Taylor Jay is an entertainment and lifestyle journalist from Washington D.C. She loves inspiring and uplifting others through her website azealousvoice.com, where entertainment and inspiration collide.