---
"I do not want a husband in my house."
Those were the exact words uttered by famed screenwriter, mom and dating-connoisseur Shonda Rhimes in an intimate chat with Oprah. Both ladies have made it clear that they aren't here for the whole marriage thing.
Yes, contrary to what TV and society might have us thinking, being "Mary Jane" is actually enough for some women. After all, different goals for different gals!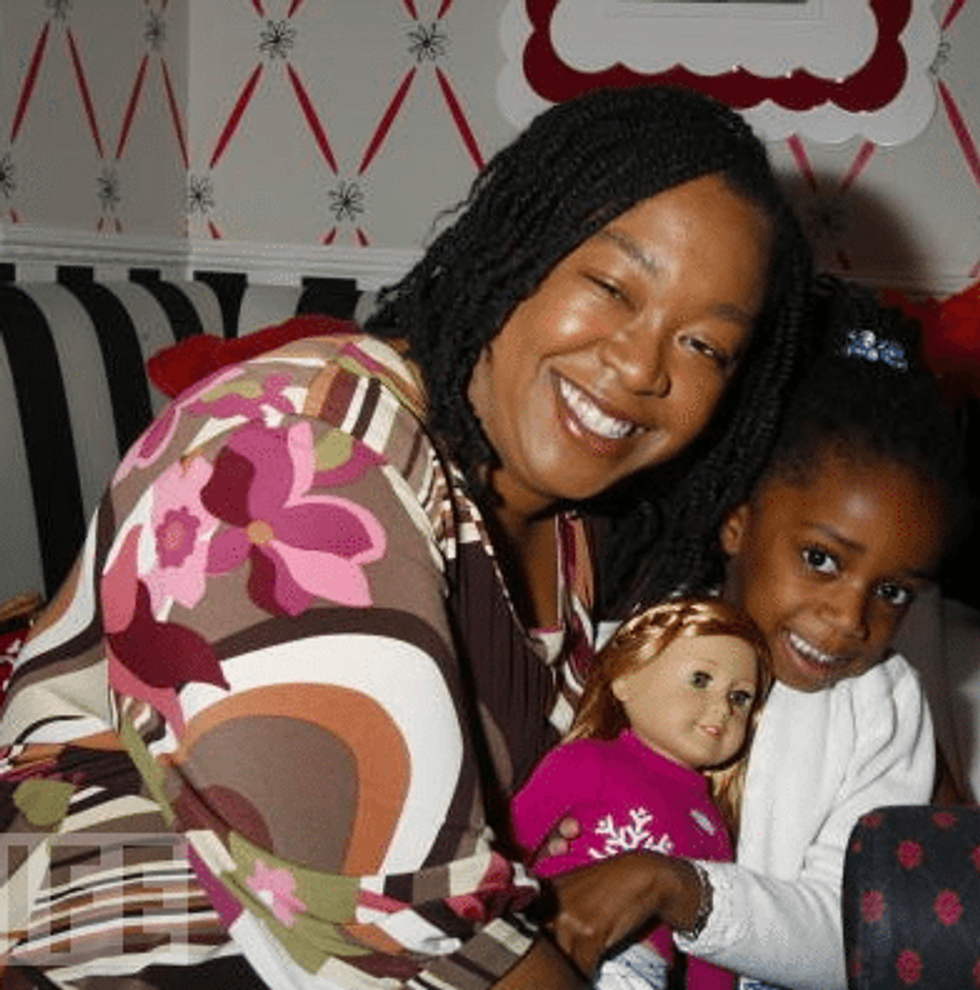 Shonda Rhimes with her youngest daughter, Harper Rhimes
While on the topic of marriage and the pressures to wed by a certain age, the 45-year-old single mother of three girls (two adopted and one carried by a surrogate) revealed something shocking--although she loves being a mom, playing the role of wife was never been in her life's script:
"I'm one of those people, since I was 5, I could tell you I was going to have kids. I could tell you I was going to have three. I could tell you they were going to be girls.But I have never wanted to get married. I never played bride. I was never interested. I don't know what it is; I never wanted to get married. I love having boyfriends. I love dating. I do not want a husband in my house."

The Scandal and Grey's Anatomy creator went on to further point out that she rather enjoys the sacrifices she has made for her booming career, and feels the obligations of playing house would have made it impossible to have both.
"I have so much going on inside my head in terms of writing, there's such a large space in my life taken up by that. I can't imagine it being taken up by a husband and children and writing, and everything getting its due. I don't believe there is room for all of it. I really don't.There may be some people who are doing it and who are very happy and who love it. And I am not knocking any of you. It's never been a dream of mine [to be married]. It was really freeing to say it out loud. I always felt like it was a dirty little secret."

The confession from Rhimes provoked the 61-year old Oprah to reveal something herself: she too is happily unmarried after swapping out her wedding day plans for a book deal back in 1992. At the time, Oprah's longtime boyfriend, Stedman Graham, had proposed to Oprah but the two agreed to setback the date at the request of Stedman, who didn't want to hold a wedding in the middle of Oprah's press tour. This turned into a one-time discussion on delaying their big day, which later turned into 20+ years of chilling:

"I don't know if I've ever said this publicly, but I really wanted to be married, too, I wanted Stedman to want to marry me. The moment he asked me to marry him I was, like... 'Now I actually have to get married?!'I was supposed to do a book at the same time ... and the wedding and the book were happening around the same time. We were on our way from the book party and Stedman said he did not want to have his wedding disturbed by all these people asking me about the book (which I ended up not doing).

"I said, 'OK. All right.' So he said, 'We should just postpone this wedding...' And that was it. We have never discussed it again.
However, Oprah realized that the cancellation was actually a blessing in disguise, helping her to learn something new about herself:
"What I realized is, I don't want to be married. Because I could not have the life that I created for myself ... I knew that I couldn't do it."
Nearly 30 years later to the day of their first date, the couple would go on to still live a life of non-marital bliss!
Welcome to the greener side of being "Mary Jane," aka a woman without a ring but has pretty much everything else in life-- and that's all right. Where you accept the sacrifices you made for yourself, and find happiness in the luxuries your career has afforded you, skipping over the part of regret for never having scored a husband and/or kids of your own.
[Tweet "For women success is no longer defined by a white fence, husband, & Brady Bunch sized family."]
Back in 2013 in an interview with The Hollywood Reporter, Shonda also opened up about her lack of enthusiasm for pregnancy, admitting that she always knew the alternate route for motherhood was the route for her. The mother of three revealed:
I've never been in a delivery room. I've never pushed. My water has never broken—hell, I've never had any water to break. My friends talk about the horrors of pregnancy... [and] I listen to them, intrigued in a detached way. I'm happy for them, but I feel no pangs of 'I wish that were me.' I feel no jealousy.I've never wanted to be pregnant, never suffered through the infertility that devastates some of my friends. Since I was nine-years-old, I've been telling people that when I have children I will adopt. It's always been a fact for me. I don't know why. I think when I was younger the idea seemed bold to me and slightly defiant—why it is just lazy to make people when there were so many people out there who need mothers! Like I said, I was young. As I got older, the idea matured, too. It took shape and form and became real. Adoption was how I was going to become a mother. Adoption would build my family!"

And there is nothing wrong with that!
In this day and age, you have successful women redefining "happy homes," everyday:
Kerry Washington- Married, 1 Kid
Gabrielle Union- Married, Step Mom
Viola Davis- Married, 1 Adopted Kid
Taraji P. Henson- Never Married, 1 Kid
Shonda Rhimes- Never Married, 2 Adopted Kids, 1 Surrogate
Oprah- Never Married, No Kids
At the end of the day, happiness and success can only be defined by the individual, and not by what society or anyone else tells you should make you happy. For some women, they'd rather exchange having a husband, kids or both for a chance at independence and freedom. And for others, it's the other way around. Either way, the goal should always be to live in what you feel is your purpose!