"The more time you spend out of your patrol car, the bigger difference you'll make." - Officer Tommy Norman
---
Over the past few years, having to digest the news of senseless deaths at the hands of police brutality and social injustices across the country has been disheartening. It seems as though there is not a week goes by when headlines aren't flooded with news of an unarmed man being shot to death by officers, or hundreds of arrests at the hands of protestors who are advocating for justice.
Fortunately, hope during these tough times often come from people who have a profound appreciation for humanity and an unyielding drive to spread love.
That's where Officer Tommy Norman comes in.
Officer Norman is a North Little Rock, Arkansas police officer who has been on the police force for over 18 years and is doing his part every day to show his deep respect for members of his community. But it's how he does his part to spread love that's garnering him attention on and off social media.
You see, Officer Norman uses a method called #CommunityPolicing.
Community policing is a transformative method of policing where officers are empowered to proactively identify and solve problems in a proactive way, relying on a combination of skills that include "developing community partnerships, engaging in problem solving, and implementing community policing organizational features." It stands proudly on the belief that one person has the potential to make great change in a community.
For Officer Norman, community policing looks like getting to know the members of his community as family and friends. He does so by playing with the children in the neighborhoods, offering cold drinks to the youth, elderly and disabled on warm days, taking donations for the locals, driving residents to the grocery shopping when they need a ride, and speaking at engagements to encourage the youth.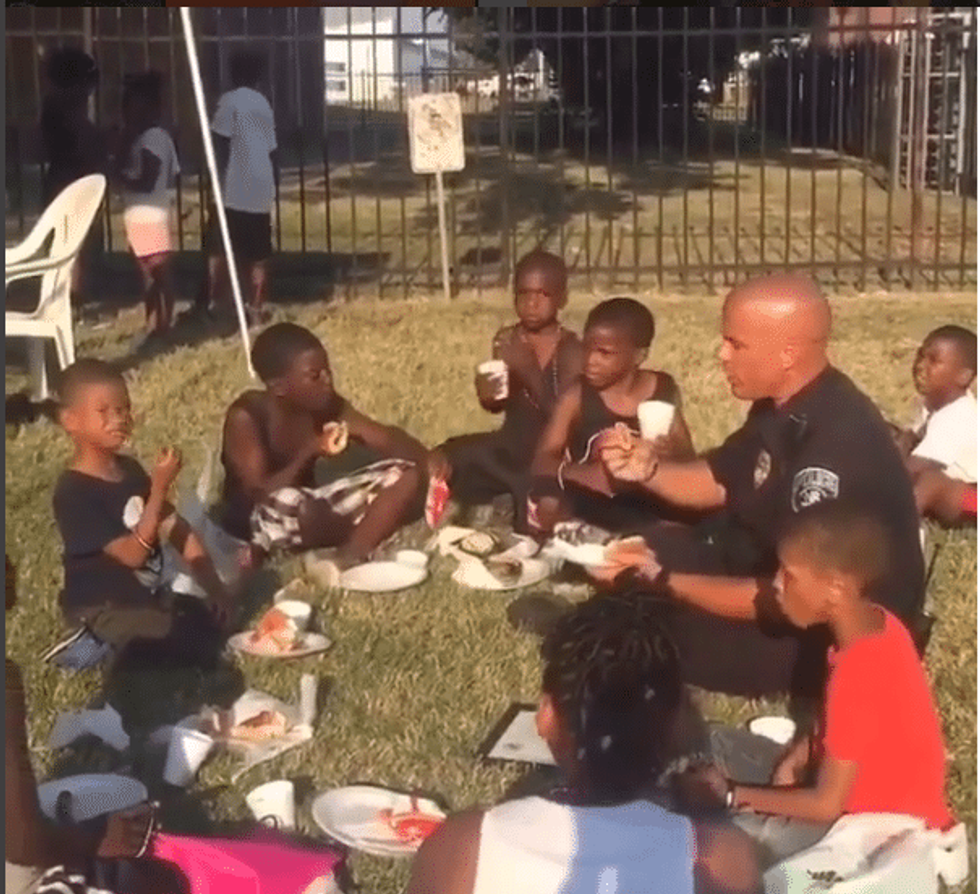 When asked about his method of policing in an interview with CNN, he revealed, "I want to inspire people - not just other police officers - but people in the community. It's a partnership between the police and the community."
Officer Norman believes that working together is crucial in making communities a safer and more peaceful place to live in. He viewed social media sites, like Facebook, Instagram, and Twitter as opportunities to become an inspiration to others and lead communities around the nation to a more positive direction, thereby easing tension of police-civilian relations.
And he's been at this a long time.
During a 2008 interview with a local Arkansas radio station who deemed him a "local celebrity", the warm-hearted cop revealed that he loves and adores kids and want them to trust cops versus feeling afraid of them.
"I don't want children to be scared of police officers. I want children to know that police officers are here for them. I see kids now, that are teenagers, and they remember we delivered gifts to them 9-10 years ago. That can keep a kid out of trouble, knowing a police officer cares about them.
"If it was up to me, I wouldn't do any police work, I would just drive around to the school and neighborhoods and give back. That is where my heart is, that's where my passion is.
"Kids have a good sense of character and they know who's real and who's not, and they know Officer Norman cares about every kid in North Lil Rock, and I'm not going to let them down."
His passion to protect and serve is evident and is something that keeps his 1 million Instagram followers smiling. Press play on the videos below to see how all of the neighborhood kids flock to him when his squad car rolls up:
What he has done for his community in North Little Rock has not gone unnoticed. Many people from around the world have sent gifts to some of the children and families that he features in his Instagram videos, including locals who gave him snacks to hand out to kids while he's patrolling the streets. He's also gotten kudos from celebrities like Tyrese, Toya Wright, Monica, and Taraji P. Henson.

Rapper The Game's eldest son, Harlem, was so inspired by Officer Norman that he started a GoFundMe page with a goal of $50,000 to help him continue giving local kids and families food and gifts. They have since exceeded their goal.
What makes this guy amazing is that he understands the hurt and frustration that many people feel after the deaths of black men and women at the hands of law enforcement, most recently Philando Castille and Alton Sterling. He took to Instagram to address the issue, while thanking his followers for allowing him to have a platform to show that anyone can be a game changer.
He said:
...A lot of people are emotional. A lot of people are hurting. A few people even broke down crying on the phone (while) talking to me. So the world is in a state of hurt right now, but I want to stress that, you know it's up to us as individuals to do our part, even though we're hurting. To love other people, and to show other people that there's still hope and promise in the world. It's crucial that we don't let that get away [from us].
The end result is that Officer Norman isn't just any cop - he's an uncle, father figure, a brother, and a friend. Here are 5 times Officer Norman's Instagram warmed our hearts while being a great example for community policing:
1. When he and his squad prepped for some Slip & Slide fun with shower caps and Drake
2. When he highlights the neighborhood kids, including our favorite little lady, Amiyah
3. When he gifted 'Tim Tim' with his own police car
4. When he failed miserably at dancing
5. When he left this reminder that left us all with the feels
North Little Rock is one lucky town!
Take a look at Officer Norman's inspiring Instagram page, and see how his method of community policing is winning hearts and minds all over his town, and the world.