The paps obsession with celebrity kids are getting out of hand.
---
We get it. Paparazzi have to eat, too. And with every picture perfect pic, they get a check. And honestly, we're all for an honest dollar. Yet, not every honest buck is an ethical one.
Recently while arriving at the Council of Fashion Designers of America awards with her dad Jay Z, 4-year-old Blue Ivy Carter was bombarded by the paparazzi as they screamed and yelled her name while snapping pictures. In return she did this...
Blue isn't the first though. Remember when a fan site for the Kanye West family posted a video of two-year-old North West in one of her many adorable ballet outfits? North was trying to keep up with her caretaker, as the paparazzi surrounded them like a beyhive, and in the most adorable yet disturbing fashion Kanye's mini me blurted out,"I said no pictures!"
Overall, it's all very adorable, but at the same time, the lack of consideration for North's comfort level is a little bothersome and was hard to take in for some of us watching. Not to mention, a bunch of grown men with cameras stalking a 2-year-old is just weird.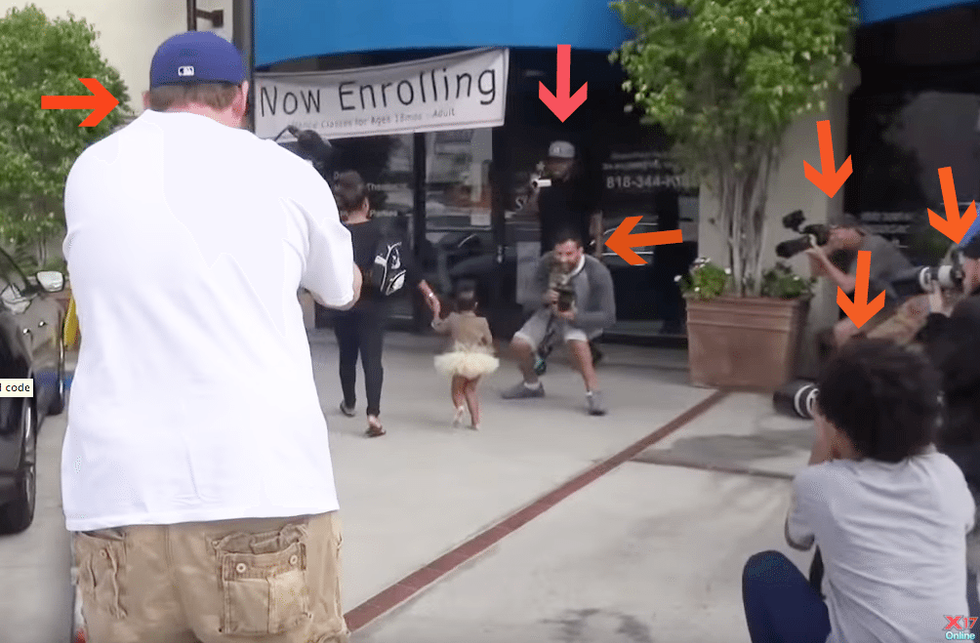 Luckily, little mama handled herself like a pro! She didn't cry, she didn't fuss, and she certainly didn't cuss (insert young child who went viral saying, "I'm motherf***ing TIDE!") As a matter of fact, North brushed off the attention in the same way a five-year-old would tell their mother, "Enough with the pictures already" for their first day of school. So we must give her a little clap and a dap for that! 
My little Balmain Ballerina https://t.co/FYawV2bVsP

— Kim Kardashian West (@Kim Kardashian West)1446080153.0
At the end of the day, yes, celebrity children are indeed the offspring of their famous parents however, there should definitely be some rule taken into consideration against paparazzi harassing a minor for a photo.
Oh wait, there is a rule!
Back in 2014, California passed the bill aimed at protecting the privacy of the children of celebrity figures. Supported by the likes of a few celebrity moms, namely actresses Halle Berry and Jennifer Garner, beginning January 1, 2014:
"A paparazzo convicted of harassing a minor who has been singled out due to his or her parent's profession (famous actors, singers, reality TV stars, politicians, etc.) can spend up to a year in jail -- which is raised from six months previously. Fines can also be imposed, including $10,000 for the first violation, $20,000 for the second, and up to $30,000 for the third. The law also allows the parent or guardian of the child being harassed to seek civil liability."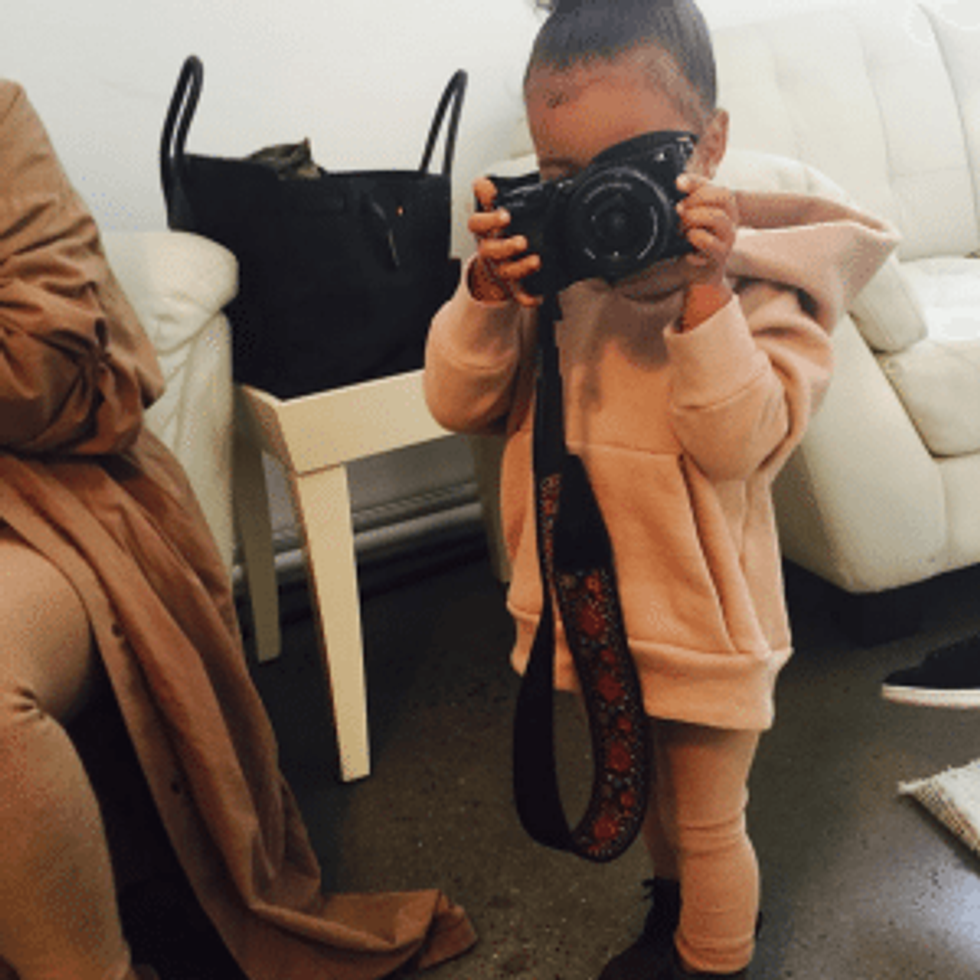 Senator of Los Angeles, Kevin de Leon, said "Kids shouldn't be tabloid fodder nor the target of ongoing harassment," while adding that Senate Bill 606 "will give children, no matter who their parent is, protection from harassers who go to extremes to turn a buck."
Fellow actress and mom Sandra Bullock also spoke out about the bill last year during a taping of Entertainment Tonight adding:
"I didn't know [the Bill] was passed! Are you kidding? That is amazing! [Before] we were fair game, do whatever you want to us, it was almost like child slave labor; it shouldn't be photographed and sold. Let them be kids; don't let them live in fear. If they turn 18 and want to be an actor, they've dug their own grave on that one. [Halle Berry and Jennifer Garner] went out and fought hard for it, and we're grateful."
In North's case it appears this may not be harassment so much as it is obsession.  Not to mention over a year ago, Kanye was on stage revealing that his worst fear was that his child didn't grow up with some sort of normalcy:
"I want my daughter to have that opportunity to decide whether she wants to be famous or not. I think to myself, what the f*** am I going to do, how can I change it and how can I give my daughter her childhood?"
Unfortunately, whether these children have made the decision or not, they are famous by default. And while that doesn't excuse the paparazzi's behavior, they learn how to handle the paps from their parents. Besides, North's been standing her ground and serving 'talk to the hand,' realness for the past two years now.
What are your thoughts on the paps getting so personal with kids and their pics?