Normani has shown everyone her "wild side" and now she's giving us an inside look into her beauty routine. The multi-talented artist revealed her beauty secrets and how she achieves her 90's-inspired makeup look with Vogue.
---
Check it out below: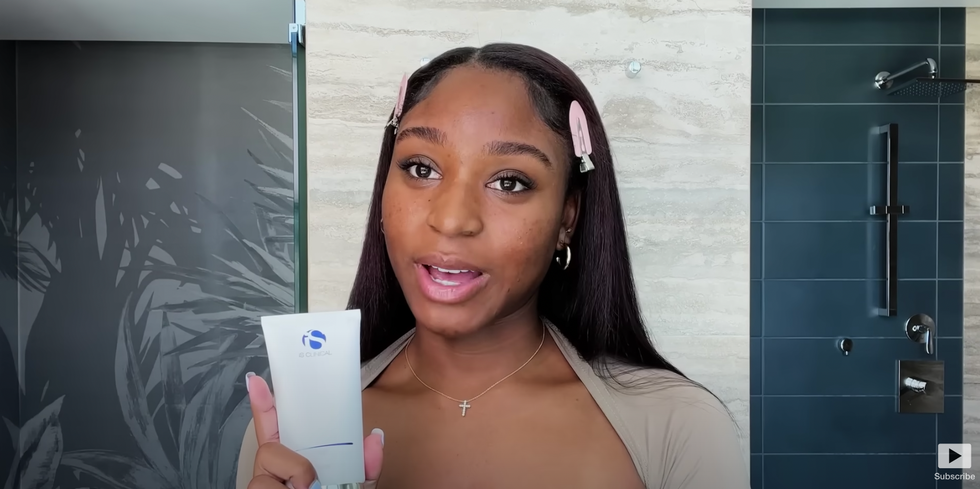 Vogue/YouTube
Cleanser:
Before starting her makeup routine, Normani washed her face with iS Clinical Cream cleanser. "I have struggled with acne for like the last 10 years and it really has been a journey," she revealed. Next, she put on 111Skin Sub-Zero De-Puffing Energy Mask Box and used a face roller to rub the mask in. "I'm definitely the girl on the plane with the acne stickers. I've definitely worn pimple cream in the airport," she said, continuing to talk about her skin journey. "I don't care. I'm comfort over everything."
She followed up the mask with iS Clinical Pro-Heal Serum Advance+ which she said helps with hyperpigmentation and iS Clinical Hydra-Cool Serum for the "glow you want." Lastly, she applied sunscreen and eye drops before moving on to makeup.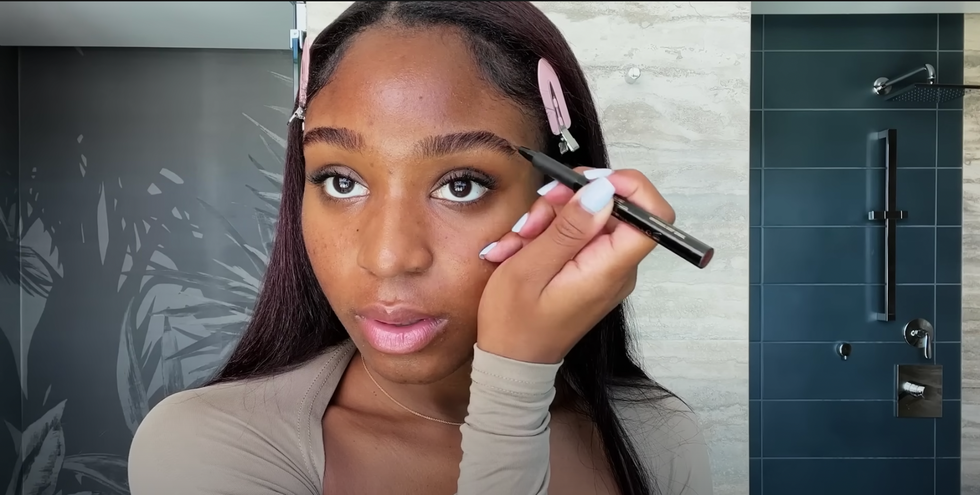 Vogue/YouTube
Makeup:
First things first, the "Fair" singer brushed her eyebrows and then used Anatasia Beverly Hills' brow pencil to achieve natural strokes. The last step to her brows involved her using Anastasia Beverly Hills Brow Freeze Styling Wax. As stated earlier, the 26-year-old deals with hyperpigmentation and so she uses MAC Studio Fix Conceal & Correct palette to help even her skin.
While applying her concealer she shared how her mom influenced her approach to beauty. "I also grew up watching my mom do her hair and makeup and I wanted to be just like her," she said. "So, I think that's where that fascination and love for makeup and hair come from."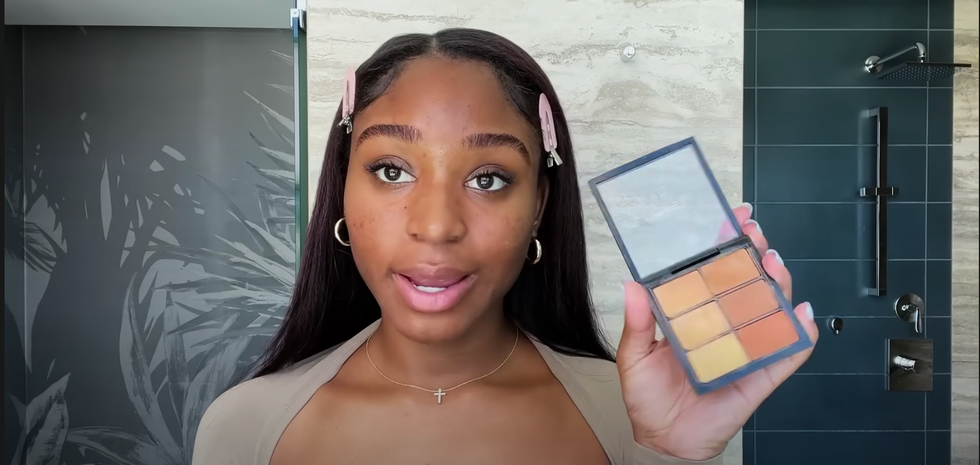 Vogue/YouTube
Normani also shared how her parents helped her feel confident in herself. "I was also one of three Black kids in elementary school so that was really hard for me," she recalled. "I remember just going home and be like mom, 'can you press my hair? I wish my skin was lighter. I wish I had colored eyes.' But my parents really encouraged me that my superpower was my Black girl melanin and my Black girl magic." And so she makes sure to pass the same message down to younger Black girls.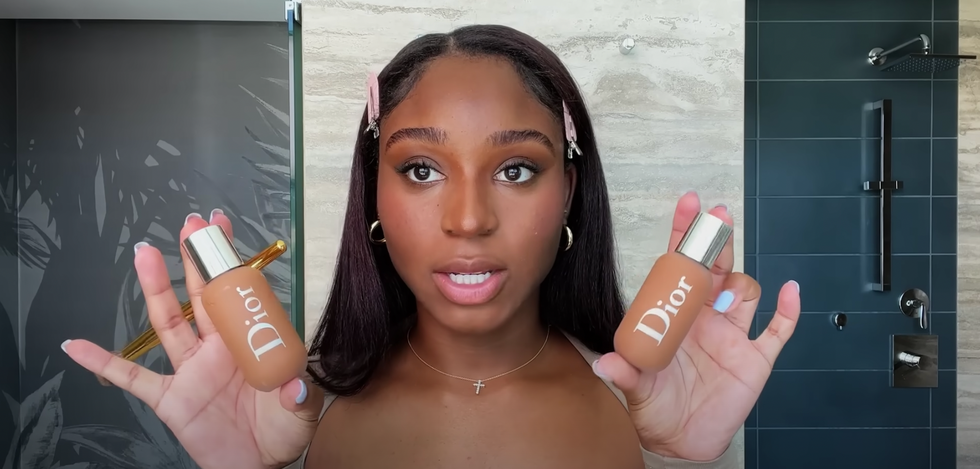 Vogue/YouTube
Next, Fenty Beauty Pro Filt'r Instant Retouch setting powder is applied followed by Dior Backstage Face & Body Foundation. For eyes, she used Fenty Beauty Match Stix Contour Skinstick for her eyeshadow base. When describing her technique, she said "So, what I'm doing is I'm starting from the outer and working my way in so I can create more space and just create a more snatched look."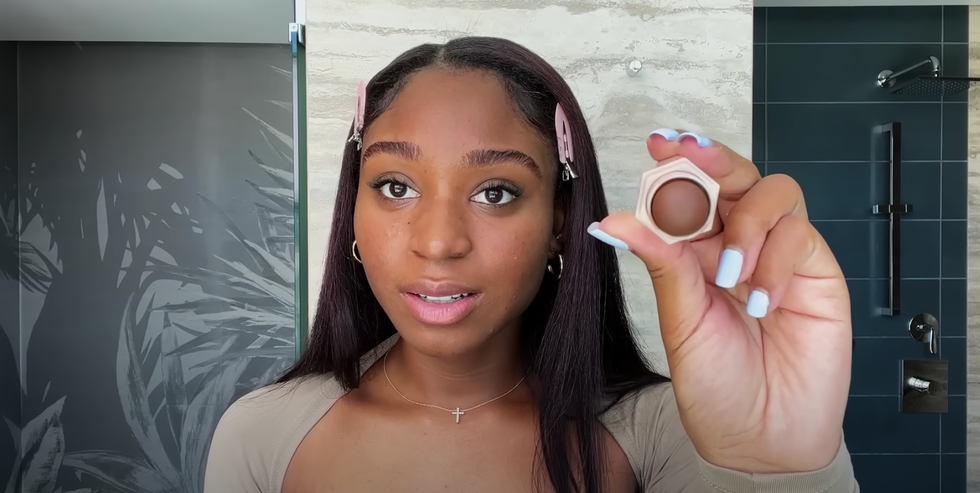 Vogue/YouTube
When it comes to liner, she likes using the brown shade from KVD Beauty Tattoo Liner Waterproof Liquid Eyeliner for a more natural look, and then she goes back in with the Fenty Beauty Sun Stalk'r Face + Eye Bronzer & Highlighter palette for the eyeshadow.
"I feel like I always try to give '90s actress vibes when it comes to my makeup," she said. "I love Nia Long, even Toni Braxton. Just regal and brown and let it be about skin and light contour."
She added, "I love a good '90s lip though. I be on my Mary J. Blige."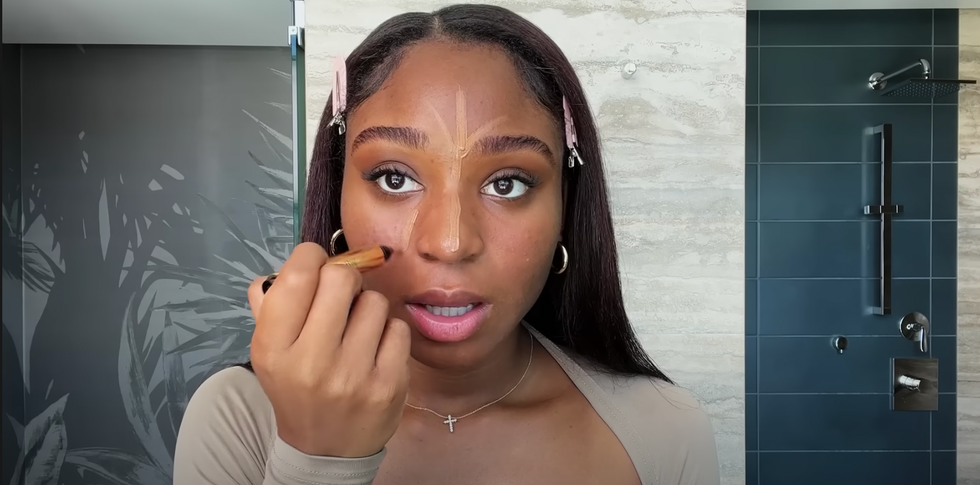 Vogue/YouTube
She used Yves Saint Laurent Touche Éclat All-Over brightening pen in a lighter shade to "add more dimension" to her face. She then added a cream blush and debunked the myth that Black girls can't wear blush.
"There's such a misconception too, especially with dark skin women," she said. She added more foundation, this time using MAC Studio Fix Powder Plus Foundation.
To make her eyes pop, she used Yves Saint Laurent Lash Clash Extreme Volume Mascara on her bottom lashes.
To top off the perfect '90s look, she overlined her lips with Rokael beauty lip liner and matte lipstick. And for a twist, she used Dior Addict lip glow oil on her eyelids and Sol de Janeiro GlowMotions Glowing body oil to achieve a '90s bronze look.
Normani's '90s-Inspired Makeup Routine | Beauty Secrets | Vogue
Let's make things inbox official! Sign up for the xoNecole newsletter for daily love, wellness, career, and exclusive content delivered straight to your inbox.
Featured image by Frazer Harrison/Getty Images