Third time's a charm. Or in Nicki's case, a third diamond ring means a wedding.
It's crazy how you can go from pills and potions to overdosing on happiness and love instead. Ask Nicki--energy is everything. And as for good love, well, that's an infection of affection worth spreading!
---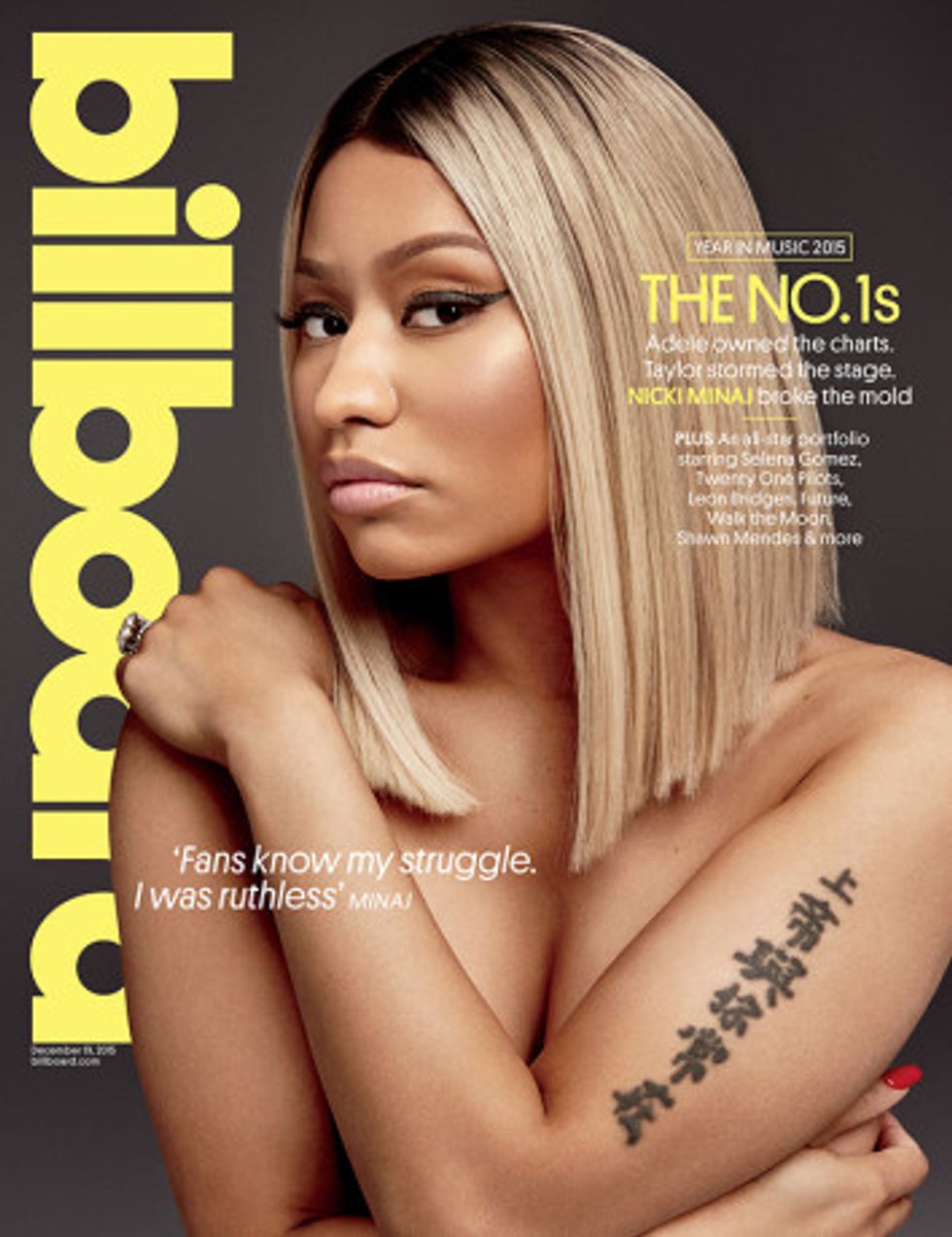 For the first time in a long time Nicki Minaj is not "fake" happy. Although no stranger to social media, her best moments are not captured on Instagram but rather, in the privacy of her and her man. Nicki is no longer living her life according to "likes" because frankly, she's too busy being in love.
This month Nicki Minaj is on the cover of Billboard Magazine's No.1's issue- quite the treat seeing as to how the Sagittarius recently just rang in her birthday. On the cover, the publication boasts about some of the biggest moments in music this year, courtesy of some female heavy hitters, including the likes of Adele, Taylor Swift and of course Miss Onika herself.
Inside the issue, the 33-year-old mega star opens up about finding peace and happiness with Meek, and how her energy has shifted ever since allowing herself to fall vulnerably in love again. She also reveals what her new "bling" means and the importance of remaining aware and hip to the injustice and politics that come with being a woman.
Check out the highlights below:
On Her New Diamond on her Ring Finger (This Makes #3)!
Yeah. Meek gave me that. He and I are not engaged. But he said he would like to give me three rings before we get married. My birthday's coming up, and he better get the new one, because he got [the first one] for my last birthday. So let's see what happens.
"@nickiminaj: Now this is what I'm talking about baby. Lol. Love u 😘😘😘😘😘😘😘 🙏🏽🙏🏽🙏🏽🙏🏽🙏🏽 @meekmill ~ RANG finga whr da rock iiizzzzzzzz"
On the Energy of Good Love- "Everybody should have someone to hold at night."
I don't know what's going to happen with he and I. I just know right now we are really, really enjoying each other's company. So, shout out to everybody in the world that's just trying to find love or be happy. Everybody should have someone to hold at night. It really, really changes your energy. I find that my energy is very different afterward -- if I'm in the bed with him, just hugging him all day. It's just, like, something about love. You transfer it. It's infectious.
On Going to Beyoncé and Jay-Z for Relationship Advice
Yeah, we speak about it. We actually spoke with Jay Z and Beyoncé about it, too. After our show at [Brooklyn's] Barclays Center [in October], we had dinner together. They were so giving with advice. I love them so much. It was just a beautiful conversation to have with people we love and we look up to as a couple. They're so strong.
I'd rather keep the discussion private. I know Meek -- he understood a couple things that I was explaining to him more when we spoke about it in front of them. We were all laughing so much. It was very late -- you know when you get so tired, and it's just like the giggles portion of the evening?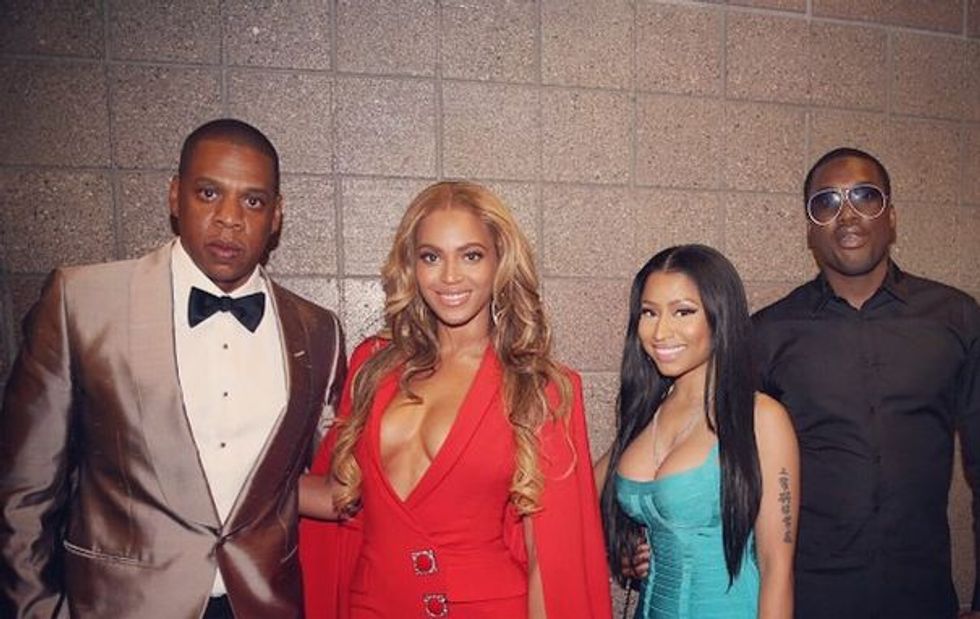 On Getting Flack for Reciting Maya Angelou Poem "Still I Rise." -- 'My Entire Career Has Been that Poem'
It was the most spot-on poem that Nicki Minaj could have ever read. And it's funny; it ended up proving a point. Because I remember going online after and lots of people said such beautiful things. But there was one lady, an older black woman, who said, "She shouldn't be reading that poem." And she discussed how I dressed. I love that she said that, because she doesn't even realize the poem is discussing sexiness, owning your sex appeal. "Does my sexiness upset you?/Does it come as a surprise/That I dance like I've got diamonds/At the meeting of my thighs?" And this woman, she was discussing her PhDs, all this education she had -- but she couldn't put two and two together about the theme of the poem. My entire career has been that poem in a nutshell.
On Moving to L.A. -- 'I feel happier'
I love it [in Los Angeles]. I spoke to Beyoncé about it, because she came out here recently, too. She said exactly what I used to say when I first moved here. We just feel happier. She was saying that simple things that would normally feel like a task, they don't [feel that way] out here. She told me it's not bothersome to get up super early and have to take Blue to school, because it looks so beautiful. I'm a New Yorker, but there are times in New York when you wake up and it's, like, a dreary day. I know my London fans can identify with this. When I'm in London or Paris, I think the same thing. Part of the beauty is in the grayness -- but it's an acquired taste.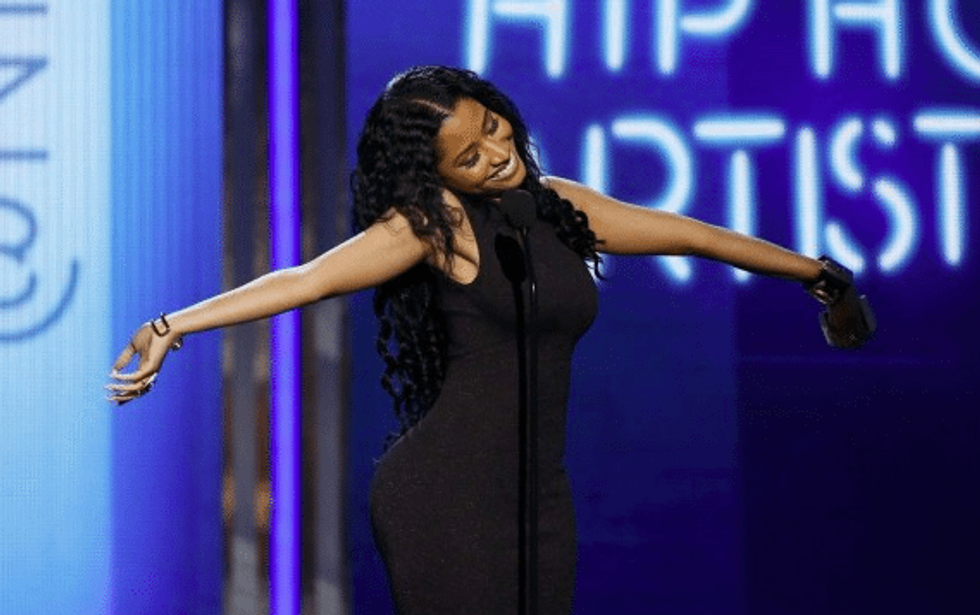 Nice!
While speaking to a friend recently on the topic of happiness, I asked what truly makes them happy. They responded with a list of things, being sure to include that they are "thankful" for good health, a steady job and so forth. I stopped this person a few points in and repeated the question, stressing that I asked about happiness, not gratefulness. Asking what's the difference, I explained to my friend that being humble vs. being happy is the difference between settling for "things could be worse" and striving for "things could be better."
And let's just say that for the first time in a long time, Nicki Minaj is better than ever. Happy in her career and in love, homegirl is beyond just straight- she's great! Finding happiness in the things that money can't while also finally, fully enjoying the fruits of her success.
Congrats to Nicki in all things love and life!
2016 is vastly approaching. What changes have you made in your life to ensure it will be your best year?