"Sometimes a 'Dad Do' is a 'Redo' and you've got to be ok with that!" - Benjamin Watson
---
Get ready to have all the real, deal daddy-daughter feels with Pantene Pro-V's latest "Strong is Beautiful" campaign.
The beauty brand teamed up with the daughters and dads of the NFL for a video series known as "The Dad Do."
Players Benjamin Watson (New Orleans Saints), Jason Witten (Dallas Cowboys) and DeAngelo Williams (Pittsburgh Steelers) sat down with their daughters Grace Watson, Landry Witten and Rhiya and Reyna Williams to comb and style their hair and trust us, it's the cutest thing ever! The dutiful daddies are assigned styles to apply to their princesses' manes that include everything from pigtails to a ballerina bun and princess puff. However, between the massive hands and tiny barrettes, things are quite the mess: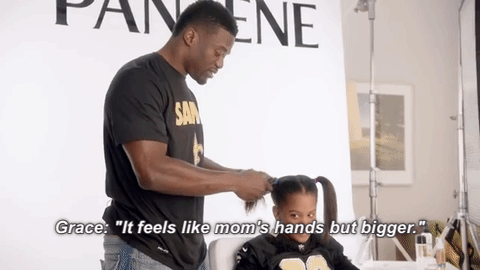 Benjamin Watson and Daughter Grace (First Grade)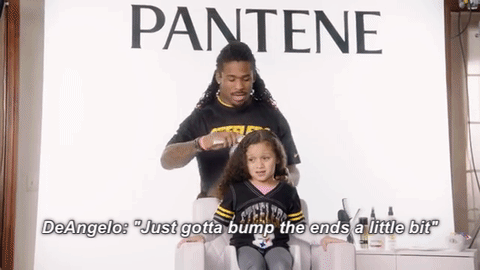 DeAngelo Williams and Daughter Rhiya (Kindergarten)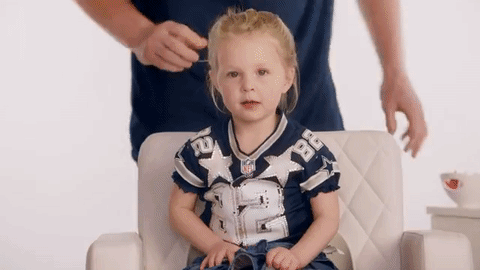 Jason Witten and Daughter Landry (3)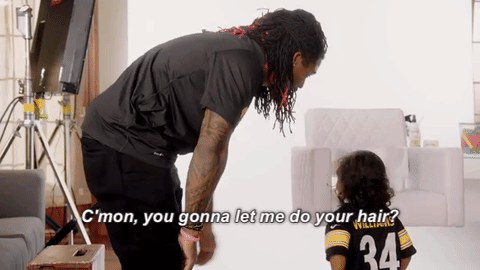 DeAngelo with Daughter Reyna (toddler)
Little mama wasn't here for it!
In the end, most of the father's pull through and of course, with their number one cheerleaders giving them all the loving encouragement, thumbs up, kiss and support for a "do" well done!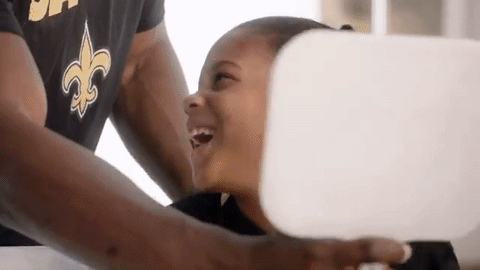 Grace even called her dad's do the "Who Dad-Do," a play on the Saint's "Who Dat?" motto. Clever girl! The fathers were also sure to share their heartwarming feedback on the experience:
"If you're a father, and you only have so many hours in the day, maybe doing their hair is one of the things you can do to connect with them and build that relationship." -- Benjamin Watson, Saints

"A dad do comes from the heart, there probably isn't a whole lot of style. I think the difference between a "dad do" and a "Mom do" is the end result is a whole lot different but I wouldn't change a "Dad do" for anything in the world." --- Jason Ritten, Cowboys

"I don't know why they make these barrettes so complicated for guys. You know what's easier for me? Running through a defensive line. Because I have help running through that defensive line." D'Angelo Williams, Steelers
Pantene's "My Strong is Beautiful" campaign was inspired by the positive and long lasting effects Pantene feels that daddy-daughter bonds have on their little ladies, especially when transitioning into womanhood later down the line. The motto of the campaign is:
"Girls who spend quality time with their dad, grow up to be stronger women."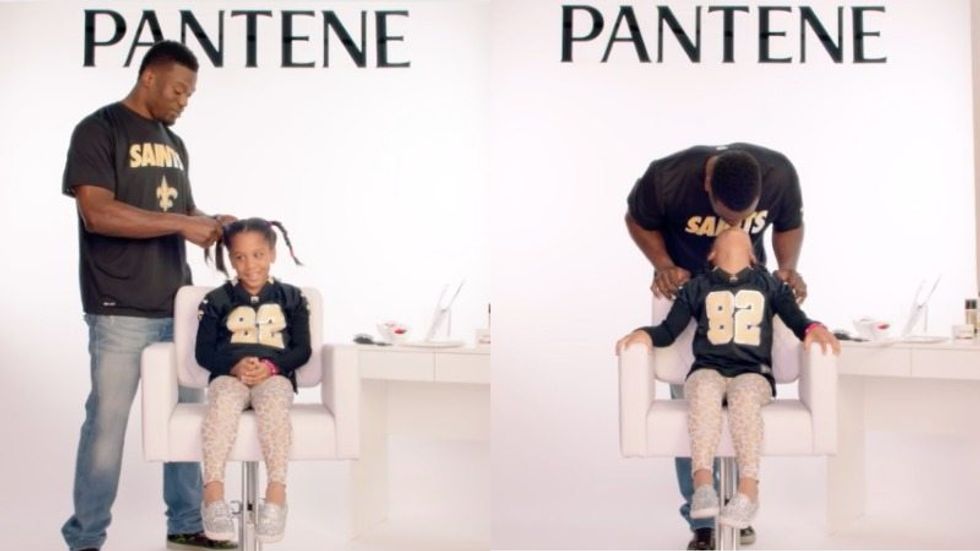 This campaign really touched me in a big way. As a little girl, my father and I had the most unbreakable and unshakeable bond, and to this day, still do. As a child, my 6'1 dad and I made weekly trips to Barnes and Nobles bookstore, where I'd purchase a novel and we'd sit at the cafe to chat. I would always order a rich slice of chocolate cake and my father would get a cup of dark coffee. Being a huge fan of books , most times I'd started reading the new ones at the table, resulting in me getting tiny smudges of dessert on the corners of my looseleaf. To this very day, there are still chocolate thumb prints on the pages of my old Roald Dahl and Phyllis Reynolds Naylor "Alice" novels.
As an adult, I recall an ex telling me that from day one, he respected my father before he even met him because my aura let him know I was raised by a strong and present man who made sure to reassure and remind me of my worth often. Even up until now, he still texts me to tell my dad "Happy Father's Day," and says he hopes to be like him one day. In the end- Daddies make a difference!
Catch the cute videos of the "Dad Do's" below:
https://www.youtube.com/watch?v=Wa8hBK8QF88
https://www.youtube.com/watch?v=tq9qL8ZL9y4