At nine-years-old, my mother thought it best to perm my hair before actively pursuing modeling. She said, "Straighter hair will land you more opportunities," and unknowingly, I fell into a state of thinking natural hair wasn't good enough.
---
Anything my mother wanted was best. Like millions of other Black girls who had their hair relaxed entirely too early in life, my hair fell out and my comfort lied in weaves that were "age-appropriate." Hair care was a foreign concept and the only love I got was through the fingers of a hairstylist who treated my hair and touched it in ways I never could.
I got older and subconsciously developed unhealthy feelings towards my hair, harboring ill feelings towards anyone who could confidently rock her natural locks–biracial girls with bouncy, curly hair and Middle Eastern classmates with long jet black tresses. But classmates my age–Black girls specifically–had their hair straightened, and trips to the Dominicans for a weekly wash and blow out or to the ladies that looked like us to get our hair braided and weaved was the norm. And that norm carried on into adulthood when I left for college and my mother made sure I knew how to perm my hair every six weeks because access to hair salons for girls like me around a PWI (predominately white institution) didn't exist. I permed excessively and caring for my hair became easier. However, I didn't feel good about myself when "new growth" started to come in, and I'd distance myself further away from my natural state by covering my hair up in long, bone straight extensions. That was more beautiful to me.
Related: Taraji P. Henson Takes Off Her Wig for CR Fashion Book : 'My Hair Does Not Make Me Beautiful'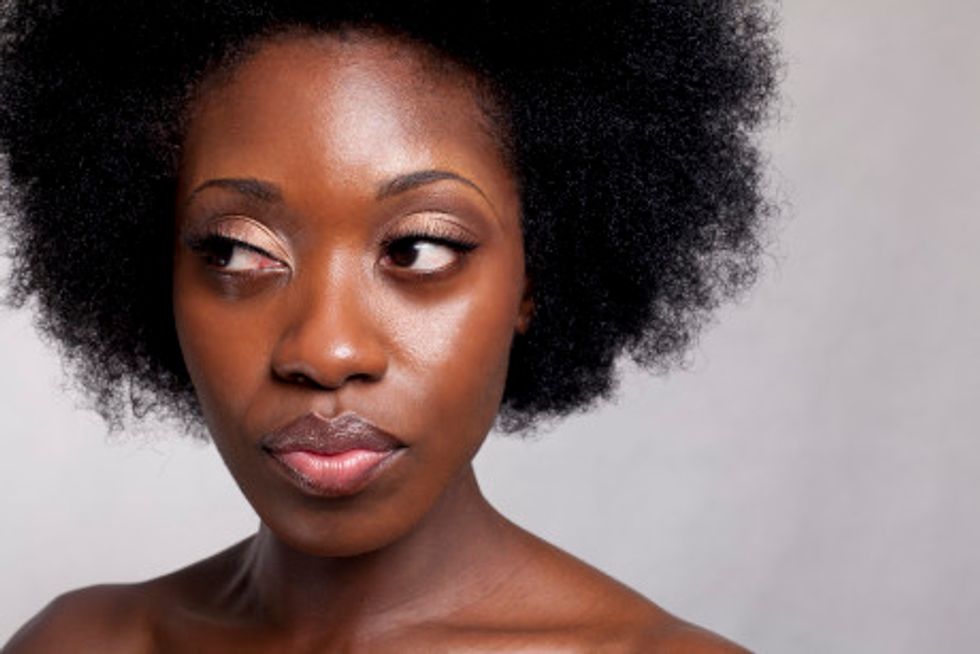 As I grew more comfortably in my skin and who I was as a woman, I underwent a spiritual cleansing of sorts, where I wanted to start fresh in my ways of thinking. At 26, I decided to go natural. It's been a journey and in the process of starting to erase old beliefs that one type of hair was the best it could get, I've witnessed an increasing battle and shame between women who are au-naturale versus those who choose to relax their hair. If you prefer straighter hair due to perms or protective styling, you're thought to be engaging in acts of self-hate that perpetuate the notion that European standards of beauty are better. If you're down with the naturalistas, you're a part of this exclusive club that branches off into 4A's and 4C groups–no relaxers allowed.
[Tweet "In the African-American community, our hair serves as a declaration of self-love or being pro-Black."]
But do women really have the right to her own hair choices? Dr. Miracle's is posing the question and wondering if women also have the right to openly voice opinions about the hair decisions of others? When doing so, many are caught in a crossfire conversation that does more criticizing than celebrating the variety of styles that are associated with Black hair.
But the brand is doing something about diverting the dialogue to one that's healthier for women to engage in with their "Undo the Hurt" initiative that focuses on "mending the broken relationship between natural and relaxed women." Kimberly Hairston, the chief marketing officer of DRM-JPC Brands and the woman behind the initiative, believes women can reverse the mindset for themselves and their daughters about 'good hair' by affirming the way we are is enough.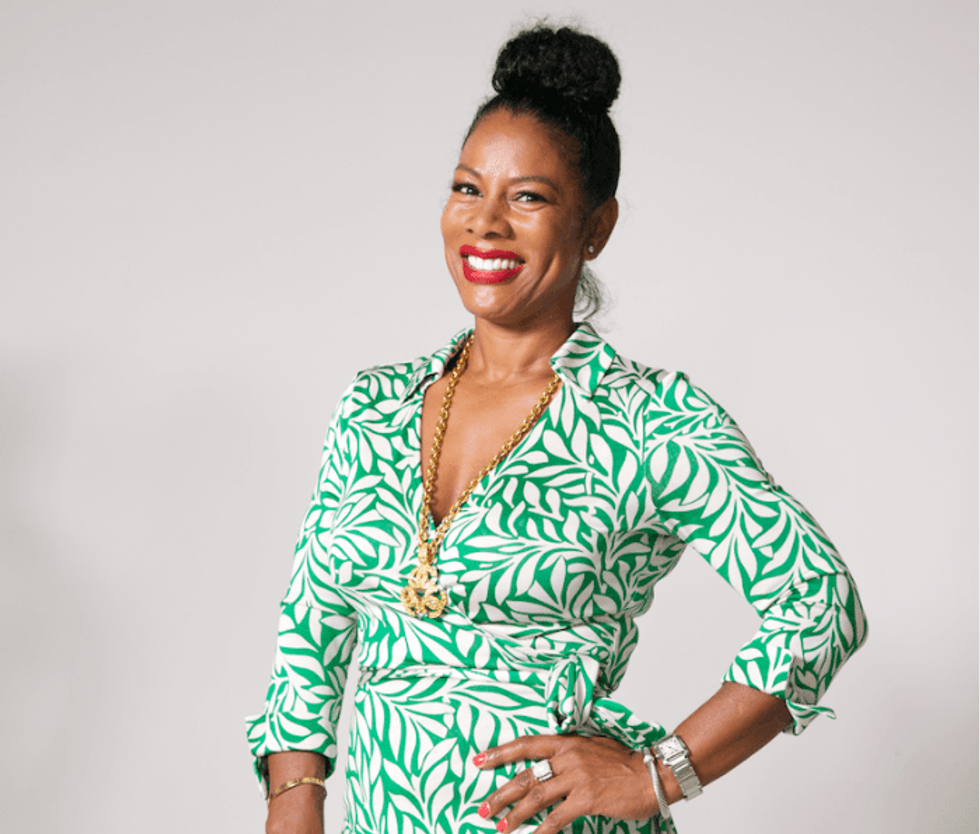 Photo Credit: Mater Mea
"I think those small things that you do with your child, when you start to comb her hair [for example], really talk to her. [Tell her], 'No matter your hair texture, the length, whatever, you are beautiful," she tells Mater Mea. Similar to how my thoughts on hair originated from my mother's want to straighten my hair for an opportunity, Hairston shares how her perception of herself was stemmed from her mother.
[Tweet ""My beauty self-esteem is deeply grounded in my mother's self-esteem and her mother's.""]
It's a cycle for many of us.
Related: I Am Proof That You Shouldn't Sleep On The Drybar For Natural Hair
In a must-read interview conducted by Mater Mea founder, Anthonia Akitunde, Hairston treks through the purpose of "Undo the Hurt," noting the separation amongst women for their personal hair decisions.
I think women have been taught to compete with one another. We need to really empower women to love themselves and their hair choices, and not feel like someone else can judge them. It goes both ways. I don't want to be judged if I have a relaxer or natural, and I don't want people to judge other women because they decide to have their hair relaxed or natural. It's not just done with hair—it's done with skin color, it's done with weight. 
[Tweet "We need to really empower women to love themselves and their hair choices."]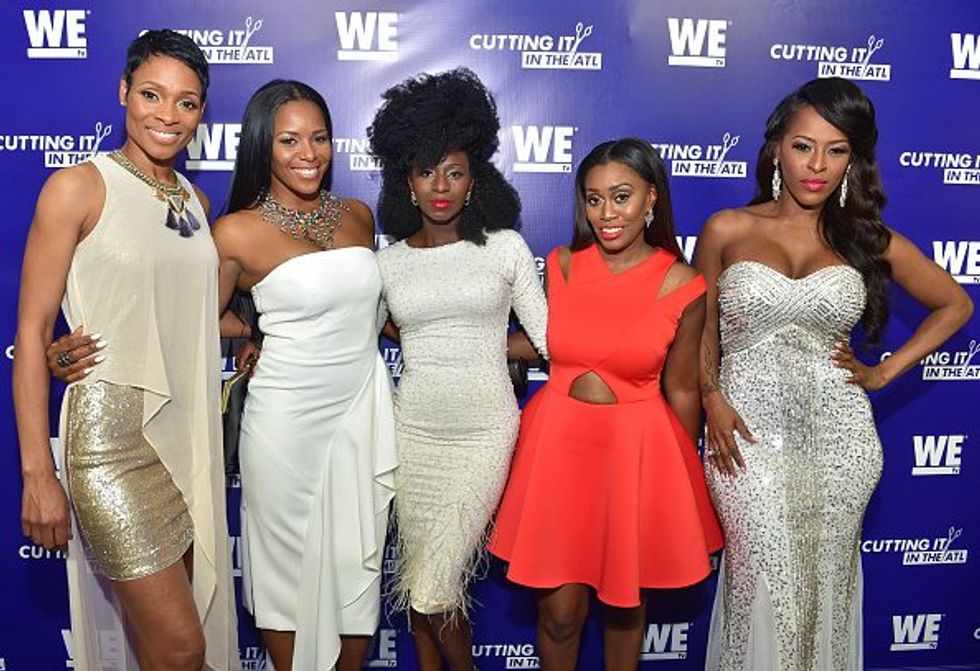 Photo Credit: Getty Images/Prince Williams/WireImage
Hairston's responses are spot on when Kenyan blogger recently expressed her thoughts on the troublesome piece, "Ladies, natural hair is ugly! There, I said it." Nancy Roxanne pretty much crossed the fine opinionated/offensive line when she went on a tirade about how only "a handful of women" look good with kinky hair. 
"

...masses of unenlightened women wake up one day and decide to rock natural hairstyles only to end up adding to the ghastly parade of natural hair disasters being flaunted around.

 
Roxanne's own backstory as to why she feels so strongly against naturalistas isn't present in the article, but I can only assume her thoughts stem from seeing and believing long, full hair is the root to beauty. She did say "the eye-appeal of hair is in the length and volume."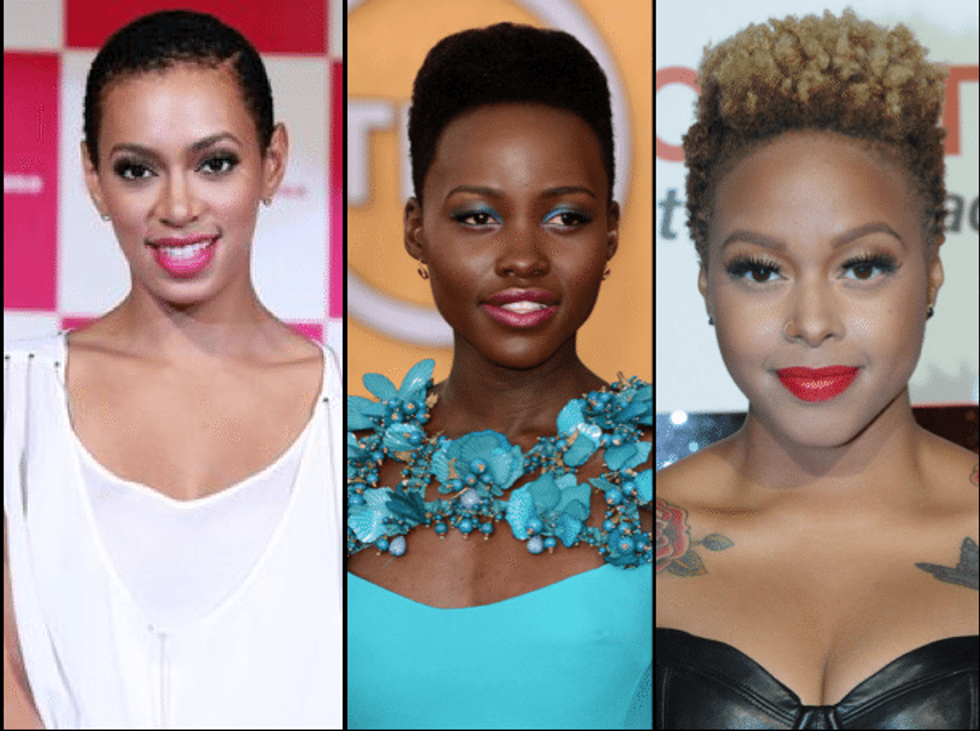 But when we have short-haired young women like Lupita Nyong'o, Solange and Chrisette Michele represent everything that goes against Roxanne's theory and look like the girls who grew up struggling with identity and hair, it disproves the sentiment that 'white is right.' It's important for our young women to not only love what they we're born with, but be comfortable with any choices they make about their body, including their hair. 
Earlier this month, an eight grader from Toronto was pulled from her classroom after her principal demanded she pull her "too poofy" and "unprofessional" hair back or spend the remainder of the period in the office. The 13-year-old student's aunt, took to Facebook to publicly address the incident and the Black principal.
"I would like to know what gives you the authority to be the decision maker on stunting my nieces' dreams by telling her that she cannot achieve careers based off her looks? Why are you projecting your SELF HATE onto my niece?"
She also appeared on Toronto news with words for the principal.
We [Black women] grow up all this time feeling like we're not beautiful. And for her to see [the student] and her natural hair and to think, she will never get a position, she won't be accepted in society because of that, feels like it was drilled in her when she was younger or when she was growing up and now she's projecting that onto little Black girls that may have reminded her of herself.
Feeding into competition insteading of complimenting one another is what continues to divide us. How can we undo the hurt?
Hairston ends with a simple, but powerful, point on acceptance.
"

We see the acceptance of the transgender movement, and that's huge. So I think hair is so much more simple! [Laughs] We can accept [being trans] as being beautiful and accept people for their choices. Why as Black women can't we accept our choices about hair?

"
It's not my place to judge the next woman over her hair. It took me years to rid myself of my own theories of beauty–that it skipped over Black women, that it looked like light eyes and light skin, that it felt like hair you could rub your fingers through. But it was through women lived and loved who they were–dark skinned, kinky hair and all–that opened my eyes to what beautiful meant. It looked like me. It looked like Black girls who rock 18" weaves with color. It looked like Black women with bald heads and teeny-weeny afros. Beauty lied in the acceptance in our choices and knowing that regardless of how you styled your crown, you are still a Queen.