For any woman who has heard the dreaded c-word during a doctor's visit, becoming an inspiration for others has to be the furthest thing from her mind.
---
Feelings of doom, depression, and sadness can set in immediately, and insecurities about how the illness might affect appearance and the daily responsibilities of taking care of bae, family, and work start to add to the stress and trauma of it all.
Michel Sproles, wife of NFL running back Darren Sproles, hit a period where she was indeed distraught after being told she had cancer.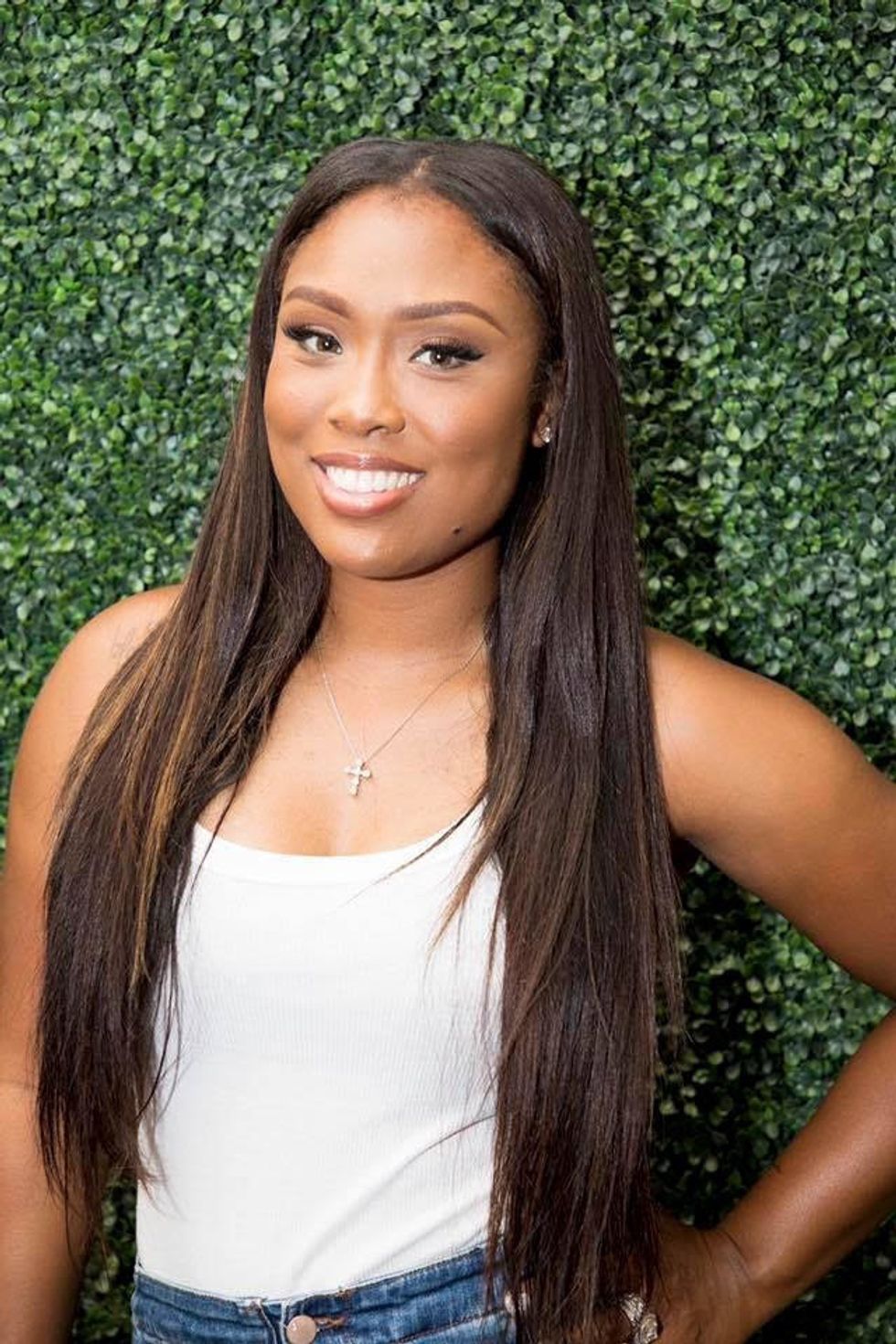 Courtesy of Michel Sproles
"Everything, for me, [happened] so fast. I didn't even have time to process it. It was like, I was diagnosed on a Wednesday, I chose a very radical treatment--- the double mastectomy--- and I had surgery that following week," Sproles recalled during an exclusive chat with xoNecole.
"I was 28, newly married, and I had just had my youngest daughter. I had all these questions like, 'Why me?'"
After encouragement from her husband and family, Sproles decided to turn her Stage 0 diagnosis on its heels and use the experience to help women get their sexy back through her latest venture, The Pink Line. She wanted to be able to use what she'd gone through to not only satisfy her entrepreneurial bug, but to be a resource for others facing the same issue.
Sproles had previously owned a hair salon where she sold hair extensions, and she thought relaunching the line with a charitable bonus was just the perfect way she could shift focus from agonizing about her illness to sparking a movement.
Being known as an NFL wife can have its negative connotations (reality TV, anyone?), and it seems like everyone and their mama has a hair line out now. The difference here is that 10% of proceeds from The Pink Line go toward custom wigs for cancer survivors, and Sproles has been able to leverage relationships she's built to give back to her community through the business.
Many women who are told they have cancer think about both the mental and physical effects of treatment, and they often have to deal with losing parts of themselves closely associated with womanhood and beauty. In the aftermath of survival, women are seeing something in the mirror that can be more than disheartening, to say the least. Even Sproles had to come to terms with the decision she chose to make in removing both her breasts, and she could relate to the feelings others had about how their bodies changed after treatment.
"Though I didn't have to do radiation or chemo at that time, I came across so many women who had to [lose their hair]," she said. "One of the main things they were concerned about was wanting to feel beautiful while going through that process."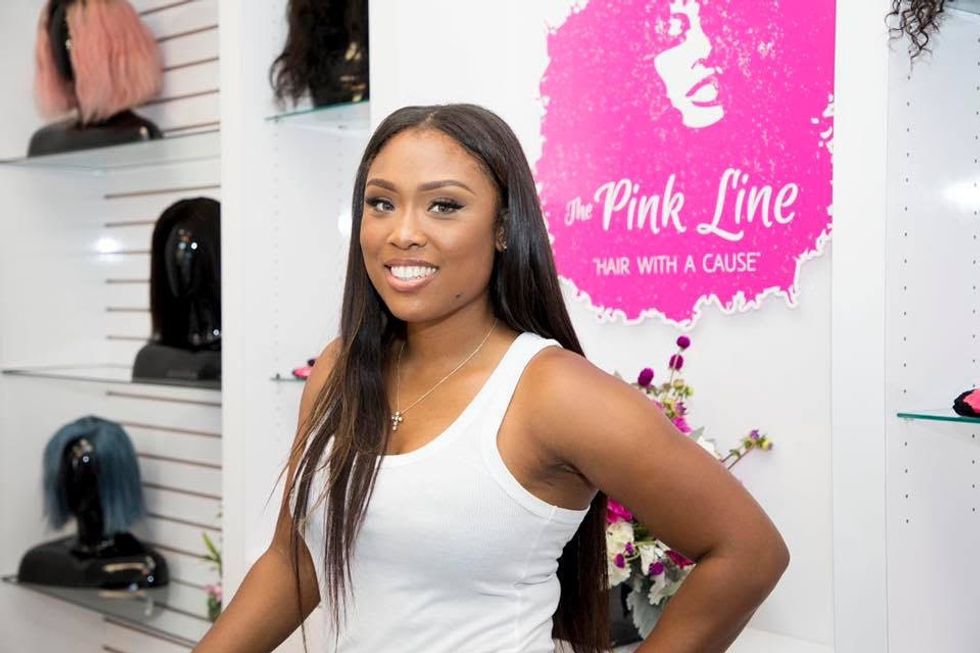 Courtesy of Michel Sproles
The Pink Line offers a diverse range of textures--from kinky curls and waves, to sleek and straight tresses--and she recently launched the Legally Blonde collection, giving any woman, whether a cancer survivor or not, a chance to turn heads and flaunt their style on their own terms.
"We wanted to offer something that women could be able to color and manipulate without losing the quality of the hair, so that's where the blonde collection came from. We also have customers who just want to rock bold, blonde hair, so we needed to provide for that woman as well."
Her customers get the opportunity to slay and pay it forward with each purchase of the line's bundles, closures, and frontals, while Sproles uses part of the profits to get wigs custom made by talented stylists from her network. Cancer survivors who either nominate themselves or are nominated by a loved one are gifted the wigs, helping them throw out the stress of worrying about how they look. (Who wants to be stressing over an ill-fitting, unflattering, bulky wig while trying to focus on healing and getting back to their best lives?)
Her company also partners with healthcare organizations to raise awareness, share updated information, and keep open and engaging conversations about detection and treatment.
"We've done community outreach projects where we're able to give inner-city women free mammograms, and we've [launched] other special events and efforts to give back through the line, which goes beyond just selling the hair and providing wigs," Sproles said.
Not only is she using her platform to bring more awareness to breast cancer, but one glimpse at both her business and her personal Instagram accounts--which boast more than 32,000 followers combined---shows she's super-down to empower all women in embracing womanhood, self-confidence, fitness, and family, and defining for themselves what cancer survival should look like. "I think it's important to use the platform I have because I am able to reach certain people and to be authentic in my truth."
"Being an NFL wife is amazing---I'm able to pay my bills, drive beautiful cars, travel and do all these things---but none of that mattered when I got that diagnosis---when looking in the mirror and I have no breasts."
As a sports lover and track coach, Sproles has always found strength in girl power, teamwork, perseverance, and discipline---all qualities she has to embody as a mother of Devyn, 9, and Rhyan, 6. She and her husband also recently welcomed their third daughter, 17-year-old Brianna---who she has mentored and coached since age 12---to their family via adoption.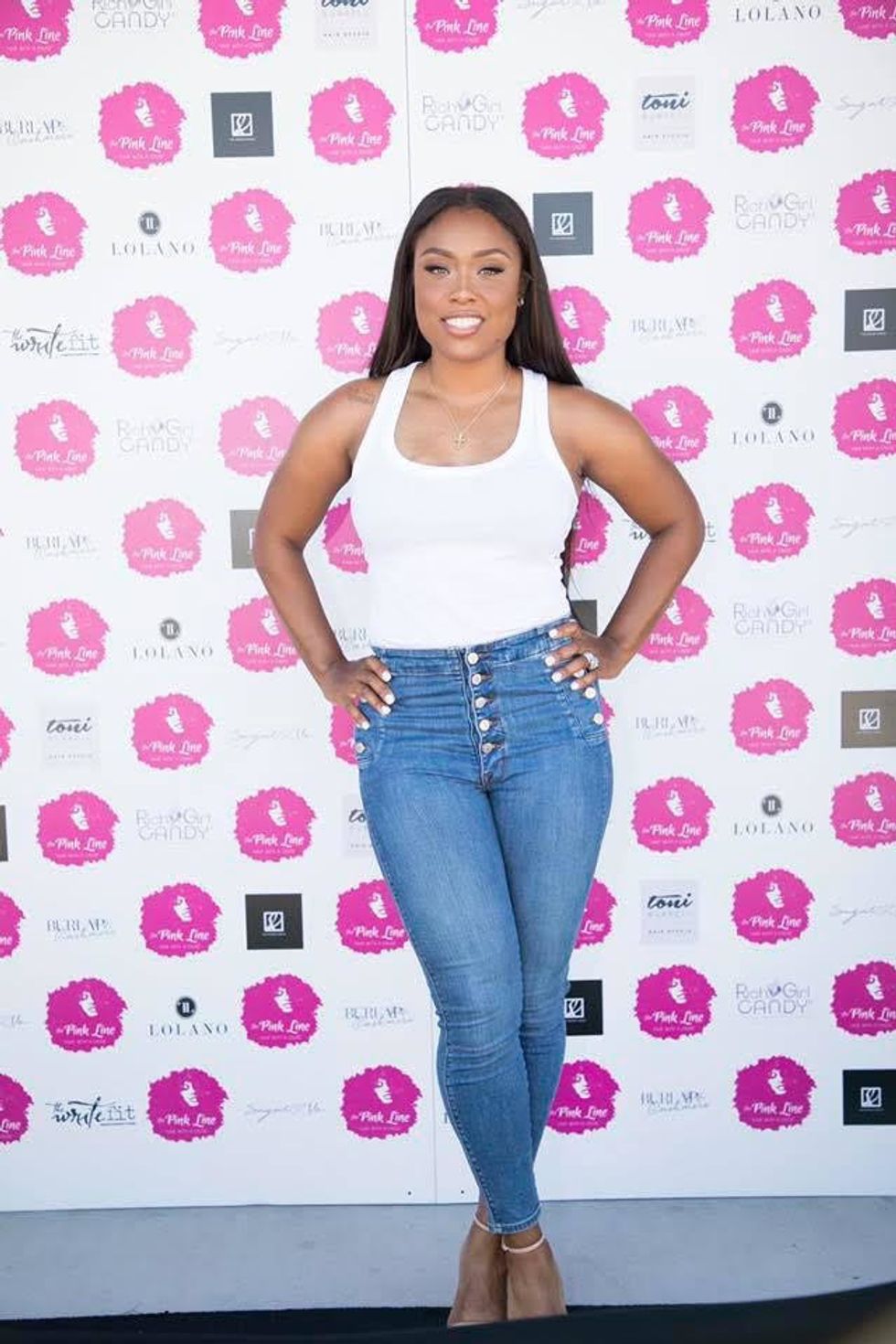 Courtesy of Michel Sproles
"It's important for my kids to see their mom working hard. It's great to have a supportive husband who is a provider, but I also want them to understand the importance of hard work and knowing as a woman, they can provide for themselves. I want them to be equipped to be great providers for themselves, be educated, and do all the things they aspire to do as young black women."
Sproles encourages other women to essentially turn lemons into Beyonce-level lemonade, using their stories of challenges, survival, and triumph as catalysts to fulfill a sense of purpose and make a difference.
"I went through a period where I was ashamed or embarrassed that that happened to me. There are so many other people who suffered silently that go through things, and just to be able to share who we are authentically is important. There's always someone who has experienced something similar. Whatever it is that you're passionate about, create a plan. I think sometimes we have these great ideas but we don't have a clear vision as to how you're going to accomplish. And then, just do it. Life is short and we're not promised any day, so just do it."
For more about Michel, follow her on Instagram.
Related Stories
A Near-Fatal Tumor Inspired This Woman's Successful All-Natural Skincare Line - Read More
Faith Over Fear Is The Motto For These Breast Cancer Survivors - Read More
The BRCA Gene: What You Should Know About Breast Cancer Risk - Read More