How does a budding 38-year-old MUA standout and make a name for herself in the vlogging world- an industry were beauty bloggers are reaching a record number of subscribers who soak up tutorials by the millions?
---
The answer: turn contouring and highlighting up a notch and transform into the industry's most recognizable pop stars, actors and yes- even President Barack Obama!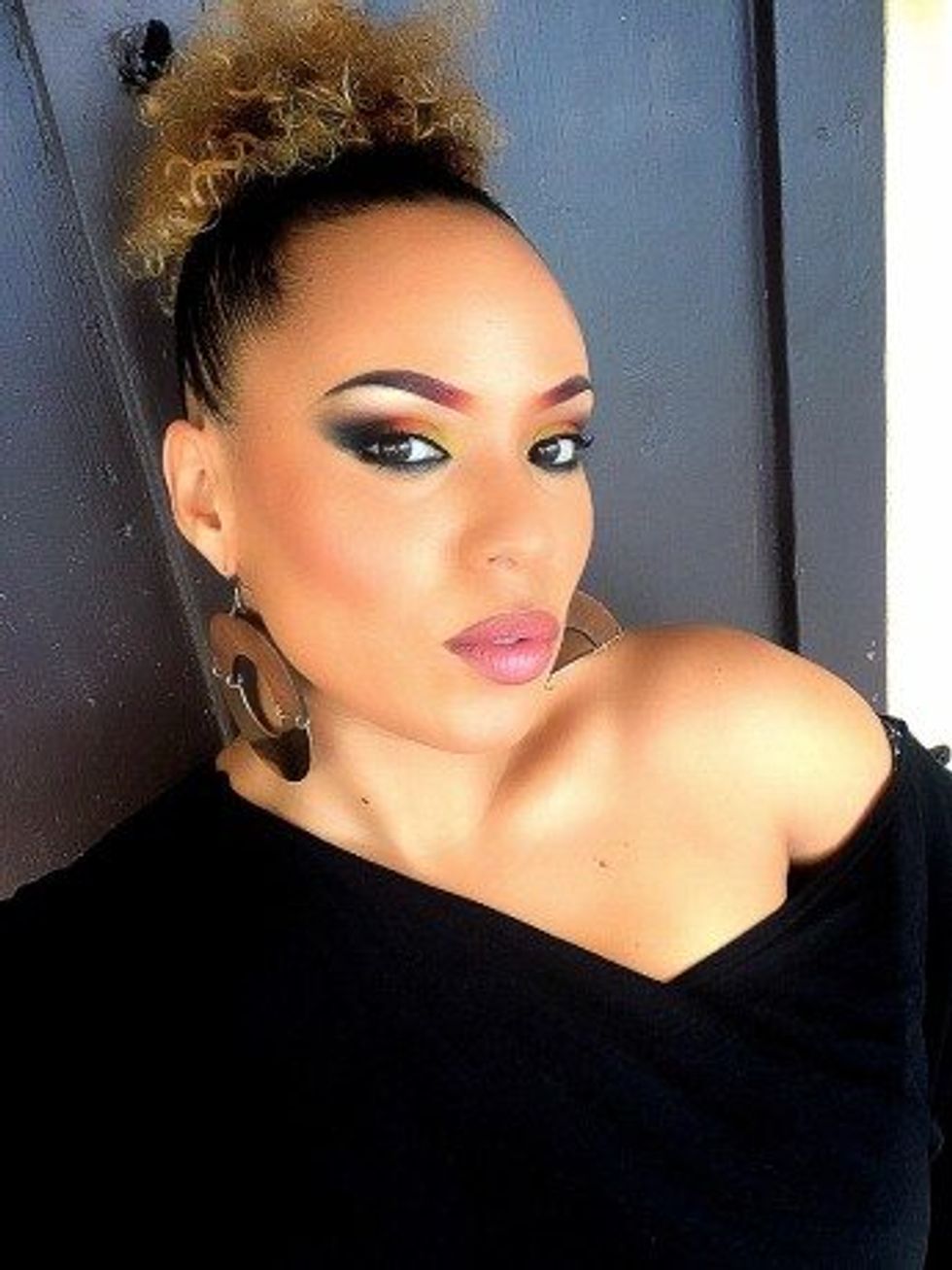 Magali Beauvue is the woman behind @makeupmag. With close to 100K followers, it's no surprise that this beauty queen continually gets retweeted and can be seen flooding your  feeds.
Born in the city of Paris and raised by her Guadeloupean father and French mother, the beauty whose known on social media as a "Transformist,"  has the capability to drastically alter her facial features, skin tone and even gender appearance by way of makeup. And according to Magali, unlike those who got hip to beauty blogging my way of its recent popularity, it appears she may have been born to do this. "For Christmas, I was five, six-years-old asking Santa Claus for a box of makeup, doing makeup on myself and all my girlfriends," she tells xoNecole. "I touched everything at home that I wasn't allowed to."
Like most women, as Beauvue hit her thirties, she was faced with an unrelenting desire for a change in her lifestyle–especially in her career path, in which she wanted to wake up and spend her days doing what she loved."I lived a routine that didn't inspire me. At that time I worked in Galerie Lafayette in Paris as a beauty adviser for a cosmetics brand. I couldn't see myself growing and progressing in that job. I also worked for French hip-hop Artists doing music videos, which were long hours, but no substantial check at the end. My love life and financial situation were a mess, and I lost all of my motivation."
[Tweet "I lived a routine life that didn't inspire me."]
"At that time I worked in Galerie Lafayette in Paris as a beauty adviser for a cosmetics brand. I couldn't see myself growing and progressing in that job. I also worked for French hip-hop Artists doing music videos, which were long hours, but no substantial check at the end. My love life and financial situation were a mess, and I lost all of my motivation."
After taking her talents to Instagram, the makeup artist became an internet sensation, where she would soon be deemed as a "Transformist."  Although the devoted mother and MUA admits that she hasn't quite peaked in her career as a beauty blogger just yet, Magali says she hopes to hone in on her talents and make the art of transforming" its own trend, similar to how others have gone on to do with other beauty trends, such as: contouring and highlighting or the skilled art of getting the perfect brows.
In our exclusive, Beauvue takes XON on a tour of her life, giving us some insight on her "foundation," and all the things she's made of- outside of the make-up.
XON: You grew up in Paris, went to the University of Paris, and now you live in the Caribbean. What was the inspiration behind moving to St. Maarten?
Back in September 2006, I met with a friend whom was originally from the island of St. Maarten who proposed we go on a vacation there together. I asked around about makeup artists on the island but to my surprise, there weren't many, so I decided to make the move there permanently.
I became a freelance makeup artist six months after the move, having only some business cards. The friend that I made the move with ended up missing the city life and stayed in St. Maarten for only three months, but I decided to stay on the island without her. That was definitely not an easy choice. It was hard to start building clientele from scratch. On top of that, I missed my daughter whom was still in France with my parents and I had no residual income.
What kept me going was the fact that everybody I came into contact with loved my work, so I persisted and stayed positive. Eight years later, I've managed to build a strong and lasting clientele network. I'm well known on the island for what I do, and I'm even recognized on the surrounding Caribbean Islands that I travel to for jobs and promoting makeup brands. One year after my move, my daughter came and has been with me ever since. The only missing piece is realizing the next step to my dream, which is moving to L.A., enjoying the hustle and flow of the city life, while building my brand in the makeup industry.
XON: How did you discover a love for makeup?
I always loved to draw and paint. Also, my mother's day job [was being] an artist at heart and she loves to paint. Lots of her paintings of France were displayed throughout our house while I grew up and that is why I always loved colors. I was always the best in my art classes at school.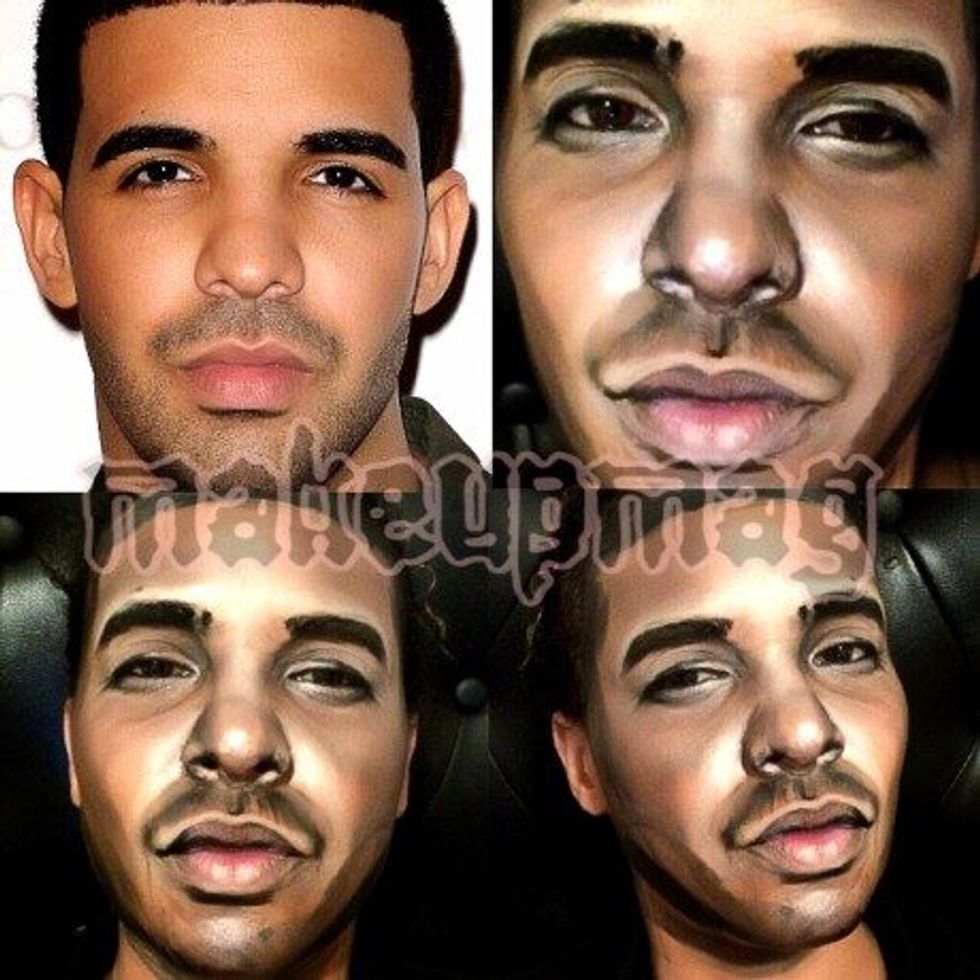 Besides my mother's artistic talents, my grandmother was also a great inspiration to me. She was a fashion addict–very chic, loved expensive clothes and perfumes, and was always on point with her style. She'd go shopping and would take me into the perfume/makeup stores with her, and would always give me a tons of samples–best gift ever for me back then. I'd stay in the bathroom with her while she applied her makeup and I remember always paying attention to her applying her makeup, especially how she did her eyebrows. She looked like Edith Piaf. I was so impressed.
XON: When did you realize you could use makeup to transform yourself into anyone?
The first time I ever played around with the transformation style, I turned myself into a white girl. I pulled it off and it was so funny to see myself that way, so I posted it to my Instagram and my followers absolutely loved it. From there, I decided to do another transformation; me as a boy, and I had the same reaction–my followers were really impressed. I remember this Asian artist (@promisetamang) doing makeup transformations into celebrities and I challenged myself to try and decided to transform myself into Michael Jackson. Not an easy task, but very fun and challenging. When I posted it to my social media, it was a huge success and motivated me to do more and more and more.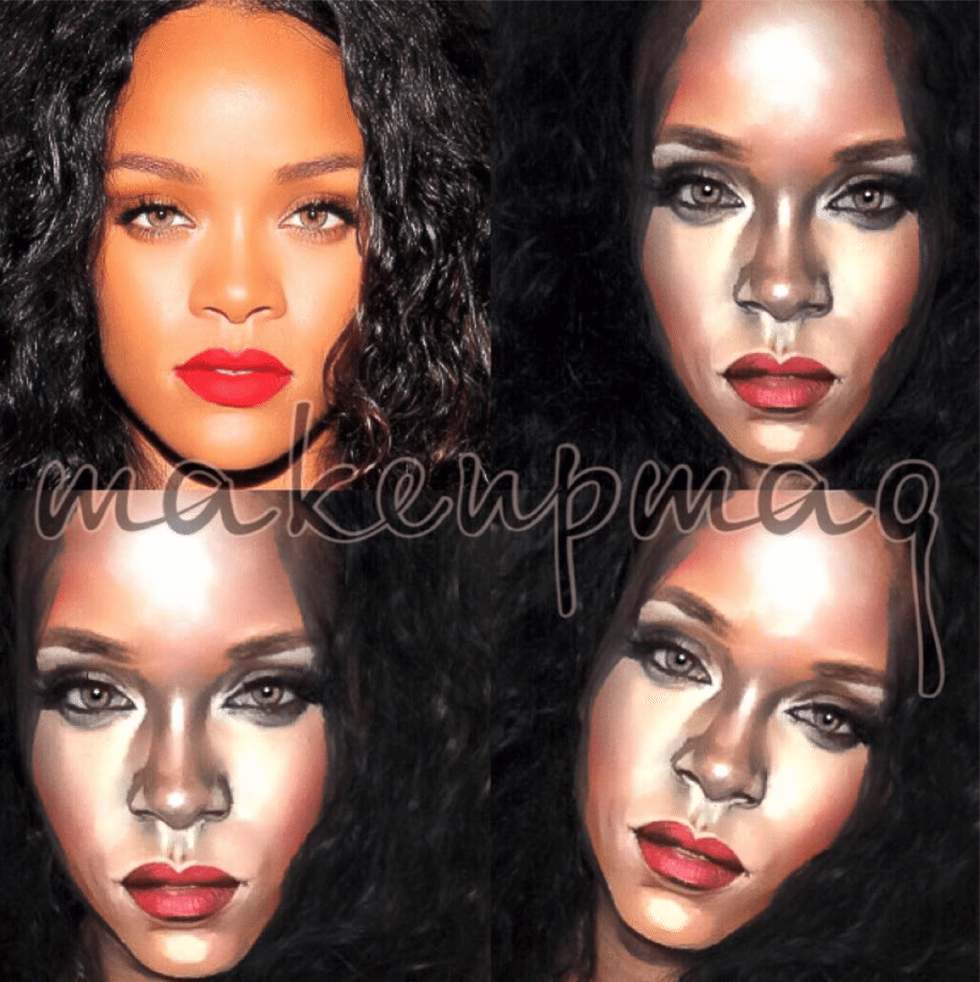 XON: Who has been your favorite celebrity to transform into and who has been the most difficult?
Honestly, my favorite was Maxwell only because I'm a huge fan and love his music, so once I transformed into him, I didn't want to remove the makeup. [Laughs] He commented on my transformation saying "@makeupmag you honor me" Wow!
I don't know why, but for some reason doing women's faces is always so challenging especially when it comes to really beautiful women. Beyoncé and Rihanna were definitely the most difficult ones. I'll definitely have to redo them sometime.
XON: Your daughter is 16 years old and you transform into a lot of artists that she is familiar with. How does she respond when she first sees you transform into someone like Drake or Chris Brown?
My daughter really supports me, but at the same time she is really critical with me. She always looks at the little details and tells me whether she thinks it's good or not. We do not always agree, but she loves what I do, and really wishes that I could work professionally with famous artists so that she can meet them. [Laughs] When Chris Brown reposted my first makeup transformation of him, she called me and she cried, saying "Oh my God, Mom! CB reposted your makeup transformation. I'm so happy!" That was really cute.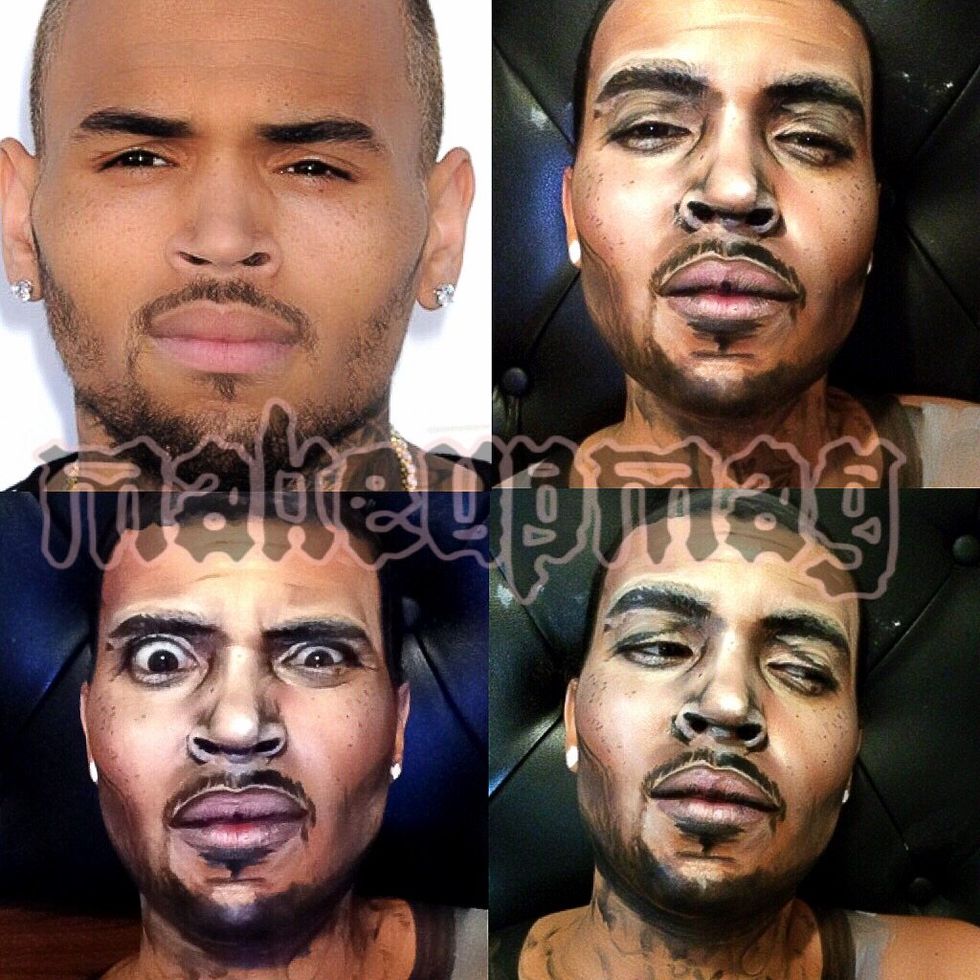 XON: How do you successfully remove all of the makeup and maintain that gorgeous skin you have underneath and what are your tips for maintaining a youthful appearance?
Fortunately, I never had skin problems–zero acne, maybe a little bump here or there, but I'm pretty lucky. I honestly don't use that many products on my face. To remove the artist makeup, I use a combination of soap and water, then I finish cleaning it all off with a baby lotion. During the day, I use a moisturizing day cream from Garnier (crème bienfaisante éclat) and at night, I moisturize my face with Palmers cocoa butter.
I never visit the esthetician and always do everything myself when it comes to my personal skincare.  I simply scrub every two weeks, followed by a deep moisturizing mask. I have normal/dry skin. If I do get a bump, I'll apply some fresh aloe on it. Since I live in the Caribbean, the aloe plant is very easy to find. On top of that, I make sure to drink lots of water. That's the best skincare secret to maintain pure skin.
XON: You've received all types of media coverage, from Cosmo to the Daily Mail. When did you realize you "made it" as a makeup artist?
My big career moment has not happened yet! Of course, I am extremely excited and proud of all the recognition I've received so far, but I still don't realize what's happening. Doing my transformations here in my room, and then all of a sudden reaching 18 million views on the Internet–that to me is just crazy! My ultimate dream will be to work in the U.S. on set for a big production company or music videos. I'd love to eventually create my own makeup line, too. Then, I'll be accomplished.
XON: What is some career advice you have for up-and-coming MUAs?
For all the future makeup artists I'd say, never ever give up! If you believe in yourself, follow your dreams.  On top of that, I personally think a must is to study art. It will help you a lot in your progression and will give you extra inspiration and vision during your personal development in the makeup artistry journey.
Flip through the Gallery for more interesting transformations from Magali!