Hair she goes!
Model Maria Borges is: Black, beautiful and oh yeah--a supermodel!
You may remember this melanin beauty after she made history back in 2015 when she became the first ever "natural" Victoria's Secret model to ever rock the Victoria's Secret Fashion Show runway with her natural coils. Coordinating her itsy-bitsy bikini with a lovely teeny-weeny afro, the six foot stunner with the long pair of stems and a fierce "TWA" is pretty hard to forget.
---
Maria has been making her mark in the beauty and fashion industry ever since. And 2017 is definitely her year. Recently she was the face of L'Oréal Paris and now she graces the cover of Elle and is the first African woman to do so.
We had a chance to speak to the Angolan star last year; who got her big start at the tender age of 17 when she placed second in the Angolan edition of Elite Model Look. Two years later, Borges would go on to sign to Supreme Model agency in 2012, where she would later make her big debut in fashion week- landing on a whopping 17 runways in a week. Now regarded as one of Givenchy's rare muses (she even refers to Riccardo Tisci as her "Godfather,") Borges has no doubt acquired quite the fame at such a young age!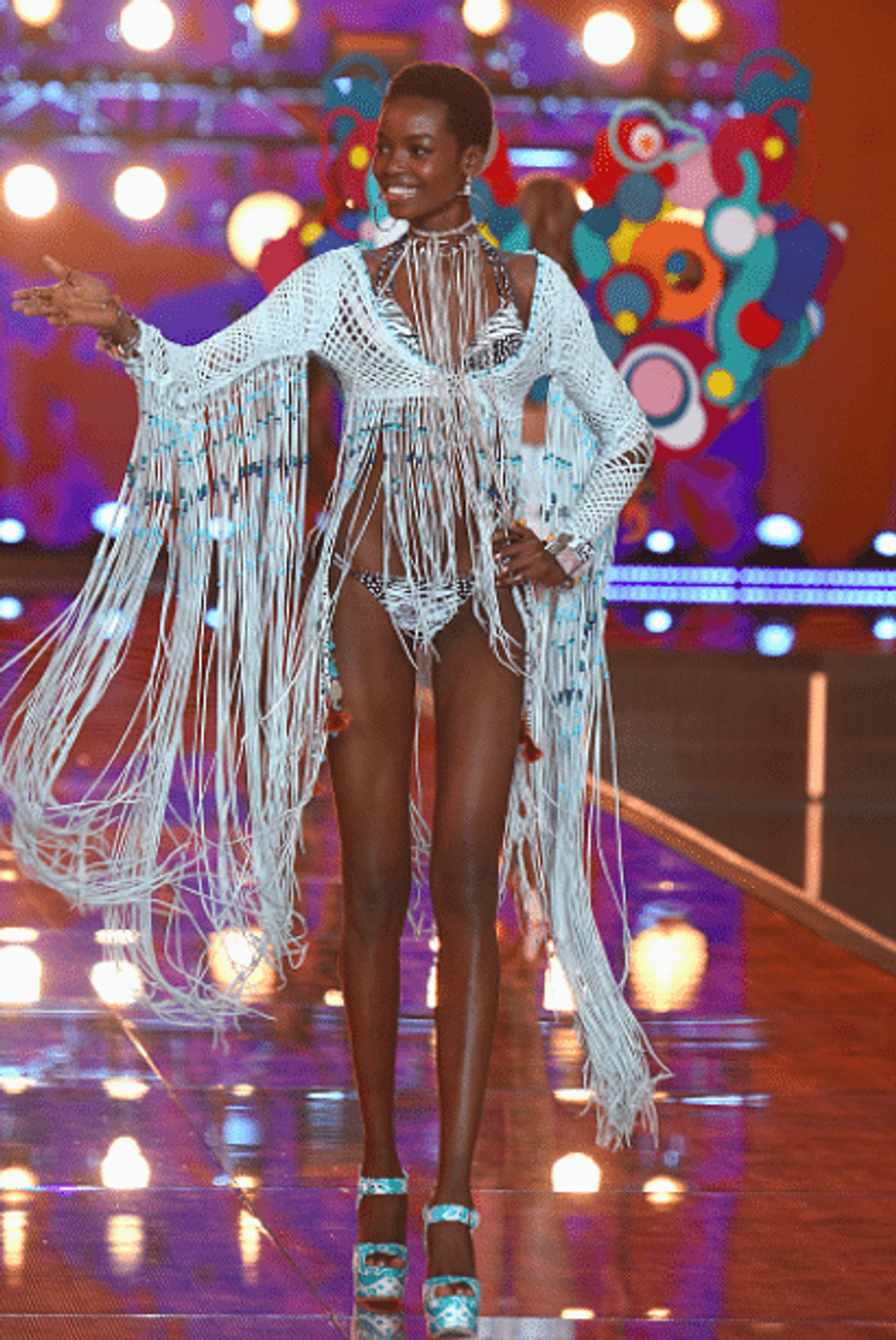 However, you wouldn't even know all of this had you met Maria off the runway. Maria the model is somewhat of a Barbie in every sense of the aesthetic word, but Maria Borges is a Portuguese speaking, constantly smiling, humble ray of laughs and light. Something like an angel--pun intended.
Check out the highlights of my interview with model Maria Borges below!
On the Importance of Debuting Her Natural Hair on the Victoria Secret Runway in 2015
I [was] so happy because they let me keep the natural and the short hair. I [was] the only one doing the show with my natural afro.
For me, it was huge! And they chose me to make history. [It was] more than an amazing, I have no words to explain. It's so good for me and to be able to inspire the other girls everywhere as well!
On Whether She Always Embraced Her Natural Hair as a Model
No. I never [did it before]. Starting February of last year, I cut my hair and I've been wearing it like this since. Before, I was using my natural hair mixed with extensions. Black is beautiful! I have to embrace my worth and that's it! For me I think I look more beautiful with short hair.
I feel sexy, beautiful and powerful. All the good things!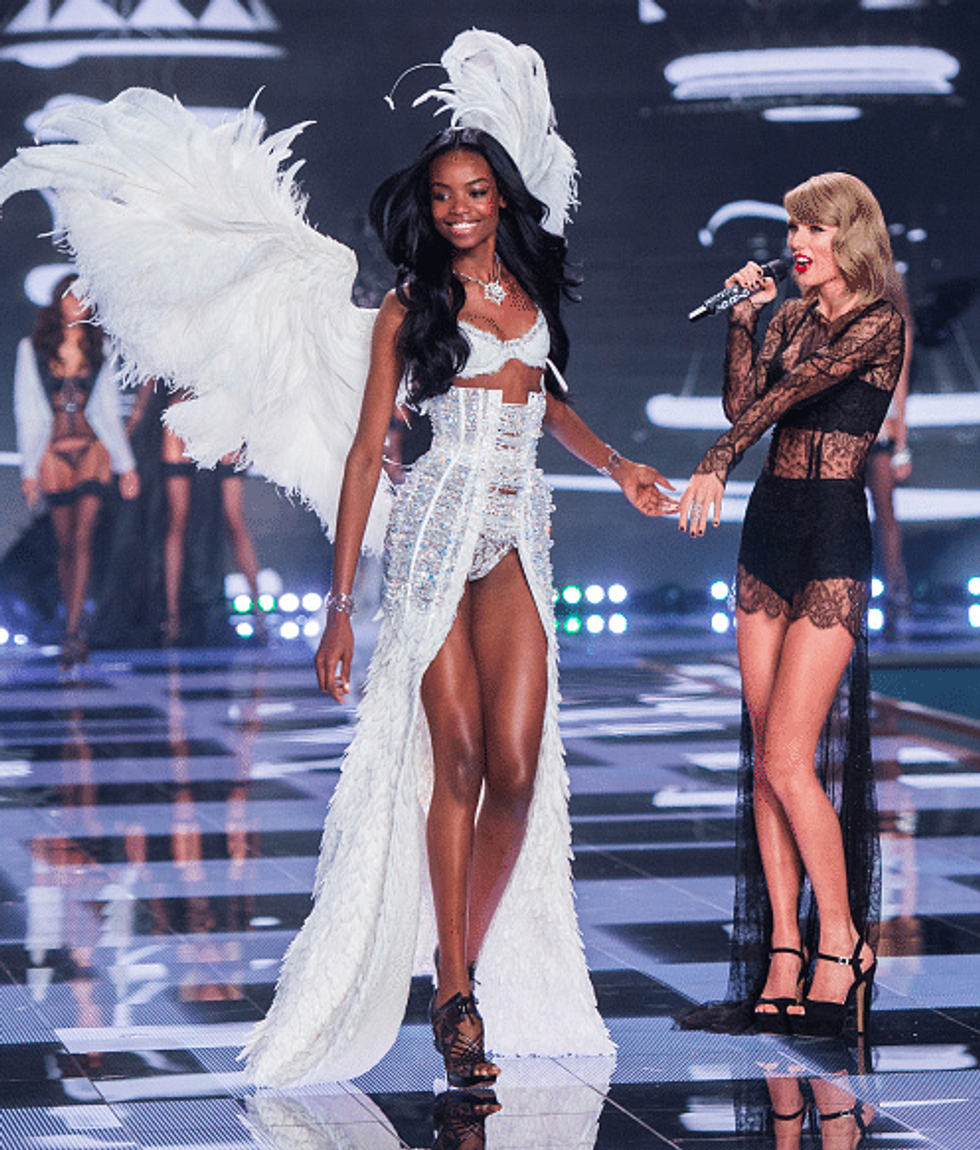 Maria at the 2014 Victoria Secret Fashion Show with Singer Taylor Swift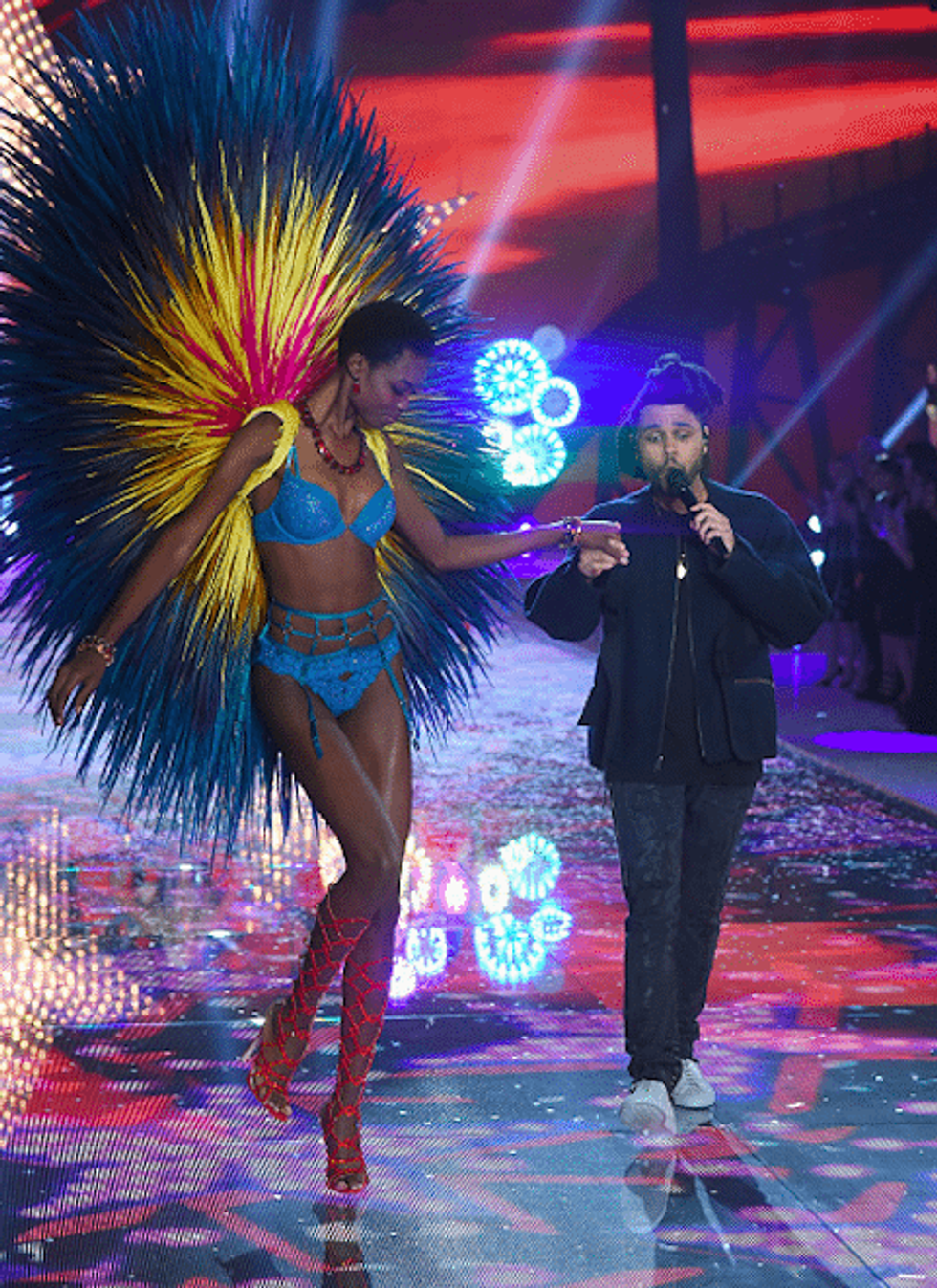 Maria at the 2015 Victoria Secret Fashion Show with singer The Weeknd
On Growing Up Insecure About Being Skinny and Learning to Find Confidence
They used to make fun of me because I was growing up so skinny and tall. And usually the girls from my country, they're size is different [and more curvy]. So when I would walk down the streets, I was not normal. It's like, 'Oh, does she eat?' Of course I eat!
But now they found out that it's beautiful [being] the way you are, and that you have to embrace it. They know that if you are a little bit bigger, or if this one has a different [slimmer body] type, they have to embrace what kind of [different] types your body is.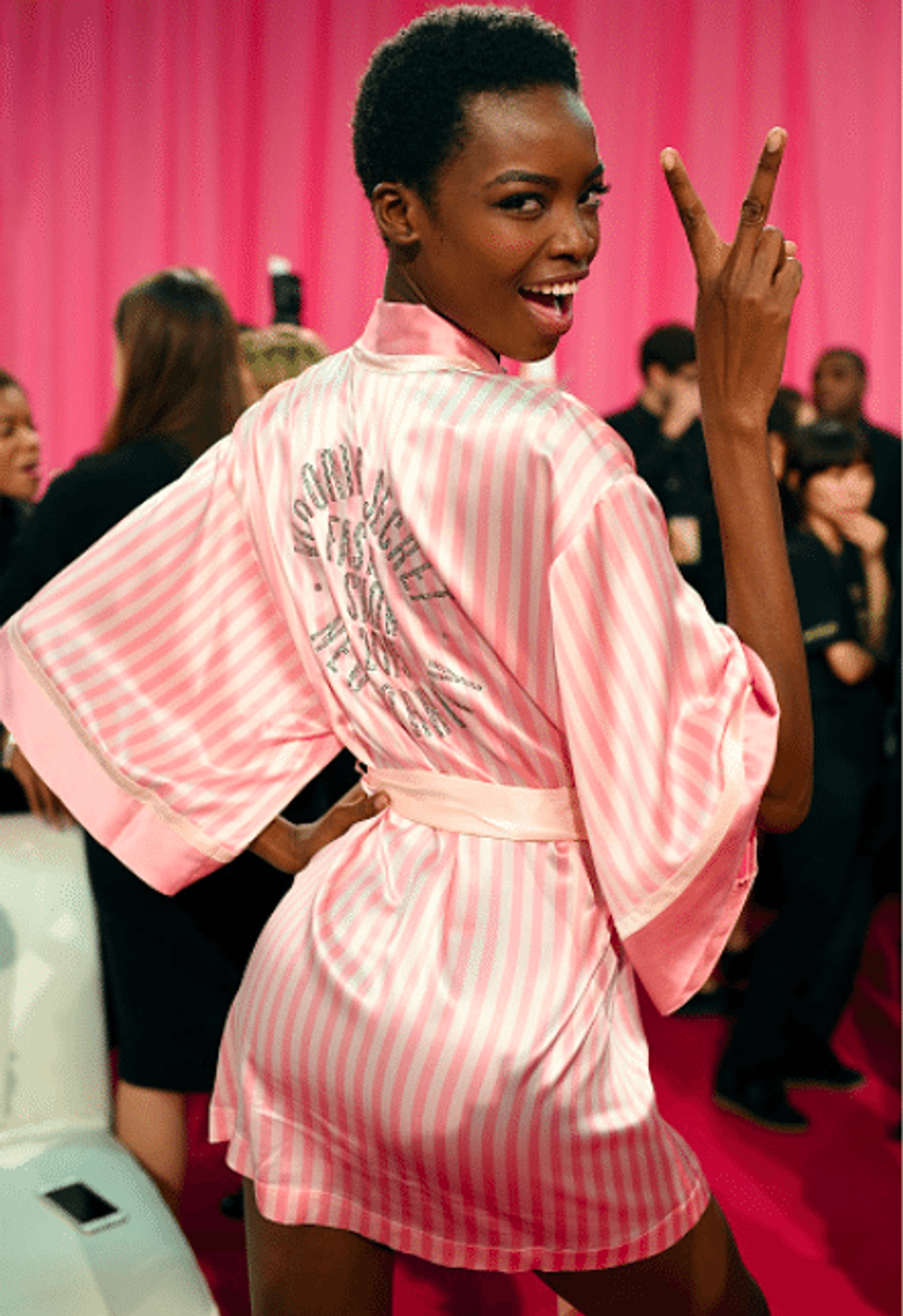 [Tweet "If people tell you you're skinny, don't worry! You're beautiful no matter what - #MariaBorges"]
Everybody in the world is different and people know that. Nobody is the same type or the same thing. It's balanced.
On What it Was Like Growing Up in Angola and Being Raised By Her Sister- "My Mom Left Me at 11"
My country is a nice country; I love it. They were colonized by Portugal and I speak Portuguese. I grew up with my sister and my brother because my mom left me so early. I was young; I was 11. My father is not close to us at all, and that was hard for me.
But I'm glad that my sister took care of me and our brother. And also our other family helped me and my sister, too. It was so hard, but I'm glad that my sister gave everything to me. I had the opportunity to go to school and she was also authorized to be my guardian because she was the one who decided if I could travel by myself alone at 17 and 18-years-old.
She really took care of me, and every day I make sure that I'm doing the things that are right and that I'm in the right places. My family trusts me and knows that everything I do, I'm doing right.
On the Women Who Inspire Her
My sister is number one for sure. Besides my mom, my sister, she's my number one inspiration. And Michelle Obama. I don't have preference, I like women who make change. Who opens doors and do amazing things. They inspire me.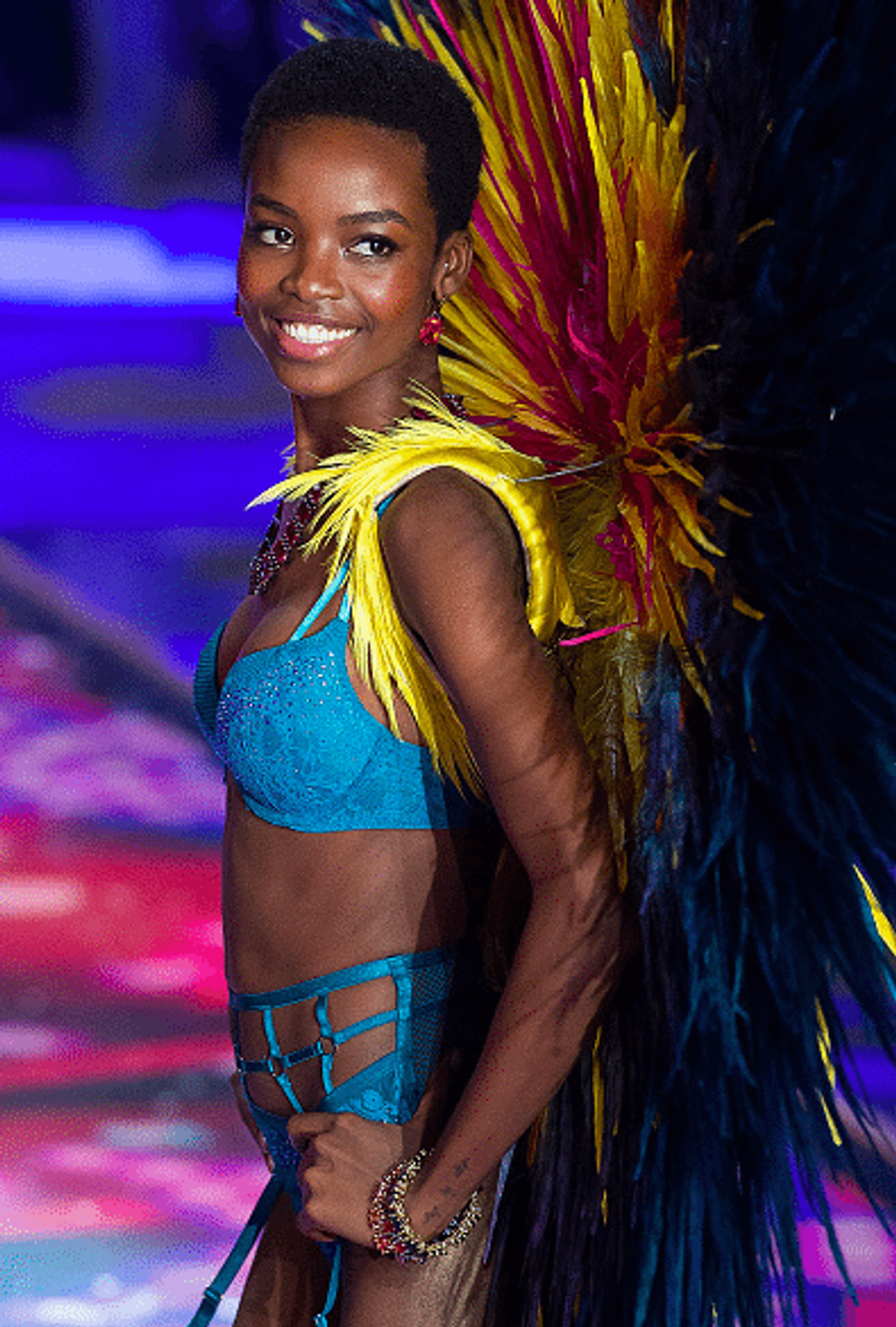 On How She Gets Ready for a Victoria Secret Fashion Show
I do a lot of workouts for sure; eating healthy is important. And I'm glad that I can eat anything and for now, I don't get big (laughs!) But it's always good to try and eat healthy because that's what's good for my body. So I eat early, take my vitamins and drink teas.
For exercise I do: Yoga, Zuma, Pilates, Spinning Class, whatever I like. Also I like to run outside. I like it, not everyday though. Running on the bicycle is my favorite. I can do the entire Central Park up and down.
On Her Overall Goals and Dreams a Model
Well, for me, this is already a dream! I never expected it. Even talking to you--you can show more people that I'm here and I'm working. For me, my dream is just to inspire people and inspire the young girls.
Also, I like to work with children in Africa. Every year, since I left my country,when I go back for Christmas, I organize the Christmas [charity] with my friends in Angola. This is a part of my church, and I hope to make this happen annually.
On Advice to Young Girls Who Want to Model
Take it step by step. And also, it's good to listen to your family. Be focused. And don't rush, the peace will come. Sometimes it takes time, but that's ok. When the time comes, you have to be ready.
Sometimes people say no to you but "no" doesn't mean that you'll never do it. When they say no, for me, it's like "I'm getting there," and next time they see me, they will say yes. So it's good to be consistent.
Don't give up. Be humble. Bring your personality. Always smile.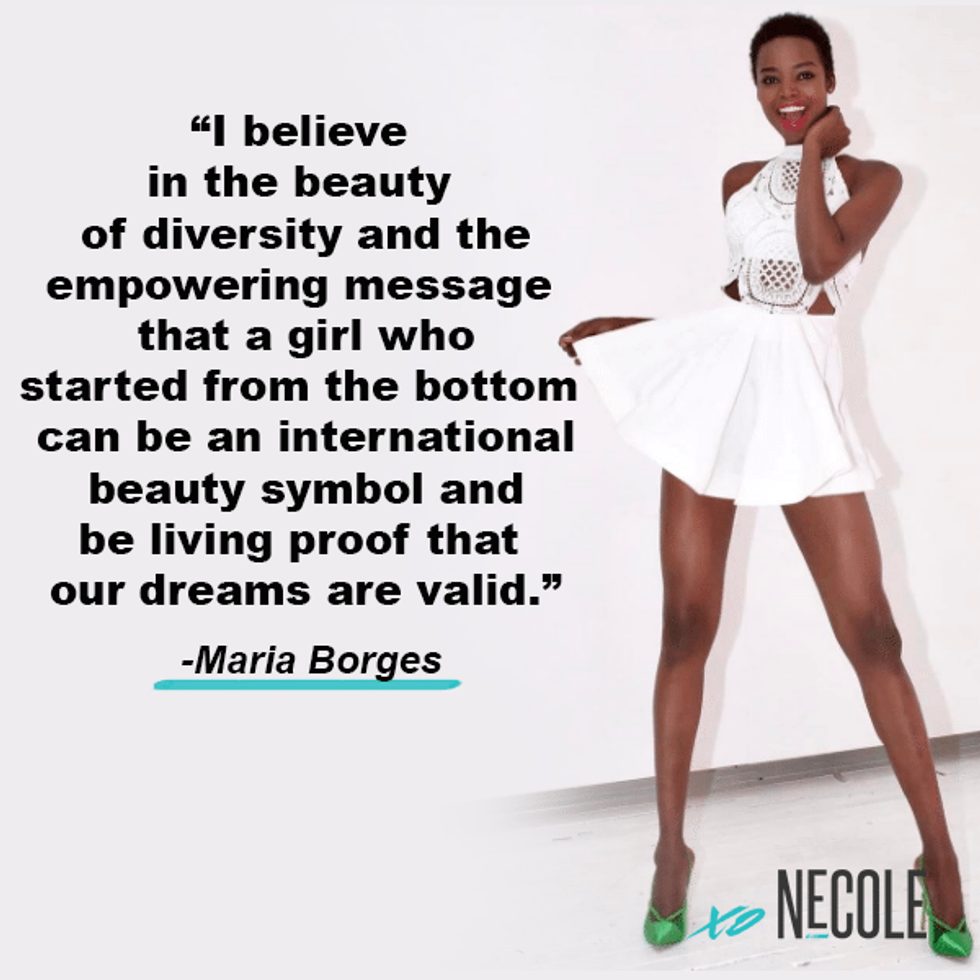 [Tweet "I believe in the beauty of diversity"]
Amazing! We wish Maria much success!!