We're on the heels of another edition of New York Fashion Week, and while fashionistas and budding designers will be on the lookout for next season's latest trends in clothing, shoes, and hair, the xoTribe will be looking forward to seeing just how many models of color will showcase style and skin on the runway.
---
Last month's issue of W magazine's featured an incredible fall fashion pictorial of six Black models for their "Natural Selection" spread, and Ebony recently highlighted and represented the diversity of Black women in this month's Fall Fashion issue. While these major publications continue to work towards depicting our likenesses so that we as readers feel a sense of connection and appreciation, there's undoubtedly still more work to do, as evident in model Nykhor Paul's viral commentary back in July.
The Sudanese beauty took to Instagram to vocalize her frustrations over the need for makeup artists in the industry to be able to work on all types of skin tones, after she was asked to bring her own makeup to a professional show.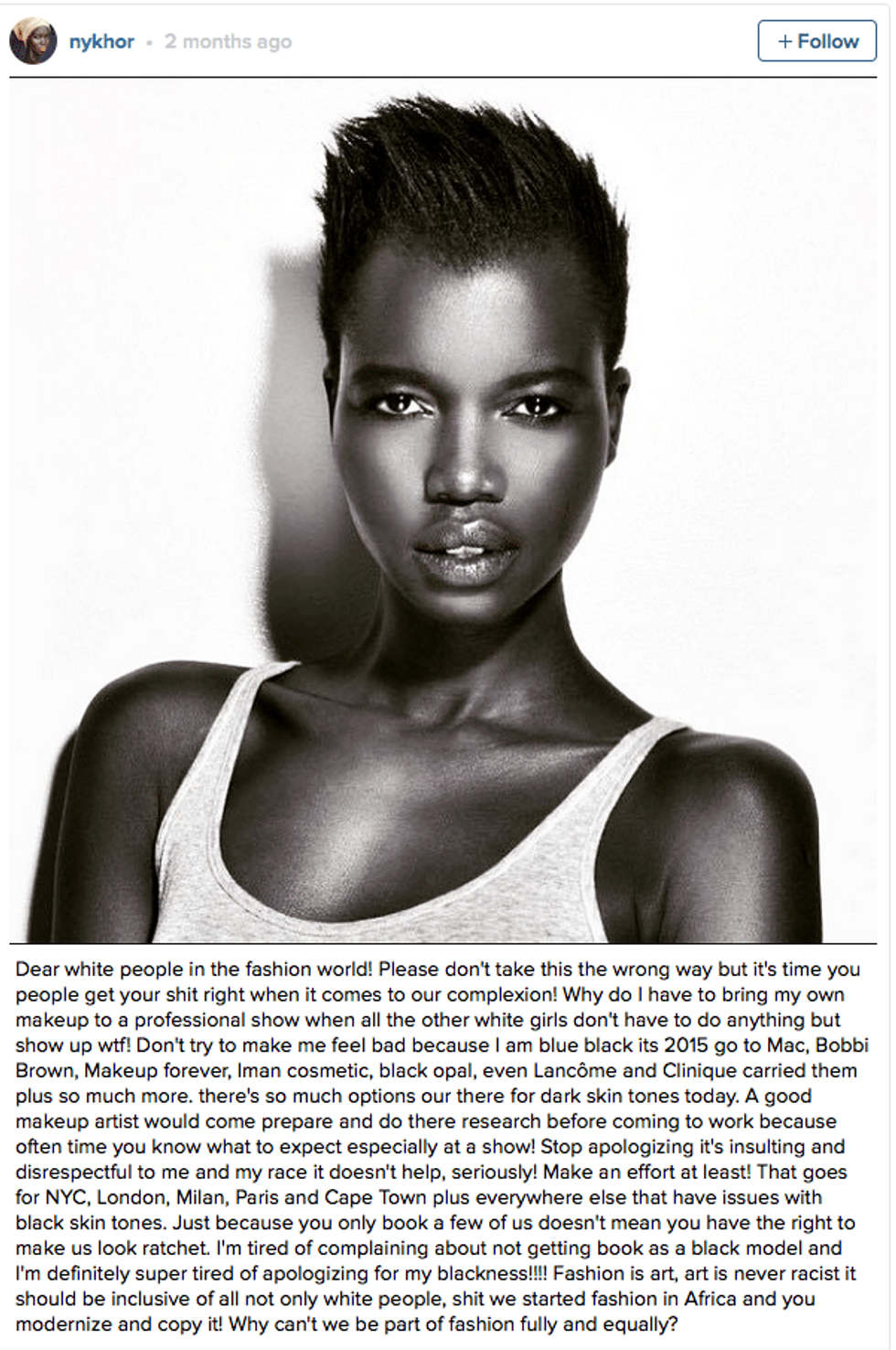 She furthered her thoughts in an interview saying,
"

I do feel people need to expand their idea of what black models can do. Black beauty can be Chanel, black beauty can be Dior, it can be Lancôme, and all those things. Clients can have a narrow definition of beauty."
Designers are indeed becoming increasingly aware of the need to diversify their shows and include a variety of color to model their plaids and floral prints down the runway. The Fall 2015 Fashion Week back in March included models of color to either open or close shows from designers Christian Siriano, Diane von Furstenberg, Kate Spade, DKNY, and Adidas x Kanye West, to name a few–but it's still not enough. In recent years, all international fashion week shows (New York, Paris, Milan, London) featured about 80% white models. The remaining 20% was broken into Asian, Black, Latina, Middle Eastern, and "other" categories.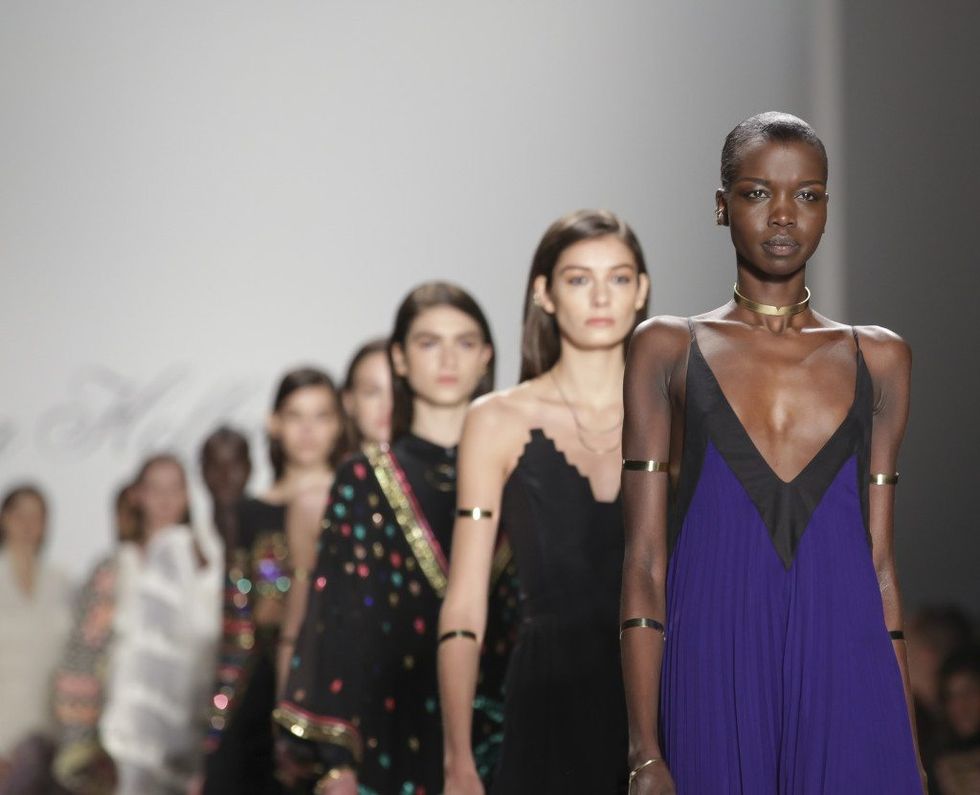 Yet, instead of anticipating haute couture designers to do better by modifying and mixing up their shows, someone took thing into their own hands and created an Instagram account to give prominence to Black, Latina, and Asian models around the world. The account, @moremodelsofcolor, intensifies the distinction in pushing non-white models. In an interview with Dazed, the anonymous founder of the page spoke on ancient beliefs of beauty and the need for representation:
"The idea that European features are the epitome of beauty needs to be abolished...All girls regardless of their ethnic background, have the right to see themselves portrayed in the fashion industry."
The account truly exemplifies variety, giving some much-needed exposure to models Neelam Gill, Adesuwa Aighewi, Chiharu Okunugi, Shaneke Guyher, Kiara Velthuis, Bhumika Arora, Nur Hellmann, as well as several others. From natural kinky curls, to bald beauties, pointy-eared stunners, and bushy eyebrowed women, @moremodelsofcolor draws attention to models who look just like us and we couldn't be more appreciative. While most models of color are still strutting to become fashion household names, this Instagram account brings light and love to these unrecognizable and yet stunning, young women. That's using your platform for the better good.

We'll be on the lookout for these women as the fashion world continues to evolve and the need for color continues to trend.
In the meantime, meet our picks for the 12 models we'd love to see strutting the runway this year during NYFW in the Photo Gallery!