Death is a form of creation.
Not in the literal sense of death, but in the truthful essence of being reborn, to be revived, of blooming. Many moments in our lives that strip us of the clothing that we've become accustomed to, show us to our bare selves.
---
And the power of that vulnerability brings us to the woman we are meant to be. There are times in our lives where we are called to be reborn, to let go of our older selves and make room for the woman we are becoming.
die to your old self so you can become who you are meant to be.

— olivia jade. (@olivia jade.)1514488735.0
Mary J. Blige is an example of this. Though she is an artist who has stayed true to her essence, she is also a woman that has undergone many rebirths.
Over the last 30 years, we've seen her pave her way as a queen of hip hop and soul music, cementing herself as a woman of relatability and sermon. In the present, we are witnessing another version of Mary through her groundbreaking performance in the Netflix original movie Mudbound, which has resulted in her snagging two Oscar Nominations.
But her recent triumphs weren't without a few trials.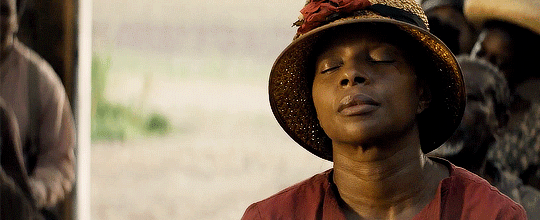 Mudbound opened Mary up to stepping into the woman she is today. The challenging role allowed her to work through her pain, learn about who she was, find parts of herself that were unkept and overlooked, and emerge as a better version of herself. She revealed to W Magazine:
I didn't realize how vain I was until I started working on 'Mudbound.' Once I saw how my character, Florence, lived [in a shack on a farm in Mississippi], I thought, Wow, I'm really a vain person. When I went to the movie set to do the first day of fittings, I was Mary J. Blige: I had just done a tour and a show, so I was all, you know, I had wigs and weaves and all sorts of things going on, and Dee Rees was like, 'No! We want to see you. You can't have a perm, you're going to have minimal, minimal makeup.' That part was a lot! But once I tore away and sunk into the character, Florence actually gave Mary—me, the so-vain person—a little more confidence so that Mary didn't feel like she needed to depend on all of that. I cut my hair really short. Florence really liberated me. Just committing to and trusting that character kind of helped to save my life.
While shooting the film, Mary was dealing with a lot of destruction in her life. In 2016, she parted ways with her manager and husband of 12 years Kendu Isaacs, who took her to court in an attempt to get $130,000 a month in spousal support. The following year she was hit with a $6.5 million bill from the IRS for eight years of back taxes. The news of the split and back taxes resulted in not only pain, but some shame as Mary found herself back at square one. She credits Jimmy Iovine and his wife for taking her in during that time while she figured out her next move.
She also acknowledged the integral role Mudbound director Dee Rees played in her new chapter and the resurgence of Mary J. "You really, really saved my life," Mary said. "'Mudbound' opened up doors and gave me strength I didn't even know I had."

Mudbound and Mary's portrayal of the character Florence was a turning point in her story, her testimony to healing, despite the thorns that surprise us when we seem to get a grip on the bouquet of life.
She tells the NY Times:
That character was a place for me to just give everything that I was dealing with to. I was dealing with my own personal pain. I was really suffering. This was the place to just rest all this pain, and rest all of this confusion, but still at the same time trying to be a strong woman.
Stepping into a role that completely stripped her of any association she had with her former self had to be, in the least, terrifying. To keep an open heart when there are wounds being exposed is the ultimate feat - but it is one that brought her back to the essence of she is, and is molding her into a higher version of self.

Mary got knocked down, but she got backed up, and reclaimed her life, swinging. The most troubling time in her life has now brought her to her greatest reward.
On January 11, the singer received a Hollywood Walk of Fame star on her 47th birthday. And today it was announced that her performance for the very movie that shifted her reality, Mudbound, has gained her two Oscar nominations in the categories of Best Supporting Actress and Best Original Song. The woman we are congratulating today probably did not see herself in this position days before the pain. In this chapter, we are being reintroduced to a woman that we've known for some time, but has evolved in front of our eyes.
Sometimes our greatest pains are the greatest revolutions that lead us to growth.
That is a reminder, to all women, that there is honey at the bottom of the scorching tea cup.
There is evolution that comes with the rumbling of those inner revolutions.
There is a reflection of our higher selves in the flame of the fire.