Meet The Shumperts!
---
It feels like just yesterday we were witnessing a 23 year-old Teyana Taylor on the Breakfast Club take the high road while dishing on her ex-fiance, Brandon Jennings, hooking up with (and later getting engaged to), a woman Teyana once considered to be a friend. In the very revealing 2014 interview, it was clear that an optimistic Teyana was still hurting from the scenario, but even more clear that she was on the path to healing, even admitting at the end of the show that she was seeing someone new, but that it was too early to reveal his name.
Fast forward to 2 years later, and not only has Teyana successfully landed herself in "love" with NBA star Iman Shumpert, but the adorable twosome have created a beautiful baby girl and secretly tied the knot.
Yes ladies and gentlemen, Teyana Taylor and Iman Shumpert are married!
For months rumors had it that she'd especially after Teyana sort of confirmed it on when she appeared on the Wendy Williams show recently. When Wendy asked if she was married her response was "Maybe not -- but maybe. Remaining a good person and allowing myself to love again, is why I am where I am. I have a beautiful baby [and a] wonderful husband."
Well it's definitely a maybe! In a series of Throwback Thursday pictures from their wedding day Teyana confirmed that she and Iman indeed got secretly married. One of the pictures she captioned it:
Grab ya biker baby let's do it rite HERE rite NOW! .......It's nothing like marrying ya best friend.  I love you baby.... A moment I will never forget. #TBT #LOVE#MeetTheShumperts
Yes Tey! We couldn't be more excited to see Teyana Taylor finally experience the happiness she deserves.
[Tweet "Allowing myself to love again, is why I am where I am. - @TEYANATAYLOR"]
Just last year the former broken-hearted girl took the stage at SOBs in New York to perform a set from her sultry debut studio album, VII. During the song "Sorry" she showed love to Iman through streams of tears:
[Iman] wakes me up everyday morning breath and all and tells me how lucky he is...and he don't know how lucky I am. He's so amazing.
And then went on to subliminally remind her ex-boyfriend Brandon that she is in a good place:
I'm not crying because of my ex, I'm crying because I can exhale. Finally. As that person watches me from far away, that's all I can say is 'I'm sorry' because my heart is so good right now.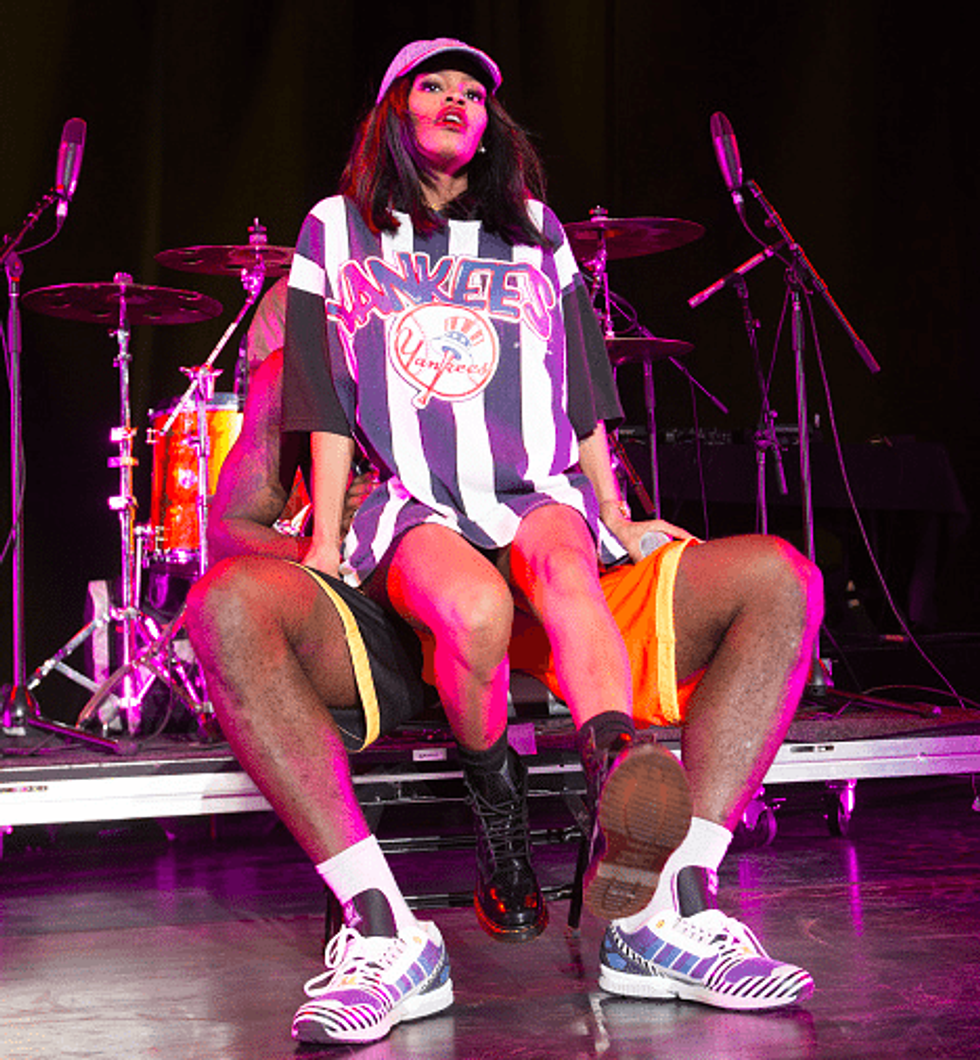 The beautiful part about all of this, is that it goes to show the power of forgiveness, and even further, acceptance. When we allow ourselves to accept what it is with an ex-lover (or rather, what it's not), we can move on and not be bound to our past, but instead, explore our other options and work on a future with someone new.
After all, the "present" is a gift, and in Teyana's case, the gift is her new daughter, new husband and growing family.
Congrats to Teyana and Iman!
Check out photos of the always-matching-couple in our gallery below!