Back in the 80's if you were a teen in some John Hughes' movie you were probably "dating." 90's kids like me were geeked just to go to the movies or arcade with the guy we were "talking to" or "messing with," and who can forget the suburban teen past time of "hooking up" with your crush?
---
These are all terms used to define that period of time after you meet someone where you see each other regularly, probably have sex from time to time, but aren't officially a couple.
In a world of "Netflix and Chill," I'm noticing a trend in dating that deeply concerns me. It seems lately, more and more people are settling for these casual relationships where the boundaries are blurred and the relationship status isn't clearly defined. It's one thing if you are truly just about being fabulous and single and just want a cutty buddy to get you through cuffing season, but it's completely different if you're hoping you get to "wifey" status one season of Blacklist at a time.
Which is why I love everything that is going on with Sage the Gemini publicly professing how sprung he is over his #WCE, Jordin Sparks. A few weeks ago, the 23-year-old rapper, whose real name is Dominic Wynn Woods, took to Instagram to post a picture of himself and the Battlefield beauty sitting on a plane in what appeared to be Coach class looking real "regular" with the caption:
"Just because we not flossin with bentleys tryna get approval from Instagram doing all this bull-ish so blogs can post us doesn't mean we ain't doin nothin. We work hard we accept each other so we don't have to wait for you guys to accept us. So when I'm not postin her it's probably because I'm holding her. Period."
Well damn, Sage. Tell us how you really feel. Sparks was quick to reply on her own Instagram posting the same pic with the caption:
"If I'm not posting him, I'm holding him. I got you babe. Yuhyoo."
There's something refreshingly authentic about the couple who have really mastered the art of displaying just enough PDA to not make us want to toss up the Pepperidge Farm Milanos. Look, as much as I love Jay-Z and Beyonce, seeing picture after picture of them looking rich and beautiful pulling up to yet another beach with black sands on their private yacht really makes me self-conscious sometimes. Especially since me and hubby's definition of living the glamorous life is booking the Jersey Shore motel with the complimentary beach umbrellas.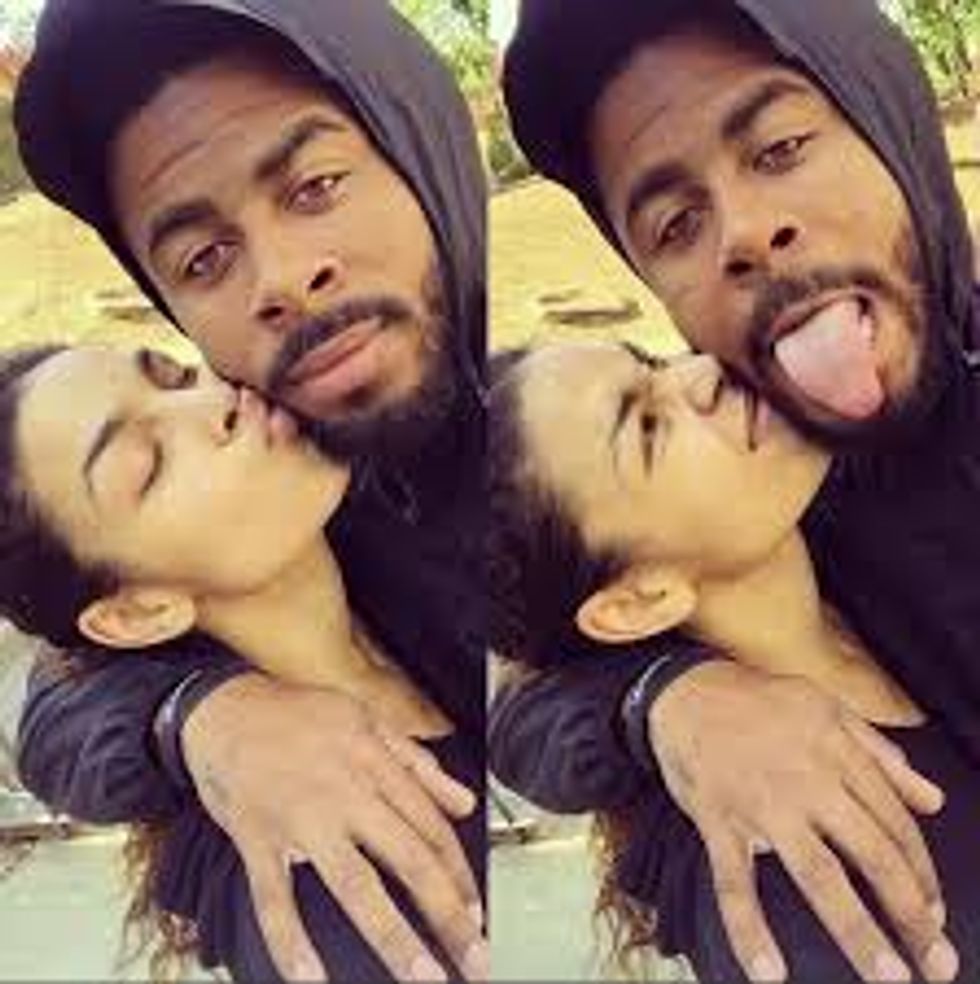 Sage the Gemini making it crystal clear that he's taken is something that completely goes against music industry standards, and lately what seems to be a trend among many men. Because the truth is when a man doesn't formally claim you, it gives him the easy excuse that he has no obligation to you when someone more appealing comes along. Just last week when blogs everywhere wanted to make Drake everything from Serena Williams's biggest fan to her fiancé, no sooner was he seen in classic "I like em' thick" style escorting some random Ms. New Booty to the club. I took it as his way of reminding us all (and maybe even Serena too), "Nope. Still single." Meanwhile, Serena was deep in bae's Instagram comments checking anyone Drizzy made any kind of romantic reference to. When the pics broke of her getting slobbed down at Sotto, a part of me silently pleaded (in my Drizzy voice), "Don't do it. Please don't do it." Especially remembering the last time the two were linked and Drizzy showed up days later pool side with some ladies looking fresh from an audition for Wrecks and Effects's "Rump Shaker."
It's something that every woman is guilty of at least once in her lifetime. When my husband and I were just "messin'" at the beginning of our relationship, I swore I was in there. I was pulling a straight Adina Howard freak show in the bedroom, sleeping over and then waking up to clean his bathroom and have blueberry waffles waiting for him. Until one day I got a little too comfortable and he served me a reminder in the form of a random girl he strolled upstairs with one night when we're hanging out with our common circle of friends. There I was embarrassed, pride in pieces, trying to pick my ego up off the floor with nothing to defend myself since he had made it clear initially he didn't want nor was looking for a girlfriend. We've come a long way since then, but the saying is true: If a man says he isn't looking for anything serious, believe him. If he doesn't refer to you as his girlfriend, you probably aren't and you shouldn't be playing the part.
[Tweet "If he doesn't refer to you as his girlfriend, you probably aren't and you shouldn't be playing the part."]
When it comes to insisting that a man give the relationship a title and claim you, it's not about being hype to change your Facebook status or the "girlfriend" title being a guarantee that he'll be faithful. It's more about having something to stand on in the event that he gets a little lax with his respect for you. Men know that when they are officially in a relationship, certain rules apply. He may not obey them, but they're still there. When you are Netflix and chillin in the land of keeping it casual, you can't perform girlfriend duties, have girlfriend feelings, and then get your feelings hurt when you don't get girlfriend privileges.
Feeling the love between Sage and Jordin?
Peep some of our favorite kiss and tell moments below.