---
I've been writing, pretty consistently, for xoNecole for about a year now. And if there's one thing that I know is you, our readers, really appreciate, it's sex and friendship content (which I think is really dope, by the way). My theory is it's because those are two topics, especially within the Black female community, that don't get explored, from various angles, nearly as much as we'd like for them to. Because of that, some of us remain curious, confused, stagnant or dissatisfied, in those two lanes, far longer than we should.
Take the topic of frenemies, for instance. As much as I can, I like to give credit where credit is due, and I think that term came from—or has at least became super popular because of— an episode of Sex & the City . If you've never seen it or want a quick refresher course, a frenemy is someone who is part friend/part enemy (although it's usually more like a 60/40 split, in the enemy's favor). You have enough in common with the frenemy to keep them around, but they also irritate you to the point where you're not sure if your connection is enough to keep them in your world anymore. They're basically like an unhealthy relationship with a guy where, maybe the sex is good , but there isn't much more to keep him in your life beyond than that. Still, you stay—even though, deep down, you know that you shouldn't.
If you just read all of that and was like, "Right!" let this be the moment when you decide to make some changes, as far as your own frenemy (or frenemies) is concerned. Life is too short and too precious for you to be involved with folks who are only kinda-sorta your friend; especially if you can clearly pinpoint some things about them that can also classify them as being an enemy.
Keeping all of this in mind, just why do so many of us keep frenemies around? Personally, I think it's because we don't do enough pondering over the following five points.
Did you know that xoNecole has a podcast? Subscribe on Apple Podcasts or Spotify to join us for weekly convos over cocktails (without the early morning hangover.)
Shellie R. Warren PCC
Different puzzle pieces are creating bigger pictures these days. 2024 will mark a milestone on a few different levels, including the release of my third book next June (yay!).
I am also a Professional Certified Coach. My main mission for attaining that particular goal is to use my formal credentials to help people navigate through the sometimes tumultuous waters, both on and offline, when it comes to information about marriage, sex and relationships that is oftentimes misinformation (because "coach" is a word that gets thrown around a lot, oftentimes quite poorly).
I am also still super devoted to helping to bring life into this world as a doula, marriage life coaching will always be my first love (next to writing, of course), a platform that advocates for good Black men is currently in the works and my keystrokes continue to be devoted to HEALTHY over HAPPY in the areas of holistic intimacy, spiritual evolution, purpose manifestation and self-love...because maturity teaches that it's impossible to be happy all of the time when it comes to reaching goals yet healthy is a choice that can be made on a daily basis (amen?).
If you have any PERSONAL QUESTIONS (please do not contact me with any story pitches; that is an *editorial* need), feel free to reach out at missnosipho@gmail.com. A sistah will certainly do what she can. ;)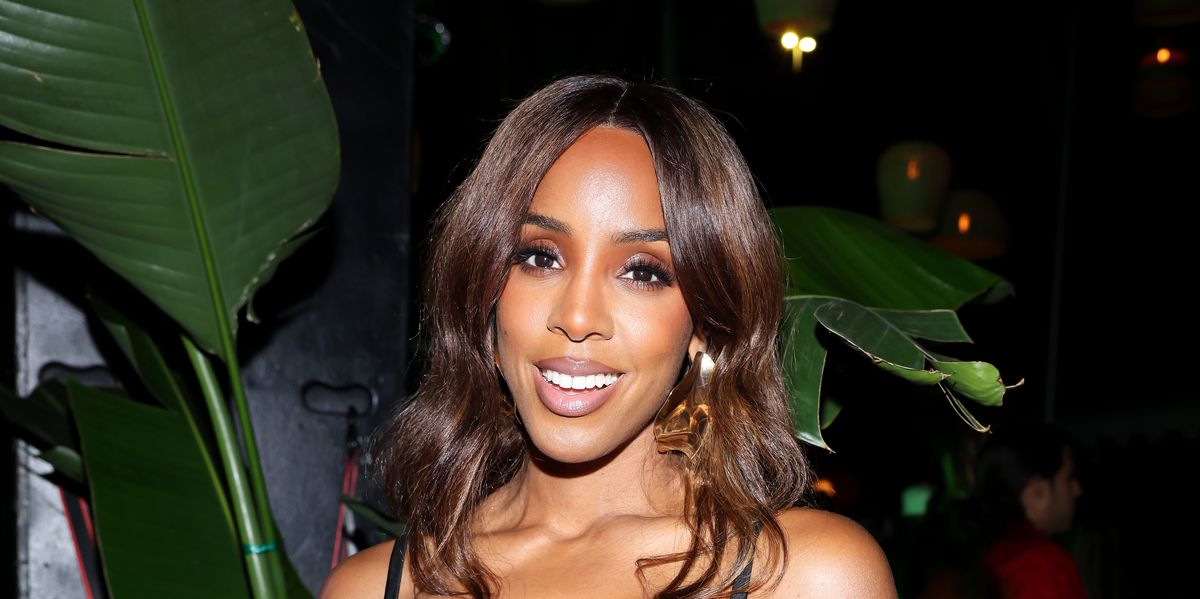 Kelly Rowland is like a bottle of the Earth's finest wine; she only gets better with time. Even in her early forties, the Destiny's Child member and singer has somehow found a way to age backwards, with a level of grace and class that we could only dream of. And she does so while juggling multiple hats and roles at once. In addition to giving us hits like "Motivation," the multi-hyphenate is also a wife, actress, executive producer, and, her greatest role of all, a mother.
Always proudly doting on her two sons , Titan and Noah, Rowland shares how teaming up with WaterWipes for their Hallowclean campaign and kickoff event in New York City on October 21 was an easy choice for her—as the brand is one that she keeps stocked regularly.
"WaterWipes has been in my household for I don't know how long. We don't just use them for Noah; I keep them in the car and my makeup bag, too," Rowland shares in an exclusive interview with xoNecole . "I also like the fact that they are natural. I'll definitely have them in my fanny pack for trick-or-treating. This is Noah's second Halloween, and I know he's going to be excited and digging in his pail to try the different candy, and his little fingers will be messy. He's going to want to get dirty. So, I love that WaterWipes is putting up ten Hallowclean stations across the country for parents to use; it's such a great idea. I just love Halloween, and I really love Halloween with my kids, so I thought this campaign was a really great idea."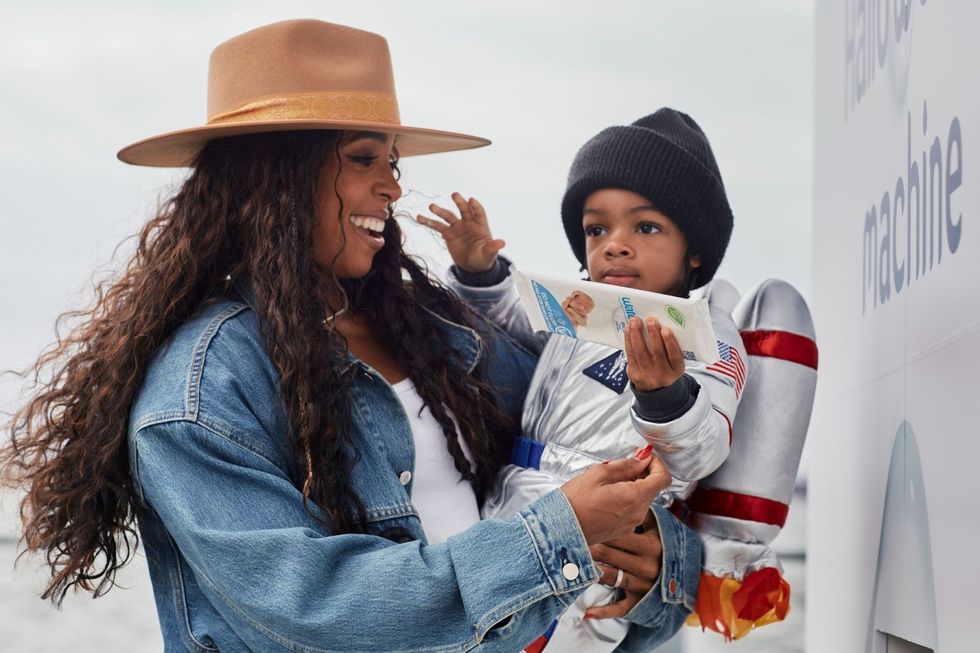 Kelly Rowland and son Noah at the WaterWipes Hallowclean Machine in Brooklyn, NY.
Photo courtesy of WaterWipes.
She and her youngest son, Noah, attended the event, where the two enjoyed a day of family-friendly activities while he sported the most adorable astronaut costume. But the Spooky Szn fun doesn't stop there for the Merry Liddle Christmas actress and executive producer.
We recently caught up with Kelly Rowland over Zoom to learn more about her Halloween (and holiday) plans, her keys to a healthy marriage, and she even dropped her go-to cold-weather skin routine —finally.
xoNecole: What are your family's upcoming trick-or-treat plans? Will you do a fun group costume, or is everyone going to do their own thing this year?
Kelly Rowland: I'm preparing for tour, so I've been in rehearsals and pre-production. And my husband's schedule has picked up, too. But the kids are going trick-or-treating; we usually go with people we know, so mommy and daddy will definitely be home to take them. We're actually letting the kids dress us up this year, which means my costume will be a complete surprise to me. I told Noah he could paint my face or even go to the costume store and pick something out—it's literally up to them. So, I don't know what that will be. And, right after, I'll be back to rehearsals.
xoN: Speaking of holidays, what do you look forward to most during the season?
KR: We love having people over, especially during the holidays. It looks like we will be home this year—thank God— just enjoying each other and spending quality time together. I like to decorate the house and go completely ham; it always looks like Christmas threw up in my house. From the stairwells to the exterior of the house and the lights—everything. We go so crazy. I also love the smells, it's one of my greatest memories with my mom, God rest her soul. So I love to play all of that up.
I like to bake something every day, I like to make sure there is something for the kids to do or make each day, we watch Christmas movies, and we even do a wine tasting sometimes. It's just all really sweet and cozy.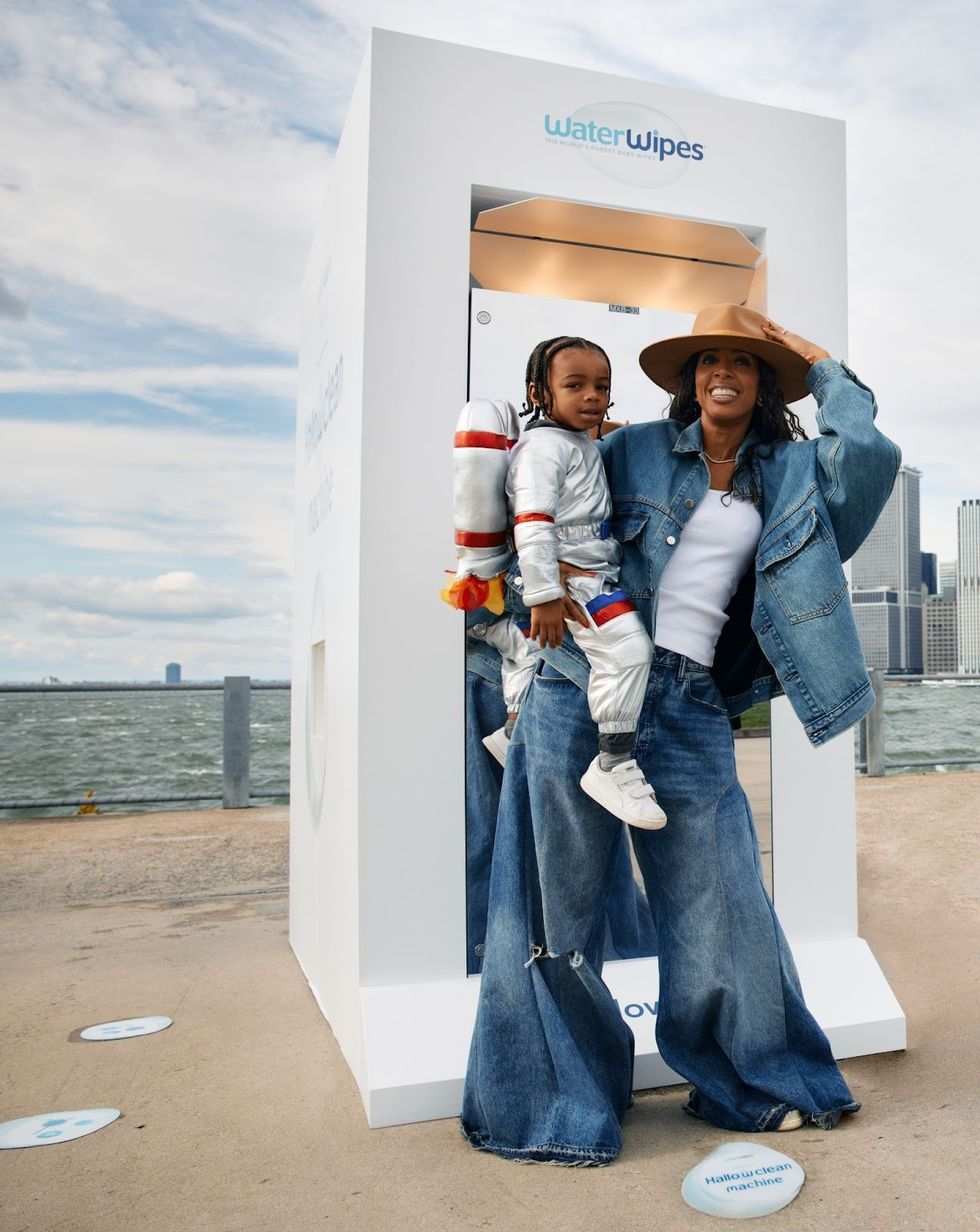 Kelly Rowland and son Noah at the WaterWipes Hallowclean Machine in Brooklyn, NY.
Photo courtesy of WaterWipes.
xoN: We love that family is so important to you, and it always shows in your posts, especially those with your husband. What would you say has been that "key" to a healthy marriage as partners and spouses for you two?
KR: I would say, each of us doing the self-work . I have not seen marriages last long in my lifetime. I haven't been given the tools to "make it last forever." We just try to do the work on ourselves and not sweat the small stuff.
Communication is key for us, too. We communicate everything. Whether I'm upset or I'm not sure about something, I communicate it. I also just like being around him, he's fun. He's a really great person and makes me laugh. We can literally sit together and watch a game and not say anything. We understand what true intimacy is, and now we're almost ten years into our marriage.
xoN: Now, Kelly, we have to ask. Skincare. What is your cold-weather routine and the products you're reaching for as temperatures drop?
KR: Right now, I'm all about moisture . I will wash my face morning and night, I do not skip. I'm obsessed with this 111SKIN toner. It smells good, but it also feels good on my skin. There's also this product from Vanessa Lee of The Things We Do. They are these coconut eye patches with these little beads. I place them under my eyes and around the corners of my mouth—talk about a game changer. I like to put them on at night and then rub in the extra serum all over my face. Between that and this lactic acid by Shani Darden , they are both game-changers for me this season.
xoN: So, since you've found the key to aging backwards, should we be on the lookout for the Kelly Rowland skincare line anytime soon?
KR: Honestly, that market is so saturated. I wanted to do it a while back, but I have to really think about what I want to bring to the marketplace to really impact culture. It's not just about a product for me. I love the way Selena Gomez has created a community. I want to be able to create a community as well. When it's not just about skincare, it turns into a space for people to be their most authentic selves. And that's what I love.
Feature image by Natasha Campos/Getty Images for Tres Generaciones

A few years ago, I wrote an article for the platform entitled, " Gaslighting, Love Bombing & 5 Other Triggers To Call Out In Your Relationships ." A part of the reason why I did it is because I totally agree with an article that ran on TIME 's site earlier this year: " Gaslighting, Narcissist, and More Psychology Terms You're Misusing ." As a life coach , I can tell you that it can be super annoying (at times) to see folks just throw words around when it's clear that they are just parroting what they heard someone else say.
---
An example? Narcissist . The more I watch people rant about how an ex in their life was a narcissist, the more I oftentimes see narcissism in that very individual. A narcissist is entitled. A narcissist has an inflated sense of self. A narcissist refuses to see someone else's side of things, they constantly need attention and validation, and they don't take criticism well. So no, someone isn't a narcissist simply because things didn't work out with you or they didn't get on the same page as you as far as your relational expectations are concerned.
Okay, but that's another discussion for another time. For now, what I want to talk about is another psychology term that gets worn out: toxic . While the dictionary defines it as something (or one) that is poisonous or harmful, in the world of mental health, toxic is about being an abusive type of individual — whether it's mental, emotional, verbal, spiritual, relational, or otherwise. Someone is not toxic just because they don't see eye to eye with you or their views differ from yours. "Toxic" is significantly detrimental to your overall health and well-being.
That said, can you have a toxic relationship with yourself? Absolutely. I'm about to share seven ways that it can manifest. And not from the casual TikTok angle either; these all can be significantly poisonous and extremely harmful if you don't get a hold of them — even if doing so requires therapy. And sis, there ain't nothin' wrong with that. Good therapy is toxicity's kryptonite.
Okay, so what are some signs that you truly have a toxic relationship… with you ?
Featured image by MoMo Productions/Getty Images