On November 24th, I decided that I could no longer sit idle and do or say nothing about injustice.
I refused to play the same role as the eight officers who failed to respond when Laquan McDonald was executed in the street. As I watched the year-old video of the 17-year-old being shot 16 times within 15 seconds by Chicago police officer Jason Van Dyke, while walking away from the police (contradicting Van Dyke's earlier statement of being an act of self-defense) , I was not only shocked and appalled, I was moved into action.
---
For the first time in all that has occurred, I got from behind my desk, my books, and my degrees and made my way into the streets of Chicago, to join our brothers and sisters, of all races and creed in protest of the murder.
For some time now, I have watched case after case, protest after protest, riot after riot, and march after march, and have asked myself why I was not doing more. I damned myself for being immobile. I damned myself for not doing more than tweeting about it and taking my rage to a source more powerful than the internet, I questioned my weakness and fear, although I understood my strength. I, like so many others have watched from my couch as leader after leader have placed themselves in the center of the battleground, not only being of the people but with the people, but last night, I just could not hold back any longer.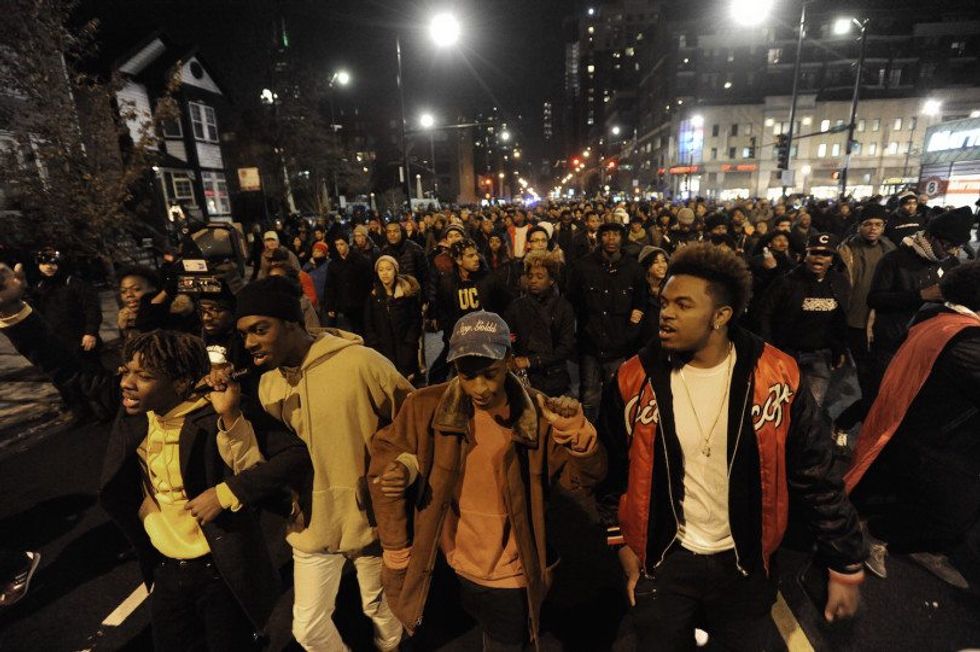 Fear of all that I could lose by being active fled from me as soon as I watched Laquan fall to the floor.
In that moment, I asked myself what in life are you so passionate about, that you would be willing to risk it all.
My answer, humanity.
I would be willing to risk it all for humanity; and so I made my way to Precinct 1, District 12, in Chicago.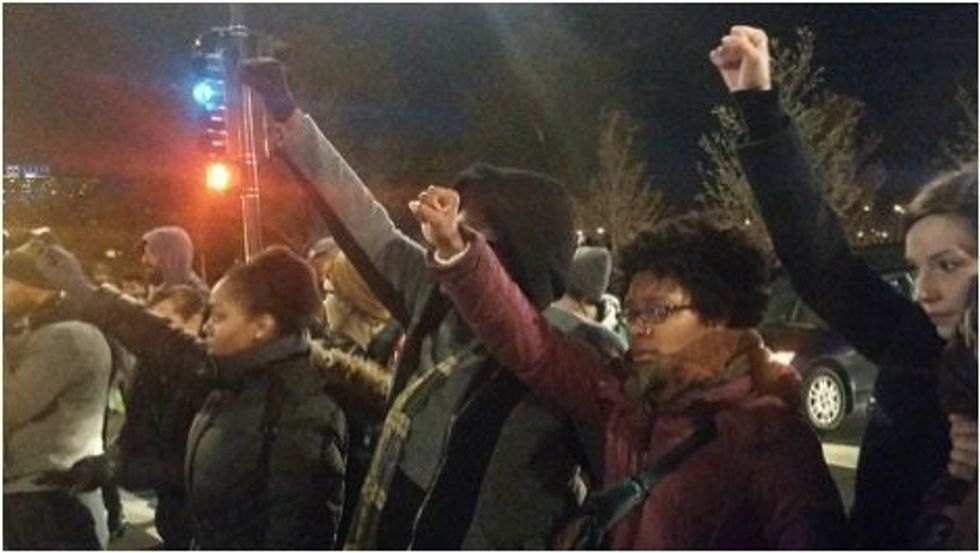 For the life of me, there is NOTHING in the world, like first-hand experience.   News broadcast, radio interviews, and social media debates do not have the ability to transmit the justified anger and rage that our youth are currently experiencing, nor the pain and the anguish that has been built up and carried with them from the souls of our ancestors. Their battle cries can only truly be heard from the battlefield.
I cannot account for all that I experienced, but there were moments where I found myself in the throes of the crowd standing directly between officers and passionately angered youth with my arms spread out, trying to deescalate the crowd.
[Tweet "The fleeting thought crossed my mind, that at any point in time I could be arrested or dead."]
This thought was immediately followed by, but they, they have had this thought over 1000 times, and yet they stood fearless, strong, and unmoved. Even when one of the officers literally engaged in a 30 second stare down (which felt like eternity) with a protestor while having a menacing grin on her face, they were not moved into violence. It was not the tears shed by his family, the pained voices raised in hurt, or the physical display of emotion from the crowd, nor the unification, and show of love and support, that has taking the most vivid place in my memory, but the condescending, immoral, dehumanizing and antagonizing grin, smeared across the officers faces, met by sheer restraint in resiliency that will forever be ingrained in my mind.
It was in that moment that I realized, how a peaceful protest could be taunted and instigated into a riot, from a mere look on someone's face.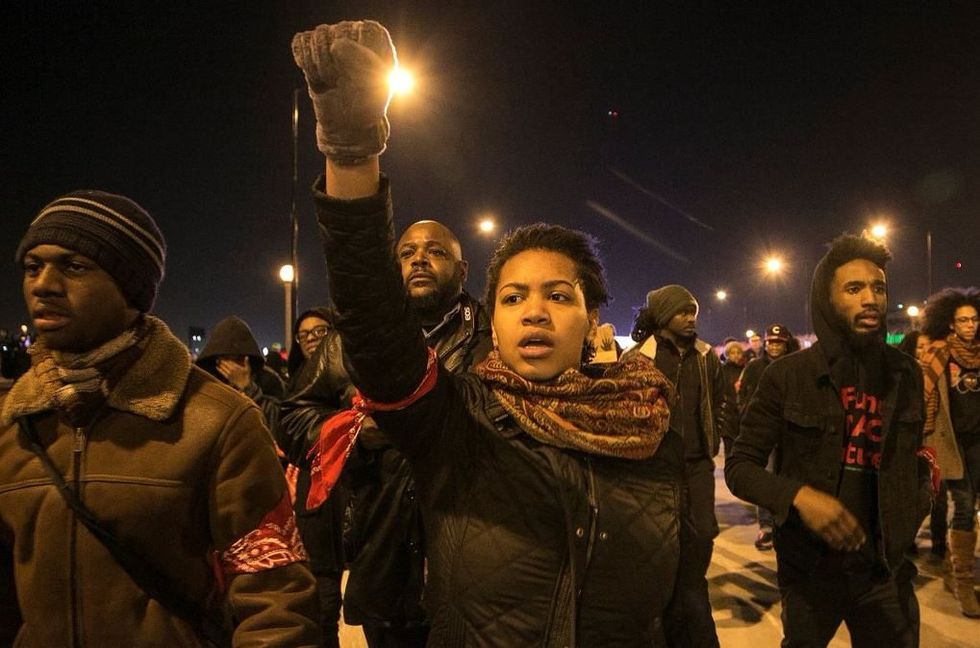 I remember looking over my shoulder at one point and seeing the face of an officer who looked at me and spoke, his words, "Soror, Soror you got them"? Another time, a protester stated, "She's protecting us", an officer, "She's helping us", and the most prolific, is when a young man looked me in my eyes with disgust and stated, "who are you", my response, "Don't worry, I got you" and in solidarity, he understood. In that moment, I realized, I was not there to lose it all, I was there to lead, protect, and help. Everything, I thought I was given and could possibly lose were actually tools provided to me to fight, fight for humanity and justice for all.
In no way am I attempting to demean the work of our predecessors, but I now understand why a number of our older community leaders were cast from amongst the protesters in Baltimore, they have yet to understand that this movement is not our grand-parents movement.
[Tweet "Speeches from a pedestal do nothing for our millennial generation."]
Action, heart, compassion, and standing side by side with them shows that you understand. Being there to hold their hands, wipe their tears, feel their rage, look them in the eye and show them that you are truly there for them and on their side, is what is needed from all of us at this time.
Editor's note: Updated with photos from today's Black Friday protests.
Shutting down Tiffany's over #LaquanMcDonald "No diamonds today" https://t.co/ygHQdLKaUL

— Kathryn Pensack (@Kathryn Pensack)1448649064.0
#LaquanMcDonald protesters blocking #BlackFriday shoppers from entering stores in #Chicago https://t.co/SghXsRgwbR

— Paulina Leonovich (@Paulina Leonovich)1448648476.0
#LaquanMcDonald protesters disrupting #BlackFriday in #Chicago https://t.co/tMBZGVnnVP

— Paulina Leonovich (@Paulina Leonovich)1448648911.0
#BlackFriday #LaquanMcDonald protest about to kick off with Chicago's old guard civil rights /pols at helm https://t.co/OLrqLZlyFc

— WBEZeducation (@WBEZeducation)1448643253.0
Dr. Niama T. Malachi is the author of a Hip Hop State of Mind. The 32-year-old is currently an acting Chief Compliance officer at a 169 bed psychiatric hospital.