---
If there is one role we know Lance Gross won't turn down, it's the role of playing dad.
This past week Lance Gross and wife Rebecca Jefferson celebrated their one-year wedding anniversary and revisited their special day by sharing this video mash-up from their wedding. Warning: You might need some tissue for the first 30 seconds.
We definitely wish these two the best!
In an interview with Daver Campbell the new father and newly-wed  opened up about fatherhood and love and how his life has changed since shifting his priorities from himself to his growing family.  He also revealed that he had to turn down some major roles that required him to travel and be away during the time Rebecca was pregnant with daughter Berkeley. But as we all know, the 33-year-old actor, who's been ready for a baby since before he had one, wouldn't trade time with his baby girl for anyone (or any job) in the world.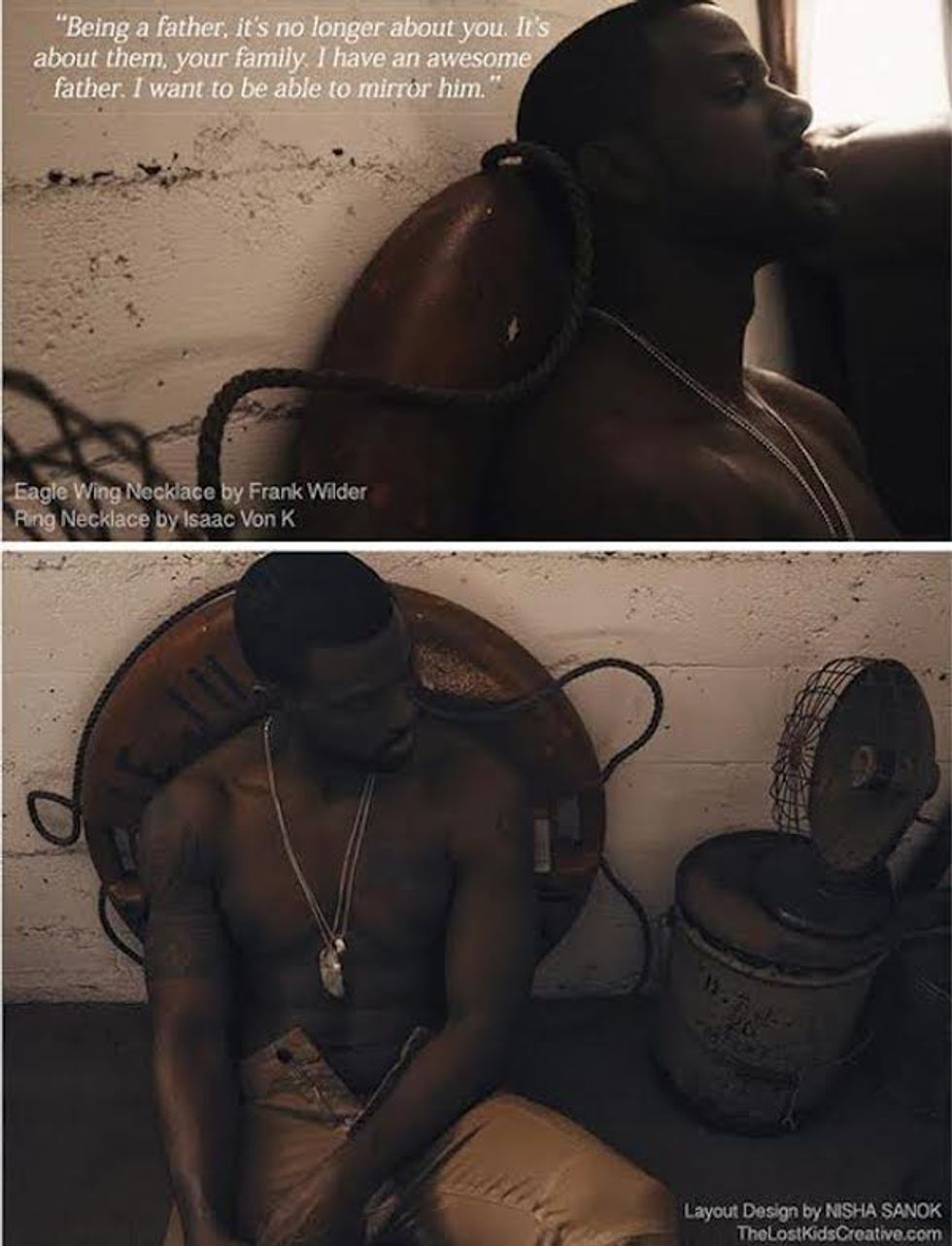 Peep what Lance had to say about how his life and career have changed since becoming a father below:
On Being Motivated Since the Birth of His Daughter
I wouldn't say my goals have changed as an actor. I've always had a strong drive to create. Have they strengthened it? Yes. They have heightened the drive to reach a great success.
On Getting Emotional when His Father Held His Daughter for the First Time
It's tough because my father has dementia. I remind him that he has a new granddaughter. Seeing him hold Berkeley for the first time was an amazing feeling. It made me understand the level of love he had for me and my family. Being a father, it's no longer about you. It's about them, your family. I have an awesome father. I want to be able to mirror him.
Related Post: Lance Gross & Rebecca Jefferson Share Photos of New Baby
On his wife (stylist Rebecca Jefferson) being his best friend and if she "dresses him"
now
Rebecca! That's my partner in crime on so many levels. She's beyond a best friend. She's such a cool individual that isn't afraid to march to the beat of her own drum. I find a lot of inspiration in that. She doesn't sweat small stuff and keeps a positive outlook from A to Z. We clicked immediately. That's my type of energy. We met by chance in Santa Monica. We kind of kept crossing paths that day. At a certain point, I spoke up and simply asked her to let me take her to dinner.
We laugh about [this] often because a lot of people think she dresses me. When in actuality she's probably only dressed me twice over the course of our relationship. I love clothes and fashion. I've always have. I'm more comfortable going out and getting my own wardrobe because I know exactly what I like. Now with that, I do ask her opinion often. She's good at letting me know what not to do. She influences me of course. We may be going somewhere and she'll put on something edgy. Then I'll throw on something edgy to complement her. Not matching or anything but when you see us you say, "Now they look good together."
On How He Proposed to Her
Well, a group of our friends do a New Years trip every year. Maybe about 20 of us. Mostly couples. We went to Cabo in 2013. During the count down I handed her a pen and a card I made. It was the one with the old school, grade school style notes you would pass in class to ask a girl if they like you. Yes or no. Except mine was asking her to marry me. By the time she read it. I was down on my knee with the ring in hand. As she said, "yes" the fireworks filled the air and that's how we brought in 2014. I told none of my friends on the trip. It was a complete surprise to her and them.
Related Post: Lance Gross And Rebecca Jefferson Tie The Knot!
On How Becoming a Father Has Changed Him
Some of the most rewarding experiences being a father is being able to be present. Spending as many moments as I can with my little girl. It's amazing how things shift from worrying about yourself and what's next to this new life you've created. It's funny when Becca was in her last stages of pregnancy, I got offered an acting gig that shot in another city for a few months. I turned it down because, I had taken the job, there was a good chance I'd miss out on Berkeley's birth.
Before Berkeley was even thought of there was no way I'd turn a job like that down. No way, no how. But in my situation, I wanted to be present. I wanted to live every moment. That's when my family became more important than anything else. I made the choice to be there not just for her birth but to help and be there for Becca. Nothing was more important than those moments.
I feel that some of the challenges I'm faced with are leaving home now. In this day and age, many productions aren't based in Hollywood. In fact, most of the jobs I get film in different cities. That's the hard part of me being away. It worked fine before because Rebecca and I know how to deal. It's intriguing being away and missing each other to reunite after that. But missing my daughter is whole different ball game. I don't want to miss a thing when it comes to that one.
Hmm, we wonder if the role Lance had to turn down was Empire? A while back, rumors of the original cast circulated online and it was alleged that Lance was supposed to play one of the sons when Wesley Snipes was being considered for the role of Luscious.  Rebecca was pregnant during the production of the series, and it was filmed in Chicago.
Catch pictures of Lance from the spread and with baby Berkley on the next page.