Keyshia Cole was running a little late. Not terribly, hold-you-up-for-hours-late, but late enough to leave me with way too much time to think about, no, overthink, our interview.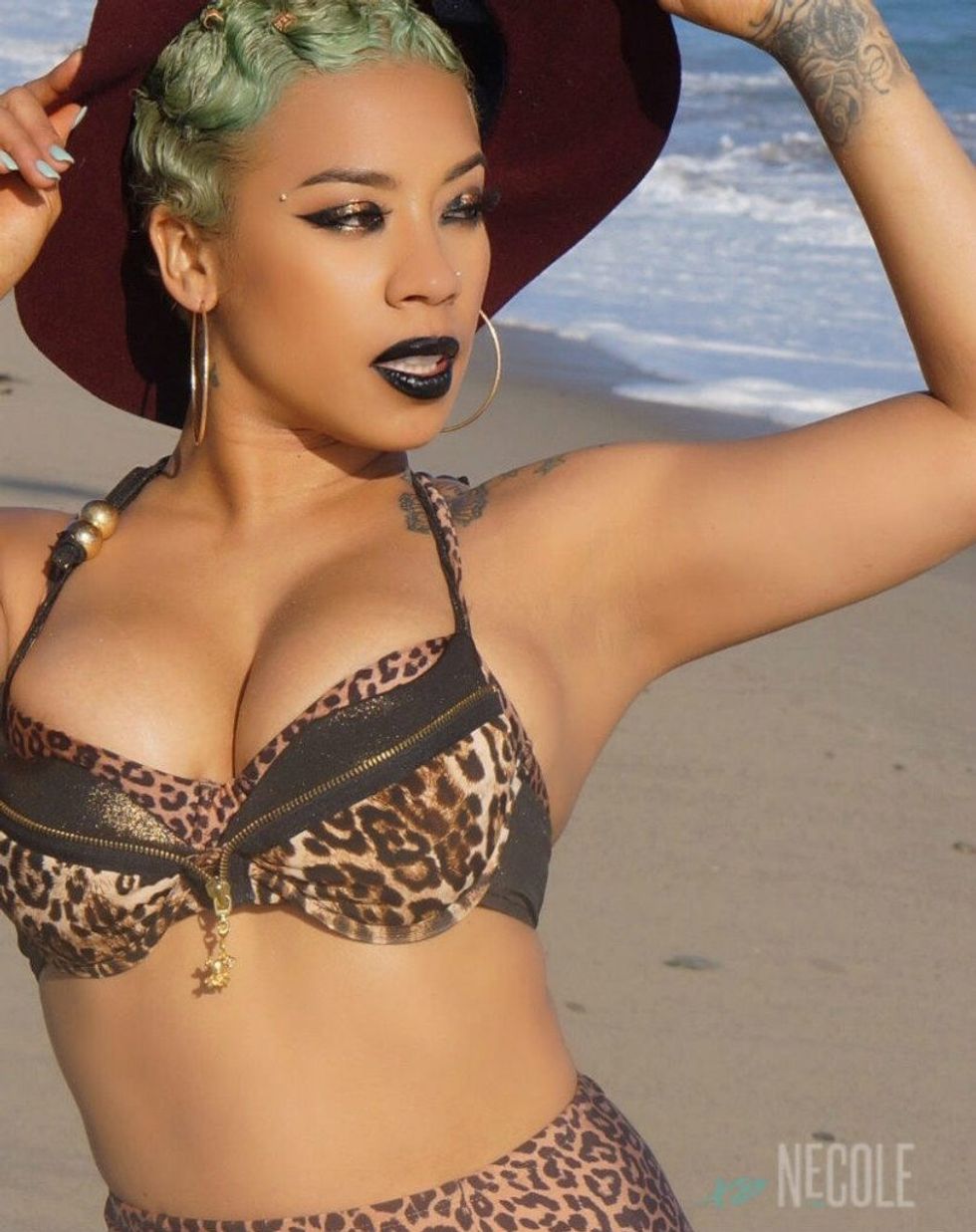 It was awards season when we agreed to stop by The Painted Nail spa in the W Hollywood Hotel. The point was to get to know her better, to get beneath that bad-girl, don't mess with me facade. I wasn't interested in the old Necole type ish – you know, the célèbre-tea. Moreso, I told her I was interested in getting to know the real Keyshia. I wanted girl talk. But would I get it?
---
After all, this last minute interview popped up in the midst of Hollywood's February 2015 fling. We were both running between events surrounding the NAACP Image Awards and the Grammys. We could've talked trash, gossip and all the juice that, frankly, made NecoleBitchie.com and similarly made her a household, reality show diva name. Instead, while steaming off gel polish in a non-acetone soaking, newish polish removal contraption (thank goodness, right?) the two of us talked love, loss, and business.
An episode of reality TV? Nope. Well. Maybe.
It's been a long time since the Oakland, California native started her career in 2005 and she has since celebrated ten years in the game. But getting from there to here involved several massive hits and then a near fall into obscurity after she moved to Cleveland with her NBA husband, had a baby, and fought to keep her Interscope Records deal. She almost didn't make it. Now she's a single mother juggling her artistry and her career. She's figuring out who's in her corner and who is not. Her series of BET reality shows, from 2006's "The Way It Is" to her 2015 "Keyshia Cole: All In" has kept her going through it all. And just think, she almost didn't sign on.
"I remember Ludacris telling me 'Don't do it. Don't do it, you don't need people all up in your business like that,'" Keyshia told me. Luda's opinion had weight. "I also had Mimi [Valdes], the editor-in-chief over at VIBE at the time, in my corner. We were really close and she told me 'Do it. But just remember why you do it. Remember the purpose. Remember what you're trying to get accomplished every time you fail. Don't lose focus of that.'"
Apparently Valdes' advice was sound. Some reality show stars spiral into a hot mess of buffoonery and ugliness. Keyshia, on the other hand, didn't allow certain situations to drag her into the mud. And she had ample opportunity, but she let it ride. Like that time when Daniel "Boobie" Gibson – her husband and the father of her child – cheated on her.
It's obvious why the dalliance hurt her. Marriage requires an ultimate trust and in order to have that, you have to give up some of your own control over situations. And in some ways, that means submission. Years ago, Keyshia revealed that she had turned down a marriage proposal out of the fear of having to submit. Boobie, however, made the coupling process a bit easier.
"As far as the dating process of finding that right person that you want to start a family with, that seems like they would be a good father, you have to take all of that into account. He was a God-fearing man, he prayed, he was spiritual," Keyshia said while watching the gel melt off her tiny fingers. "His mother and his father had been married for 30 years and he loved his grandmother. I mean, you know, things that normal guys, especially in the [entertainment] industry, don't want their fans to look at …"
Even their initial romance was movie romantic. They talked on the phone for months before actually meeting. They got to know each other and didn't base their love on sex.
"Yes, he's a sweetheart, and very thoughtful," she said of the man with whom she is currently separated from. "I was already in love before we even saw each other like that."
The romance traveled cross-country after a game in Los Angeles when he took her on a tour bus ride from LA to New York. They stopped at several monuments, including Mount Rushmore. Now five years old, their son was conceived on that trip. She remembers the voyage fondly. "I got pregnant on that little tour."
But with motherhood, comes sacrifice. When questioned whether she felt as though she had to sacrifice her career to be a mother and wife, she let out a nervous laugh before responding, " Yes, 100%. You're giving your time and energy to something [different] than you were before. You have to be ready for that when you're looking for that balance because you're going to find it. And it's going to be different. But it's a difference that hopefully makes you complete. And whole, you know?"
Then? The blow. A separation. Followed by several public displays of affection. Followed by continued separation.
"He tricked me," Keyshia told me, looking thoughtful. "He got me good."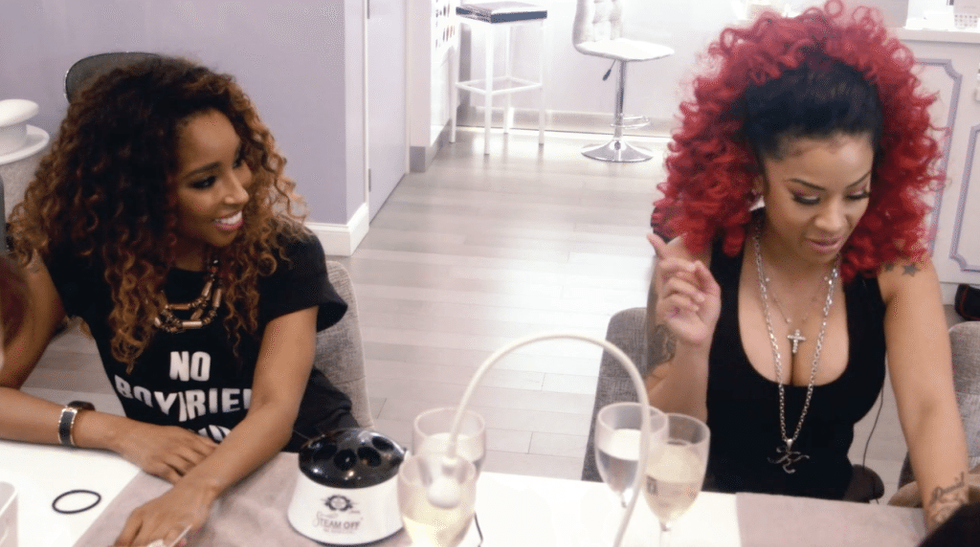 Finding a good man is tough. It's also tough finally accepting that princess stories tend to be fairy tales. Relationships aren't perfect.
"The thing I've learned is that people change," I remember telling Keyshia. "They're not always going to stay the same. And it's hard for me to accept that because I do want that fairy tale. That's the book ending, that's the happy ending. You don't want to think there is going to be another book or another chapter after that where things are going to fall apart."
Keyshia agreed, but made it clear that experience is the best teacher in these matters. There are things that women have to be aware of, she said without quite saying. Key point: Change for Keyshia and Boobie came after the former Cleveland Cavaliers point guard suffered a series of debilitating ankle injuries that sidelined the University of Texas graduate while teammates LeBron James and others went on to become some of the NBA's most storied players. Imagine being the dude essentially left behind. Meanwhile, Keyshia was working, making TV shows, and touring the country. At the same time, Boobie was trying to get that ankle back online.
"He was definitely injured and a lot of that was affecting him as far as him not being able to play a certain way that he used to play," Keyshia said. "[I was] trying to be his backbone, but I was still working. I was away and not being able to be that support for him. I think ultimately it kind of just came between us."
She continued, "I'm trying to give men the benefit of the doubt. But you don't go outside of the relationship either, you know what I mean? I mean, there are things going down but you don't go outside of the relationship. Like, my fans at that time were saying 'Oh, Keyshia happy. When Mary [J. Blige] got happy, her career ended,' you know?
Yes. I know.
"We're supposed to hold each other down because no one can tear this apart. That's supposed to be the relationship, that's supposed to be the bond. But if you break the bond it's like, if I can't trust you, I can't trust nobody. Who can I trust? I can't come in my own bedroom and trust the person I sleep with every night?"
She also side-eyed an interview where Gibson said he was sorry for what he's done and there would be no disloyalty in his next relationship. "She will be my queen! This will be my queen. This will be it for me. I wish I had this mindframe before but [dudes] go through what they go through to understand what it is they need to understand," he told us in a September 2014 sit-down. "I see a lot of families falling apart, and it's a sad sight to see when you think about love, or at least the couples that are publicized. I want to have somebody that I can share life with. I feel like, that's the highest level of happiness to me."
According to Keyshia, she doesn't care to read any of his interviews discussing their marriage or separation. "I be like 'Block ni**a!'" she said, laughing. "I don't want to see that."
Sex and the Single Girl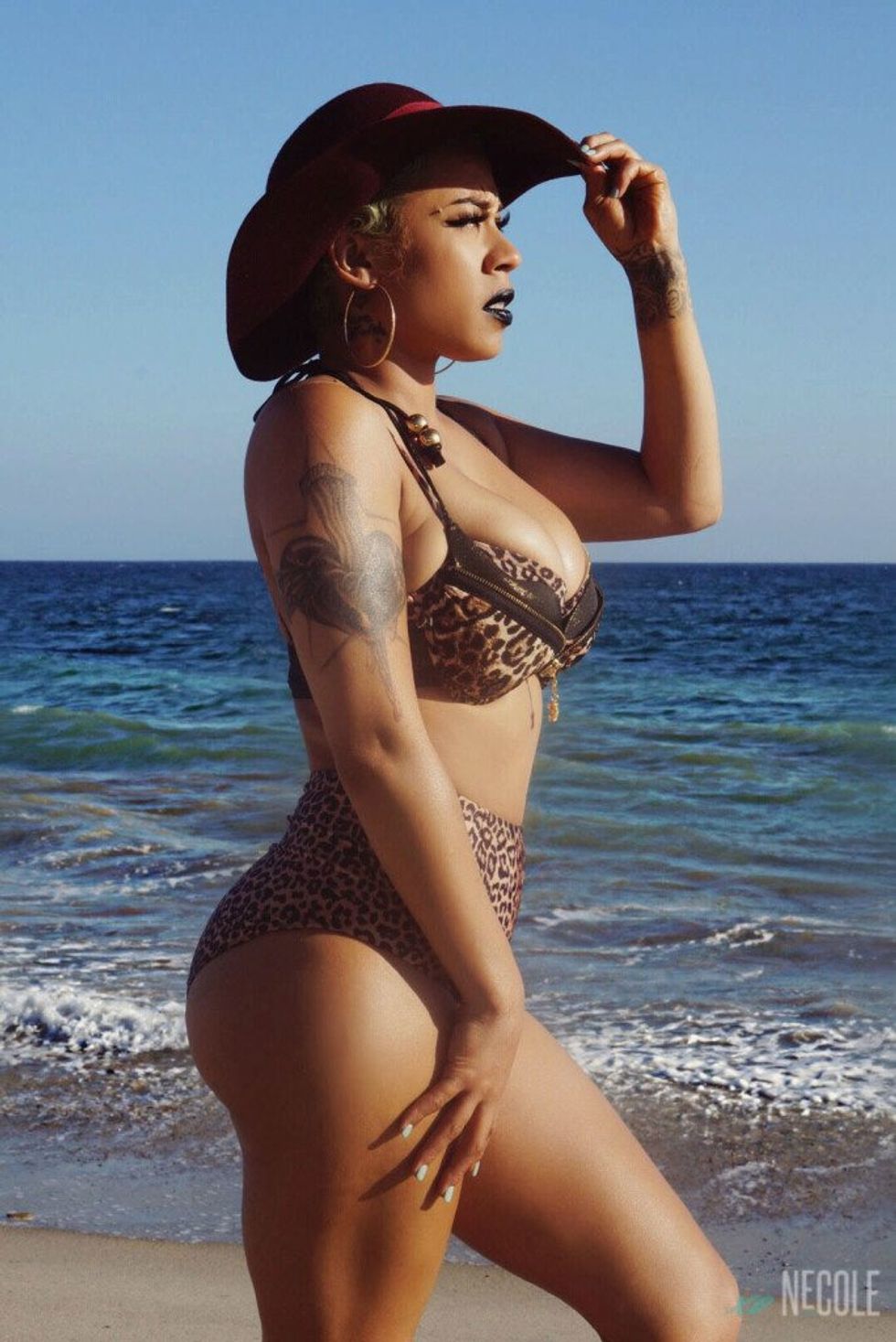 The days of that sexy, baby-making, cross-country trip are behind her and abstinence is the key to her new clarity, she told me. Why? Because, she acknowledges, sex clouds her judgment. Yet, she's still a woman with needs, so bypassing the nookie is tough.
"It's going good. It's going well," she said at first. Then? The truth bomb. "It's hard. It's extremely hard. But I'm looking for some type of stability right now. I'm searching for it. I'm trying to get that focus and regain that conscious. [Tweet "Dating isn't going to work for me in this generation because I ain't stupid enough."] And then having somebody like Gib that's done all these beautiful things and then trying to move on from that…it's like what do I do?"
When I mentioned Daniel definitely set the bar in terms of what she should look for in a relationship, she agreed, in part.
"There are great sides to him, granted, there are some things that happened but he is a great father, and DJ loves him dearly. It's nothing that he wouldn't do for DJ. And as far as the relationship and how we started, even supporting now, he's still there."
But back to sex. Both of us have done the abstinence thing. I've gone three years and Keyshia ribbed me for it. [She specifically said: That's a long time Necole!] But I firmly believe that if the person is serious, then the sex is worth the wait. If they're not willing to wait, they're not the right one anyway.
Sex can get a girl caught up, we both agree on that! It's so much better to focus on goals, like my new website and the new album for Keyshia. Hot sex can come later.
"I'm tired," she said. "I'm tired of it all happening to me. I want to go independent with my music, and I want my baby to be happy because I want to be happy. And that's where at all begins."
These days, she's spending most of her time on Malibu Beach, trying to center herself. All the drama, between Gib, her mom and her record label, became all too much. "I put so much into a lot of different people, and I feel I didn't get it back."
[Tweet "I'm coming to a realization that I think I don't even know what love is. What is love?"]
She continued, "I'm trying to figure this all out. Because all my mother does is lie to me over and over again about her going to get sober. And [I'm like] 'Ok mom, how many times have we heard that?' I'm tired of hearing it. I'm tired of seeing it."
I can relate to going inward, to finding your own personal Malibu Beach. I told Keyshia that sometimes you have to focus on the self and falling in love with the person you are meant to be. "I love me now, and so I feel like I'm going to be able to attract someone that appreciates THIS me." The me that I was before? That me just attracted bad things. So once you get to that happy place? Score.
Our nails nearly done – both of us chose Pink gel polish - Keyshia's face lit up.
"Right! And I think that is my focus too. Because you are sitting there and you're reading your book, and I don't mind riding my bike or doing little things and I'm chilling with myself. I'm good with myself."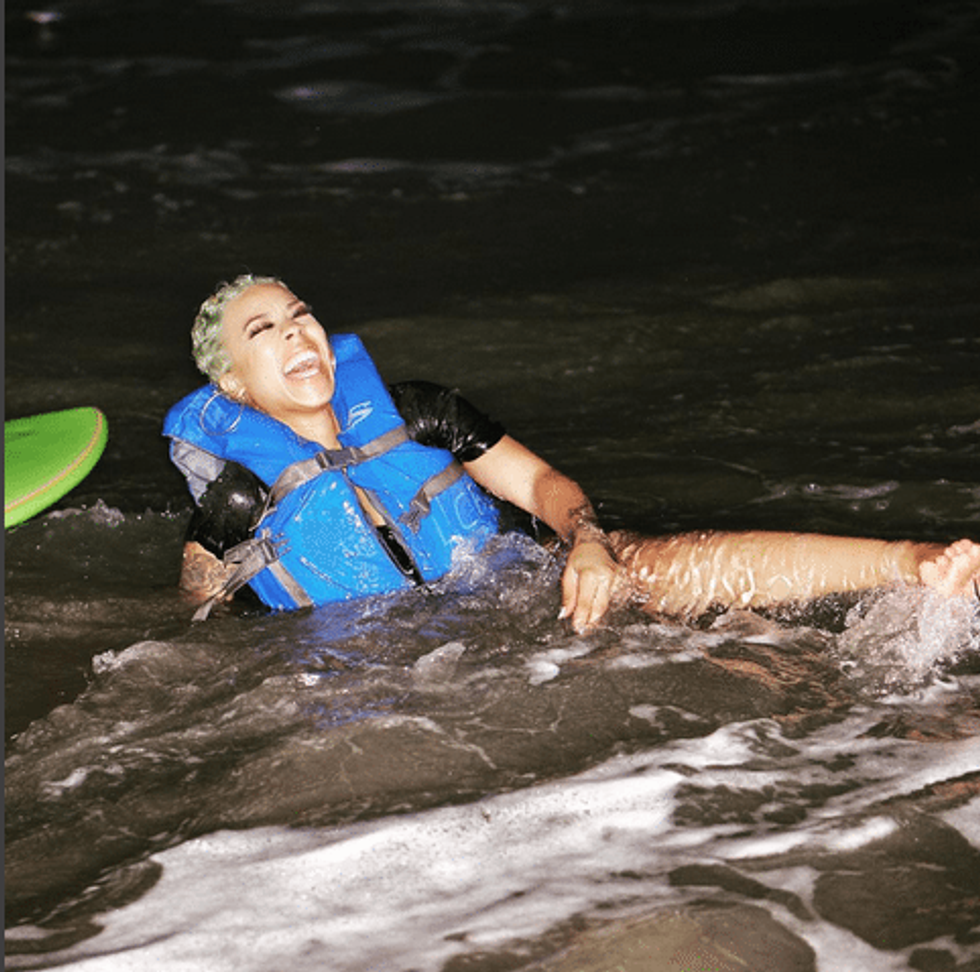 Part of being good to herself includes changing her lifestyle, her location, even her hair. It's now short and weave-free so she can enjoy her surfing lessons in the Pacific. She goes to the beach daily and works out in the sand while watching her son play. She moved into a new home just four months ago.
"Everyday is a process, and I'm just figuring it out," she told me via phone when we caught up earlier this week. "It's just really a lifestyle change, in trying to do better and eat better and live better and have a healthier lifestyle. We don't even go into the city…"
Keyshia is also about to drop a new single that she recorded in the sanctity of her Malibu home, in her custom built studio. She works at night, reserving the days for her son. And as for reality TV, it'll always be home and a new season is a'coming.
Meanwhile? She's doing what more women of color should learn to do. She's relaxing and tuning out the ego.
"Fame is addictive. Yeah it is, but that [understanding] comes with every life lesson learned so hopefully the people that are affected get that. God has his own way of making that understood," she told me. In the background, I could hear waves and her son laughing in the wind. "It's all good. I'm chill. People don't understand what they don't know. Life is what it is, at the end of the day, all I can do is be me."
Watch Keyshia Cole talk celibacy, self-love and life after divorce over nails and champagne below:
Originally published September 2015. Interview footage added 2017.
- "As told to" Adrienne Samuels Gibbs. Find her @adriennewrites.