Looks like Kevin Durant dropped the ball on his perfect "Love and Basketball" story.
---
Back in 2013, the then-25-year-old power forward for the Oklahoma City Thunders got engaged in a blink of an eye to Minnesota Lynx's guard Monica Wright, except it was no surprise to fans of the mama's boy who appeared ready for love from the minute his career took off. Back then, not only was Kevin #WCW'ing some of our faves like Rihanna and Keri Hilson, he was also spotted out on a few dates with singer LeToya Luckett.
But for now, KD is back to being a Bachelor and he faults it on not being able to love.
In an issue of GQ Magazine, the OKC star o on the status of his engagement to his ex and longtime sweetheart Monica. Apparently, the couple decided to call it quits after Monica reportedly decided she'd had enough of Kevin playing games both on and off the court. Heartbroken over hurting his ex-girl, the former MVP admits he wasn't loving his lady the right way and as a result, decided to let the relationship go.
"I really didn't know how to love her , you know what I'm saying? We just went our separate ways."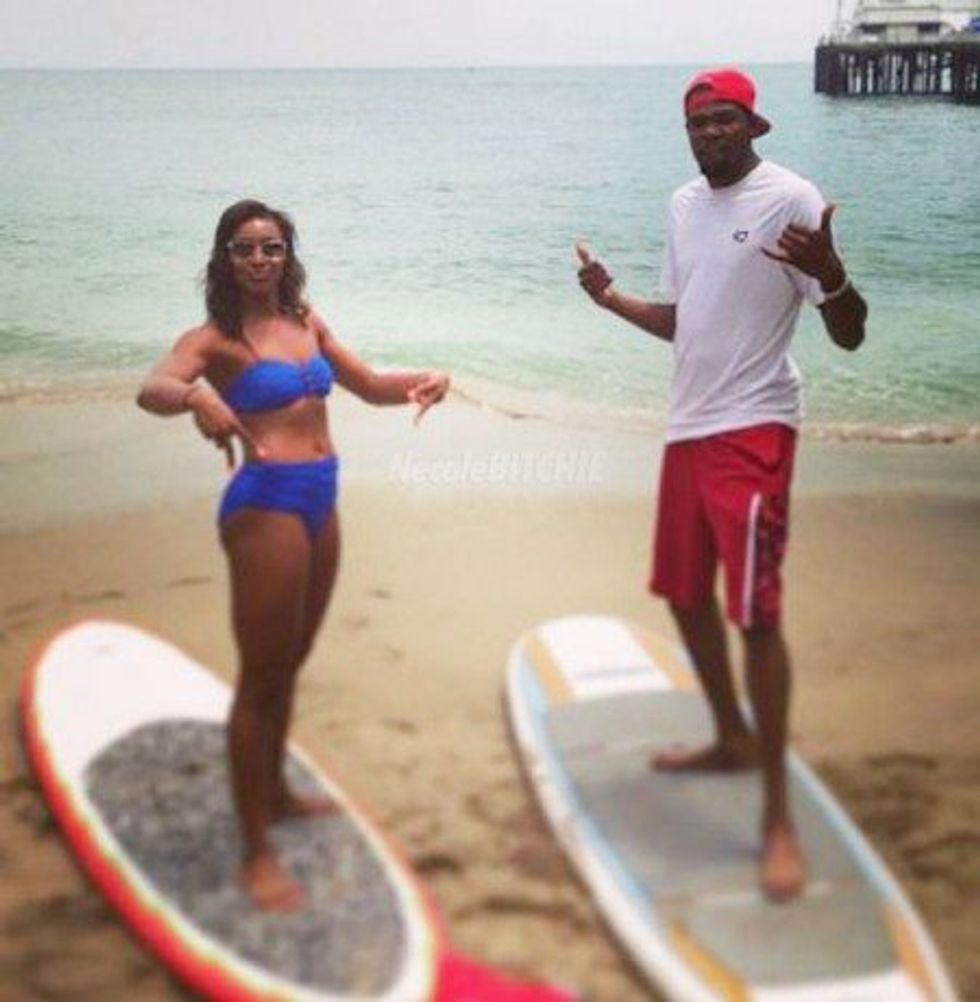 He also went on to discuss how he proposed to Monica, as well as how he fears he won't ever get married:
On  How He Proposed
"We was just hanging out, chilling. And I felt the energy. I felt, I need to do this right now. And I just did it. I was like...We're engaged right now? We're about to get married? So I was just like, cool! I love this girl. But I didn't love her the right way."
On Being Alone Since the Breakup
"I go to sleep at night, like, 'Am I gonna be alone forever?' Am I gonna be alone forever? Am I gonna have kids? I feel like there's no hope. But I still gotta have faith."
Kevin also opened up about learning the importance of crying, and how his dad leaving him at an early age left him with some serious abandonment issues:
On Crying During His MVP Speech
"I didn't know I was gonna cry. I never cried as a kid. I watched this video about this guy, his son got killed in front of a nightclub in Miami. And he was shouting at his son's murderer and just crying. I just started bawling. And I was just like, man, I've been so emotional since I've grown up. As a kid you're taught not to be emotional. And I feel
like I'm starting to let it all out. Every little thing now. So I cried today. And I felt good about it, though. I felt compassionate. I felt, like, loving and caring. I felt good. I think, as a nation, we need to cry with each other. As a world, we need to cry with each other. That shows we care."
On How His Dad Leaving Him at a Young Age Affected His Emotions
"I was like, Damn. I was really hurt. That was the first time I'd ever been hurt by anything. I'm always used to, like, keeping it inside, and it'd go away in a day. But I was like, Damn, man, so we can't play video games together no more? We can't laugh at jokes? We can't wrestle? We would wrestle every day in the living room and s--t. It was the coolest thing. And then, like, when he left, it was just like, Damn, we can't do all that stuff no more? It's boring now. Because I'm by myself.
I remember we were driving home one day, and I look over out the backseat, and I see him in a car with his homeboys at the light. I wanted to be like, 'Ma, that's Dad, right?' But he didn't say anything. Mom didn't want to talk about it. Her son tall, shy, good at ball but lost away from the court. "
Dang, that's rough. Maybe it's best that he figures himself out first before locking down a wife.
Meanwhile, back in December 2013 when we spoke to Kevin's mom Wanda about his rushed engagement, she seemed pretty excited about it. She even revealed advice she offered him in regards to being a better man.
Of course I loved [Kevin's engagement news!] I mean, this is my son and he's getting ready to start leading a family. I mean, how wonderful that is. A mother loves that for her son.

We all know [that] at that age, we think we know. So who am I to put a damper on who he says that he is? I mean, I'm your mom. Of course you take my advice but you say you're in love and this is your woman- who am I to say that you're not, you know?

My son loves [Monica]! I don't have any daughters so my sons' wives will be the daughters that I never had. Women are to be considered as the weaker vessel- in physicality but not in strength and emotion. All the different dynamics of who we are. But [women] are the weaker vessel. And men should take a rightful place with women, not to...abuse or be over them. But to take that position of respect. That position of honor. That's what I try to instill within [Kevin]."
Check out more of Kevin's interview over at GQ!