---
It is official: Joe Biden will become the 46th President of the United States. And in a history-making glass ceiling-breaking win, we have both our first woman and first woman of color serving as our Vice President: Kamala Harris. This election has been one of the longest and most stressful ones in history which made this victory so much sweeter. Well, that, and Black women. At this point, there should be no doubt that Black women are the secret sauce but just in case you need a reminder you can use this election as an example.
Kamala is multi-racial and proud of every single part of her South Asian and Jamaican heritage. During her remarks following her win on Saturday night (November 7), the Vice President-elect shared her adoration of her mother who came here from India at 19 years old to pursue a better life. Kamala noted that women are often the people who pave the way when it comes to making the change they want to see in the world. She explained:

"She believed so deeply in an America where a moment like this is possible, and so I am thinking about her and about the generations of women, Black women, Asian, white, Latina, Native-American women, who throughout our nation's history, who paved the way to tonight, women who fought and sacrificed so much for equality and liberty and justice for all. Including the Black women who are often, too often overlooked but so often proved they are the backbone of our democracy."
This Howard University Alum definitely proved to be her ancestors' wildest dreams and later on became the first Black woman to be elected as California Attorney General, holding office from 2011 until 2017, when she was elected to the Senate. Sis is not new to this, she is true to this. She continued:
"But I tell you now, Black women are showing that Black women lead, and we'll never go back to the days where candidates only knew our value in terms of helping them get elected. Now they will see how we govern from the White House."
The blood, sweat, and tears of Black women who know the pain of being suppressed, underestimated, and treated unfairly acted as the flame bringing this victory boiling to a tipping point. However, our forever FLOTUS Michelle Obama wants us to understand that we must keep up this momentum and fire because tens of millions voted for hate and lies:

"We've also got to recognize that the path to progress will always be uphill. We'll always have to scrape and crawl up toward that mountaintop. And two years from now, four years from now, there will once again be no margin for error. We see now the reality that we can't take even the tiniest part of our democracy for granted. Every single vote must count — and every single one of us must vote. And as a country, we should be making it easier, not harder to cast a ballot."
We have to keep it pushing! Celebrate, relax, regroup, and then re-strategize.
Check out the collective of the real MVPs during the election:
Stacey Abrams
Stacey Abrams turned her 2018 defeat into determination to do all that she could to prevent voter suppression in the state of Georgia. She partnered with many organizations in order to bring more than 800,000 new registered voters to the voting process and thus turned a state that is historically red, blue in this year's election. About 45 percent of those voters are under 30 years old and 49 percent are people of color.
Cori Bush
Cori Bush decided to make a pivot in her life after the death of Mike Brown, adding activist and protester to her repertoire alongside being a single mother, a nurse, and a pastor. As a result of her efforts, she has earned the opportunity to become the first black woman to represent Missouri in Congress after running for the third time.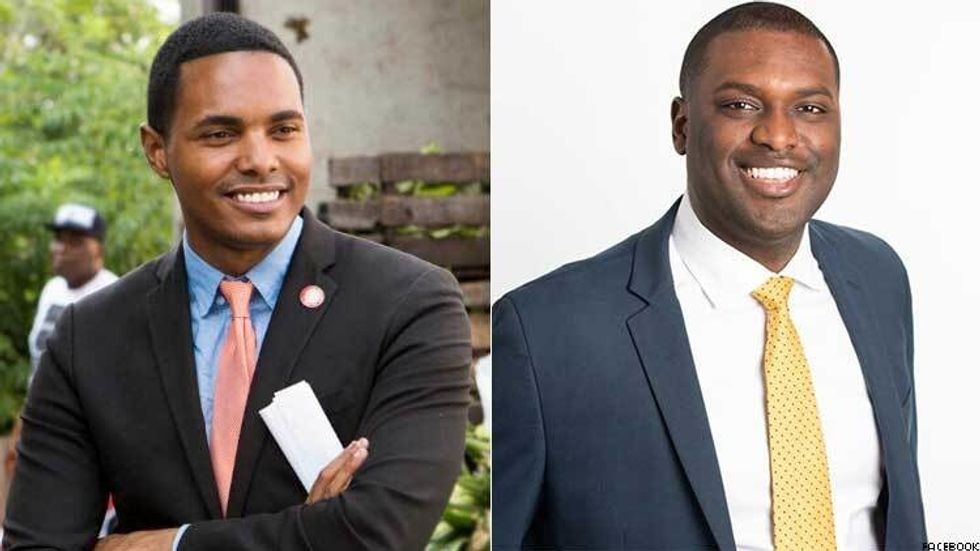 Facebook
Mondaire Jones was elected in New York's 15th congressional district in the Bronx and Ritchie Torres was elected in New York's 17th congressional district upstate. They are both the first openly gay Black men to do so, and Torres constitutes the first 'out' Afro-Latino elected to congress.
Reclaiming her time, time and time again, Maxine Waters won re-election to U.S. House in California's 43rd Congressional District. She is one of the highest-ranking African-American members in the White House and is seeking her 16th term in the House of Representatives.
Featured image by Sheila Fitzgerald / Shutterstock.com