You have no idea who Jessica White is.
---
Sure you've seen her drop-dead gorgeous mug splashed across Maybelline ads back in 2008, but little is known about the former Victoria's Secret model besides her A-list dating resume, which includes Sean Penn, Nick Cannon and Dallas Austin. Or, perhaps you recall the baby-faced bombshell in Jay Z's "Change Clothes" video, but either way, like with most superstars, most of her private life is under lock and key. "I come from a generation where you keep your private business to yourself. I'm a public figure. I don't have to share everything with the world."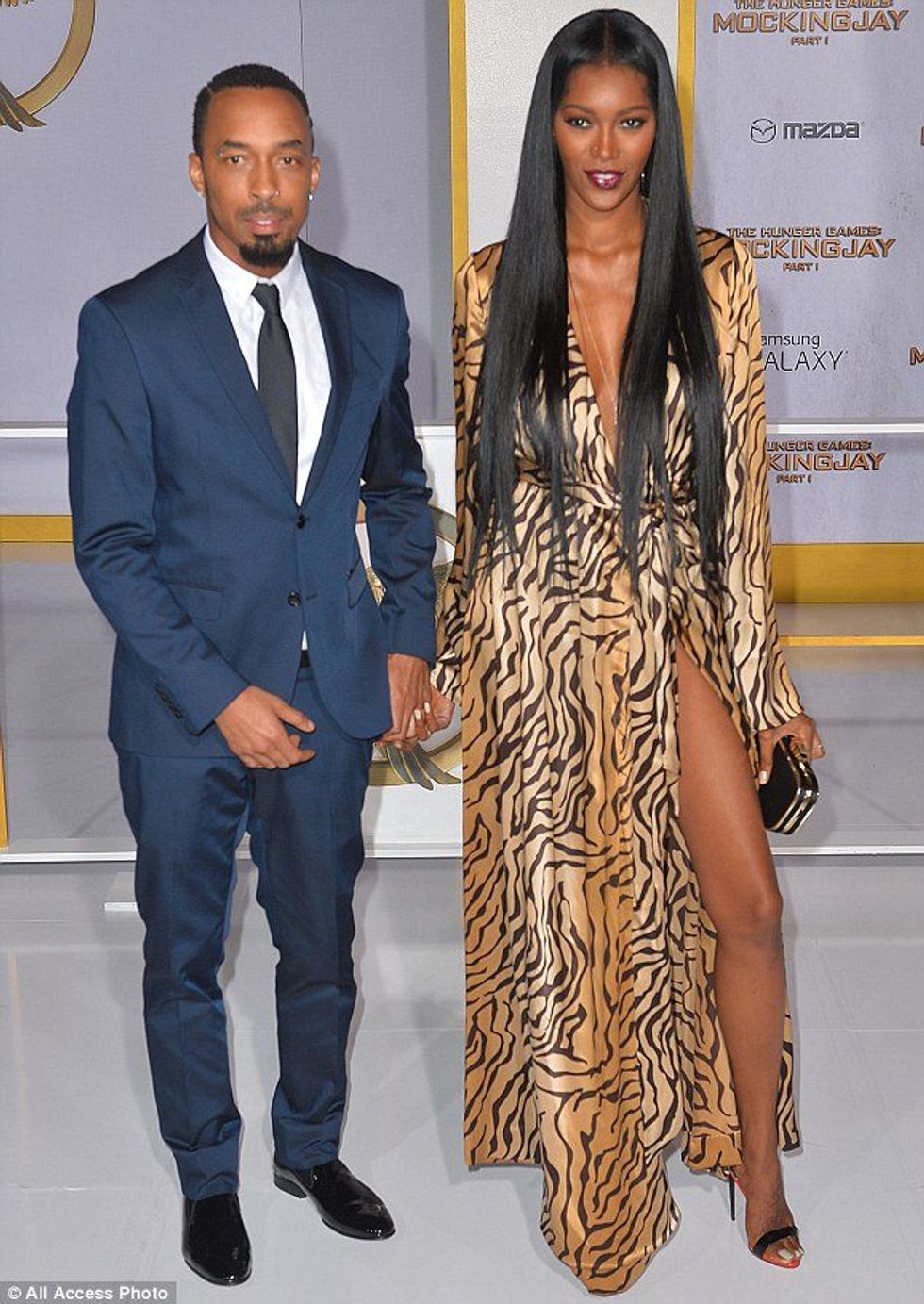 Jessica White and ex Dallas Austin
A quick Google search will reveal White's fair share of ups and downs, though, everything from a battle with a cocaine addiction at 17 to her illest high-fashion editorial shoots. But now at 31, the self-proclaimed social introvert is focusing solely on facing her insecurities and cleaning up the remnants of broken relationships on E!'s new reality show, Famously Single, a show that centers around eight single celebs and their relationship woes.
"I'm nothing like what the world expects," the Buffalo, New York native says. "I started modeling when I was 13, so my agents and publicists created this bigger-than-life story. Everyone thinks I'm a diva, but that's why I wanted to do the show. The world has no idea who Jessica White is."
On the show, White joins The Real Housewives of Beverly Hills alum Brandi Glanville, Josh Murray of The Bachelor fame, Jersey Shore's Pauly D, former NFL player Willis McGahee, Dumblonde singer Aubrey O'Day, Love & Hip Hop's Somaya Reece and model Calum Best. Led by relationship therapist Dr. Darcy Sterling, the eight stars undergo fours weeks of counseling and participate in activities that will help them find healthy relationships.
So what's changed for the supermodel? You'd assume someone of White's professional pedigree and as adamantly private as she would side-step reality TV for, let's say, another Sports Illustrated gig. "I was going through a heartbreak, so I really needed a break from life in general," she says of hour-long TV spot. "I've never commented on my relationships before, but I've learned early on that if you don't tell your story, somebody else is gonna write it, and they're gonna write it the wrong way. So, I had this opportunity and this platform to tell my story and show people who I was. And it came at the right time."
Your new show focuses around celebs that are 'single' but you reveal in the first episode that you are in love with someone.  Can you explain that situation a bit?
I was kinda nervous because I didn't know how [my ex-boyfriend] would feel. Then again, we weren't together, I was just in love with him. I hadn't decided if I was gonna get back with him. We were still trying to figure out what we were doing with each other. Now, I'm not sure how [producers] will cut it, but I was very honest about being in love with someone from the moment I came into the house. But when you're emotionally unavailable, people want you. When you have the red light on your heart, all of sudden you're the most attractive human being walking the face of the Earth. And that's what happened with Somaya (Reece) and Willis. It looks like I'm the one breaking hearts but I was being honest.
[Tweet "When you are emotionally unavailable, people want you"]
You've mentioned that your relationships will only last a max of two years before you run, where does that commitment phobia stem from? 
Honestly, it started with my apartment situation. I want a new place every two years. I'll throw out all my furniture or give it to the movers, take my clothes and my books, and I'll stay in a hotel for three months. And I would do that every two years since I was 13.
Oh, you really are a gypsy.
Yeah [Laughs]. When I went on this show, I didn't realize how many things I was doing wrong. I was being more reserved in social settings and that's how I am in relationships. I'm definitely not the girl that's gonna break up with you and you're gonna keep getting text messages and tears from me. When we're done, you will never hear from me.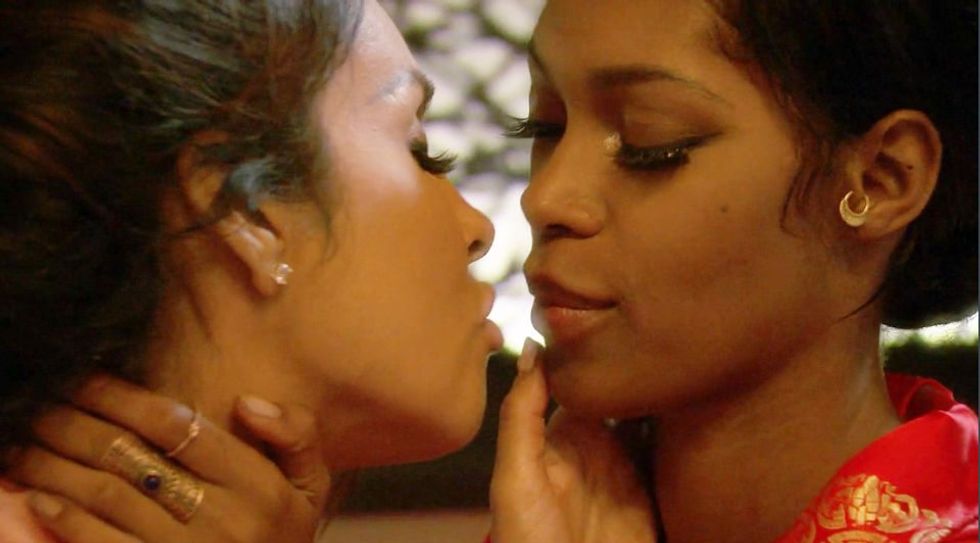 In the teaser, you're seen kissing Somaya Reece, which is different than what the public typically sees from you. Do you define your sexuality?
I don't define my sexuality at all. Love knows no color, knows no sex. It's just love. I made a connection with Somaya and I was just living in that moment.
[Tweet ""Love knows no color, knows no sex. It's just love.""]
What do you feel you want in a partner now?
The things that I want in a partner have never changed. I always say I want a man like my father. My father was this Malcolm X-type, prolific man. Instead of sending us to the library, he built my sisters and I a study so that we could have a library in our house. That's how amazing my father was. He was strong. And instead of chastising us, he would sit us down and talk to us, ya know? My father's presence really haunts me because he was so amazing. Even though I had him in my life for only eight years, he had the strongest impact on me.
That's exactly what I want in a partner, but I was confusing the universe. I would say I want these things in a man then accept the opposite.Like my ex, he had all the things I wanted, but he was emotionally unavailable.
So, how are you telling the universe that you want one thing, but the guy doesn't meet all of your expectations? And you know it!
We know from the beginning whether it's going to go somewhere or whether it isn't. I'm very solid now, though, and I'm not even go out on a date if it's not who I want.  My intuition has never led me wrong, and I'm not going to not listen to that voice anymore.
It'll never steer you wrong. 
Right. Like, it's healthy just to go on dates, but I'm talking about really connecting and giving your love and your time to someone. I don't go into any situation like, "Are we getting into relationship?" I like for things to unfold organically, so I don't want to pressure someone and I don't want them to pressure me. But when you say that you want certain things, you do have to have a balance. Know what you want and allow things to freely flow.
So what's your relationships status now?
When the show ended, I completely disposed of the relationship, so I did gather enough information and enough courage to end the relationship. So, the show was very helpful for me because my new beginning started literally right after that.
You can catch Jessica White in Famously Single beginning June 14 at 10 p.m. ET.