Once you get past his intense, dreamy eyes, it's easy to see why so many Black Millennials give Grey's Anatomy star Jesse Williams a listening ear.
---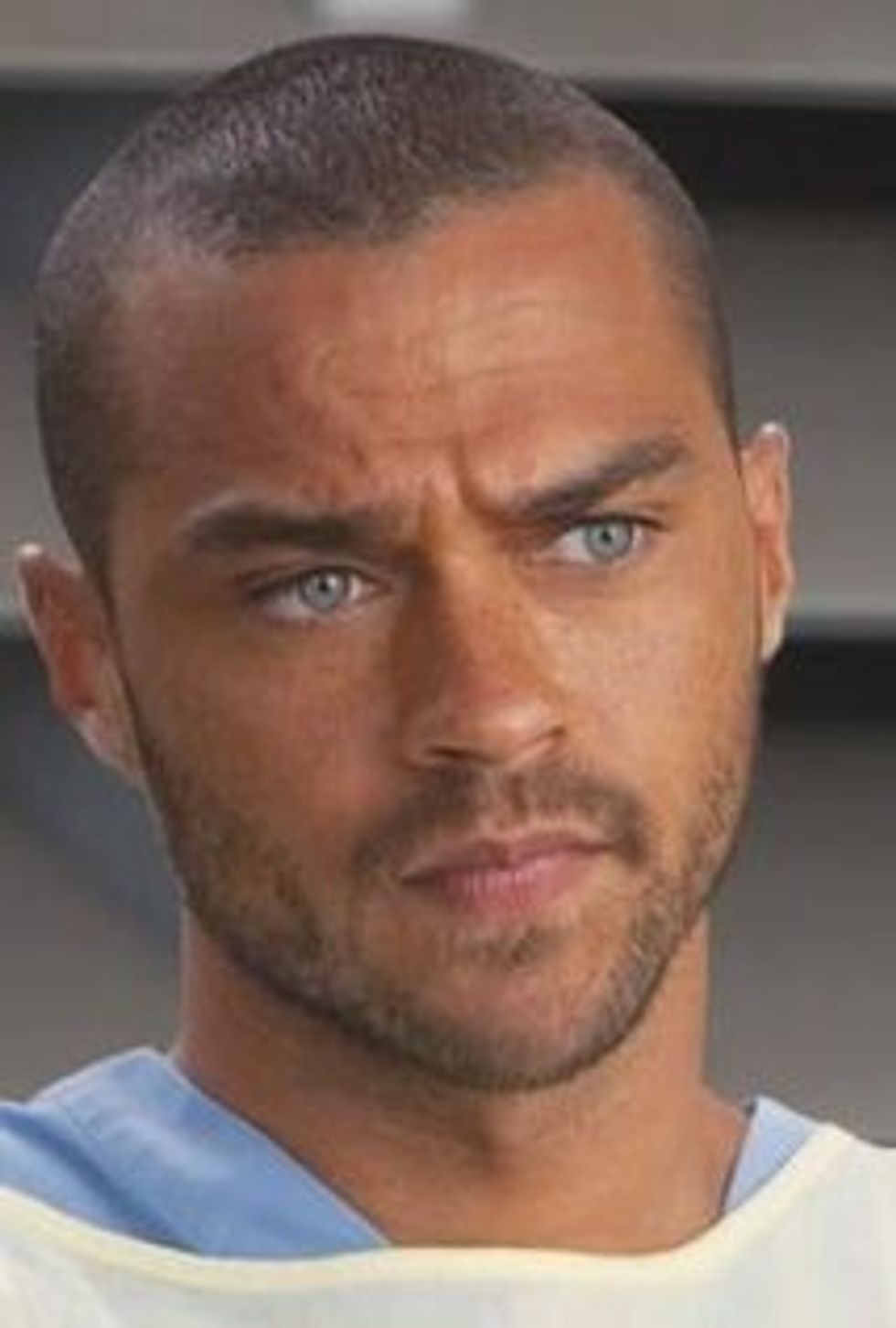 For the past few years, why some celebs have chosen to turn a blind eye to speaking out on social issues, Williams has been very vocal, both on and off Twitter, about injustices formed against the Black community. So much so, that he's often compared to legendary actors turned activists from the Civil Rights Movement, like Paul Robeson and Harry Belafonte.
This is why we're here for what he said in his latest interview with The Guardian. During his sit down, he discussed being biracial, how his look gives him an advantage, and the idea that Blacks are angrier than other races.
Here are our favorite parts of his interview.
On if being biracial afforded him with career opportunities
"To some people I might be a celebrity because I'm physically attractive.
We are programmed to believe that someone is attractive because they told you that blue eyes are hot. " I am not going to participate in that sh*t...
I aim to do what I can with what I have. And I have my [looks] – you know, European beauty standards give me access to things."
On his identity
I have access to rooms and information. I am white and I am also black. I am invisible man in a lot of these scenarios. I know how white people talk about black people. I know how black people talk about white folks. I know I am there and everyone speaks honestly around me."
"I remember a mom of a friend of mine in the suburbs made some comment about a black person and – I had to be 12, about 60 pounds – and I said something and she said: 'Oh no, not you. You are not black. You are great.' It was real. That f-cking happened. And she meant it. And she meant it sincerely and sweetly. She was paying me a compliment.
On how he became involved as a social activist
My parents were both activists and I really connected to the social justice movement. Growing up in Chicago, that was a big part of the community that we were in and the people that were in our house. I also lived below the poverty line for my entire childhood.
On Black people and stereotypes
"There is zero evidence, zero evidence that black people are more inclined to be angry in vacuum than anybody else," Williams says when I ask him about the prevailing stereotype of the angry black male and female that has haunted those in his profession as well as others – even including Barack Obama. "They are upset. Is being upset bad? Is anger just a negative quality? 
[Tweet "Black Americans are not angry, Williams argues: rather, they are hurting."]
"It doesn't begin with rage, right. It's a community that's f*cking hurting and is really disappointed in itself, in the people that it trusted, in the government it paid taxes to," he points out. "That is where the frustration comes from."
Last night,  Jesse Williams solidified his position as the voice of this generation with his powerful speech at the BET Awards.  Watch it below:
His Speech in Full:
"This award, this is not for me. This is for the real organizers all over the country. The activists, the civil rights attorneys, the struggling parents, the families, the teachers, the students, that are realizing that a system built to divide and impoverish and destroy us cannot stand if we do.
All right? It's kind of basic mathematics:, the more we learn about who we are and how we got here, the more we will mobilize. Now this is also in particular for the black women, in particular, who have spent their lifetimes dedicated to nurturing everyone before themselves. We can and will do better for you.
Now, what we've been doing is looking at the data and we know that police somehow manage to de-escalate, disarm and not kill white people every day. So what's going to happen is we are going to have equal rights and justice in our own country or we will restructure their function and ours.
Now — I've got more, y'all. Yesterday would've been young Tamir Rice's 14th birthday, so I don't want to hear anymore about how far we've come when paid public servants can pull a drive-by on a 12-year-old playing alone in a park in broad daylight, killing him on television and then going home to make a sandwich. Tell Rekia Boyd how it's so much better to live in 2012 than 1612 or 1712. Tell that to Eric Garner. Tell that to Sandra Bland. Tell that to Darrien Hunt.
Now the thing is though, all of us in here getting money, that alone isn't going to stop this. All right? Now dedicating our lives to get money just to give it right back for someone's brand on our body, when we spent centuries praying with brands on our bodies and now we pray to get paid for brands on our bodies.
[Tweet "we spent centuries praying with brands on our bodies & now we pray to get paid for brands on our bodies."]
There has been no war that we have not fought and died on the front lines of. There has been no job we haven't done, there's been no tax they haven't levied against us, and we've paid all of them. But freedom is somehow always conditional here. "You're free," they keep telling us. But she would've been alive if she hadn't acted so… "free."
Now, freedom is always coming in the hereafter. But, you know what though? The hereafter is a hustle. We want it now. And let's get a couple of things straight, just a little side note: The burden of the brutalized is not to comfort the bystander. That's not our job, all right, stop with all that. If you have a critique for the resistance, for our resistance, then you better have an established record of critique of our oppression. If you have no interest in equal rights for black people then do not make suggestions to those who do. Sit down.
We've been floating this country on credit for centuries, yo, and we're done watching and waiting while this invention called whiteness uses and abuses us, burying black people out of sight and out of mind, while extracting our culture, our dollars, our entertainment like oil, black gold. Ghettoizing and demeaning our creations then stealing them, gentrifying our genius and then trying us on like costumes before discarding our bodies like rinds of strange fruit. The thing is, though, the thing is that just because we're magic, doesn't mean we're not real." -Jesse Williams