The thing about trends is that the overwhelming majority of them are inspired by things from the past—and this latest obsession in the world of nails is straight from the glory days of the '80s and '90s.
---
Back in the day, you probably remember girls wearing the incredibly cute and comfy jelly sandals, well now they are the inspiration for the jelly nail trend that is populating your feeds and taking over Instagram courtesy of the #jellynails hashtag. Seen in a vivid variety of neon, pastel and primary colors, jelly nails are the perfect way to stunt on the last half of summer '18.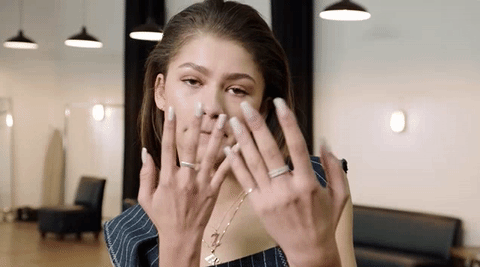 i.gifer.com
Though many beauty insiders link the trend as dating back to at least 2014, jelly nails picked up new steam thanks to Kylie Jenner. As with anything involving her family, once they endorse something it becomes huge—and thus the jelly nail takeover began.

To achieve the see-through nails that some also refer to as "glass nails," you can add a clear tip to your nail or sculpt the tip with clear gel, which creates the jelly-like look. From square and stiletto, to oval and embellished, there are plenty of ways to rock the new trend and personalize them to your taste. For those who don't want to commit to a passing fad, there are also press-on jelly nails that are making the rounds and look just as good as the gel and acrylic versions.
Tell us, will you be trying out the #jellynails trend? Check out some of our favorite looks from IG below:
*Featured image by @nailedbybwoc