---
Miss Jackson if ya Nasty!
Ladies and gentlemen- she's backkkk!
For those of you who were left a little underwhelmed after Beyonce's 'GMA' announcement last week, don't worry- Janet Jackson has made an appearance today and she comes baring gifts!
After fans began to panic and put out an APB for the beloved Janet Jackson last month, the 49-year-old singer and wife to billionaire husband Wissam al Mana announced that her 'Unbreakable World Tour,' will kick off this summer and go all the way into the fall. The 36-city tour comes just seven years shy of Janet's last studio album, 'Discipline,' and we're pretty excited to see what Ms. Jackson has to offer after all these years, especially considering that Janet is a married woman now! We're still in lust off her 2001 tour which served  '50 Shades of Janet,' during her "Would You Mind," routine as she incorporated everything from intense dominatrix influences to lap dances so incredibly sensual, that at least 5 men's souls still remain on those stage to this day.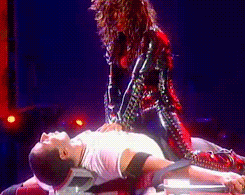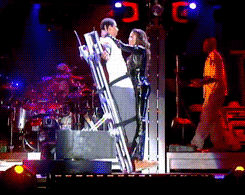 Miss Jackson's tour will kick off August in Vancouver and wraps up in Honolulu in November, with pre-sale going up as early as next Monday.
Just last month, Janet confirmed that she had something special in store for fans, who were beginning to wonder if she'd gone "missing,"
Yeah ya'll, she was lost alright.. lost in love!
Hearing the message loud and clear, Janet dropped a cryptic video on the day of her 49th birthday back in May, saying:
"I promised you'd hear it from my lips, and now you will. This year: new music, new world tour, a new movement. I've been listening. Let's keep the conversation going."
And for those concerned about Janet's trueness to her return, the singer started the hashtag #ConversationsInaCafe, which fans suspect is the title of her new LP. She also uploaded a video of dancer auditions for her tour, just in case die-hard Jackson fans can't believe the news.
Push. Through. Miss. Jackson.
Peep the tour dates below:
Meanwhile, although we ain't never worried about a little age stopping a few tricks, splits and hip dips from Janet, we are wondering if being a wife might slow down some of her more sexual tour elements. Hmm.. well, we can only wait to see.
Meanwhile, peep some of Janet's top tour and performance moments on the next page.