I'm going to let you finish and all, but James Wright Chanel had the best Thanksgiving of 2015!
From singing about Patti's pies, to singing and dancing with Patti LaBelle, James' voice bought him a one way ticket to an epic holiday dinner that he'll be sure to "sing" about for years to come.
---
After going viral just a couple weeks ago for his soulful review of Patti LaBelle's "Sweet Potato Pie" (and helping the Walmart pies sell off the shelves for weeks after), James Wright Chanel got the ultimate birthday gift of a lifetime when he was invited to Ms. LaBelle's  annual Thanksgiving dinner–and trust, it was just as opulent as it was soulful:
Now, for those of you who don't know, before there was "Chef Curry with the Pot," heck, before there was even Miss "Patti with the Pies" herself, Chef LaBelle was in that kitchen slanging collard greens and things, and creating hot sauce from scratch. Just a few days ago, the legendary singer shared with The Breakfast Club what her dinner guests could expect from her handmade Thanksgiving menu:
Fried Turkey
Fall-off-the-Bone BBQ Ribs
Lobster and Shrimp Mac and Cheese
"Regular" Mac and Cheese
Her Famous Potato Salad
Kale Greens that'll make you scream
Leg of Lamb
Yummy Yams
...and of course those special, Philly-based, handmade, sweet potato pies!
And it appears she was sure to deliver:
Lawd! You know it's real when you're worth well into the 8-figures and you still keep the food in the aluminum trays you cooked them in. #CateringDishesForWhat? Soul food game-proper!
The 36-year-old Youtube sensation had the pleasure of being a guest alongside Patti's family and close friends, including The Roots' drummer Quest Love, who appears to have fully taken in this moment just as much as James, seeing as to how it was his first time for Patti's Thanksgiving as well:
However, the evening consisted of more than just delicious food and fancy decor. Along with decorative plates and an evening that was more reminiscent of a wedding reception than a Thanksgiving dinner, James and Patti did more than just say grace, they sang it. The duo belted out a number go songs from Patti's extensive catalog, including "On My Own," "You Are My Friend/What a Friend We Have in Jesus," and even shared a dance:
And in the end, although James was surrounded by love, light and song with his favorite lady, he was also presented with gifts by her as well. The 71-year-old musical icon and everyone's favorite Auntie gave James a birthday cake and some special gift bags for being a guest in her home–and we ain't talking the type of gift bags that got candies and toys.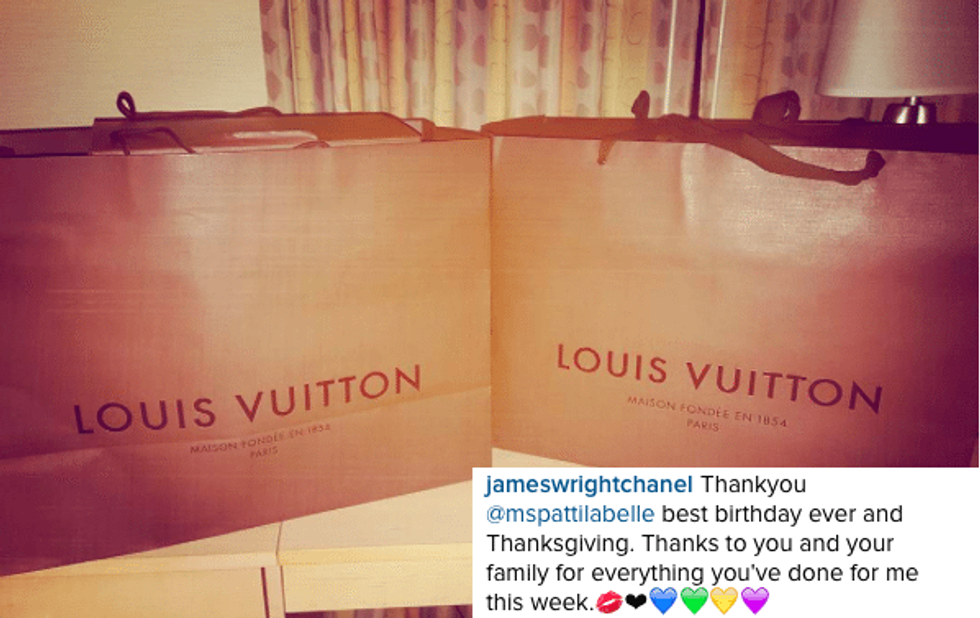 Amazing!
One thing I noticed in all of this, is that although James seemed more than beyond elated to meet, sing, dance and eat with his role model, people in the comment sections still asked "Where was the money?" As many know, James' review of Patti's pies helped skyrocket the popularity of the baked goods, leading to a drastic spike in sales.  Even Patti couldn't help but point this out recently on Fox 29:
"My new friend James Wright did this fierce video and took the pie over the top and people are losing their mind over the pies and thank you James. You give love to people who give you love, and you know, I didn't expect a viral video."
However, what people must understand is that as ironic as it may seem, when distributed at the wrong time, money can actually cheapen a beautiful moment. Everything James did was out of the kindness and fandom of his heart, and Patti's response was equally as generous and genuine. People should understand that not every gesture is measured in currency. Besides, we don't know what's in those Louis bags, so relax (just kidding!)
Overall, congrats to James and his big day with his main lady, Patti!
How did you all spend your Thanksgiving?