Once again, the Oscars has been white washed, and everyone is sick of it.
---
Just like last year, many people are crying foul after the Academy voted for zero black actors in top categories when the announcements were made Jan. 14. It was a great year for people of color in films, especially when four of 2015's 25 top-grossing movies starred a minority in a leading role. As a result, moviegoers and entertainers alike took have taken to social media to vent their frustrations. From that we saw the hashtags #OscarsSoWhite and #OscarsSoDumb pop up across social media platforms.
On Martin Luther King Day, actress Jada Pinkett-Smith posted a Facebook video to give her take on the matter, while also announcing that she would not be attending this year's ceremony. She said that she couldn't help but wonder if people of color should start thinking about letting the Academy "do them" while we "do us."
First of all, Miss Thang, does your man not have a mouth of his own with which to speak? And the second thing is, girlfriend, there is a lot of s*it going on in the world that you all don't seem to recognize. People are dying, our boys are being shot left and right, people are hungry, people are starving, people are trying to pay bills, and you're talking about some mother f*cking actors, and Oscars. And it just ain't that deep. 

And here's the other thing, for you to ask other actors, and other "blacktresses," and black actors to jeopardize their careers, and their standing in the town that you damn well that you don't do that. And here's the other thing, they don't care. They don't care! And I find it ironic that somebody that has made their living...made their living, and millions of dollars from the very people that you are boycotting just because you didn't get a nomination? Just because you didn't win? That is not the way life works, baby!
Whew! Talk about reading someone to filth. Even Twitter watchers were on the edges of their seats following Janet's response.
Jada Pinkett Smith watching the Aunt Viv video like: https://t.co/aJ2hWTxJkG

— NickG (@NickG)1453185709.0
Here's the thing we all need to remember: even if Will Smith wasn't nominated for an award, the Academy has run out of excuses for its diversity problem, and a lot of people see it. There are rave reviews for Creed, Straight Outta Compton, Beasts of No Nation, and Concussion, and other films like The War Room, The Perfect Guy, and Compton topped box office sales. Either way, it does not assuage the feelings of those who are pissed that no people of color were nominated for top Oscar's categories.
Take a look at what other stars had to say about the lack of diversity at this year's Oscar's ceremony below.
ACADEMY PRESIDENT CHERYL BOONE ISAACS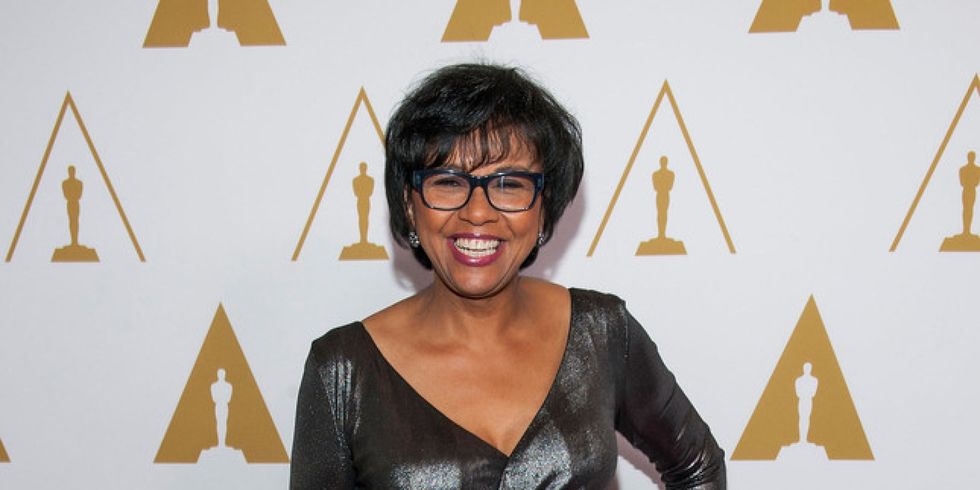 It's safe to say that Cheryl saw the fallout from the lack of diversity for oscar nominees coming from a mile away. According to The Hollywood Reporter, she said in a statement released on Martin Luther King Day,
"I'd like to acknowledge the wonderful work of this year's nominees...While we celebrate their extraordinary achievements, I am both heartbroken and frustrated about the lack of inclusion. This is a difficult but important conversation, and it's time for big changes.

"The Academy is taking dramatic steps to alter the makeup of our membership. In the coming days and weeks we will conduct a review of our membership recruitment in order to bring about much-needed diversity in our 2016 class and beyond," Boone Isaacs said in what amounted to a rare and unusual move on the part of the Academy.

"As many of you know," she continued, "we have implemented changes to diversify our membership in the last four years. But the change is not coming as fast as we would like. We need to do more, and better and more quickly."
ICE CUBE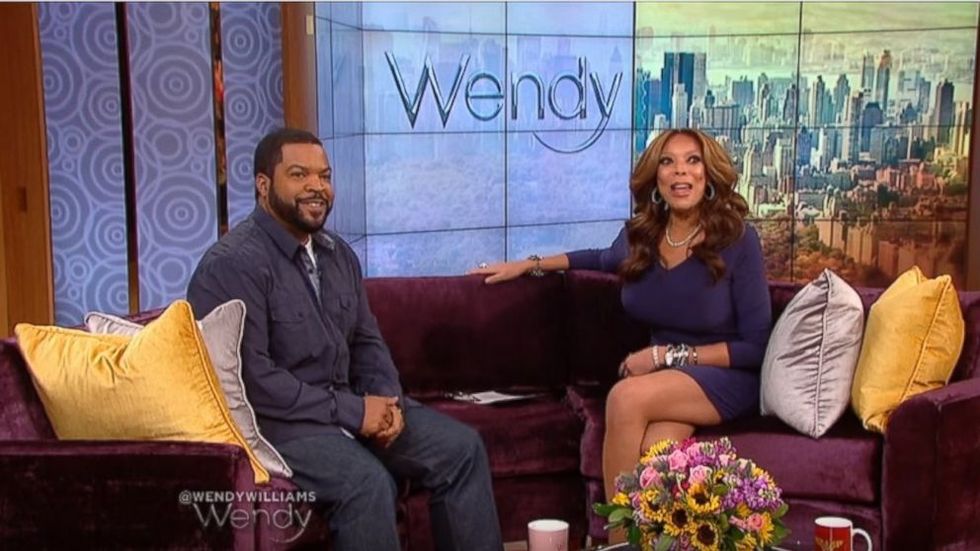 Box office sales proved that audiences loved seeing the stories of Ice Cube, DJ Yella, Dr. Dre, and MC Ren's life being chronicled in the N.W.A biopic, Straight Outta Compton. The movie opened at No. 1, and racked up a gross sale of $200 million - the highest grossing music biopic in history. Unfortunately, it only received a Best Original Screenplay nomination, which left Ice Cube shrugging his shoulders. He had this to say about the snub on the Wendy Williams Show.
"I'm not pissed...It's the Oscars, they do what they do. The people love the movie, the people supported the movie...

"It is nice to be recognized, but N.W.A is anti-establishment so we're used to people trying to dismiss what we gotta say, used to the industry looking down on us," he said. "We were the black sheep of the industry and we're used to it. If we didn't get nominated, that would be familiar territory."
WILL PACKER
(From left) Ice Cube, Will Packer, and Kevin Hart on the red carpet for "Ride Along 2"
Straight Outta Compton and Ride Along 2 producer Will Packer took to Facebook, and said that the lack of diversity at the Oscar's is an embarrassment.
To my Academy colleagues, WE HAVE TO DO BETTER. Period. The reason the rest of the world looks at us like we have no clue is because in 2016 it's a complete embarrassment to say that the heights of cinematic achievement have only been reached by white people. I repeat—it's embarrassing. It's unfair to the performers of color who sacrificed so much, laid it all on the line AND DELIVERED with their projects this year. It's also unfair to the white actors, writers, producers and directors who gave everything they had to create career defining content only to have it marred by the fact that a lack of diversity calls into question the legitimacy of The Academy's choices.
TYRESE
Tyrese took to Instagram to join the conversation as well. He has been trying to create conversations of inclusion in the music industry for a while, and he believes that the music and movie industry has the same diversity issues. He had this message for any person afraid to speak about diversity in Hollywood:
#OscarsSoWhite..??? Mainstream Radio?? only playing white artist when THEY sing R&B Soul???? This is modern day racism.. I fear NO MAN.. I fear NO SYSTEM. I don't seek your validation and I don't need your approval.. But I won't sit down and sit ON my hands and just let this ALL go down without speaking On it.. It's really really sad to see that press and media coverage that Donald Trump is getting when he CLEARLY doesn't represent the VOICE of America.. Is Chris Rock still gonna host the oscars after this blatant racism?? Is everyone still gonna show up?? In this town I guess it takes homosexuals to be discriminated against in Oder for someone to finally step UP and wanna do something... You have to take your hat off to the homosexual and gay community cause right now they're as strong as black people USE to be when it comes to their rights... Don't just talk... Walk!
SNOOP DOG
Snoop Dog jumped in the conversation to offer support to Jada Pinkett Smith, and also say that he felt the same way about the Grammy's. He said,
I normally don't make comments on political shit, or shit that be going on in the media, but I watched my sister Jada Pinkett speak on the Academy Awards, and how they don't...they don't really f*ck with black folks. But they use us for how they use us. I feel the same way about the music industry about the Grammy's. They're nominated for 16, 17 Grammy's, but never won one. So I kind of, like, feel what she's saying as far as great performances never being acknowledged. 
Then he went into a vulgar "f*ck the Oscars" rant, because he's Snoop, and that's what he does - he says exactly what's on his mind, and doesn't mince words.
SPIKE LEE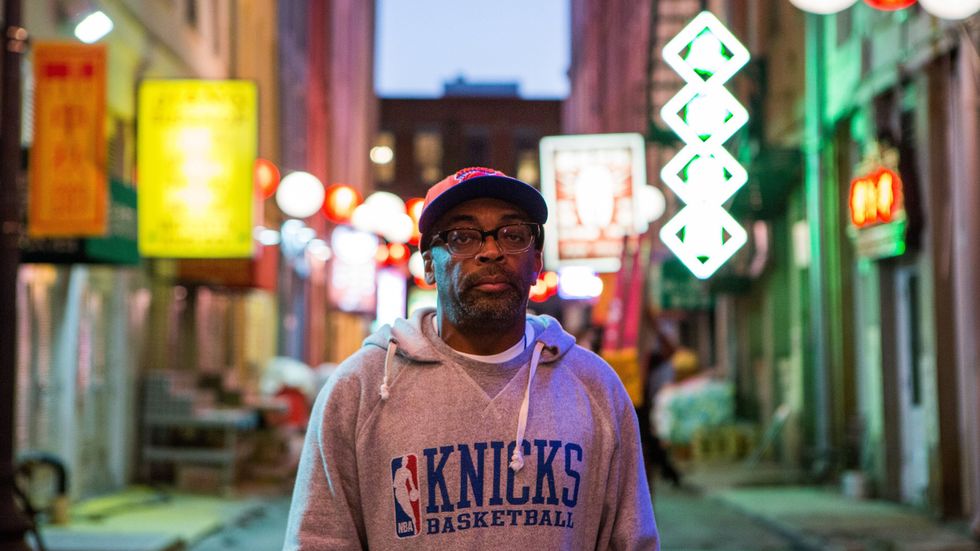 After Jada announced that she would be boycotting the Oscar's, Spike Lee took to Instagram to thank the Academy for his honorary Oscar, and also announce that he also wouldn't be attending this year's ceremony. He said,
How is it possible for the second consecutive year all contenders under the actor category are white? And let's not even get into the other branches. 40 white actors in 2 years and no flava at all. we can't act?! WTF!! It's no coincidence I'm writing this as we celebrate the 30th anniversary of Dr. Martin Luther King Jr's Birthday. Dr. King said, "There comes a time when one must take a position that is neither safe, nor [political], nor popular, but he must take it because conscience tells him it's right."
NEW YORK CITY MAYOR BILL DE BLASIO AND FIRST LADY CHARLENE McCRAY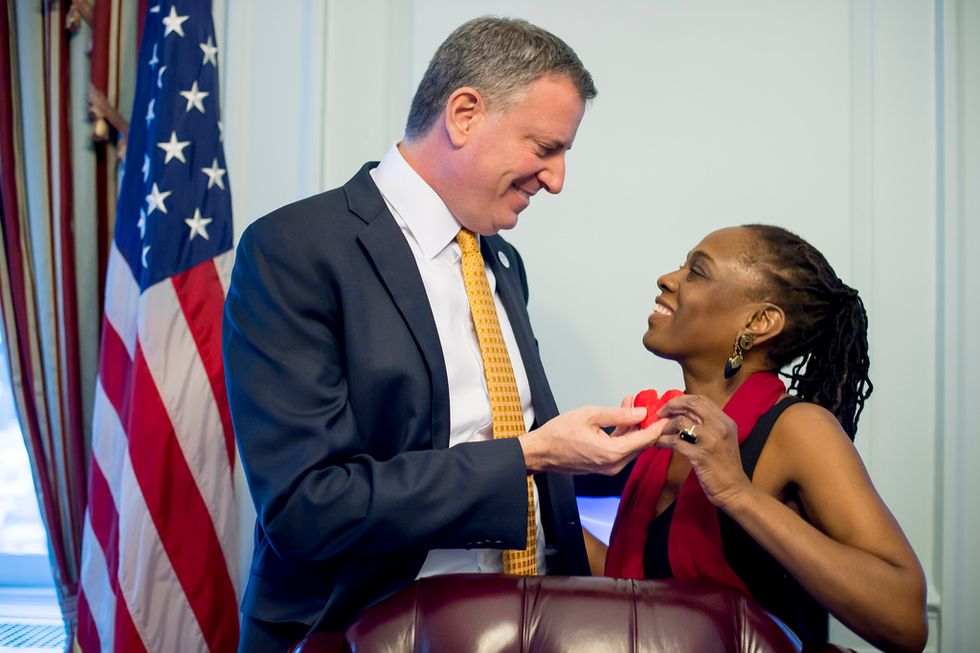 Both Mayor De Blasio and his wife were upset with the Oscars lack of inclusion this year. First Lady started the conversation by Tweeting,
👩🏼👩🏼👩🏼👩🏼👩🏼⁉️ https://t.co/btrwwnx5Bw

— Chirlane McCray (@Chirlane McCray)1452808914.0
The ladies are talented, but they do not even begin to represent or reflect the diverse and amazing talent of America 2016.

— Chirlane McCray (@Chirlane McCray)1452808944.0
Mayor De Blasio responded to his wife's Tweet another Tweet that almost caused smoke alarms across the social media platform.
Hollywood fine with taking $ from people of color. Also apparently fine with ignoring their talent. #OscarsSoWhite https://t.co/LzTpQs3rmE

— Bill de Blasio (@Bill de Blasio)1452886473.0
 CHRIS ROCK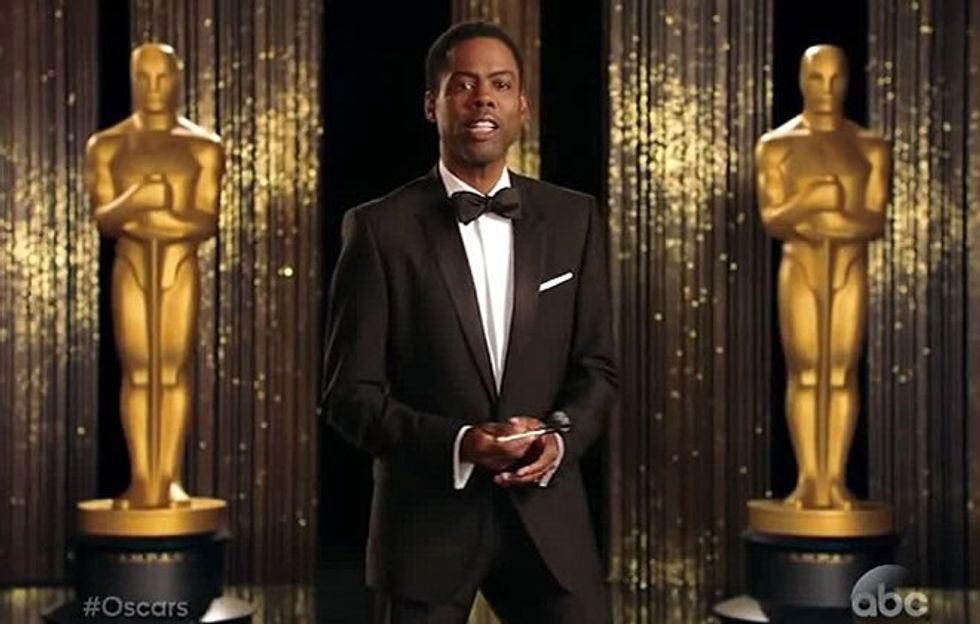 There is talk around Tinsel Town that Chris Rock may drop out as the host of the Oscars ceremony. Although he did Tweet that the Oscars were "The White BET Awards" in response to the lack of diversity in the Oscar Awards nomination categories, a source told Naughty Gossip that Chris Rock feels intense pressure to bail on his gig. 50 Cent has even begged the comedian to give up his hosting duties. But Chris isn't going to do it. The Naughty Gossip source said,
"Chris is listening to what they have to say, but thinks he will have a bigger impact by doing the show. He thinks it is easier to make a difference from the inside. Chris has already started to write white people jokes for the show."
Oh this is going to be one memorable show!
DAVID OYELOWO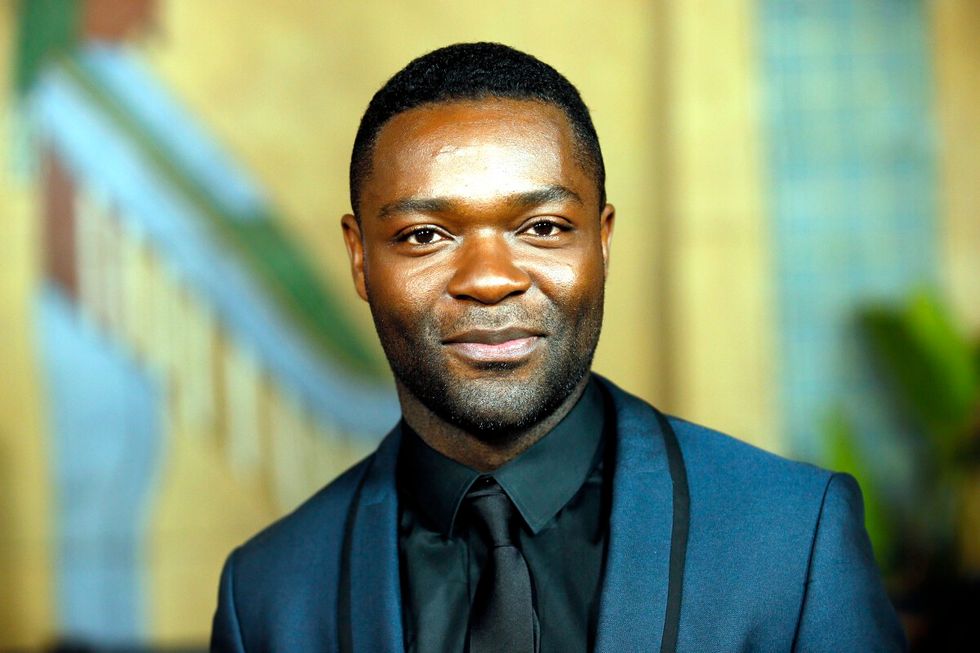 The British actor, famous for his role as Rev. Dr. Martin Luther King Jr. in the Ava DuVernay film Selma, had a lot to say about this topic at the King Legacy Awards in January. As he was presenting Academy President Cheryl Boone Isaacs with an award named after civil rights icon Rosa Parks, he revealed how he felt about zero actors of color being nominated by the Academy this year. According to The Hollywood Reporter, he said,
 "A year ago, I did a film called Selma, and after the Academy Awards, Cheryl invited me to her office to talk about what went wrong then," he said. "We had a deep and meaningful [conversation]. For 20 opportunities to celebrate actors of color, actresses of color, to be missed last year is one thing; for that to happen again this year is unforgivable."
WHOPPI GOLDBERG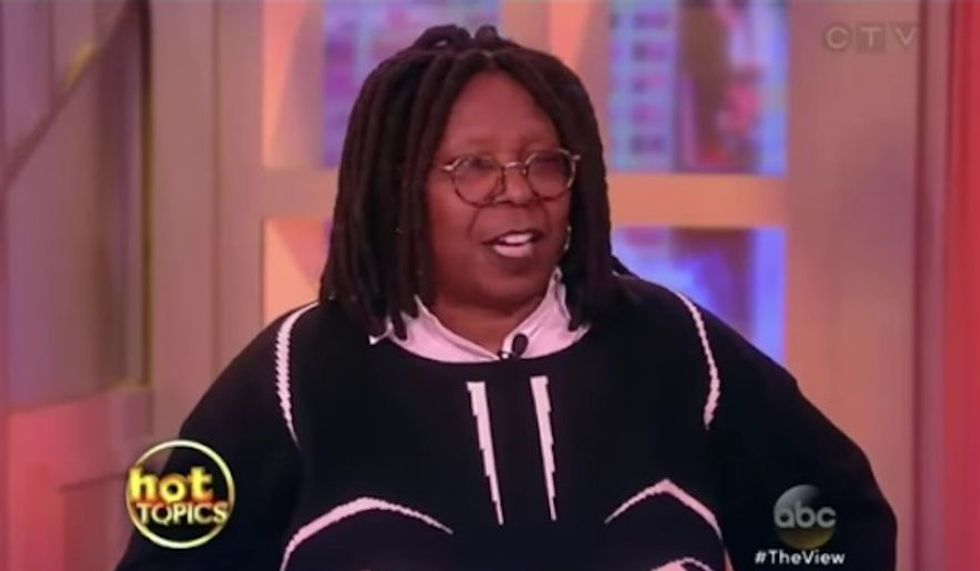 If you weren't watching The View on Jan. 20, then you basically missed how angry Whoppi was with this hot issue. She was very salty, and even low key insulted her co-host Candace Cameron-Bure. Ouch! According to The Hollywood Reporter, she said,
"We have this conversation every year, and it pisses me off...There's not a lot of support for little companies that make movies that may be more diverse than anything else, but you can't bitch about it just at Oscar time…I am mad! So don't be surprised."

"...If there's more than two black people in a movie, I'm telling you…. There has never been, in the history of movies, a plethora of black movies made because people believe we don't want to see movies with black people in them. So until you start making movies like The Avengers where you see more than 70 white folks saving the Earth. And I am mad about this, you know why, because I would like to be one of those people saving the Earth, but they're not coming to me."
When Candace tried to move the topics along, Whoppi was not letting her off that easy, because she wasn't through saying what she had to say with her chest. At one point she told her conservative Christian co-host,
"Well you know what, I talk about God, you gotta talk about these damn movies."
After the segment ended, and the crew came back from a commercial break, Candace was noticeably missing from the table, which had people buzzing about whether or not Whoppi hurt her feelings. Candace later Tweeted that she left the table because was sick with the flu and had low blood sugar. But the timing was definitely off.
GEORGE CLOONEY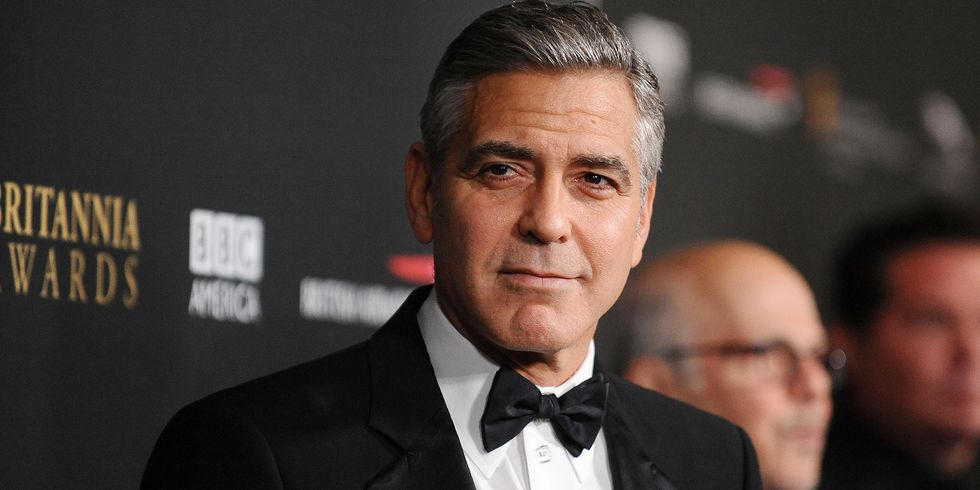 Variety asked George Clooney about on his thoughts on the hot button topic, and he agreed with most of the people  who say that the Oscars has a real diversity problem. He also said the same thing Viola Davis said in her 2015 Emmy's speech: There needs to be more opportunities for people of color in films. He also said,
Let's look back at some of the nominees. I think around 2004, certainly there were black nominees — like Don Cheadle, Morgan Freeman. And all of a sudden, you feel like we're moving in the wrong direction. There were nominations left off the table. There were four films this year: "Creed" could have gotten nominations; "Concussion" could have gotten Will Smith a nomination; Idris Elba could have been nominated for "Beasts of No Nation;" and "Straight Outta Compton" could have been nominated. And certainly last year, with "Selma" director Ava DuVernay — I think that it's just ridiculous not to nominate her.

But honestly, there should be more opportunity than that. There should be 20 or 30 or 40 films of the quality that people would consider for the Oscars. By the way, we're talking about African Americans. For Hispanics, it's even worse. We need to get better at this.
What do you think about the lack of inclusion for this year's Oscar's nominees? Which performers and directors do you think were snubbed of an award? Sound off in the comments.