---
It's pretty understood that the culture perceives Issa Rae as a giant; a cultural phenomenon. And we hold her on that pedestal because she just so happens to perceive the culture as exactly the same. She puts absolutely nothing before us, and we trust that about her. We know how she gets down, and we know that her pivot game is incomparable. She is purely unparalleled.
And if diversifying everything she gets her hands on doesn't keep her busy enough, she somehow carved the time to speak with Rolling Stone for the cover of their May issue.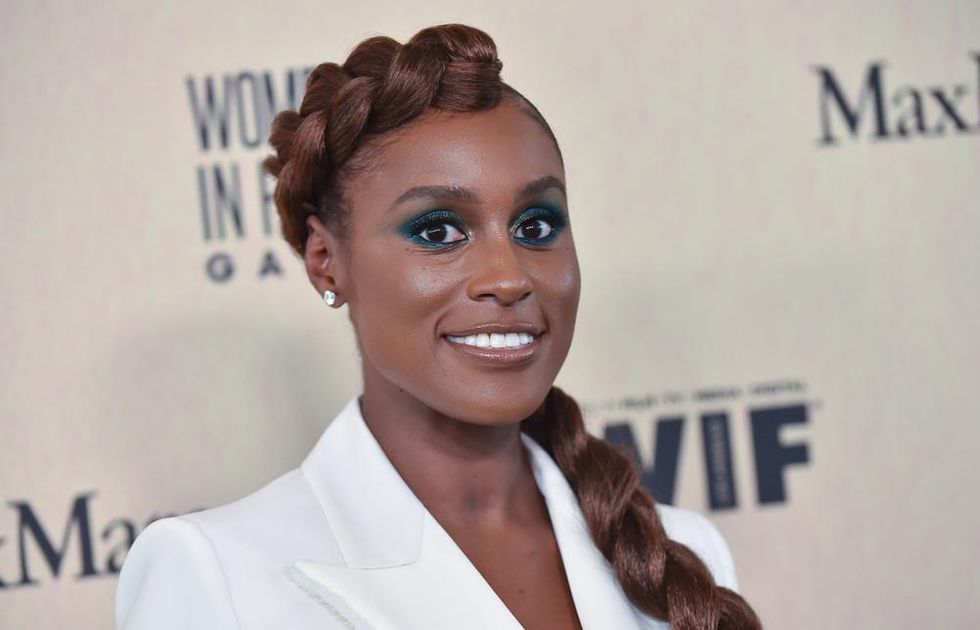 DFree / Shutterstock.com
Donning a latex-tight metallic blue turtleneck, she reminded me of a superhero. Or maybe it's just that that's how I always see her. But anyway, there she was.
In the interview, which took place at her pool over a bottle of prosecco, she discusses everything from work-life balance and being a better friend, to her start in entertainment and wishing she never told the world so much about herself.
Continue reading for our favorite highlights!
Issa on balancing multiple projects with being a good friend:
While admitting she was striving for more balance a few years ago, Issa says she failed--especially now that her workload is at its heaviest. And sis is starting to believe that she may just be built this way.
"I'm just always thinking about work. I was always like this. [In the past] it was like, 'I need to work to make sure I have the means of affording a place to live.' [Or] 'This didn't work, what's the next thing I can do?' I think that's just how my mind works. That's Capricorn shit. Workaholic shit. If you have any suggestions, let me know. I've fallen short because I'm so used to [them] accommodating this in-person dynamic. So this year has tested who I am as a friend and really made me realize, 'Oh, I'm not considerate in this way, and I can do more here.'"
On being a product of "Internet Culture":
"I know how I am as a consumer, as a stan of people, and what I look for. I had the foresight to shield myself from what anybody who was looking for anything on me would try to find, because I know this culture. Internet culture is weird and malicious. I've just worked really hard to protect myself from the ugliest parts of it."

On the opportunities that came from 'Awkward Black Girl' and the biggest lesson she's learned in entertainment:
Although ABG is how she got her start in entertainment, the opportunities that came from the series, almost altered the Issa we know today.
"I was so focused on what I felt like fit their network that I didn't focus on the story I wanted to tell," Rae has said. "I was eager to please, and that made my voice kind of irrelevant, and the reason they brought me in in the first place was to have something to say. I had to realize I have a specific point of view, I have a specific story to tell, and I need to tap into that."
"This industry is built on exclusion. Knowing people is such a currency, and if you don't know anybody, you're just left to fend for yourself."
On new City Girls'-based television show:
"[Jermaine Dupri] coming out and criticizing female rappers for only talking about their pussy, I was just like, 'This is so unfair.' So that inspired the writing of it."
She continues:
"I guess I feel more empowered in the film and television industry," she says. "We have our own problems, but it is nothing like the music industry. I'm in awe every single day of just, 'Y'all can do this? This can happen, and it's still going to happen?' I have a lot of catching up to do. That feels exhausting in a different way."
On the new season of 'Insecure':
"We're not telling a Covid story. I had fatigue."
Same, sis.
On being protective of her personal life: 
One of Issa's biggest regrets is that she told so much about her personal life in her book, which she only wrote because she never expected so many people to read it. And sis talked about it all, from her experience catfishing random men in chat rooms as a preteen, to her discovery of her dad's affair.
"It felt like I was writing journal entries. The 24- through 27-year-old version of me will live on through a book. My opinions, whatever whimsical thoughts and notions, will live on forever. That's what I don't like about it."
Now, Issa is more, cautious, especially about her engagement to businessman bae, Louis Diame (which she never introduces to the interviewer, but is present).
"I just feel superprotective of any relationship I'm in. That's come from observing and making fun of people over the years who broadcast the most intimate parts of their relationships, then are left with egg on their face. I call them the 'me and my boo' people. Let me embarrass myself. Don't let a nigga embarrass you. That's always been my focus."
A wordddddd, sis!
Are you a member of our insiders squad? Join us in the xoTribe Members Community today!

Featured image by DFree / Shutterstock.com