How adorable are these fun-sized versions of our most honorable historians and Hollywood faves?
---
The photos, created by Maryland native Eunique of "Eunique Jones Photography," feature miniature versions of some our culture's most larger-than-life, past and modern day figures, including Muhammad Ali, Run DMC, The Freedom Riders, Richard Pryor and Zora Neale Hurston. Who can forget the recent video of kids reacting to Stacey Dash wanting to cancel Black History Month?
But how did this all come about?
In our sit-down with Eunique, the former marketing advisor-turned-photographer revealed that she was inspired to create the photo collective to pay tribute to African-American influencers. Although she wasn't sure what the feedback would be, her "aha moment" was when her photos were recognized by Ms. Pope herself.
"I think the 'A ha!' moment for me was when.. I was sitting in this meeting [at work] and Kerry Washington is tweeting me... I knew then there was too much potential going on this campaign."
When Olivia Pope calls, you answer!
Catch our exclusive chat with Eunique, the brainchild behind the campaign, plus more pics below:
On How She Came Up With The "Because of Them We Can" Campaign
When the Trayvon Martin incident hit, I, of course, as a mother of two black boys was furious. But being a positive person trying to look for a positive way to actually channel that energy and anger and give other people a positive way to express it, came up with the "I am Trayvon Martin" campaign…
Fast forward a year later, being inspired as a mom by my own sons and their ability to pursue any dream as a result of all the great things our people have done up until now and will do in the future inspired [me] to do the "Because of them we can" campaign.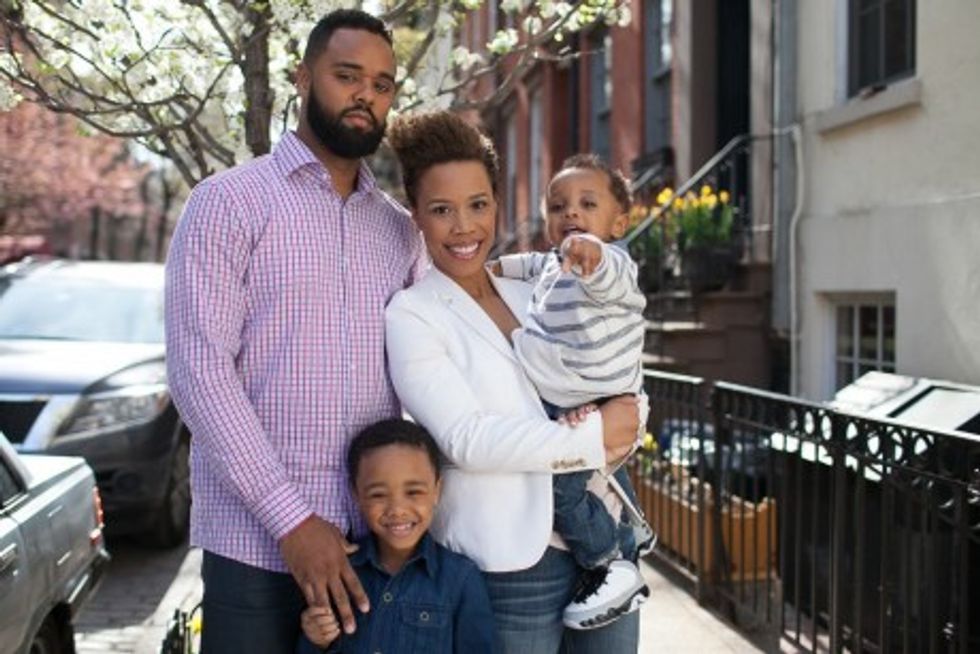 On Where She Draws Inspiration for Her Campaign
99.9 percent of the inspiration comes from my sons… Looking at my boys, who were both born during the President Obama election and re-election, they have this amazing opportunity. Like, [growing] up, we didn't see that. I didn't know what a black president looked like. But my sons will think it's strange when the next election takes place if there isn't a black president because that's all they know. So I draw 99 percent of my inspiration from them.
[easy-tweet tweet="Growing up, I didn't know what a black president looked like. But my sons, that's all they know." user="- @EuniqueJG"]
On if she expected for the campaign to be as big as it is
Absolutely not! I had no idea that it was going to be as big as it is. I knew it would go viral because I thought it was innovative and people would have an appetite for it [but] I had no idea that it would be this big. No idea that it would go this far… I'm humbled each day that I move forward with it.
On What Shoot Has Been Her Favorite Thus Far
That's a hard one! I'll say there are a couple. One was my son. Who stood in as little Muhammad Ali. [He] kicked the whole campaign off.  For me to put him in that robe, it just kind of
took me aback. And probably the Freedom Riders because that was our first [shoot] where we actually had an integrated picture where we incorporated some Caucasian kids. That one kind of gave me chills. The Spike Lee [shoot]- the little boy looks just like him. Totally channeled him!
This one kid who portrayed Richard Pryor, he was a lot of fun to shoot too. Because he was like… a little comedian. The whole shoot he's just laughing and pointing fingers at the camera. He totally got it at like, three or four years old.
So those are some of my favorites [but] all the pictures are awesome to shoot. The people that are currently living- those are fun but they are also stressful because I know they can probably tweet me or call me [laughs] so I want to make sure I do it right.
On What Challenges She Faces During Shooting
The younger ones are very challenging [but] they are so cute. Like Little 'Assata Shakur'. She's 18 months and she has this big funky afro and you see the picture… but you don't know that behind the scenes she was not feeling it. She did not want to sit still. She didn't want to look at the camera. So I literally had 10 seconds to get that picture because she was over it when she walked in the door. So all the behind-the-scenes action is very fun and challenging but the end product is very rewarding.
It's also challenging trying to get the little itty-bitties to understand what they are doing. Like 'Hey, do you understand that you're portraying the person that did XYZ?' and trying to talk them through it… But the older kids, they get it… They totally channel the individuals because they studied them before they came in for the shoot.
On Her Most Memorable Moment(s)
Frederick Douglass' great-granddaughter sent me a message like 'Thank you so much for including my great-great grandfather.' That was like a 'wow' moment. Or Harry Belafonte posting and saying he's honored to be included in this campaign. Having people we still look up to, to this day, saying 'I'm honored to be a part of what Eunique is doing.' I think the 'aha' moment for me, when I realized I might have to keep this going.. I was sitting in a meeting and my phone kept going off. And I'm in this meeting and I look [at my phone] and I see that Kerry Washington posted [the picture] on Instagram… I was like 'I'm not supposed to be here [at work.] I'm not supposed to be sitting here right now. This isn't gonna last long.' There is too much potential and too many different messages to get out through this [campaign]. So sitting in the meeting and Kerry Washington is tweeting me…
How the Stars React to Her Images
The feedback is [great]. One of my sorority sisters bought the picture and she gave it to [Spike Lee] because she had his class at NYU. And she's like 'Hey, I know the artist.' And he was like 'Well, if you know the artist, why isn't it signed? Why isn't it framed?' So I jump on the train and I go to his class. And I had Spike Lee asking me if I can sign his picture… Of course he made me sit through his whole class after. [laughs] That was a very humbling moment.
On her goals for the campaign
[I want] to build this movement block-by-block and innovate these kids with these images whether it be on billboards or television. There are so many different conversations taking place now because of this 'Because of Them We Can' Movement… All kids need this. Whether they're black, White, Asian or Native American- this is something that can really expand and become inclusive of all races.
Peep more of Eunique's amazing photos below and be sure to get familiar with the campaign over at becauseofthemwecan.com
Interviewed by Soraya Joseph