"I wish I could tell my sister that she's not dirty."
The worst thing that can happen after one is sexually abused-- is nothing at all.
---
Recently Emmy-award winning actress Viola Davis opened up about the sexual abuse of her then eight-year-old sister and the downward spiraling events that took place after. The How to Get Away with Murder star stopped by a benefit at the Stuart House, a nonprofit that partners with The Rape Foundation to support child victims of sexual abuse. The 50-year-old actress vividly recalled the beautiful day turned nightmare, when her younger sister came rushing home after an attack:
"I have a sister, who, when she was eight-years-old, put on some rollerskates with her friend, went down to the corner store at 1 o'clock in the afternoon, went into the store, and was sexually assaulted in the store. She came home and she told my mom. My mom ran down to the store, started screaming at the store owners and they said: 'Leave that man alone. He does that to all the little girls.' And then my mom proceeded to flag down a police officer. They found the man. They put him in the car. I saw my little sister crying. My mom was crying, too. And that was it."
"Leave that man alone, he does that to all the little girls," -- wait, what? I literally felt sick to my stomach when Viola recited these words, as I instinctively wished for a chance to go back in time, to that exact scene, and burn that very store down to the ground!
As Viola continued detailing the horrid events, she spoke on how she was a first-hand witness to a very "precocious, very intelligent and creative," child turn into a drug addict by 20-years-old. Now 39, Viola claims that her sister is a a prostitute and IV drug user, with a total of six kids all in the custody of social service.
"And then from there, a precocious, very intelligent, very creative child grew up to be frail, angry, a drug addict by the time she was 20. Six children, all of which have been taken by social services. A prostitute. An IV drug user. You know, memories demand attention, because memories have teeth. And in my vision, and in my dreams, when I pray for my sister . . . you pray in general terms. You pray that she finds peace and love and happiness, she gets off drugs. And then of course you open your eyes, and you're like, she's still on the streets."

I wish she had had the Stuart House to throw her a rope, because her whole life could have been different... And I guess if there was anything I was going to speak about today, I'm going to speak about my sisters of the world. The people who fell through the cracks. The people who didn't have a Stuart House."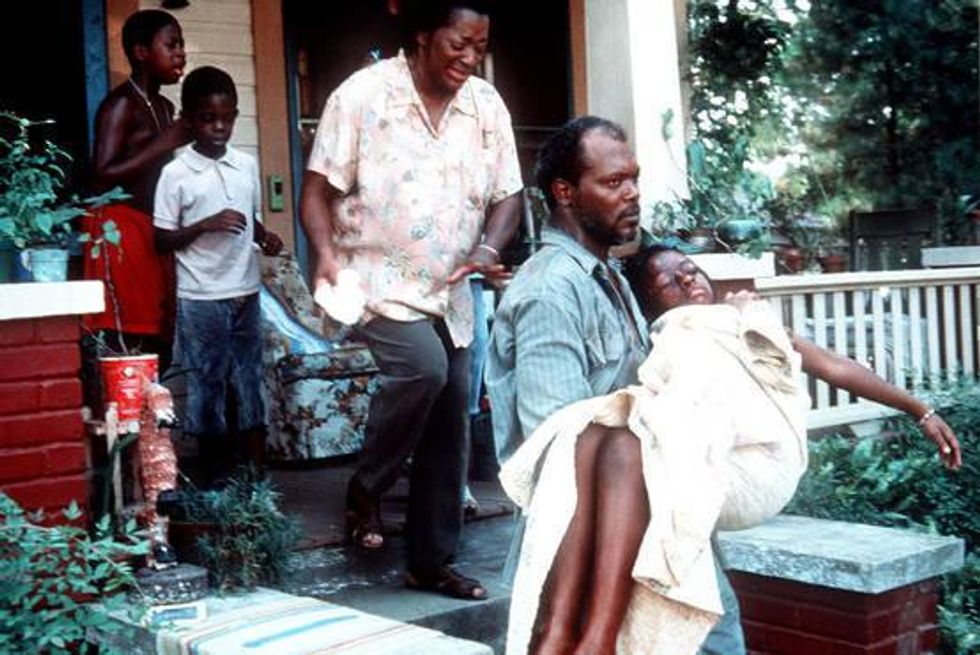 Samuel Jackson as 'Carl Lee Hailey' with daughter 'Tonya Hailey' in the movie "A Time to Kill" after 8-year-old Tonya was raped on her way home from the grocery store
Viola closed the speech in a small prayer, saying that she wish she could affirm her sister of her innocence in all of this, despite if society's failure to punish her abuser made her feel else wise:
"This is a day the Lord has made, and I'm going to rejoice and be glad in it, because I wish I could tell my sister that she's not dirty, and that she should not feel any shame for something that she literally was not responsible for. I wish I could save her life."
Viola's testimony of her sister is tough to take in. Even tougher is that the actress speaks of her younger sibling as though she is no longer here, mainly because a part of that little girl remains somewhere in that small shop where she was abused 31 years ago. This is clearly an example of lethal silence, and how not talking can prove to be toxic. It also shows the power of a memory when we do not fully come to to grips with our past, allowing it to ruin the gift that is our "present."
However, there is still hope!
Viola's story reminds me of Tisha Campbell-Martin's own testimony to rape. Just this past September, the 46-year-old actress came to grips with her own abuse, which took place at the tender age of only three-years-old. The actress, who recently received an apology letter from her much older abuser nearly 40 years later, decided to release a song and video entitled "Steel Here," scribbling parts of the letter on her chest, symbolic of her willingness to let go of her past: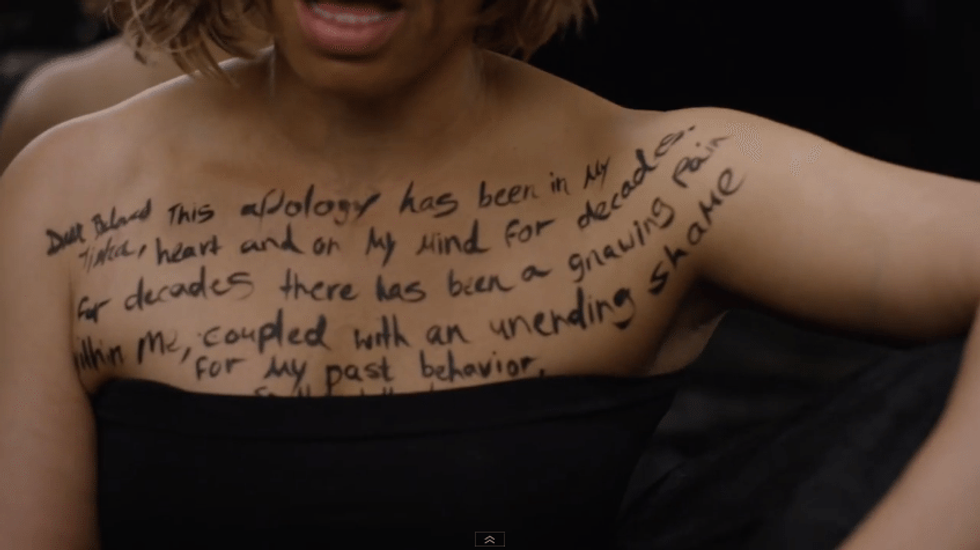 Tisha, who said the abuse caused her to be bulimic and depressed for many years, opened up on The Daily Helpline Talk Show to offer advice to others dealing with the aftermath of sexual abuse:
"You can no longer be a victim, you have to be victorious at this point. You can't play the victim cause at this point, I'm not saying this to put you down or anything. What I'm saying is he's winning, and you are allowing him to win. You are making a conscious decision to harm yourself, to hurt yourself and allow this person to still have dominion over your life. You can't do that anymore."
Hopefully Viola's speech and Tisha's testimony will help others come to terms with getting the proper help and closure with their abusive pasts.
Watch Viola deliver the moving speech below!