As a black woman, hair has been a huge point of contention with regards to my personal style for many years in life.
---
Let's face it--if our hair's not done, we either aren't going out or aren't dressing up. One day, the natural hair wave caught me and I went for the "big chop." I quickly embraced my short cut and my style blossomed along with it but, as with any hairstyle, I soon wanted a refresh.
Initially, I dyed it red, a safe choice and a doable home-kit solution. But even still, I wanted to upgrade to something bolder and was hell-bent on going pink. After tons of research looking at hair articles, natural hair vloggers and talking to friends with daring colors, I took the risk of dying it myself. Through my research, I learned that in order to obtain the vivid color I wanted, I would have to bleach my hair first, something that I had never tried on my own. Bleaching is a chemical process that strips the hair of its natural color through oxidation and I was terrified to do it. Hell, I didn't even perm my own hair back in the day and now I somehow had to muster the guts to bleach it?
I was leaving later that day to fly to Vegas for my birthday and figured if it didn't turn out right, I could just do some cool scarf concoctions for a few days. As I mixed the bleach, the familiar smell of chemicals from a past life with relaxers filled my nostrils.
I said to myself, "It's just hair...I can cut it if I don't like it and it'll grow back."
Right? I've heard horror stories of women who had relaxed hair and later bleached it only to find chunks of their hair in their hands as they washed the bleach out (scary) but since my hair was short and natural, I felt like I could take the risk.
I applied the thick white bleaching mixture and over the course of twenty minutes watched my hair transform from black, to orange, to pale yellow and the tingling sensation let me know that it was time to wash and, most importantly, deep condition. Phase one was complete and my hair was still in tact. Success!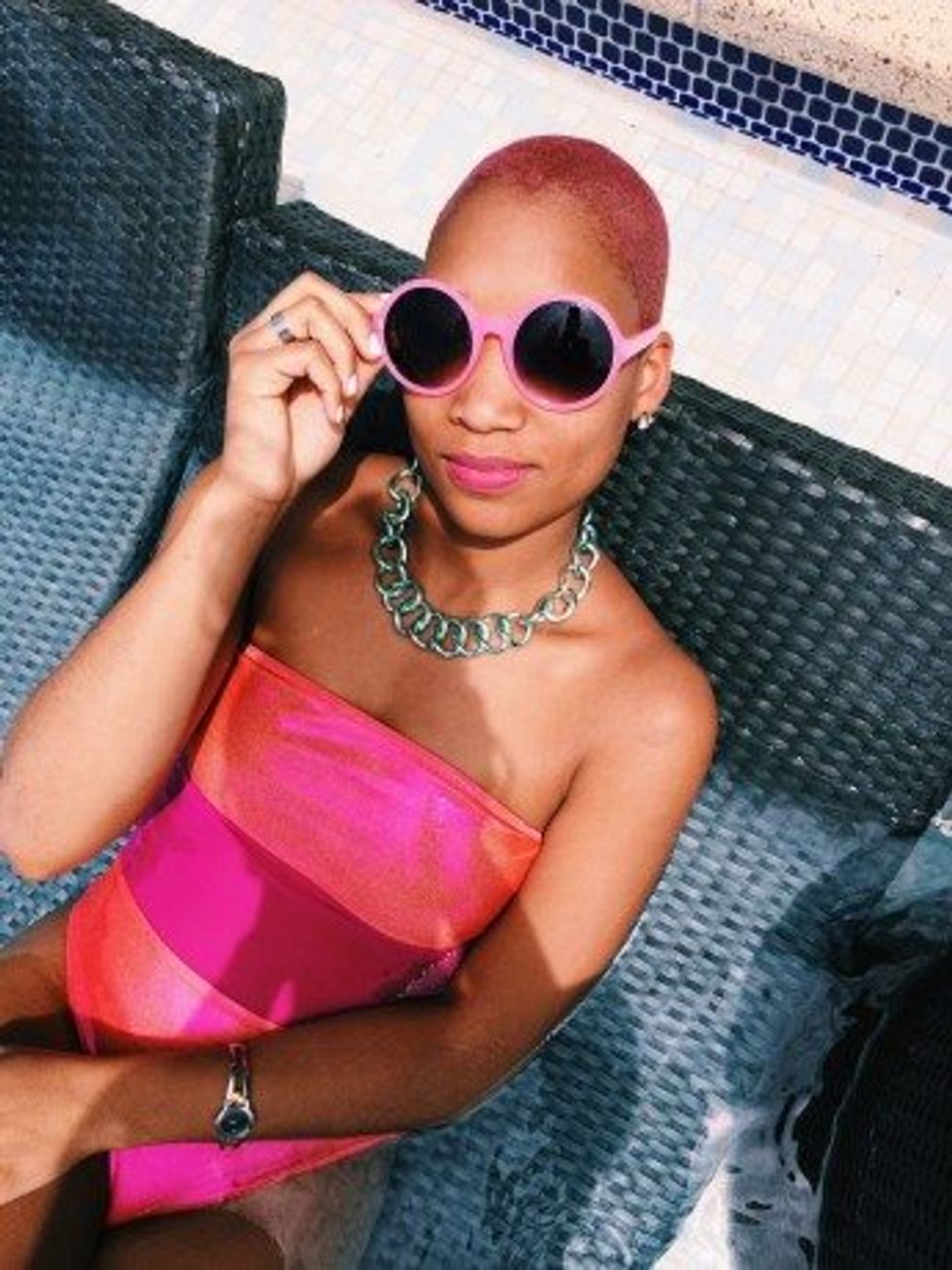 Now that the scariest part was over I started phase two by carefully applying Manic Panic's "Mystic Heather" dye. I really needed to leave for the airport within a half hour but still let the dye sit appropriately, 40 minutes. The deep pink hue sank in immediately and I felt excited. Finally, the pink hair I had dreamt of for months was happening and I didn't have to pay hundreds of dollars at the salon for it to be a reality.
I rinsed all of the dye remnants out and gave this new fuchsia style a peculiar look in the mirror. It took some getting used to but by the time I reached Vegas later that day, I put on my matching pink swimsuit and owned my look.

I since have bleached and dyed my hair a total of four times; another pink do, and three stints with purple. My confidence in the bleaching process has significantly grown each time and I've learned important traits about my hair such as some parts take longer to process than others, which bleaching volume is less harsh on my hair, to condition profusely and most importantly, not to place limitations on my hair.
Now, if I have the urge to revamp my look I'm excited to take a trip to the beauty supply store and try out my favorite dyes. Maybe one day I'll go even bolder with a color like turquoise but for now, I'll keep rocking the purple.
What's your favorite DIY hair color?
Photos courtesy of writer Nia Groce