"I learned the importance of thinking outside the 'shoe.'"
For some of us- the phrase "Stand for something or fall for anything" is more of an option than it is a mantra. For Jessica Cox, standing on her own two feet was the only way to get by in life.
---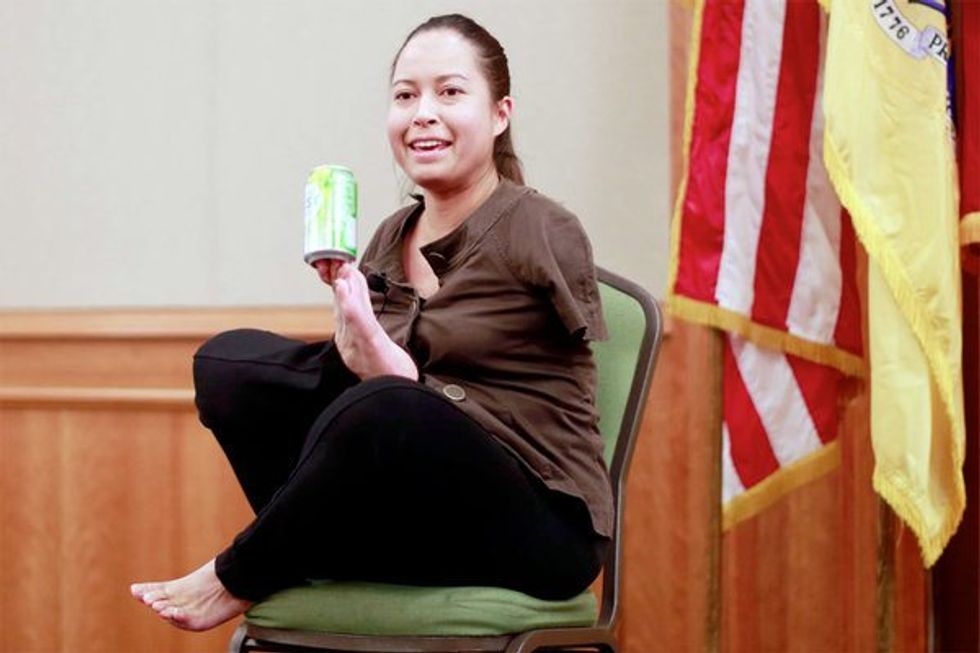 Photo Cred: Jessica Cox at Rutgers-Camden
Recently 32 year-old Jessica Cox sat down with the Youth Aviation Program at Rutgers Camden University for an inspiring and uplifting speech. For the Guinness World Record holder, the skies is literally the limit, as she has become the first person to obtain a license to fly--without the use of arms.
Perched on a stool, the wife, pianist and black-belt casually flicks open the top of a can of pop, takes a swift sip and balances her drink on her foot as she tells the story of how she slowly but surely kicked "can't" out of her vocabulary.
"I spent the majority of my childhood every day being judged and told what I could do, or more importantly, what I couldn't do. [But] I learned the importance of thinking outside the shoe. My whole life is about doing things different."
Unlike an amputee, or a person who loses their limbs later in life, Jennifer was born without both of her arms and with no real medical explanation as to why. The precious baby would later develop into a precocious teen, making the decision to ditch her faux-limbs as she ironically felt they held her back. Instead, Jessica embraced her body's innate ability to adapt to moving around with just her legs and feet instead.
In an interview with Marie Claire, she reveals when she made the decision to surrender her prosthetics:
"I wore them for 11 years. They became part of my everyday routine: I would put them on just like a jacket (or football equipment) and go to school. I was very patient with them and therapy, but I didn't like them... Doctors would say that if I didn't learn to use them while I was younger, there was no chance I'd be able to use them as an adult. They had to make sure the option was available to me. Come eighth grade—age 14—I got rid of them.

It's hard for me to explain this to someone with arms—you can't imagine anything different. Because I was born this way, [everything] felt more natural to do with my feet. Plus, there's nothing like the sensation of feeling things with flesh and bone. Prosthetics just felt very foreign to me: You wear them on your shoulders, strap them to your chest, and they're heavy and uncomfortable. If someone gave you a hug, you'd miss that touch. They were more like a cage for me."
[Tweet "It's easy to give up, but it's so important to persist. @Jess_Feet"]
Phenomenal. After forgoing prosthetics, Jessica was freer than ever. She went on to earn a black belt in Taekwondo as a teen, played piano, got her driver's license and her psychology degree from Arizona University in 2005. By 2008, she scored her pilot's license at just 25 years young, earning herself the honor of meeting Pope Benedit XVI for the achievement. Basically, with the exception of getting her hair in a ponytail (which she admits she gets help with courtesy of her hubby of three years), there is very few Jess can't do!
Jessica opened up about her first time flying, by way of a fighter-pilot pal who invited her to ride on a single engine plane. Cox admits she was slightly freaked out, only because she has always had somewhat of a fear of planes.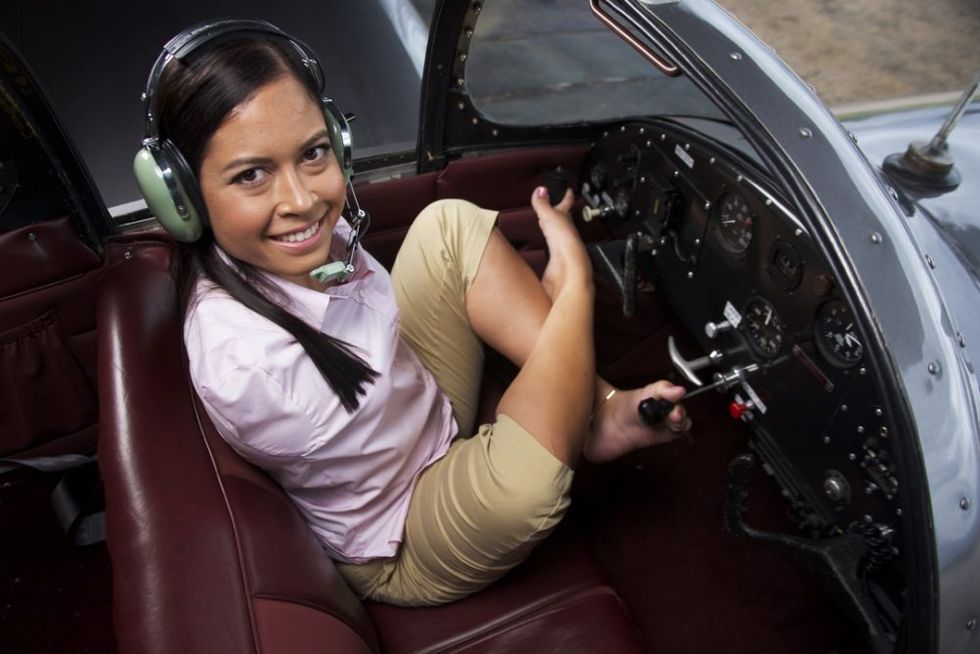 However, after her first time flying, not only was she obsessed with the feeling of being in the air, but she also enjoyed what came with conquering her fears:
"I always had a fear about being in an airplane, but I took this opportunity to go up on my first flight in a single-engine rather than a big commercial plane I was accustomed to. I was hooked and made a commitment to become a pilot. I wanted to motivate others to not let fear stand in the way of their opportunities.
Jessica's also added that believe it or not, the scariest part isn't getting her feet off the ground, it's getting them back on it:
"That takeoff isn't scary at all—just the landing. Once you're in the air, you feel that sense of freedom of no limits."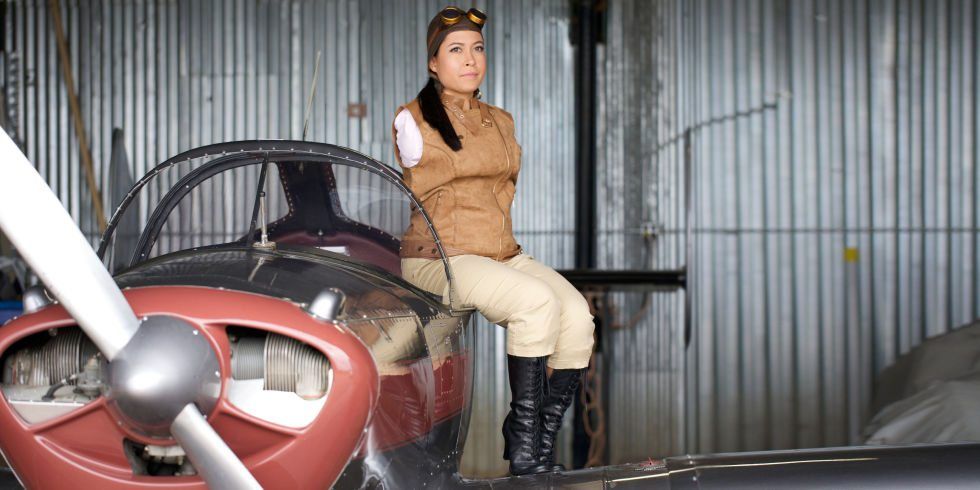 Beautiful! Cox, whose self-help autobiography is cleverly entitled Disarm Your Limits, says her goal in life is to help inspire others with limits that may be either physical, psychological or both. While speaking to a group of peers, she opens up about having never felt handicapped because her parents never raised her to believe she was incapable of anything.  It was all about overcoming her own mental limits, saying that the hardest part of not having arms was simply just accepting it and figuring out what was next, something we could all learn from.
My father has said on a number of occasions that he never once shed a tear about my birth condition because he didn't see me as a victim. So I never had the opportunity to see myself as a victim and I went forward in my life believing that I wasn't a victim of a handicap. With the help of my mom who said, 'You can do anything,' I believed that I was empowered and could do anything.'
She also revealed, "[My] journey of self-acceptance, journey of self-confidence, and the journey of knowing this is exactly how God intended me to be," made everything that much easier for her in the end.
Now that's a true definition of a fly girl!
Watch Jessica's video of how she gets about her day to day below:
Photos Courtesy of Jessica Cox via Source