"It was a great Twitter story.  Now let's calm down," one Facebook profile wrote in response to the hype surrounding "Zola" TV show and book series talks.  If you are thirty-something like myself and constantly teetering on the line between "young and fly" and "old and out of touch," wondering what the hell is a "#Zola" and whether or not the hashtag has anything to do with the latest movement in social activism, I'm here to tell you it doesn't.  But it does have everything to do with physical abuse, mental illness and 'hoeism.' (Zola's words, not mine.)
---
#Zola is the hashtag being used to discuss the Twitter tale of two strippers posted under the account @_zolarmoon aka Aziah King. The dancer took to social media last week and used 150 tweets to tell the story of urban fiction fans' dreams. King posted what appeared to be a true story that starts with her working as a Hooter's waitress who meets a stripper named Jess. The tale is rumored to have caught the attention of execs at VH1, MTV and VICE features gems like:
"So we vibin over our hoeism or whatever. & we exchange numbers!! & we like 'next time you dance hmu ima come dance wit you!' & they leave"

"So THE NEXT DAY I get a text like 'BITCH LETS GO TO FLORIDA!' & I'm like huh??? She's like I'm going to dance in Florida, let's go!!"
The story, which involved a wild two day romp to Florida where they encountered prostitution, kidnapping and attempted murder have since been removed from Twitter but can be read it its entirety at Storify. The engaging tale plays out with the sharp hood shenanigans of a Donald Goines' novel with the gritty discomfort of Sapphire's Push. It's engaging, suspenseful and even gained the attention of filmmaker, Ava DuVernay who tweeted:
In India reading #Zola. Drama, humor, action, suspense, character development. She can write! There's so much untapped talent in the hood. x

— Ava DuVernay (@Ava DuVernay)1446077320.0
It's inspired Halloween costumes across Instagram mimicking the main characters Zola and Jess, and according to King, producers and directors are knocking down her door to whom she hasn't hesitated in expressing she'd like either Meagan Good or Keke Palmer to play her part.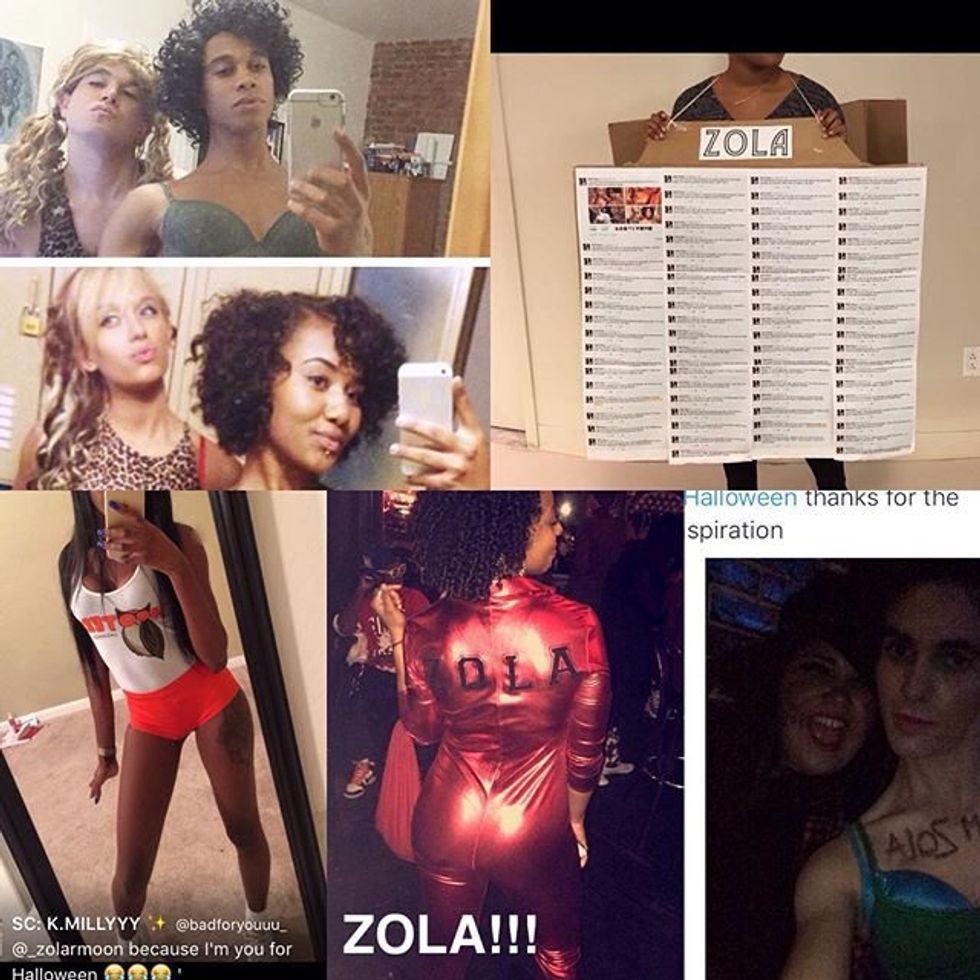 Instagram
Whether you loved or hated the story, one thing remains true: the power of Twitter has made a dream come true for King, whereas bloggers and writers alike spend years trying to achieve. She has traded in the pole for popularity that seems to have her heading to a successful career she will have achieved 140 characters at a time.
But what does that success of "Zola" say about what the public wants to see? In an Empire, Being Mary Jane and How To Get Away With Murder kind of world it seems that what the people want are sex, drama and violence, which "Zola" has plenty of, and they want it now, even better if it's in 150 tweets or available to stream through Netflix. It appears the thirst is indeed real for a story that some have argued glorifies violence and sexual exploitation.  In the NYMag.com article "The Zola Show and Why It Was Hard To Look Away", author Anna Pulley suggests that the hype is a sad comment on the lack of empathy society displays as she notes that both the public the media reacted to the story as a joke and juicy entertainment although the tale was presented to be very much a real story based on King's experiences. Complex magazine even referred to the tale as "Wednesday ratchet entertainment."
Pulley writes:
"And yet — what does it say about us as a culture that our response is 'how entertaining!' to the assault and abuse of a sex worker and the attempted suicide of a mentally ill man? Why are we not more disturbed by the horrifying acts that unfolded before us 140 characters at a time? It's especially troubling when one considers that we don't generally, as a people, delight in such things."
She may have a point. If I ever met a student, a co-worker or any random woman that told me a story similar to Zola's I'd find myself fighting every natural urge to get my mandated reporter duties on or hit up Dr. Drew or Iyanla Vanzant in a desperate frenzy to fix Zola's life, but instead the story was met with applause, laughter and memes courtesy of our favorite social media comedians because Twitter isn't real life, right?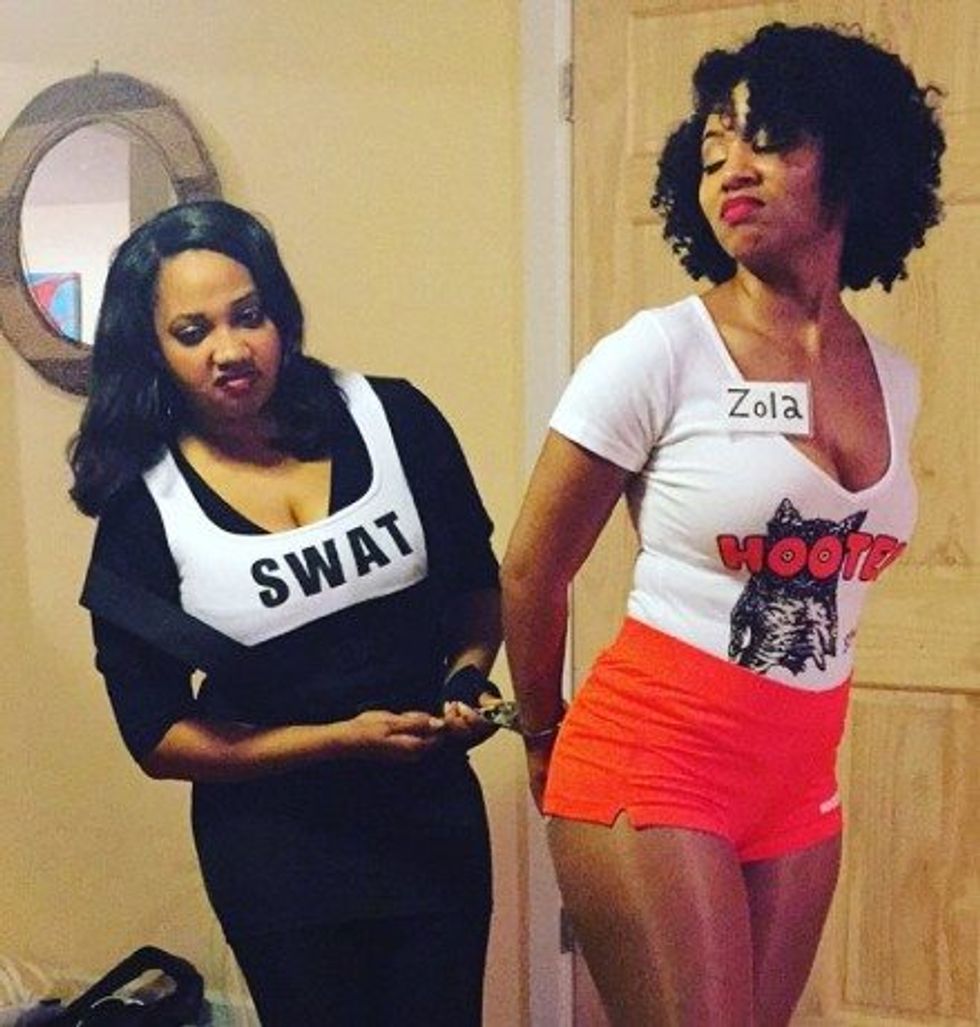 What makes us react with horror and anger to the Spring Valley video of a cop slamming a young girl from her school desk to the ground but with retweets and "crying laughing" emojis to "Zola?" Perhaps because there's a distinct victim and villain in a video that is clearly reality, but with King's flair for creative writing and ownership of her sexuality we've taken "if she's cool with it, so are we" approach. Zola is unapologetic of her stripper past proclaiming "Ima full nude typa b**ch" and "Pu**y is worth thousands" taking the clichéd image of the low self-esteem, fragile stripper and turning it into an empowered sex executive who is about her money. It's one thing to have rappers such as Juicy J, Drake and T-Pain applauding strippers  as the real MVP's, but Zola makes it clear that the women themselves feel the same way, and any violence or exploitation that comes with it is just the cost of doing business. It also helps that main character Zola isn't exactly the loser in this lifestyle as much as co-star Jess.
If anything is clear, there's a movement happening in sex work, where more and more women "don't want to be saved" because they don't see themselves as victims. They're bosses in a profession that many people still find difficulty seeing the beyond their own self-righteousness and morality to understand that women are now in many ways are taking ownership of their sexuality and what they choose to do with it.  But does that come at the price of us losing any kind of empathy for women who aren't voluntarily "about that life" but forced into it?  Pulley questions if we're just desensitized and quotes sex worker Josephine, from Tits and Sass who says,
"If I want to tell [sex worker] stories in public — on a medium like Twitter, for example — I have to manufacture the humor in all of it. God forbid I admit that a few times in my career I've been terrified, that I've been hurt. Stories with those kinds of truths immediately get weaponized against sex workers. So, shit happens. Maybe that's what Zola was doing: defusing the horror of her experience with humor."
In the past few days Twitter accounts have sprung up claiming to be the "white b**ch" Jessica, but have been exposed as fakes in an experiment of how much foolishness can get retweeted on Twitter. Up to this point, the story is still being widely accepted as factual although conspiracy theorists have of course tried to dissect inconsistencies.  "The Real Jess" has emerged and posted her side of the story in a Reddit forum, as well as an interview with Complex, and she claims the stripping part was real but no one was shot, she was never arrested in Las Vegas. She's also engaged, pregnant and wants to leave that life behind. When asked why she believes Aziah put the story on Twitter, she responded:
She has a blog with naked pictures on it and a lot of Twitter followers, but she wants fame. She got her name out there. It's a get rich quick scheme, screw who you trample over.
With glorifying and celebrating the money, fame and sexual satisfaction that comes with the sex trade are we looking at anything that doesn't focus on sex, violence or money as bland or boring? If anything, King has proven that whether the story is 12 Years A Slave or "Two Nights A Stripper," compelling characters, raw language, and graphic action can drive any story.
In a world where people's attention spans are determined by trending topics, I wouldn't be surprised if the hype surrounding "Zola" dies as soon as the next character on The Walking Dead does, but Zola's story does provide some interesting insight on exactly what we're entertained by as a society and why strippers tales from the darkside complete with kiss emojis are what we are excited to see on the big screen.