I have to admit that I have a soft place in my heart for celebrities who wear locs and are unapologetically black, especially Whoopi Goldberg.
---
I've always admired her demeanor. She's never cared much about being glamorous. She's the kind of woman who doesn't need the bells and whistles because you're going to remember her anyway. She's a vibrant personality who stays authentic to herself. Even back in the 80s when everyone had awful hair, Whoopi was having a natural hair movement all by herself.
I realized I'm not alone in my admiration after comedian Leslie Jones stopped by the View recently. She came to tears while telling Whoopi how much of an impact she had on her as a young girl seeing someone onscreen that looked like her.
"When I was young, my dad always let me listen to comedy album . I always knew about comedy, I always loved comedy," she recalled. "The day that I saw Whoopi Goldberg on television, I cried so hard, because I kept looking at my daddy going, 'Oh my god. there's somebody on TV that looks like me! She looks like me! Yay! I can be on TV! I can be on TV! I can do it! Look at her look at her! she looks just like me."
Whoopi had a huge impact on Hollywood and I was reminded about all of this one day while watching an episode of Whoopi Goldberg's Master Class interview on OWN. I remember the pandemonium surrounding her stardom, and there were definitely people put off with her unapologetically black disposition. But the people who seemed really shocked by it was sometimes black people, especially when it came to her hair.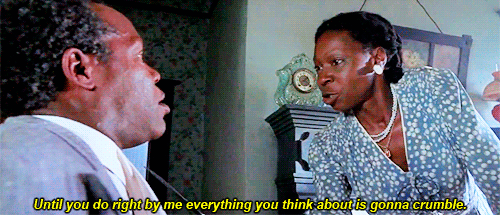 There were probably thousands of black hair magazines in neighborhood beauty salons across America back in the 80s, and none of them had pictures of people with locs in them, and ones with loc-wearing celebrities were pretty nonexistent. But there were pictures of Janet Jackson's cursive-shaped baby hairs, Anita Baker's pixie cut, and Holly Robinson Peete's 'round the way girl curls. There were even photos of Patti LaBelle's with a hairstyle that resembled asymmetrical fans. But hardly any Whoopi pics were anywhere to be found.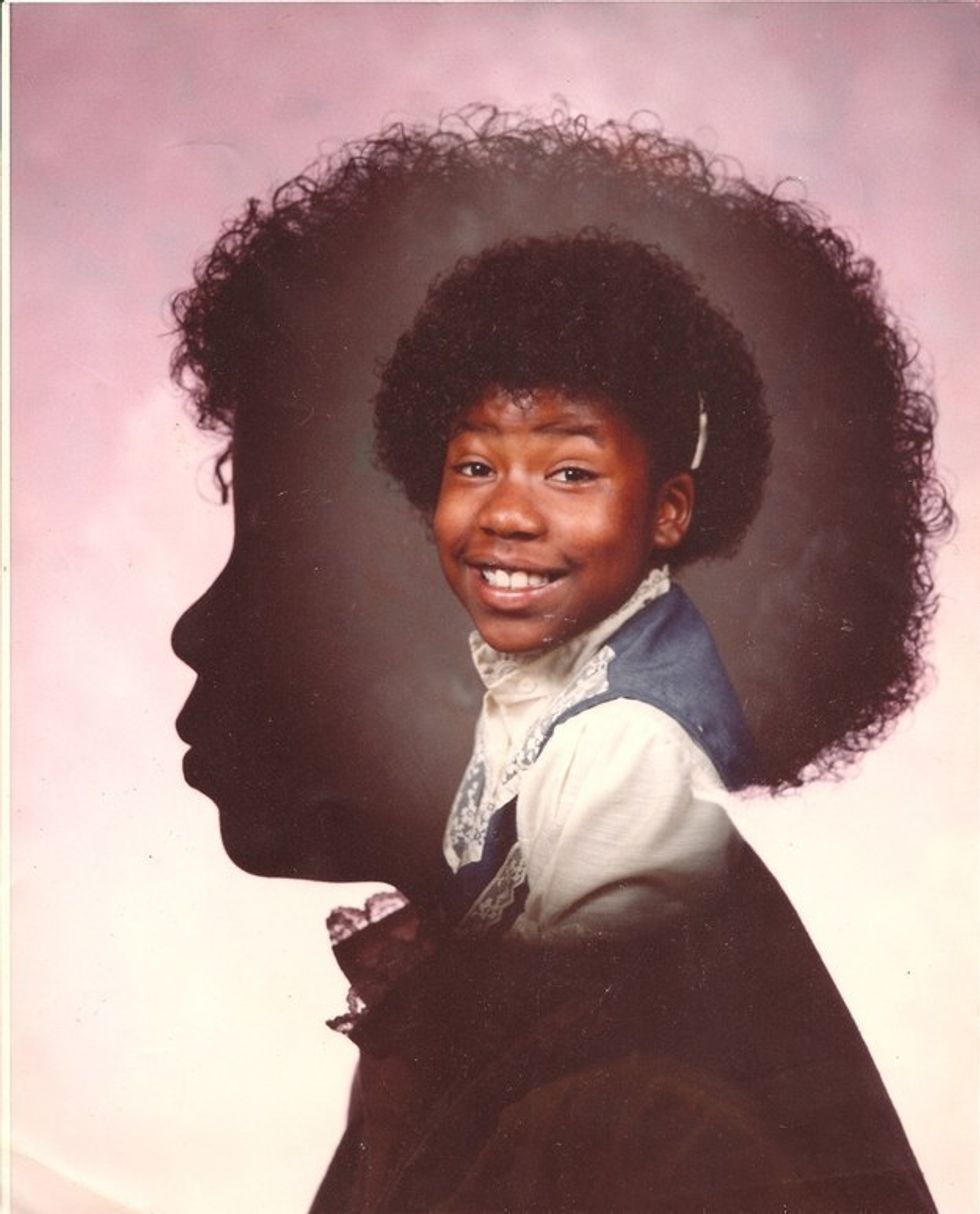 This was not me, by the way. But as you can see, that jheri curl drip had our faces shining. 
I know because I spent many hours looking through those same magazines when my mother would take me to the beauty salon to get my jheri curl re-done. My beauticians saw locs as "dirty," "filthy," or "unkempt." Meanwhile, I was literally getting my hair soaked in chemicals, while ruining my clothes because a jheri curl was a much better hairstyle for little black girls.
What kept me from adopting my beautician's line of thinking was the fact that Whoopi didn't care what other people thought about her. Whoopi's carefree black girl attitude made me want to be exactly like her when I grew up.
As time went on, somehow society started to realize that Whoopi was smart for embracing her natural hair as a black Hollywood actress, especially in 1991 when she accepted her Best Supporting Actress Academy Award while wearing her natural hair. People started to see that what she did was the most "woke" gesture any black woman in Hollywood could have done at the time.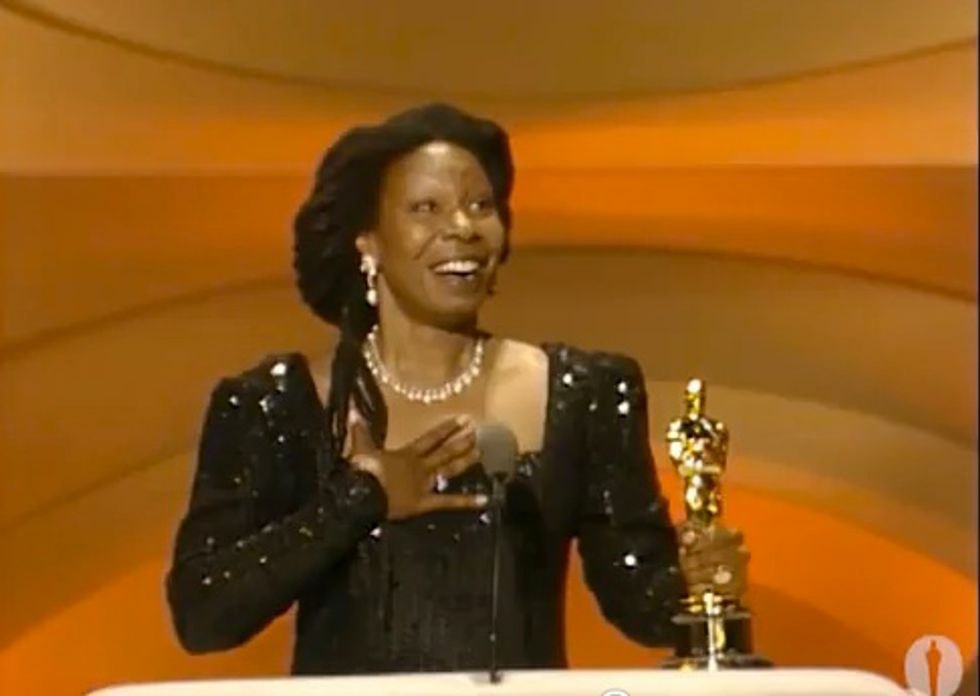 But it didn't come easy. When she went down that red carpet, many black people who were unaware about the benefits of locs and natural hair (and there were many), uttered the same things as they watched the Oscar's telecast: "Why didn't she comb her hair?"
For years, Whoopi's bold, red carpet hairstyle was the topic of beauty shop conversations, until customers started asking for the same 'do.
Fast forward to today, and there are many men and women who have taken a page from Whoopi's book and have grown locs to match their carefree attitudes. One such person being Miss Willow Smith.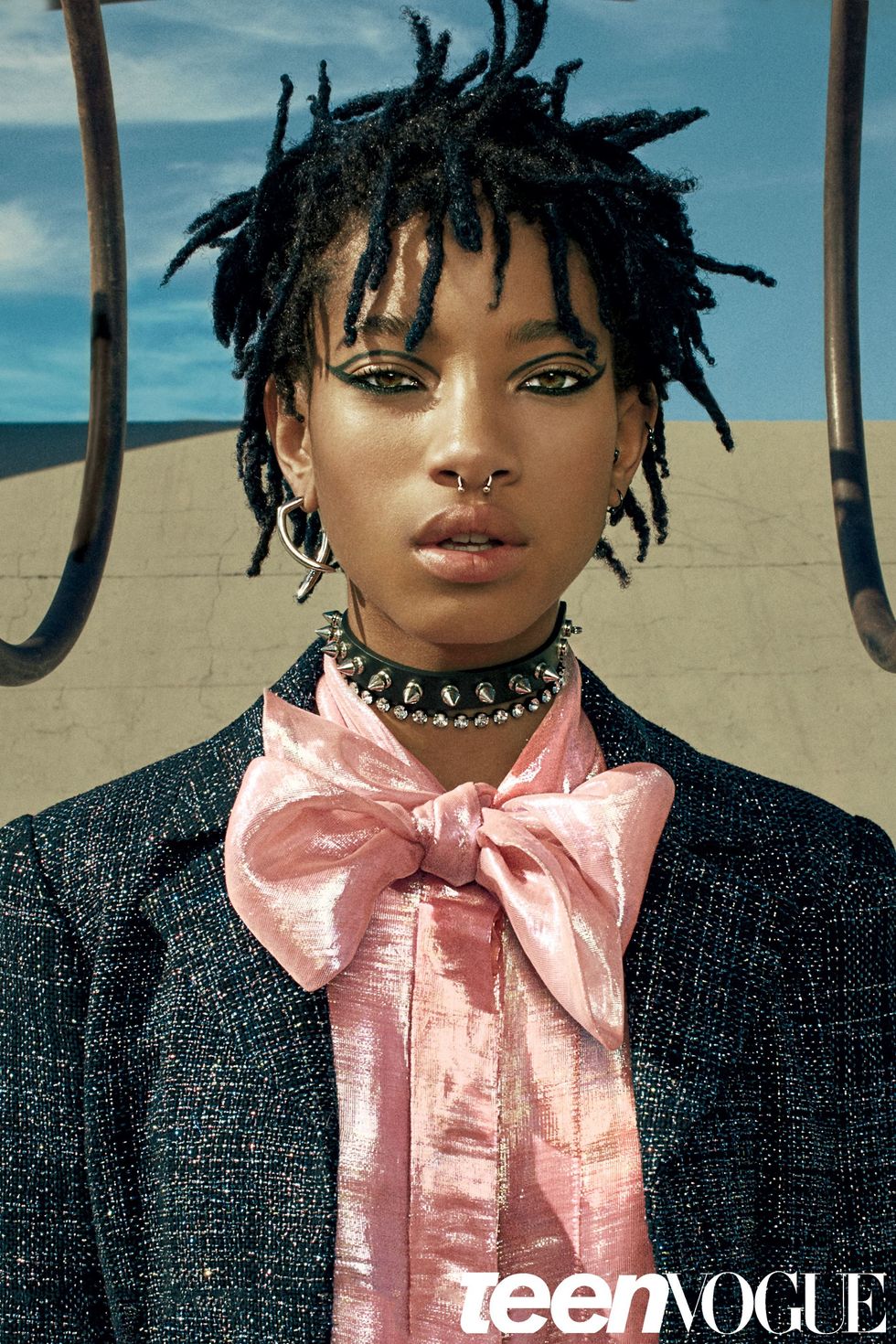 Where some people see the young wunderkind as being "extra," Willow sees herself being, well, herself. Whoopi carved that lane for young girls today, and it seems like a gift that's almost too good to be true--at least in Willow's eyes.
This is probably why Willow is still shocked that Karl Lagerfeld, a man whose muses were mostly white women, saw her, a girl with locs, as the future of fashion. She said during her April 2016 Teen Vogue interview,
"Being a young African-American woman with dreads, it blows my mind that I'm a Chanel ambassador. Like, how am I a Chanel ambassador?

...It is so beautiful. I'm coming into a new part of my life that is completely unknown, and I'm jumping right in. All I can do from here is continue to shift paradigms and continue to push the envelope further and further. But I am doing it every day just by being myself."
Willow may still be in awe at the fact that she doesn't' have to look or act like an Instagram model to find success as a black woman wearing locs in Hollywood. But as an entertainment watcher, I know that none of this would have been possible if Whoopi had not forged that path for young African-American women.
Now that's a story for the history books.