The leaves are turning. The temperatures are dropping. And you know what that means: it's silk press szn. Getting a silk press is a treat for me. I especially enjoy how a silk press trim shapes my natural curls and makes them pop. So when I was invited to The Purple Door Salon in Atlanta (which is stunning, btw) for a silk press with master stylist and Mizani artist and educator Todd Edwards, of course, I said yes.
---
My hair was fresh out of braids, so my natural hair desperately needed a little TLC (and gray coverage).
Most of us have experienced a silk press or, as it was known when we were growing up: a press and curl. But the process looks a little different with natural hair because without the proper steps, you'll walk outside, and your hair will say absolutely not.
So, I want to take you through my appointment and share the tips and tricks I learned.
First: Detangle
Detangling from root to ends is essential before your hair meets with shampoo and H2O. And this is especially important after removing braids, or you run the risk of product and hair buildup tangling and, subsequently, causing hair loss and damage.
Edwards ran his fingers through my hair as if it wasn't a tangly mess. That's how I knew I was in good hands. He ran his fingers from the root to the ends of my hair, detangling it section by section. If finger detangling isn't your preferred method, a wide-tooth comb or Felicia Leatherwood Brush makes excellent detangling tools.
Shampoo and Condition 
Now it was time for my favorite part: the shampoo. As we were shampooing, I asked if the type of shampoo and conditioner makes a difference when preparing the hair for a silk press. And the answer is yes.
"They are very important because you always want to use a shampoo and conditioner that will aid the final look or style that you're trying to achieve," Edwards tells xoNecole.
In your shampoo, you want to look for a sulfate-free option that clarifies without stripping the natural oils from your scalp that also combats frizz in preparation for thermal styling. And after a good cleanse, of course, conditioning is a must. Look for vitamin E and omega fatty acid-rich oils like argan, avocado, and jojoba-infused options.
Mizani Press Agent Smoothing Sulfate-Free Shampoo, $22
Aveda Smooth Infusion Conditioner, $24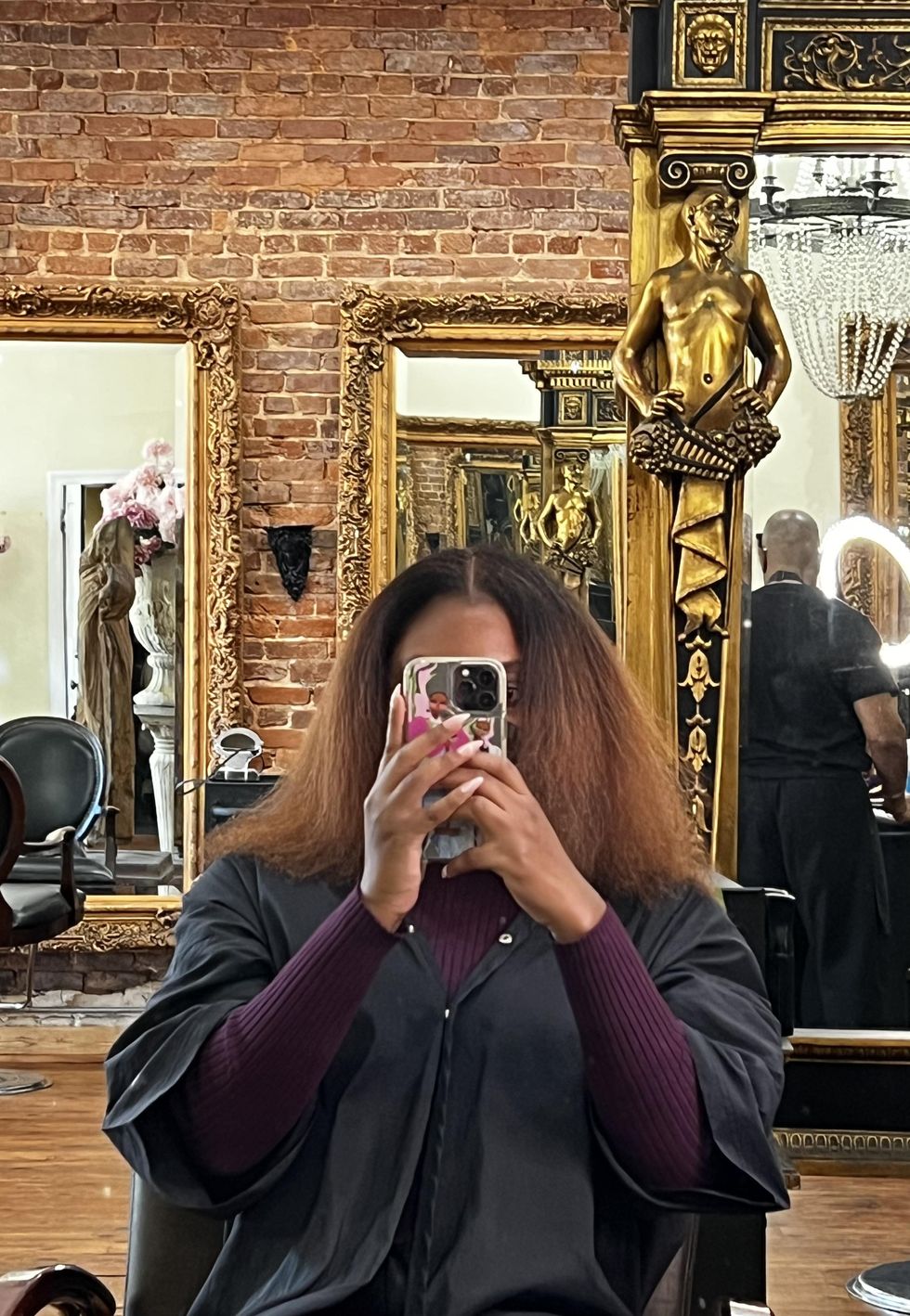 Courtesy of Bianca Lambert
The Blow Dry 
Now that my hair was cleansed, conditioned, and my grays were covered, Edwards detangled and sectioned my hair into four quadrants. Next, he went section by section, applying a leave-in conditioner and following up with a blow-dry cream. If you're ever tempted to skip your leave-in and a product to protect your hair from heat damage, don't. Here's why.
"A leave-in is the foundation to any style you are trying to achieve or create," Edwards shares. This is largely because a leave-in adds and seals in moisture, gives the hair slip for detangling, and helps protect it when heat styling. Mizani's Miracle Milk Heat Protectant Leave-In Conditioner is among his favorites because it's a multitasker acting as a leave-in and heat protectant. And it's a product I never complete a wash day without because it keeps my hair nourished for days. And if my natural curls need a moisture pick-me-up, I spray a little on in the shower midweek.
In addition, he adds, "serums and creams are essential because they protect your hair from damage caused by the heat throughout the whole silk press process from beginning to end. [And], the creams and serums will also aid in retaining moisture and sealing the cuticle." After the leave-in and blow-dry cream was layered into my curls, Edwards used a paddle brush with a blow dryer to smooth my hair from root to tip.
Mizani's Miracle Milk Heat Protectant Leave-In Conditioner, $38
Design Essentials Weightless Thermal Protectant Serum, $9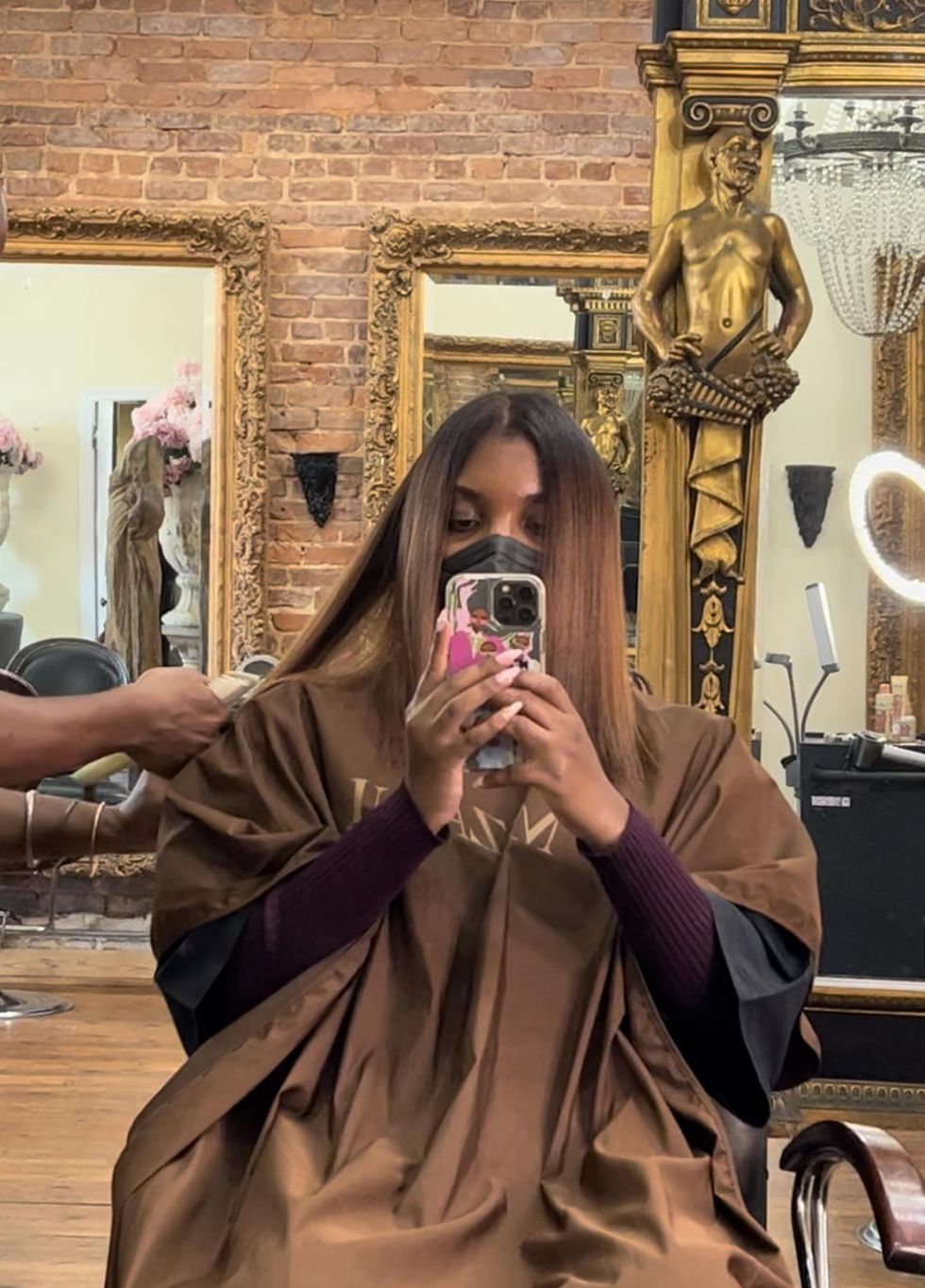 Courtesy of Bianca Lambert
The Press and Wave 
I was always in a rush when I flat ironed my hair at home—flat ironing my thick hair in large chunks. One thing I noticed was how tiny the sections of hair were as Edwards moved the flat iron slowly down the lengths of my hair. After each strand of my hair was silky to the touch, it was time for a trim. A piece of the process I recommend leaving to the experts.
And after that was complete, I asked for a bump. Edwards told me no (haha!). He refused to send me out like a '90s baby with a bump that looked more like a James Brown do. Instead, he gave me loose waves that I shook like I was in the star of my own hair commercial.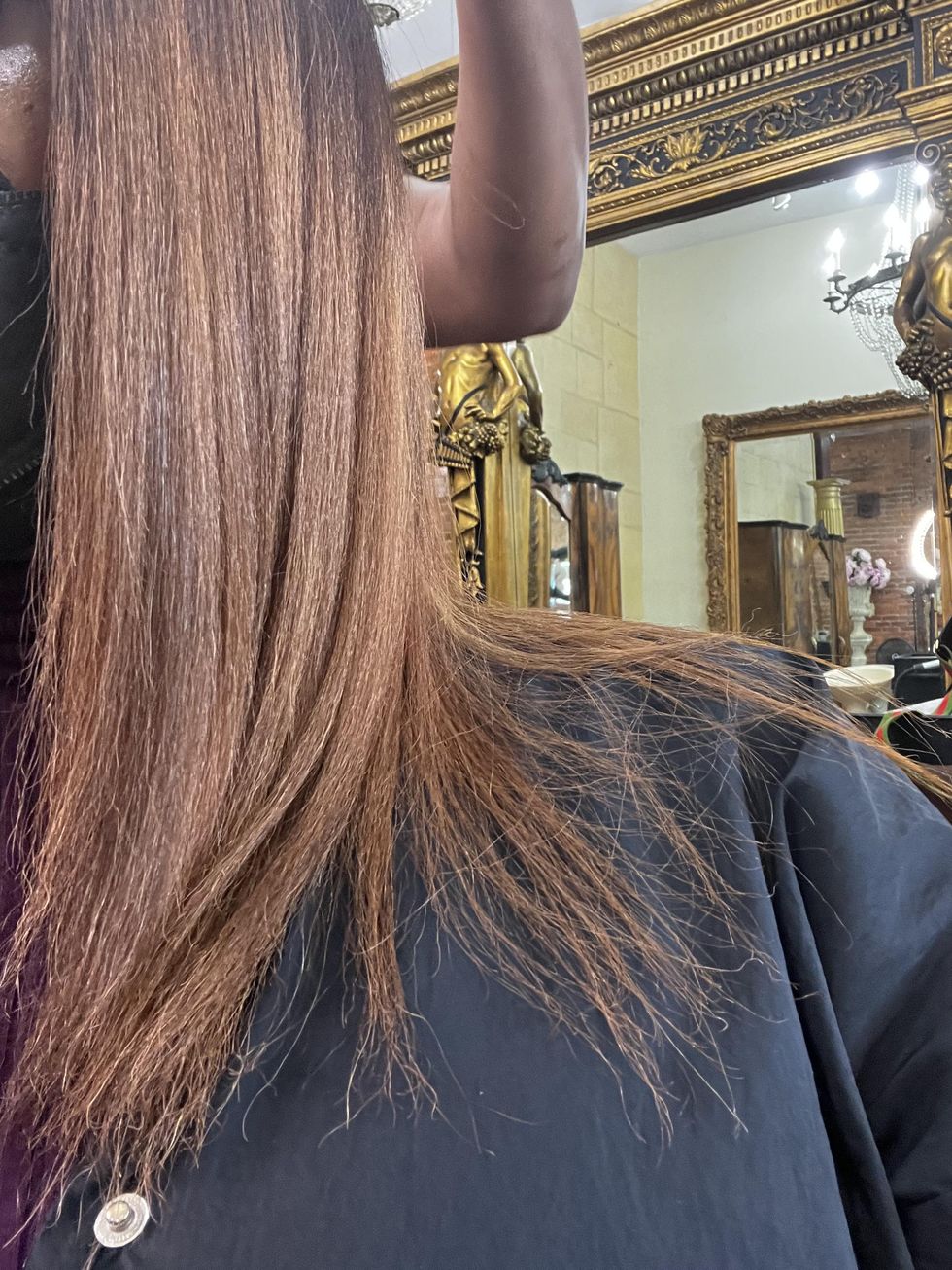 Courtesy of Bianca Lambert
Post-Silk Press Maintenance 
After your silk press, there are a couple of things Edwards recommends. First things first, wrap those strands. "[Wrapping the hair at night] helps you maintain the style and moisture in your hair from root to end." He also suggests investing in a silk bonnet, head wrap, or silk pillowcase. I use both a silk bonnet and pillowcase because we all know our bonnets like to slip off in the middle of the night and go to the fridge for a drink of water.
Grace Eleyae Silk Pillowcase, $68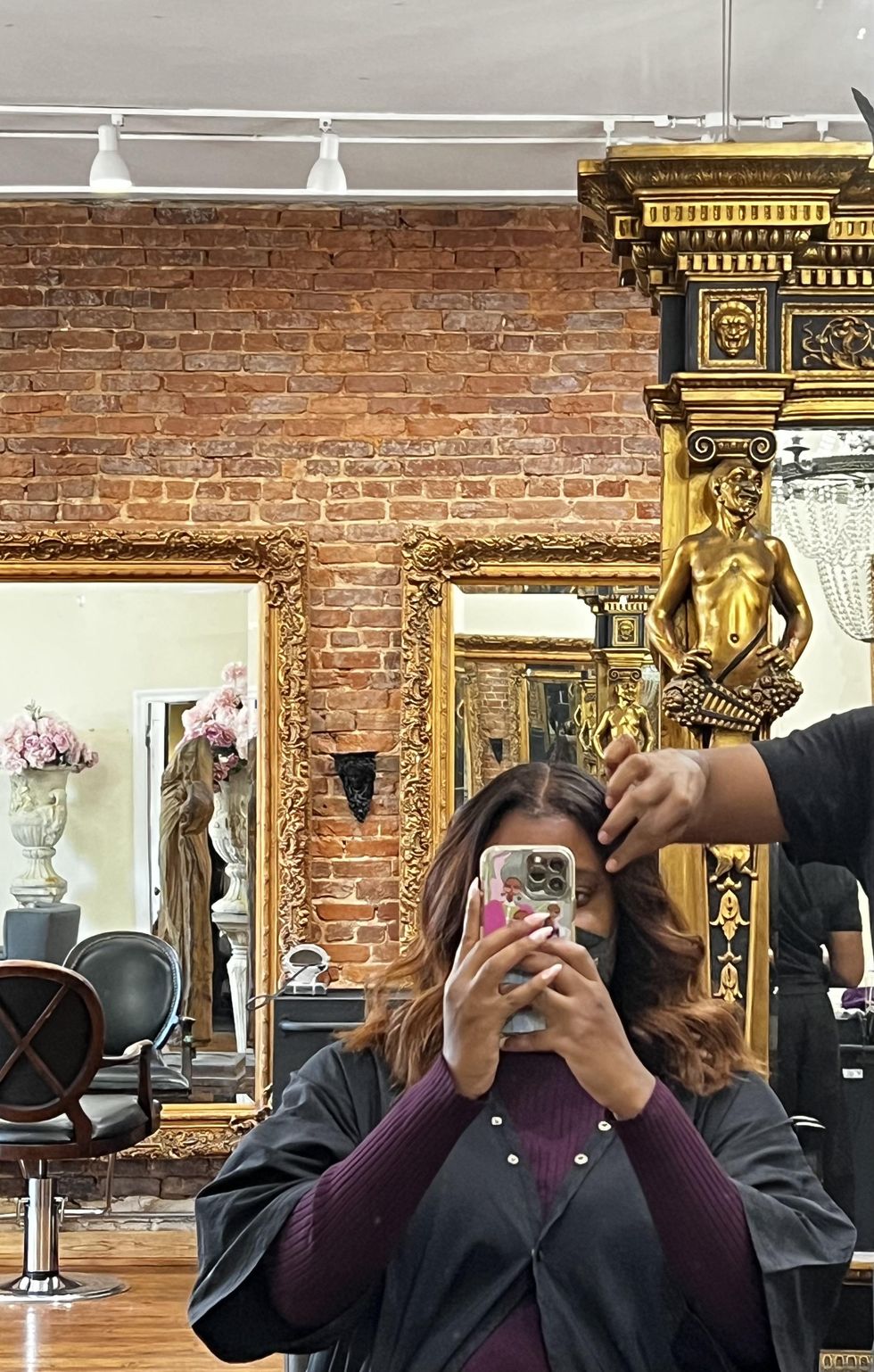 Courtesy of Bianca Lambert
Lastly, Edwards emphasizes: "Put the flat iron down." He means if you get tempted to re-lay the silkiness with more heat, don't do it. One thing I've learned to accept with silk pressing and natural hair is gaining volume post-flat iron is just the name of the game. But, Edwards says, alternatives like silk rollers, flexi rods, or of course, wrapping your hair can help maintain your style sans adding any extra heat.
Featured image by Bianca Lambert