If your life is anything like mine, you know proper planning is essential to succeeding—in life and in hair!
As a busy college student, I don't have time to constantly redo my natural hair to stay fab. The way I see it, I've got one shot to lay the perfect foundation for a style that keeps up with me all week long. I was inspired to bring back my Carefree Curls look for spring. My curl-and-go is fail-proof and the best part is it can morph into different styles as the week goes on and the style gets that carefree "worn in" look. I've learned to embrace the change my curls go through and max it out by making a few tweaks throughout the week.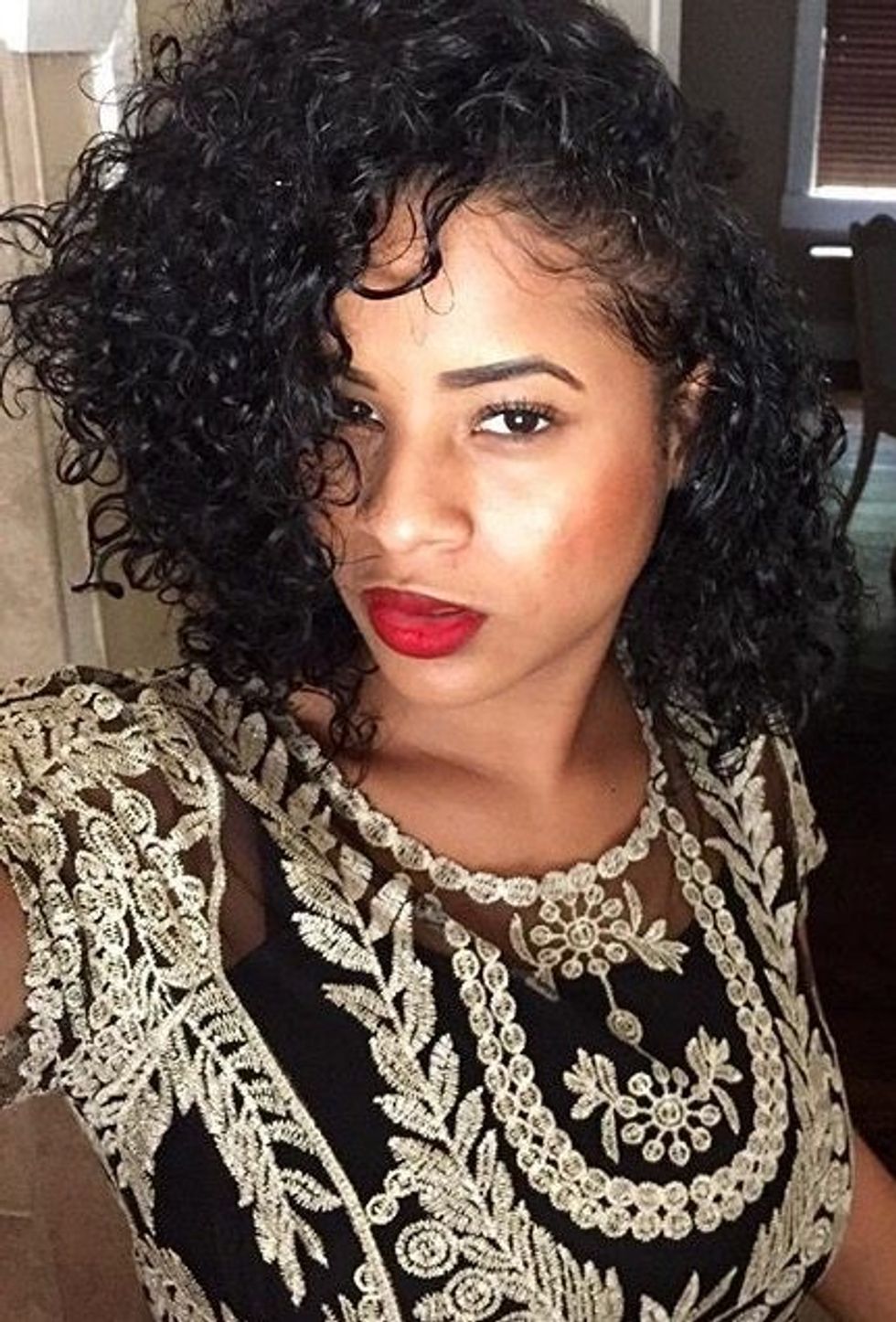 My curl essentials:
Spray bottle with water
Cantu Leave In-Conditioning Repair Cream
Cantu Moisturizing Curl Activator Cream
Cantu Comeback Curl Next Day Curl Revitalizer
Cantu Extreme Styling Stay Glue
Cantu Extra Hold Edge Stay Gel
Small perm rods or Flexi Rods
Cantu Coconut Oil Shine & Hold Mist
Hair Clips
Bobby Pins
Wide-tooth comb
Sunday: The Initial Curl
I begin by drying my freshly washed hair with a t-shirt and dividing my hair into four sections. (I discovered using a t-shirt instead of a towel creates less frizz--towels are moisture robbers).   I add a hydrating cream like Cantu's Leave In-Conditioning Repair Cream to keep my hair moisturized and conditioned. After detangling with a wide tooth comb and Cantu Coil Calm Detangler, I mix it up with Cantu's Moisturizing Curl Activator Cream and a little gel. For extreme hold there's Cantu Extreme Styling Stay Gel (just a dab will do it). I apply to each section and comb through with my fingers (trick: apply a small amount of Cantu Edge Stay Gel to the tips to keep them smooth). I usually air dry.  I coat my fingers with coconut oil and gently twirl sections around my finger for extra definition. I fluff it out at the roots to get the volume I love. I have my steps down to a science.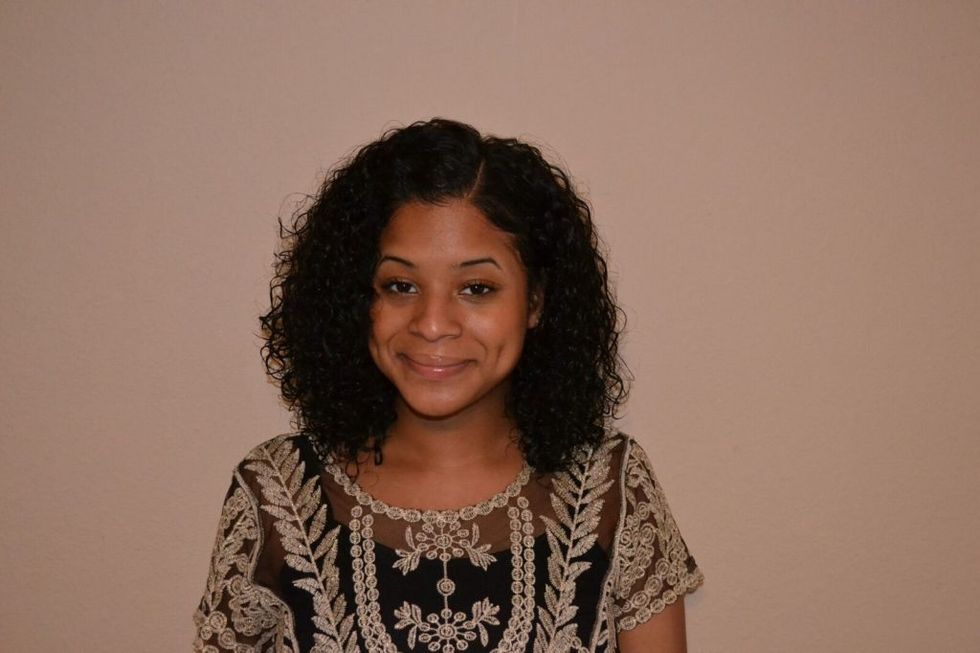 Tuesday: Plat My Parts
To give my style extra oomph, my quick solution is a sexy part. Down the side or middle, a part creates a totally new style and gives it a little edge, too. I part it where the curls have gone awry the most and simply smooth down the part and spray with a holding spray like Cantu Coconut Oil Hold and Shine Mist to lock my hair in place and tame the flyaways.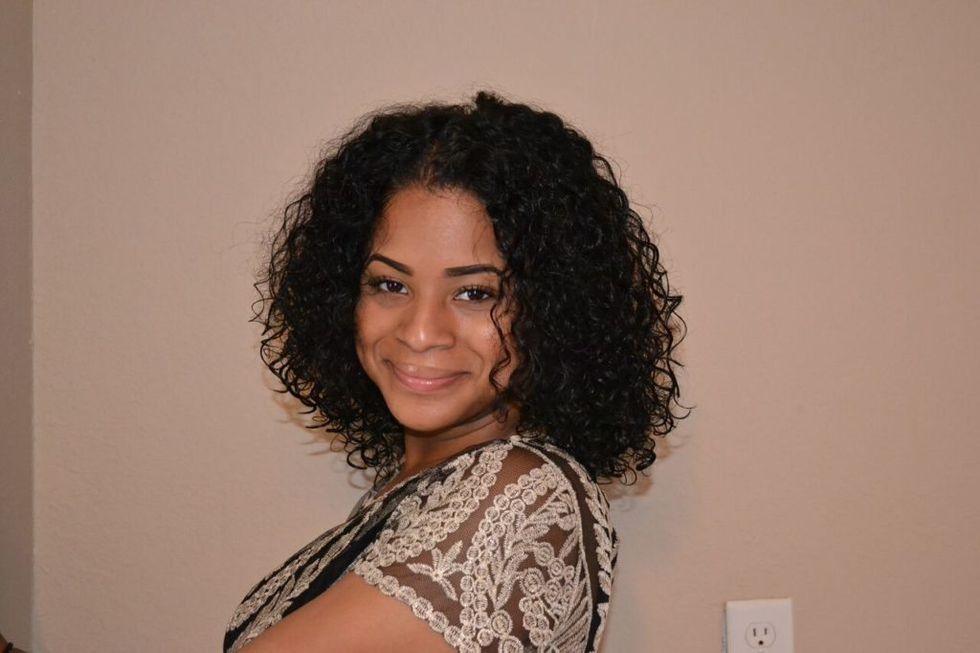 Wednesday: Amp Up the Twirl
Today is all about volume and bringing the curls to new heights. To achieve this I divide my hair into four sections, spray a little Cantu Comeback Curl Next Day Curl Revitalizer on damp hair, braid each section and place perm rods on the ends. I leave it in while I finish getting ready in the morning and blast it with the blow dryer to dry quickly. I aim for 6-10 braids, and love the loose, curly effect.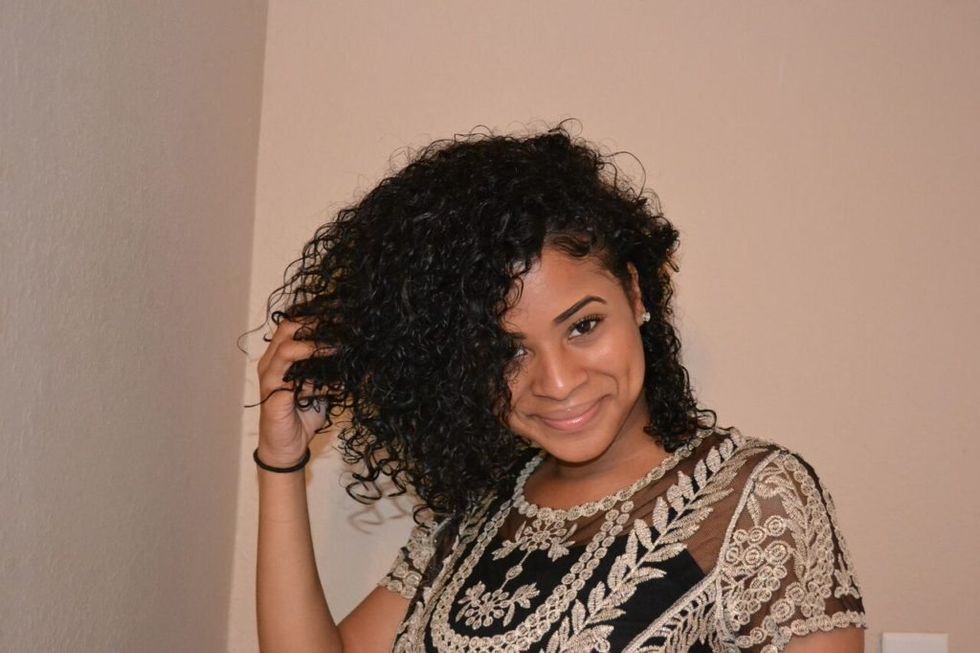 Thursday: Create shape
By now I'm ready for a new look while keeping my curls defined and strands shiny. The quick fix: a curling iron. I choose a small curling wand and wrap sections around it to create sexy spiral curls that have a lot of bounce. Before I hit the wand, I use Cantu Thermal Shield Heat Protectant to fight against damage. I combat dryness and dullness that can set in near the end of the week by spraying on an oil sheen like Cantu Oil Sheen Conditioning Spray for quick shine.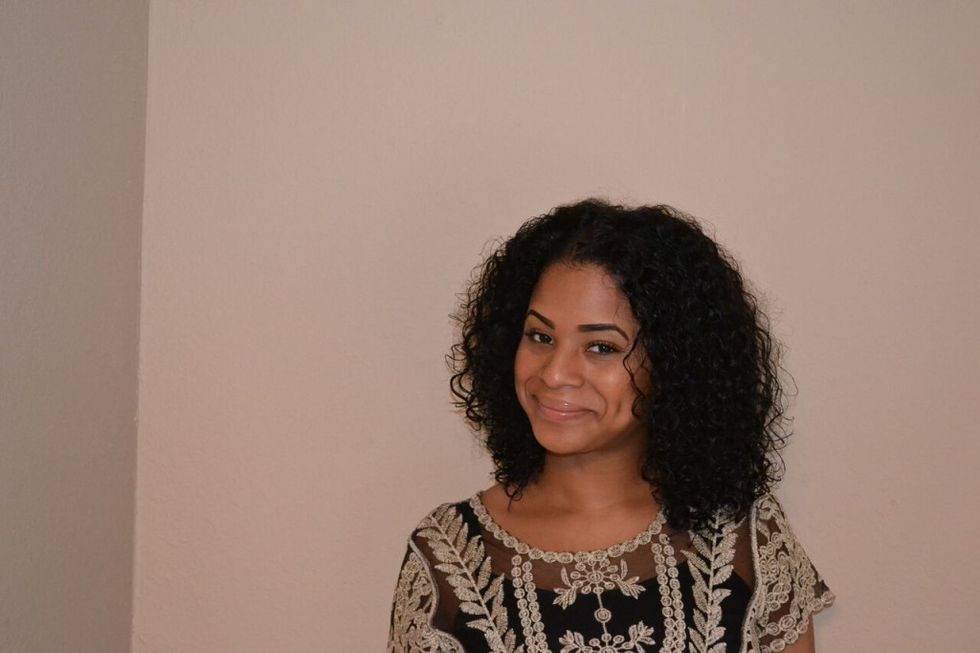 Friday: Go Up & Away
Friday is a pineapple updo kind of day. All I need is a ponytail holder or large bobby pins and some Cantu Extra Hold Edge Stay Gel. Just slick hair around the sides and at the nape of neck up and secure with pins. The best thing about this look is the more wayward my curls and coils are, the better it works as they haphazardly fall into place. The style doesn't have to be neat and it works for any occasion—you can't go wrong on a Friday night.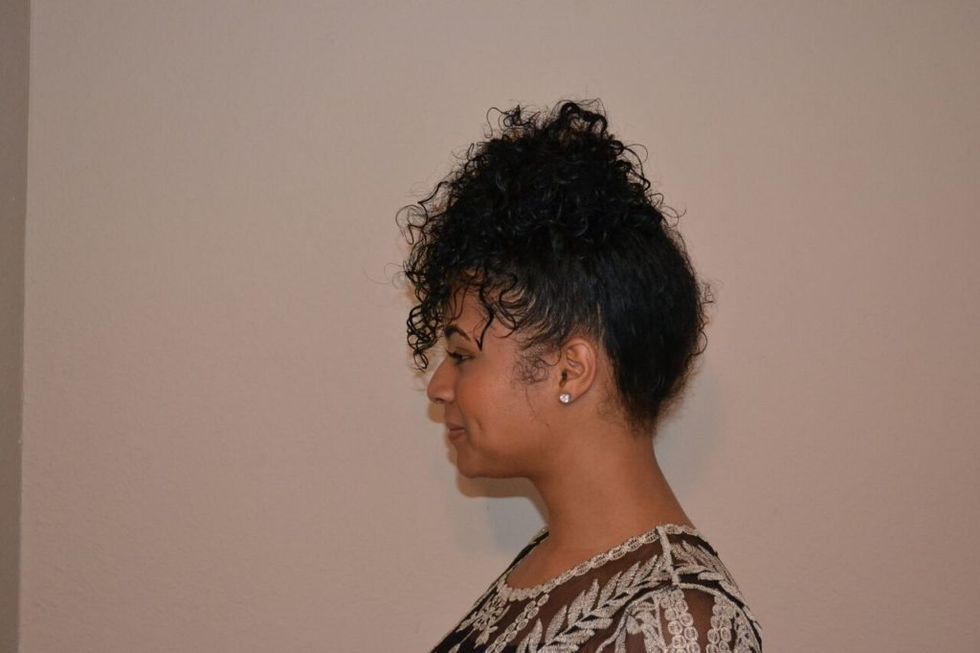 Saturday: Let it Go
On the last day, I embrace the state of my hair and let it be. I use a little Shine and Hold Mist and twirl the ends with my fingers a bit, but I essentially let my mane spring free as I celebrate another good hair week!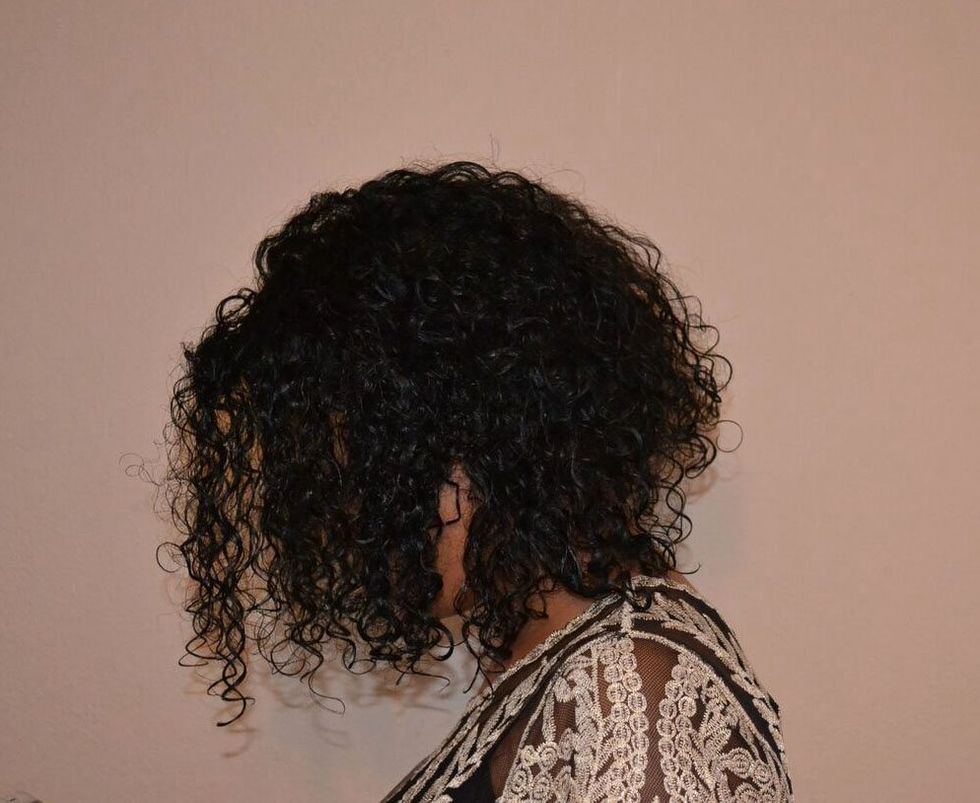 To purchase your favorite Cantu products and find a location near you log on to cantubeauty.com. @cantubeauty #mycantu
---
Originally from Miami, Florida Maya currently resides in Tallahassee, FL where she is pursuing a degree in Public Relations at Florida A&M University. A lover of all things natural, her mission is simply to live a well-balanced life while inspiring others to promote universal peace. You can follow her on Instagram and Twitter at @PeaceQueenn.