"Who made the potato salad?" As summertime kicks off, this is the universal question that, without fail, will be asked at every barbeque and backyard kickback over the coming months. With the Fourth of July also nearing, summertime celebrations and cookouts will be in full force. However, as the tide begins to turn in this new day and age, more Black Americans are celebrating Juneteenth, instead of the Fourth of July, because, after all, there were still over 250,000 Black Americans enslaved in Galveston, Texas during this so-called Independence Day.
---
In the words of our brother Frederick Douglass, "What to the Slave is the Fourth of July?" Also, with the world being put on pause for over two years due to COVID, and in many cases keeping families separated during this time, now is the perfect time to reach back to our roots and bring back family reunions as an alternative to celebrating the Fourth of July.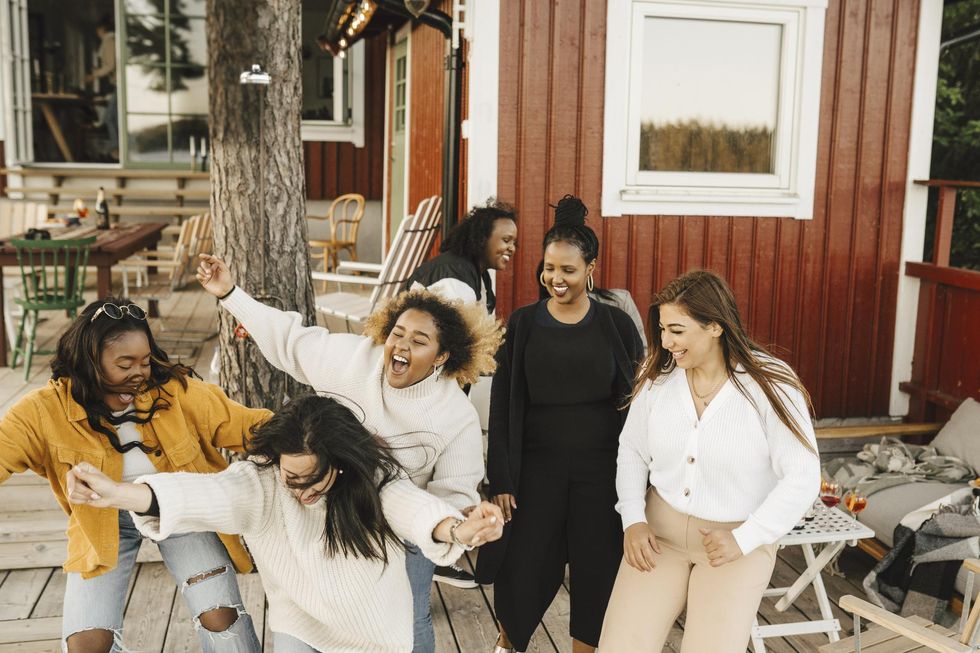 Getty Images
It's time to cue the Soul Train line as folks boogie down to the beats of Earth, Wind and Fire's "September," and Cameo's "Candy." Of course, you have to whip out the card table for endless rounds of spades and hear the back-and-forth banter that will surely ensue, followed by the familial "whack!" sound as some unsuspecting soul just got their deuce of diamonds cut by a little joker and backdoored by the big joker to seal the win. "Who got next?!" the victor queries.
Tables shake and "bones" rattle over an intense game of dominoes. Uncle So-and-So, the self-proclaimed grill master, throws down on the grill while rocking the universal "barbeque sandal." You know the ones we're talking about. Paper plates sit on laps and red Solo cups rest by feet. Family, food, and fellowship -- ahhh yes, the perfect recipe for a family reunion.
How Family Reunions Started
Family reunions go beyond those, just the right touch of sweet, baked beans and finger-lickin' good barbeque ribs. While food may be the vessel through which we fellowship and frolic with our folks, how Black American family reunions took shape dates back to the times of the Emancipation Proclamation. During enslavement, Black families were ripped apart.
According to an Equal Justice Initiative report, "It's estimated that more than half of all enslaved people in the Upper South were separated from a parent or child, and a third of their marriages were destroyed by forced migration." After the Emancipation Proclamation, newly freed Black Americans desperately sought out their missing family members, posting advertisements in local newspapers as a part of their search efforts. If history has taught us anything, it's taught us that our ancestors are resilient and resourceful.
Whether it was through advertisements or word of mouth, the nation experienced what would become known as the Great Migration where nearly 4 million African Americans migrated from the South to the North. This migration and reunification of Black families was the beginning of family reunions as we know them.
Nowadays, family reunions have evolved to be more than just a picnic. They are now oftentimes multi-day events that alternate locations from year to year, and out-of-towners make the pilgrimage, much like the ancestors, to reunite with family.
The Importance of Family Reunions
Why are Black family reunions so important? Because, while our roots may be intertwined with a harrowing past, our resilience is what has led us to where we are today, and that is to be celebrated. Black family reunions serve as an opportunity for us to sit at the feet of our elders and learn about our family's history and legacy -- to soak up the knowledge that we will one day be able to pass down to those that come after us. It is an opportunity to truly connect, beyond the computer screens and social media statuses, and to gather for events besides weddings or funerals. Life, lineage, and legacy should be celebrated while living, and while there are things that should be buried with our ancestors, i.e. generational curses, our family's stories should live on forever.

Want to incorporate some new traditions at your next family reunion? Here are a few suggestions:
1. Shop with Black-owned brands and businesses.
Family reunions are the perfect time to support skinfolk by shopping Black. Use Black vendors for things like catering, DJs, decorations, etc. Those matching t-shirts we mentioned earlier, use a Black-owned t-shirt printing company. Keep those dollars circulating in the Black community.

2. Create a family journal.
Creating a family journal for your family reunion is a great tradition to start as a way to document the lives, stories, and words of wisdom from the family. There are a few ways this can be done. You can create a video journal, which is likely the easiest and quickest way to capture information, especially for elders who may be unable to write or type. Another way is to have people physically write their stories or advice and have it all scanned into a digital ebook. Another possible option is for everyone to submit their information electronically and then it is all compiled into physical or digital books. Imagine future generations being able to have a tangible book of their family's words that have been passed down for generations.

3. Create a family cookbook.
Some of the best recipes are those that have been passed down from generation to generation. Some of the best recipes are buried in graves because our loved ones refused to let anyone in on their secret ingredients. For shame. However, for those willing to depart with their secret 11 herbs and spices, creating a family heritage cookbook is a great way to do it. Give them fun titles like "Aunt Mary's Make You Wanna Slap Yo' Mama Mac & Cheese" or keep it simple like, "Uncle Bobby's BBQ sauce." These recipes will stay in the family long after loved ones have departed.

4. Create a scholarship fund.
Starting the family reunion tradition of creating a scholarship fund is a way to pour into the family youth while promoting family unity through academic excellence. Applicants could be high school seniors who must complete an application form and essay. One of the questions could be "How do you plan to continue the family legacy?" Whether there are multiple recipients or a single recipient, another requirement could be that they must pour into or give back to the next year's recipient(s), whether that is through time and mentorship and/or financially.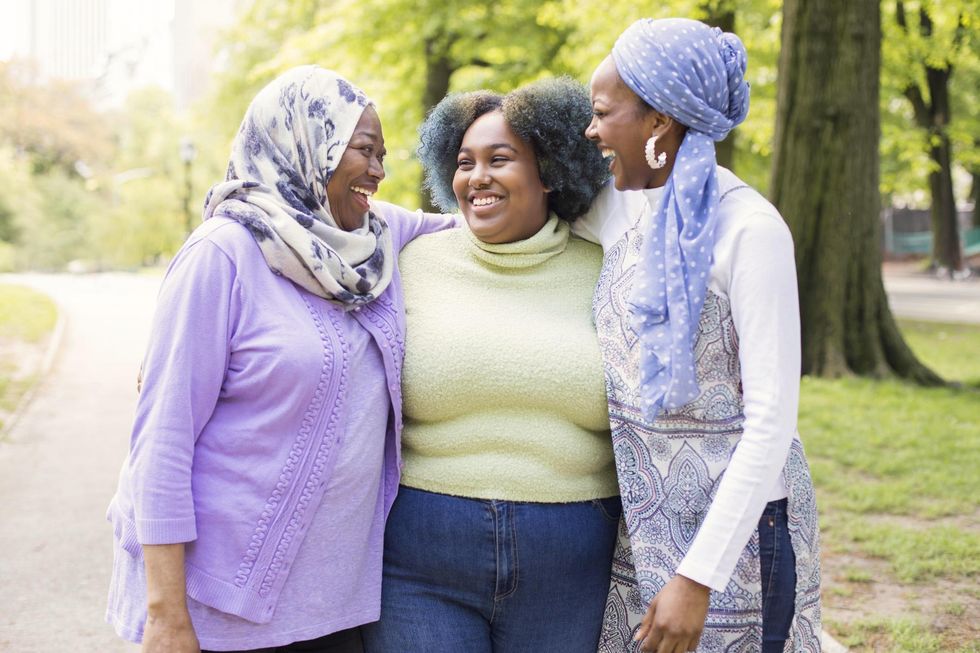 Getty Images
5. Host a fashion show.
Who doesn't love a reason to get gussied up and dressed to the nines? Having a family reunion fashion show is a fun way to get everyone involved, young and old. Themes can change yearly, or however often you have your family reunion. Or if you don't want to hassle the family with packing extra clothes, you can simply do a "Strut Your Best Stuff" fashion show, and the person that serves the fiercest strut and garners the biggest crowd reaction will be crowned the victor.

No matter how you celebrate, big or small, consider getting the family together for a family reunion as an alternative to Fourth of July celebrations.
Let's make things inbox official! Sign up for the xoNecole newsletter for daily love, wellness, career, and exclusive content delivered straight to your inbox.
Featured image via Getty Images